I love to add touches of fall décor to my kitchen. But as I'm not usually the one who cooks, I have to make sure the decor doesn't get in the chef's way! Here are my best tips for how to decorate your kitchen for fall without it feeling cluttered.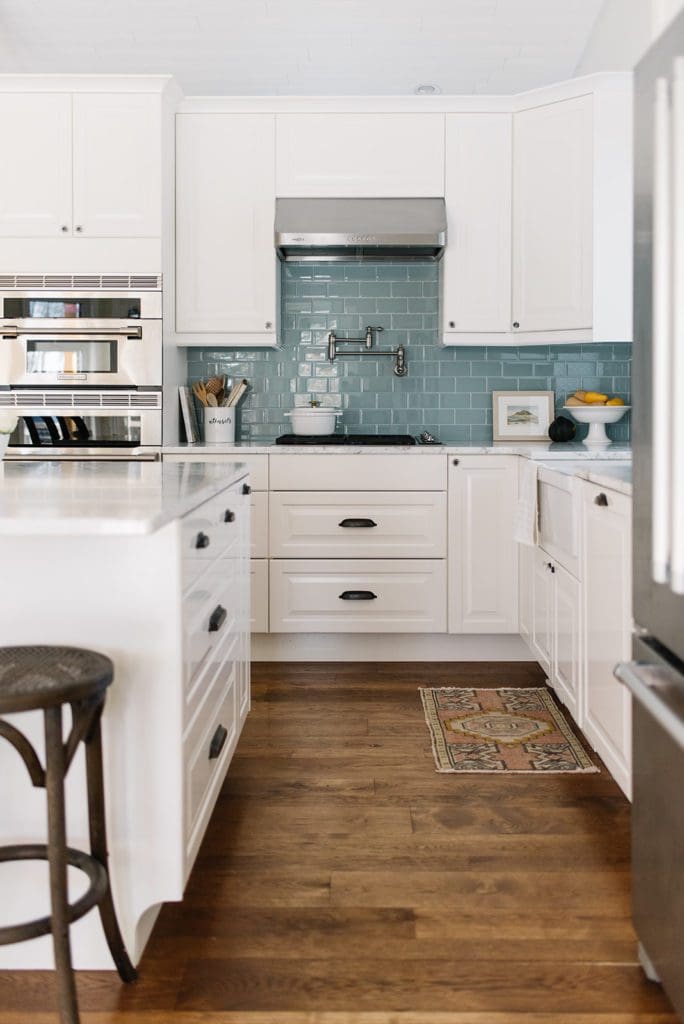 Using simple, natural décor and cozy items from around your home can make your space feel "fallified" without being cheesy or feeling crowded. Here are my 10 favourite ways to decorate your kitchen for fall.
Estimated reading time: 9 minutes
Note: This post may contain affiliate links that won't change your price but may share some commission.
#1 Fall Coloured Florals
There are so many ways to add flowers to your kitchen! Fall florals are my favourite! I especially love dahlias, berry stems, roses and eucalyptus at this time of year!
I made this DIY floral hoop to hang on the door to the mudroom a few years ago and it's still one of my favourite, easy DIYs to date!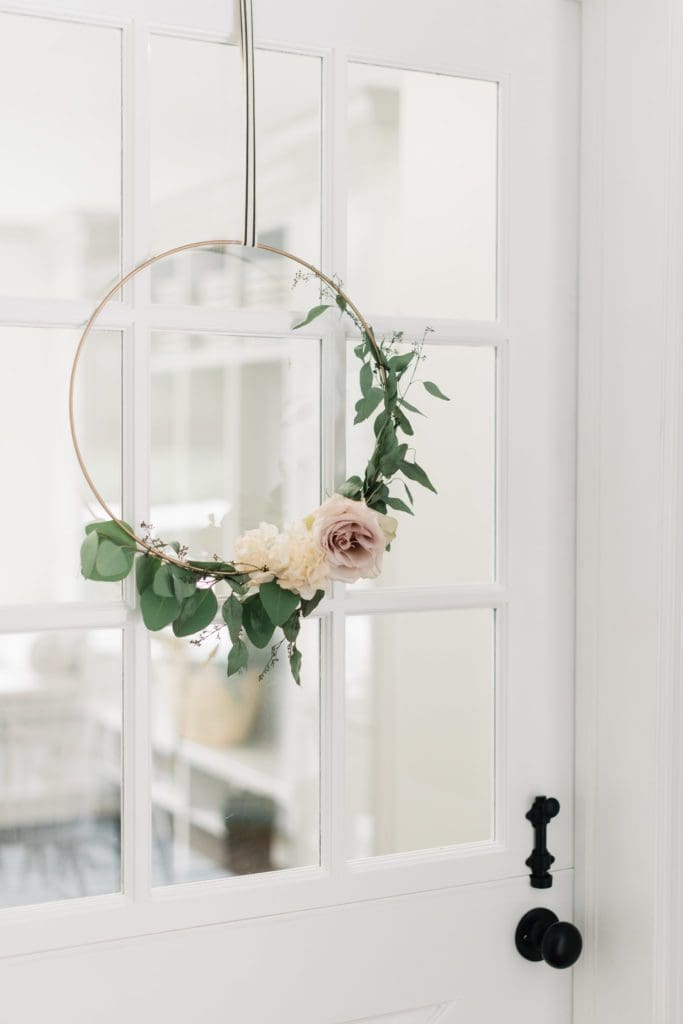 The fresh florals dried well and lasted the entire season and added a pretty touch to the room without being in the way.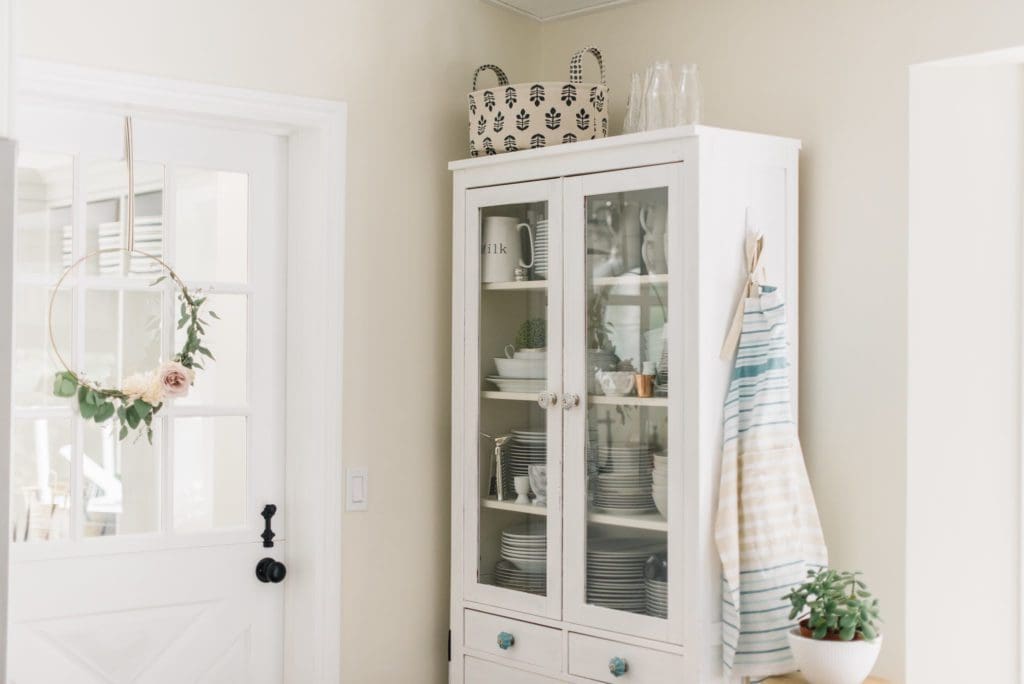 Adding a statement arrangement can also be a fun way to bring flowers into the kitchen. This arrangement sat front and center on the kitchen island, but was easy to move when it was time to start making dinner! And even though it was large, it wasn't tall so it didn't block the view throughout the room and therefore didn't feel intrusive or overwhelming.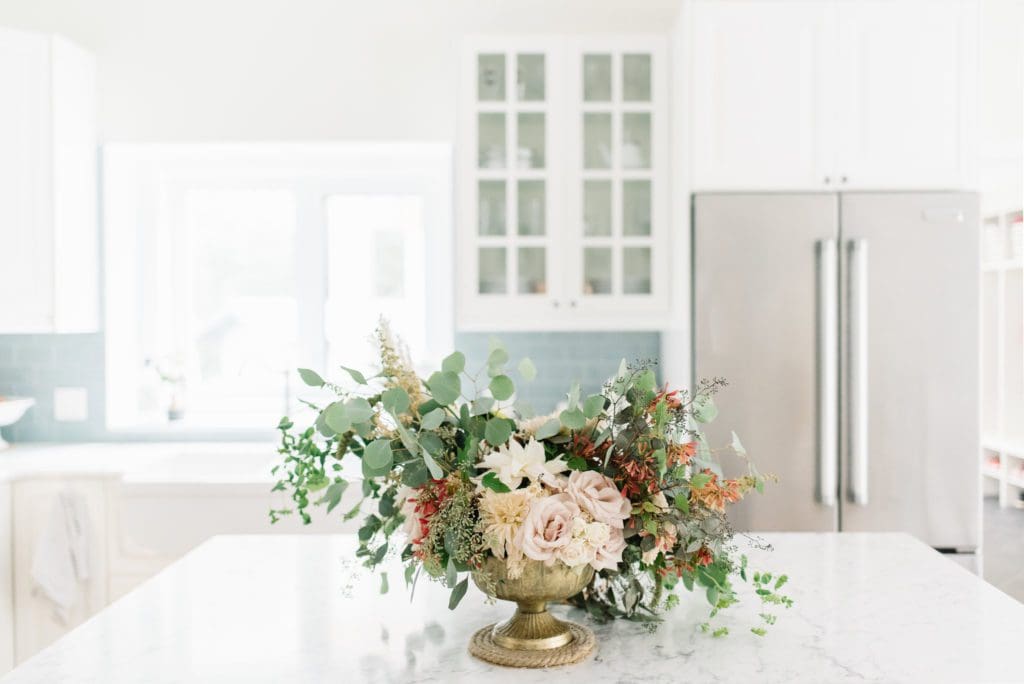 One of my favourite tricks if a large floral arrangement isn't in the budget is to sprinkle small bud vases around the space instead. Check out How I Made 10 arrangements from grocery store flowers for some inspiration!
This small vase with just a few stems made the kitchen window sill feel like fall and was so simple to create!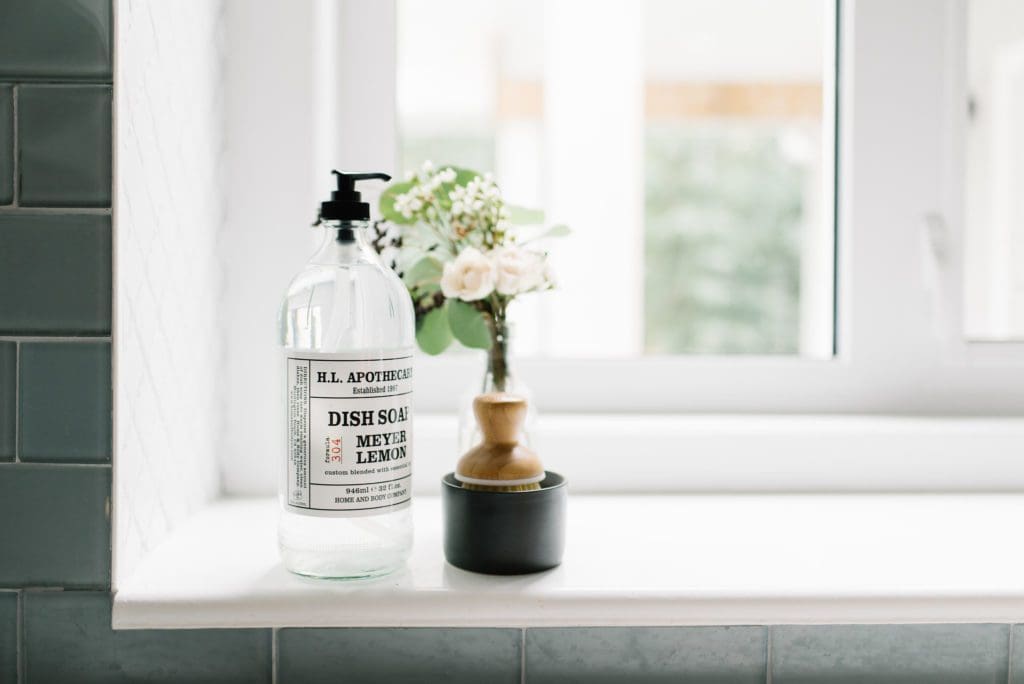 #2 Copper Accents
Copper is one of my absolute favourite elements to add to my fall décor. It adds warmth and shine and an immediate cozy feeling. Instead of adding extra copper elements to the kitchen, I just make sure that I am displaying some of the copper kitchen tools and utensils that we use every day more prominently.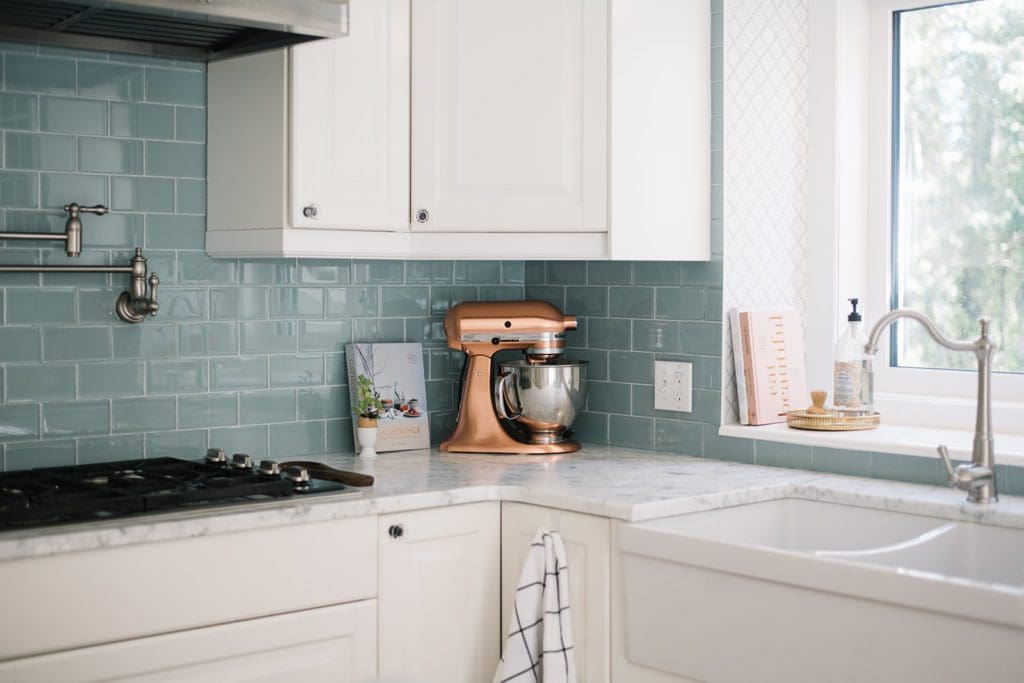 Our copper Kitchen Aid mixer always comes out at this time of year for fall and holiday baking. So we leave it on the counter instead of putting it away in between baking sprees!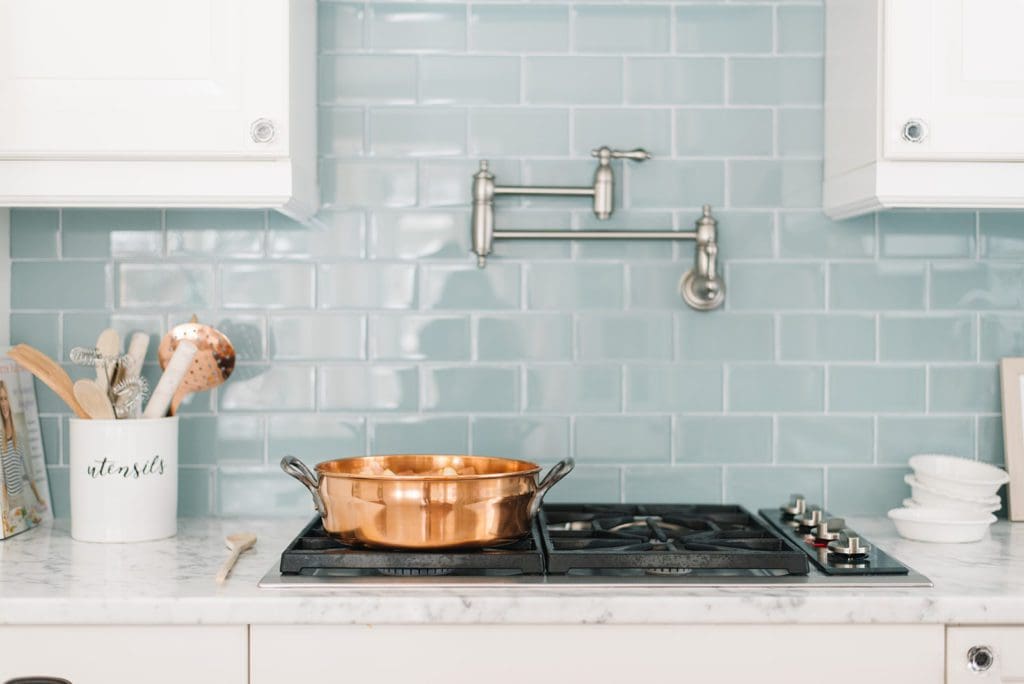 I also like to pull out my favourite vintage French copper pot. And I leave copper and wooden utensils on display beside the stovetop as well.
#3 Branches & Foraged Stems
I rarely leave home without a set of garden shears in my car these days just in case I see the perfect branch growing along the driveway or in the ditch lol!
Taking cuttings from the yard is one of the easiest ways to add some fall flair to your kitchen, and the best part is, it's free!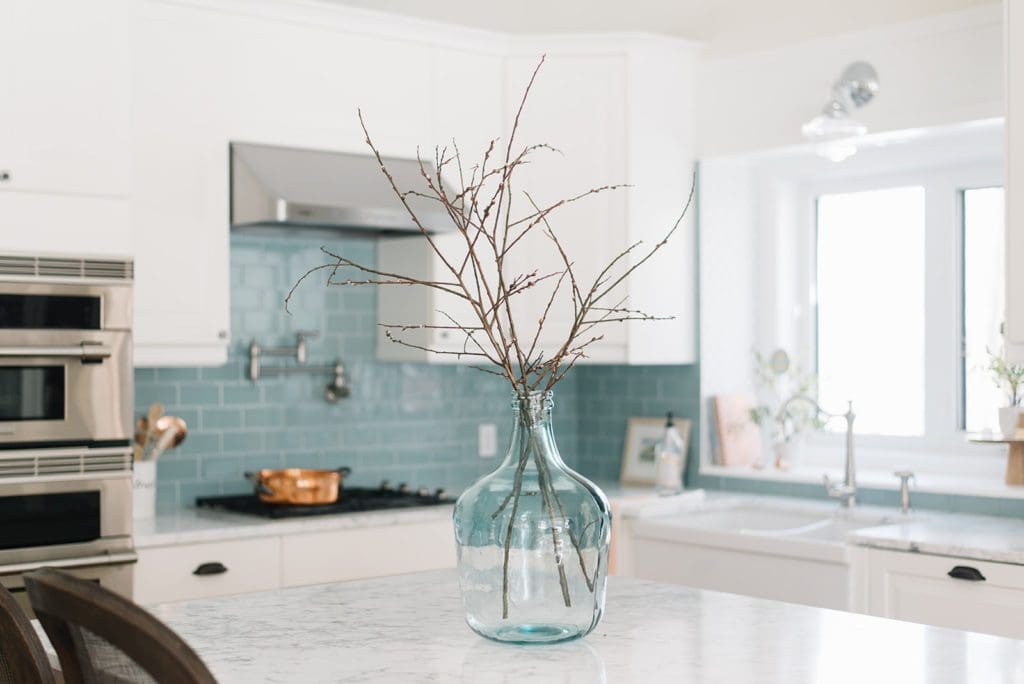 I actually cut these pussy willow branches in the Spring. Instead of composting them, I kept them and let them dry and I think they look so festive for fall!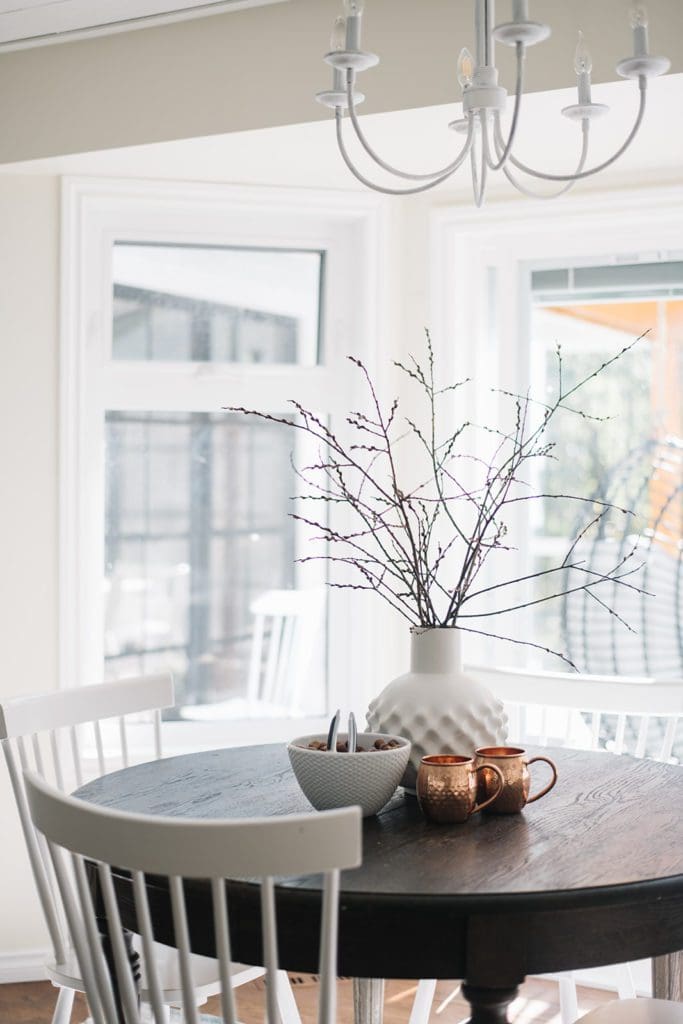 We don't have a separate dining room and this dining nook is part of the kitchen. So I added a few branches here as well along with some fresh hazelnuts and, of course, a little bit more copper!
#4 Twinkle Lights
I love having twinkle lights around the house year-round, but especially during the holidays! They add the most magical glow!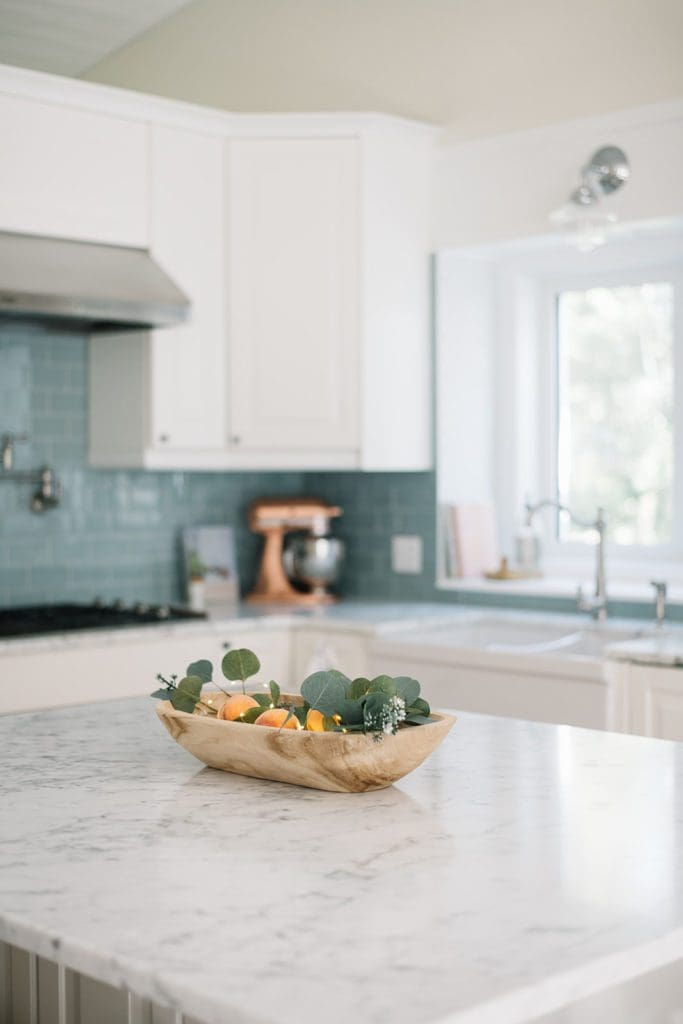 I put out a dough bowl for fresh fruit on the island and added some twinkle lights and a few sprigs of eucalyptus to make those peaches sparkle!!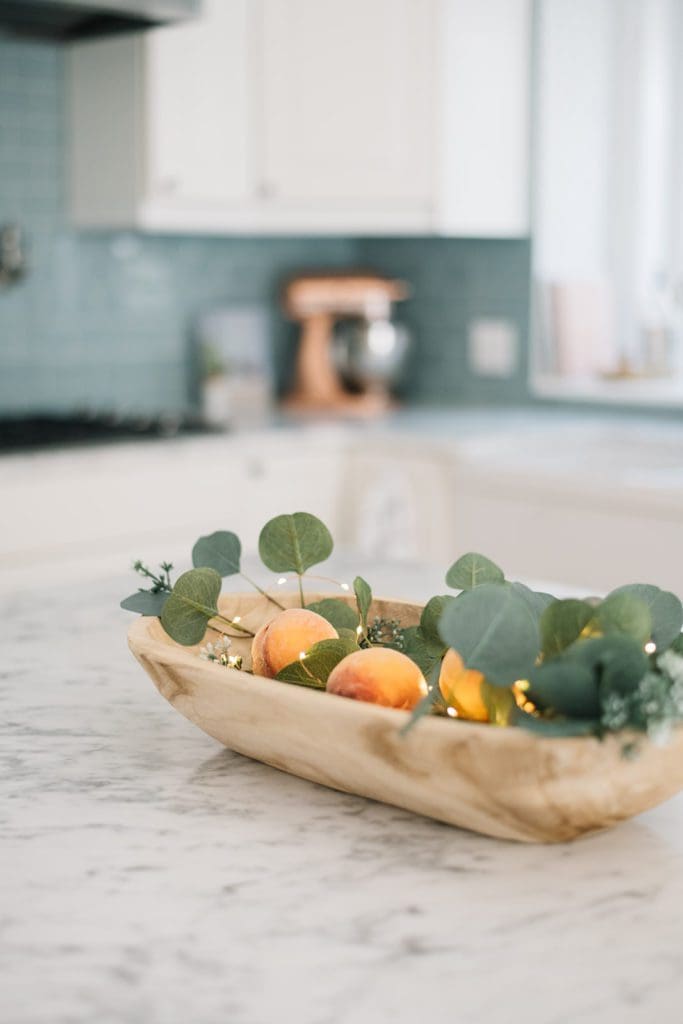 This year I think the kitchen window may need some festive garland and twinkle lights!!
#5 Baking
There's nothing better than the scent of fresh-baked gingersnaps or pumpkin spice muffins in the fall! Instead of putting all those glorious treats away, display them on the counter for everyone to drool over!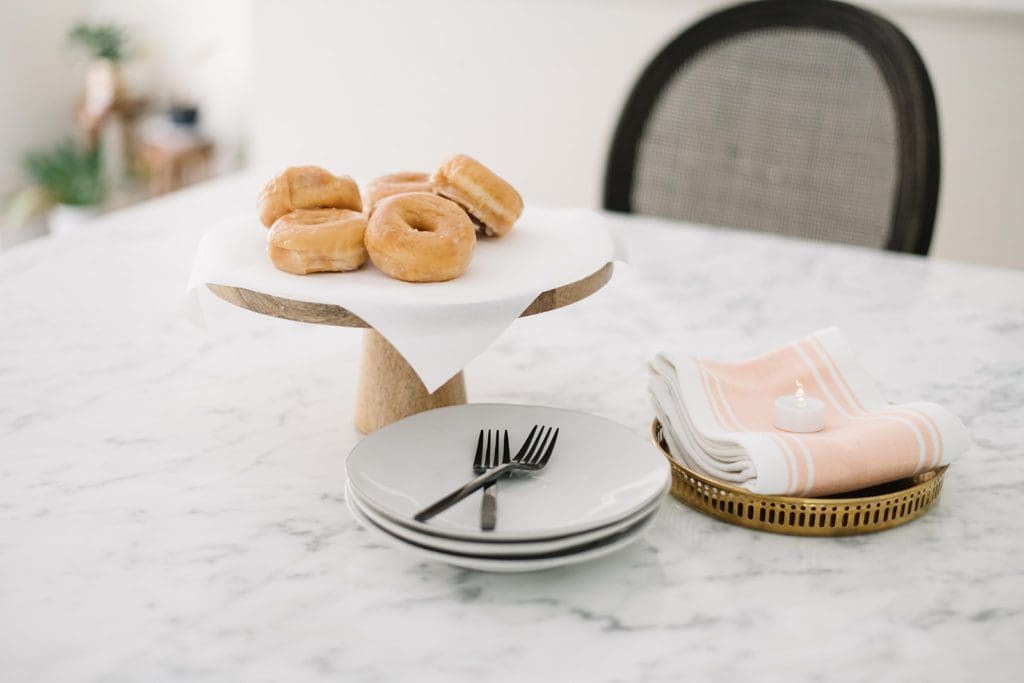 #6 Stove Top Potpourri
One of my favourite things to have in my kitchen for fall is something yummy simmering on the stove. Applesauce, bone broth or simple stove top potpourri are all favourites!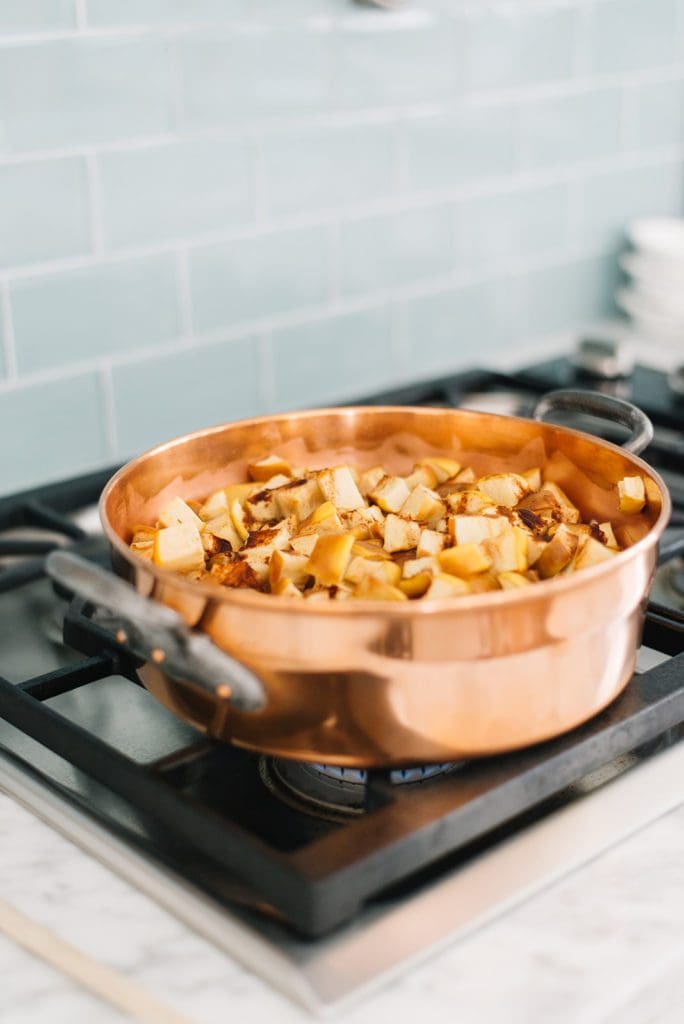 #7 Cozy Knits
The kitchen island is a favourite hang-out spot for our family. In the fall I like to drape some cozy blankets over the counter stools to encourage my kids to cuddle up and stay awhile. It doesn't have to be complicated or expensive to decorate your kitchen for fall!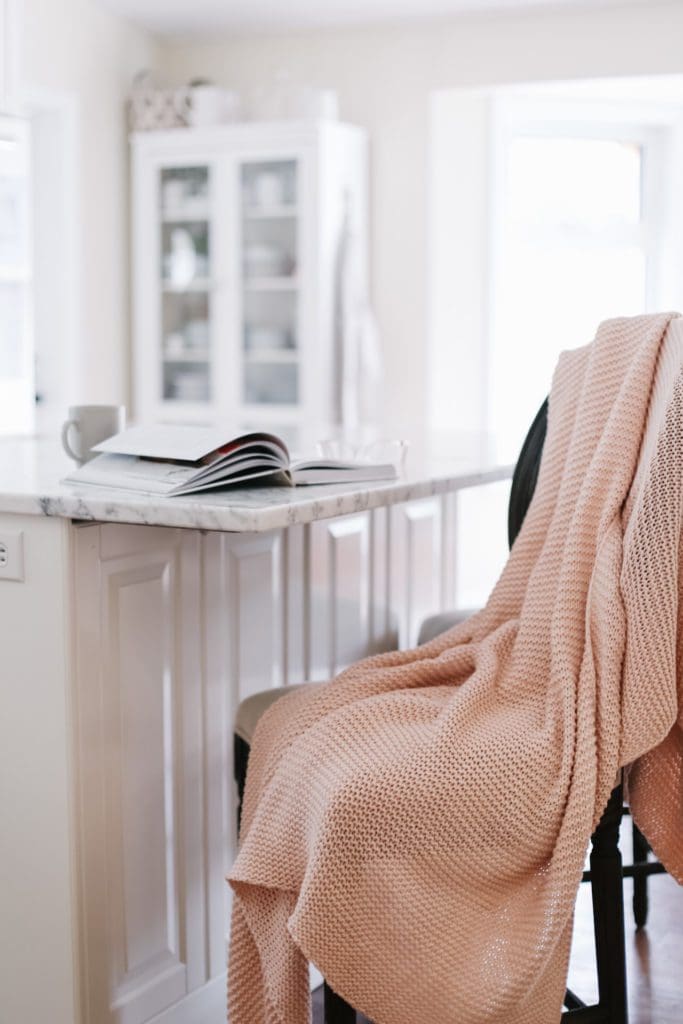 #8 Pumpkins
Fall decor isn't complete without a few pumpkins! I like to use mini pumpkins in the kitchen on the window sill or gathered in a basket! I get all the fall feels without huge pumpkins taking up a lot of space! And of course, they transition well into Halloween!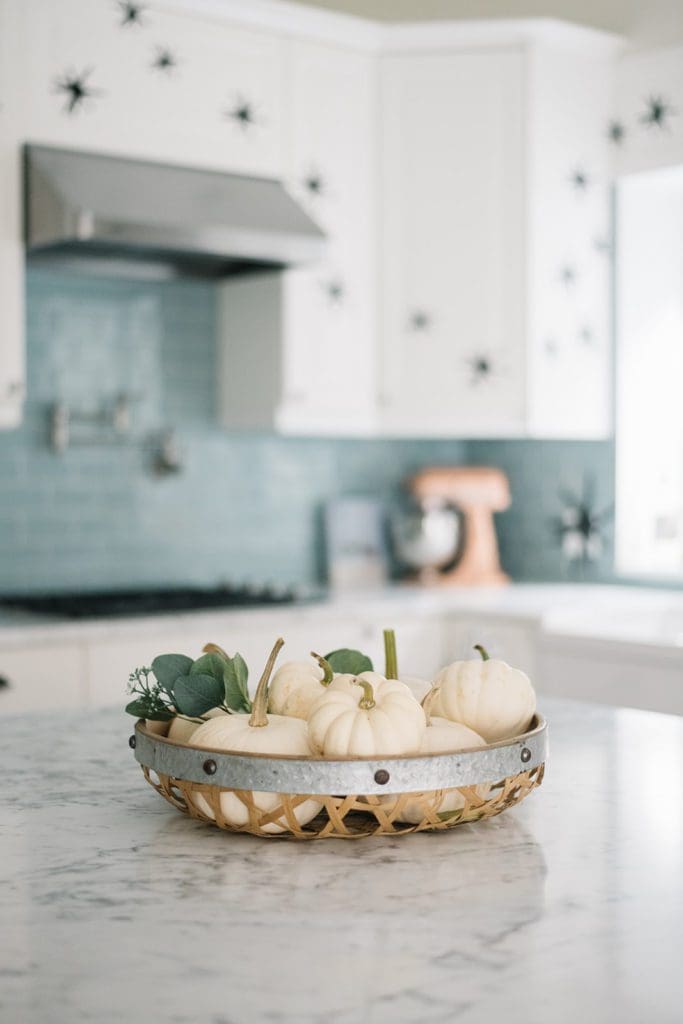 #9 Seasonal Produce
Instead of putting your fresh produce away, display a few pieces on the counter. Not only does it add fall feels to your kitchen, but it's also a good reminder to eat it!!
Last year I put some pretty pears and a few squashes in a fruit bowl on the counter! I love the buttery yellow colour against the blue tile backdrop!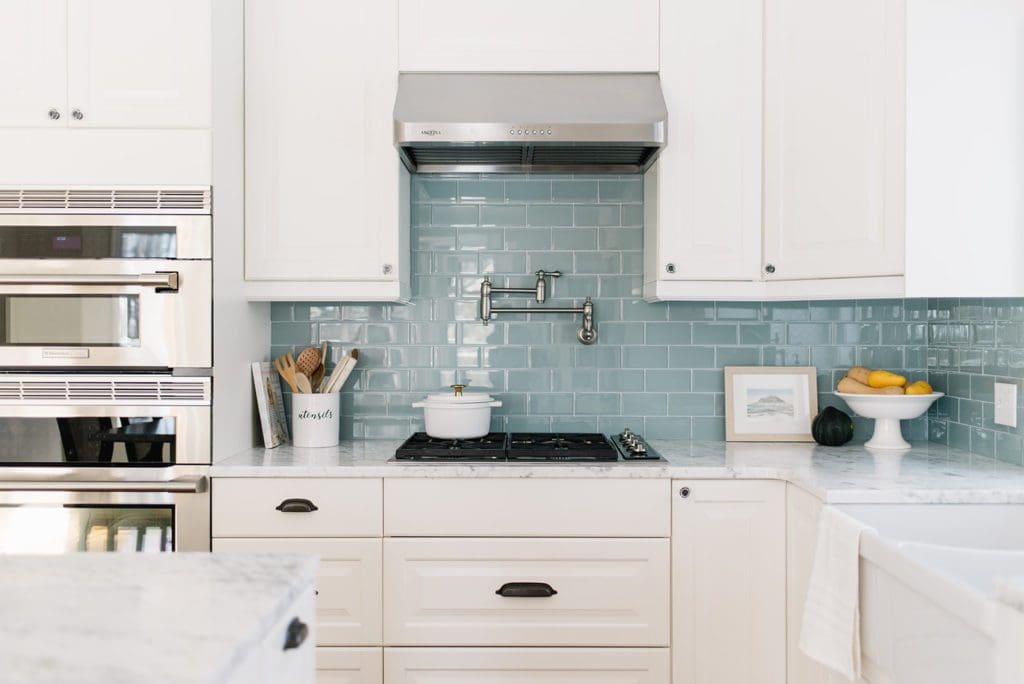 Apples picked from our apple trees in the front yard usually make an appearance at this time of year as well. Mark is on the hunt for a fruit press this year to try his hand at making cider!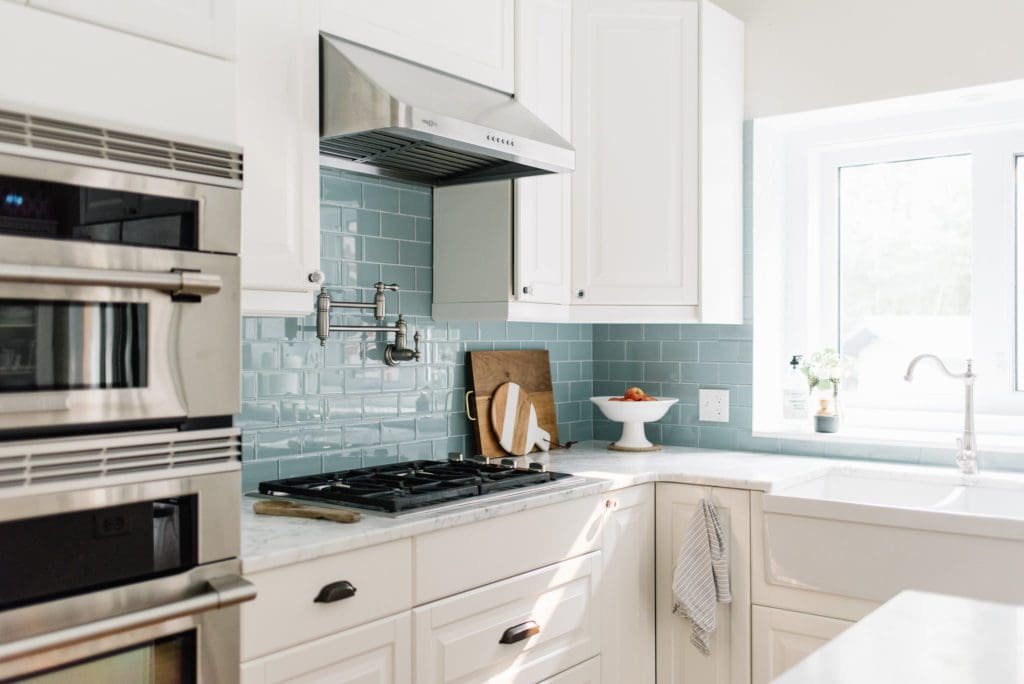 #10 Essential Oils
I used to love burning fall candles, but when I discovered how toxic most candles are, I switched to diffusing essential oils instead! Now I load up my diffuser with Cinnamon, Nutmeg, Orange and Vetiver essential oils and the house smells like fall all day long!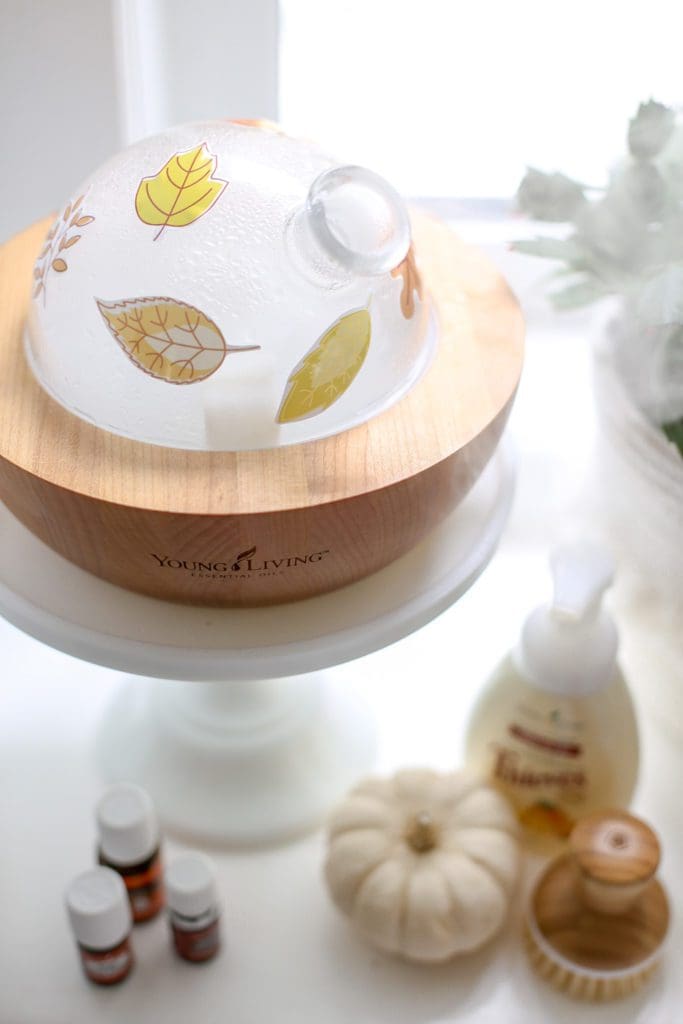 I like to switch out handsoap and cleaning products in the fall for some spicier varieties. In the fall I switch in Thieves hand soap and dish detergent and add pumpkin spice scent to the household cleaners I use on kitchen surfaces and to clean the sink etc…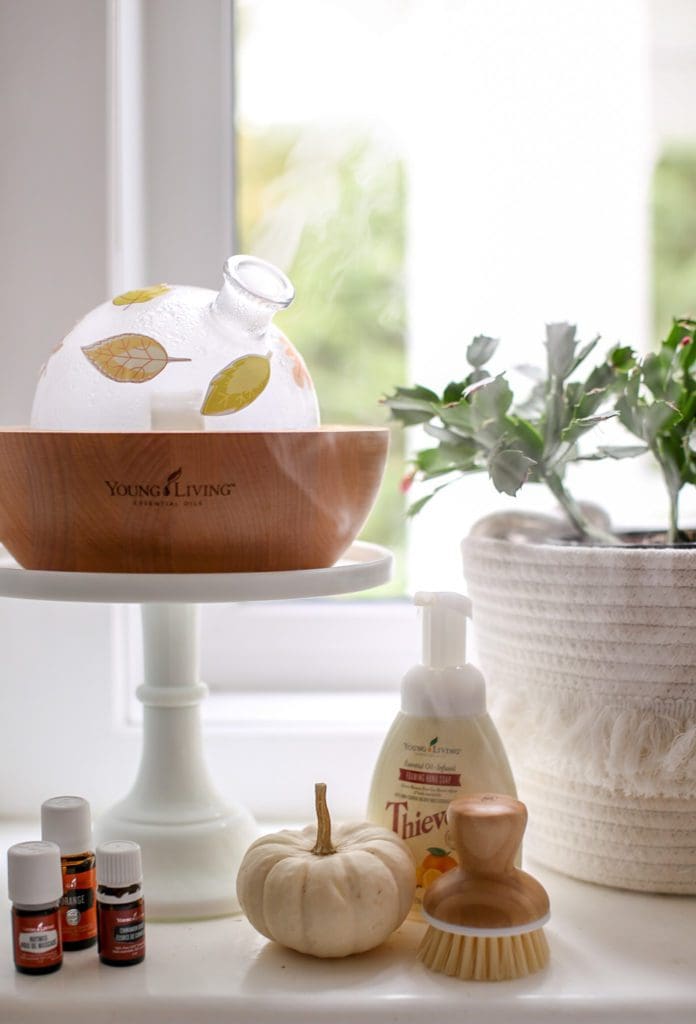 ---
I hope you've enjoyed these tips on how to decorate your kitchen for fall! For more fall décor inspiration check out: