You are here:
Home Page » Blog » Lifestyle »

Festive Stovetop Potpourri – Make Your Home Smell Like Christmas!
When I want to house to smell good over the holidays, this festive stovetop potpourri is my go-to solution. It creates the most delicious aroma and it looks so pretty simmering away on the stove!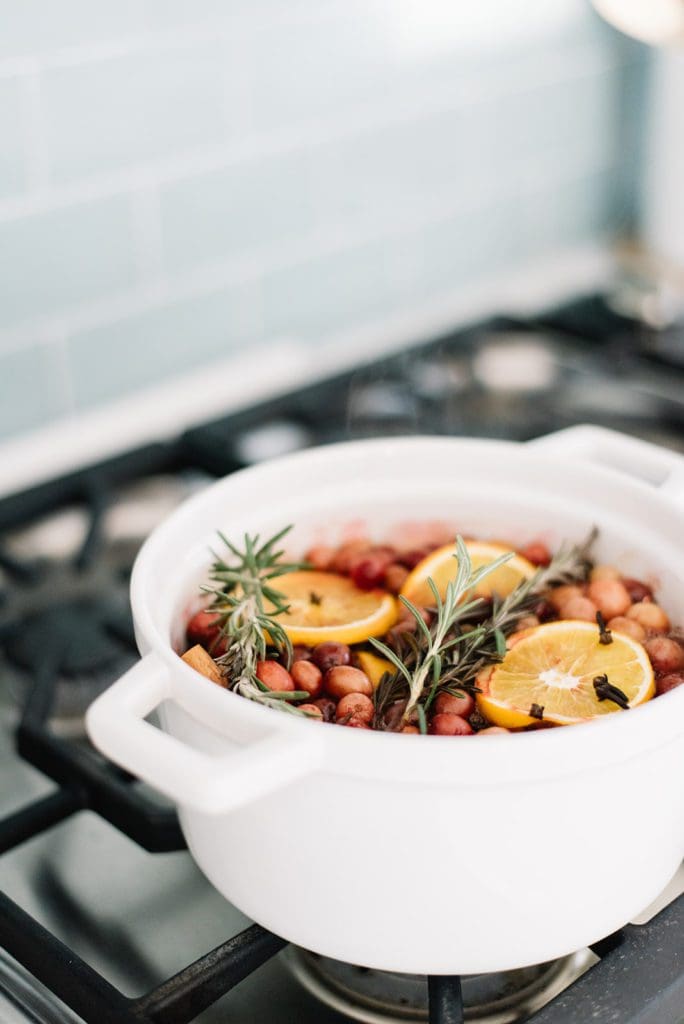 What is Stovetop Potpourri?
What is stovetop potpourri?
Stovetop potpourri is a mix of natural ingredients (usually spices, fruits and herbs) heated in water on the stove to create a delicious aroma.
Make Your House Smell Yummy Naturally!
There's nothing better than walking into a house that smells like cinnamon, citrus or other scents of the season. Stovetop potpourri is an inexpensive, environmentally friendly and toxic-free solution to make your house smell yummy! Unlike air fresheners or candles, which can release all sorts of toxins and artificial fragrances into the air, simmering simple ingredients on the stove makes your home smell delicious naturally!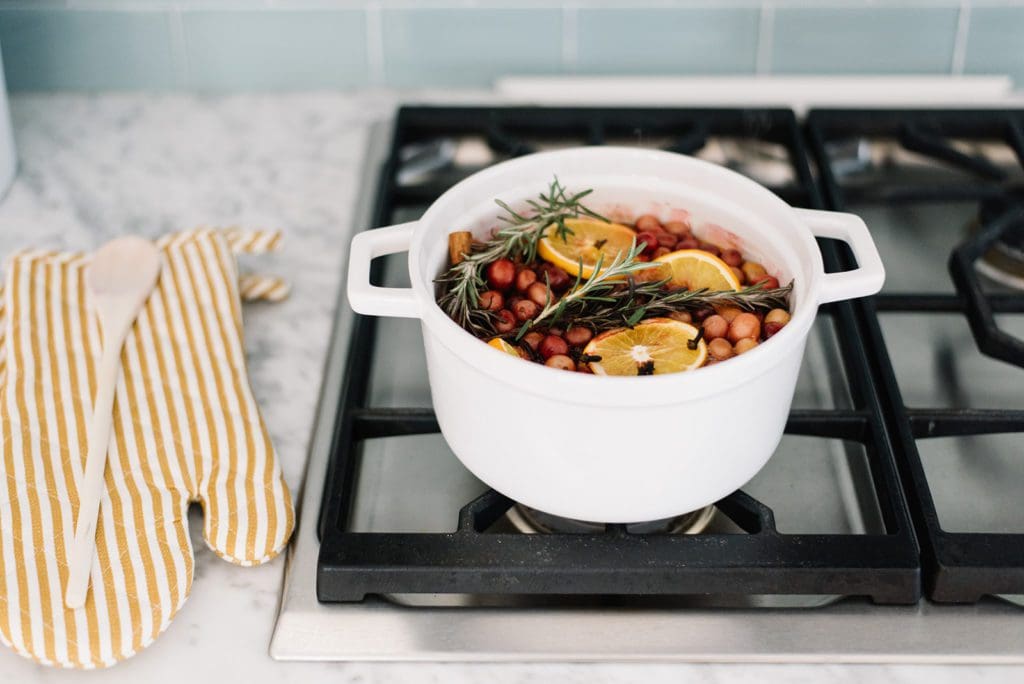 What Should You Put In Stovetop Potpourri?
I'm usually in a hurry over the holidays and I don't have time to source fancy ingredients from a health food or specialty store. This recipe is made with simple ingredients that you can grab from the regular grocery store or the fridge!!
Festive Stovetop Potpourri Ingredients
1 small orange, sliced
1cup fresh cranberries
1tsp cloves
1-2 cinnamon sticks
1Tbsp Vanilla extract
2-3 sprigs fresh rosemary
More Ingredient Ideas for Stovetop Potpourri
If you don't have all of the ingredients listed above, just use what you have on hand at home to create a delicious fragrance. Here are a few more ideas of ingredients you could add to your mix:
Apple
Vanilla Bean
Apple Cider
Star Anise
Cardamom
Lemon
Nutmeg
Cranberries
Currants
Vanilla Extract
Orange Peel
Mint
Ginger
Thyme
Allspice
Rose Petals
How To Cook Potpourri on the Stove
It's simple to cook your potpourri on the stove. Simply cover the ingredients with water in a large pot and bring to a simmer. Then uncover and let simmer on low heat stirring occasionally and adding water as required to prevent the ingredients from sticking to the pot and burning.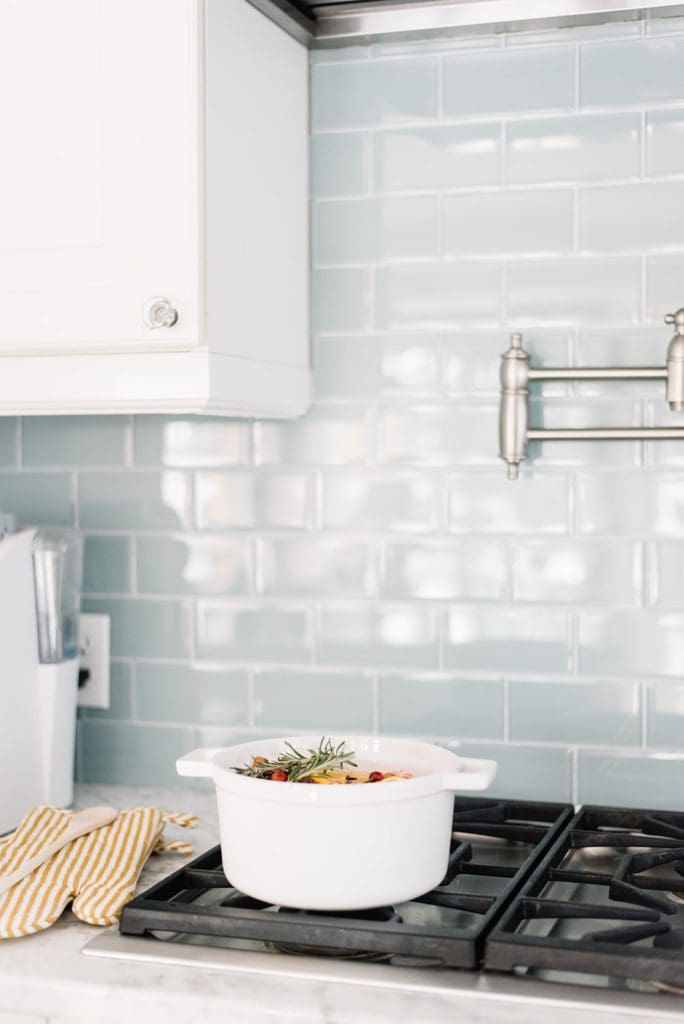 FESTIVE STOVETOP POTPOURRI RECIPE
This really is such a simple recipe and you can play around with the spices and ingredients depending on what you have on hand in your kitchen. Test it out and see what smells good to you! This is my favourite festive stovetop potpourri recipe and it only requires 6 ingredients!
[mv_create key="6″ type="recipe" title="Festive Stovetop Potpourri" thumbnail="https://thegingerhome.com/wp-content/uploads/2019/12/image-125.jpg"]
Stovetop Potpourri FAQs
How long does Stovetop Potpourri last?
I find that my potpourri will last all day! The trick is to keep an eye on it and make sure that the water doesn't evaporate leaving the ingredients to stick to the pot and burn. An occasional stir and water top-up will keep it going all day or even longer!
Can you reuse stovetop potpourri?
If you want to leave the house for a few hours or you want your potpourri to last a few days, simply store it in the fridge while you are gone or overnight. (Just make sure you let the pot cool before you store it!) The scent is better if you make it fresh each day though.
Are you supposed to boil stovetop potpourri?
You should simmer stovetop potpourri not boil it! If you boil it you will quickly run out of water and risk burning your ingredients.
How can I make my house smell like Christmas?
Stovetop potpourri is the perfect way to make your home smell like the holidays! Try adding molasses, cinnamon, ginger, cloves & allspice to make the house smell like gingerbread cookies!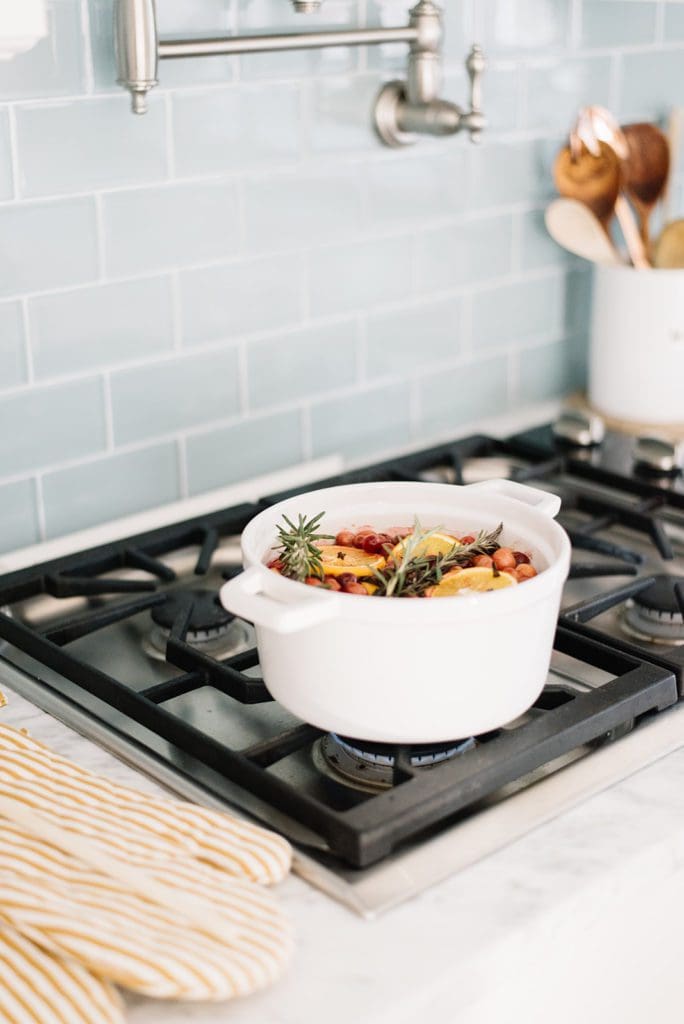 This recipe for stovetop potpourri is so simple to make! Whip up a batch and enjoy the scents of the season! There's nothing better than a house that smells like Christmas!
---
For more Christmas inspiration check out…