Do your pumpkins last the season or do they turn mushy within a few weeks of bringing them home?! I still have some of last year's pumpkins in storage and it was actually really easy to preserve them with a few easy tips! Here is everything you need to know about how to pick and preserve pumpkins!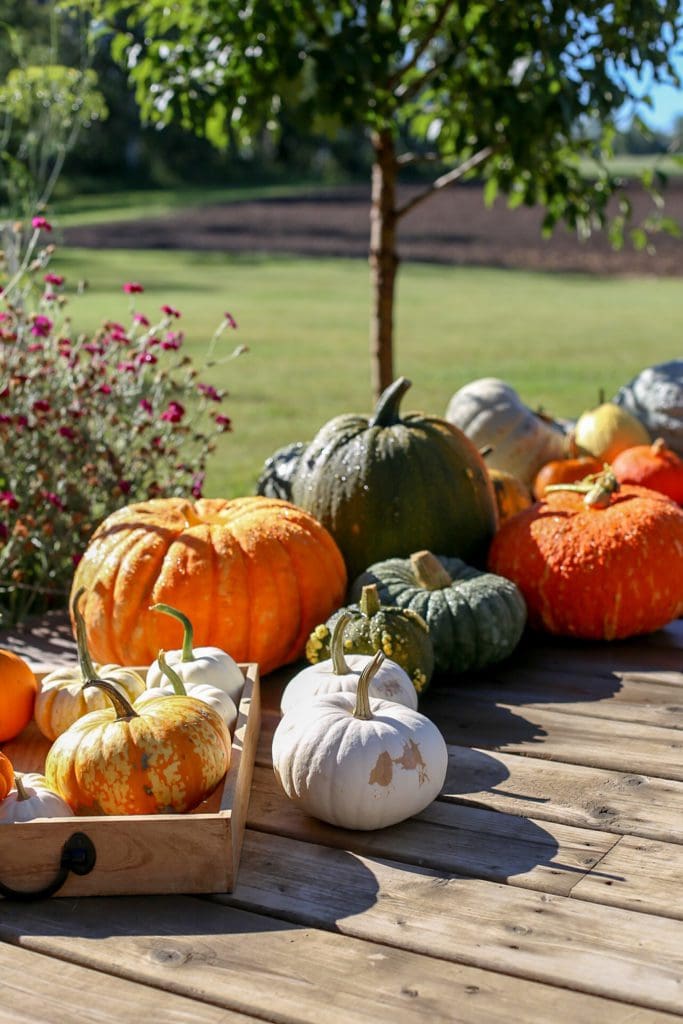 Estimated reading time: 13 minutes
Note: This post may contain affiliate links that won't change your price but may share some commission.
Where To Find Pumpkins
Each year we head to our local pumpkin patch! It's so fun to visit the farm and there are usually more kinds of pumpkins to choose from than at the grocery store! We picked a couple of big carving pumpkins of course: the standard, large, orange kind. But look at all these pretty varieties as well!!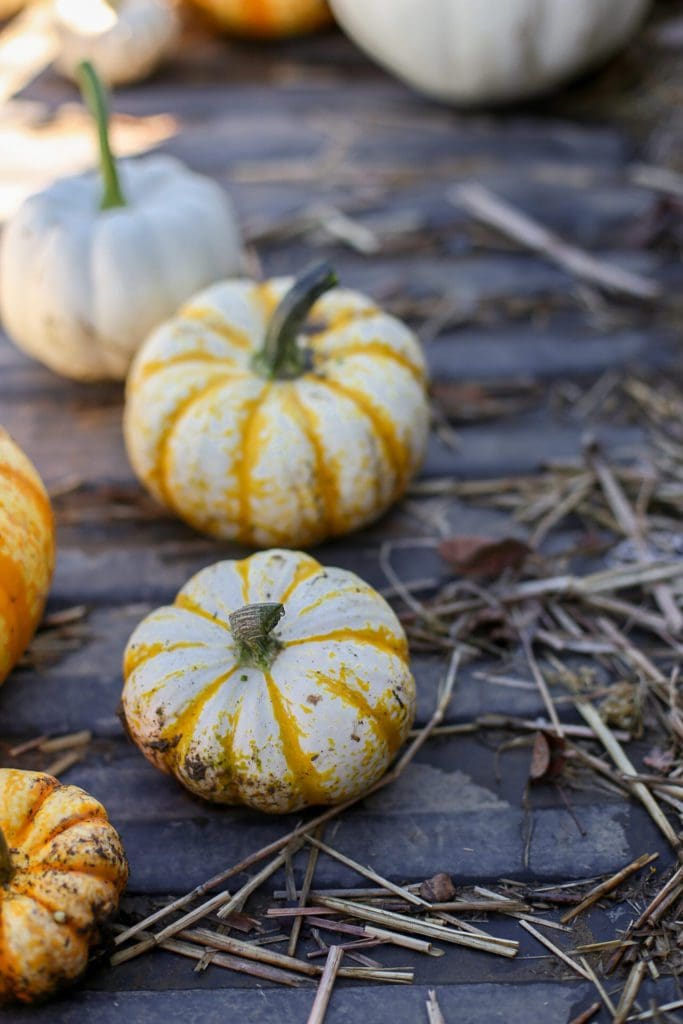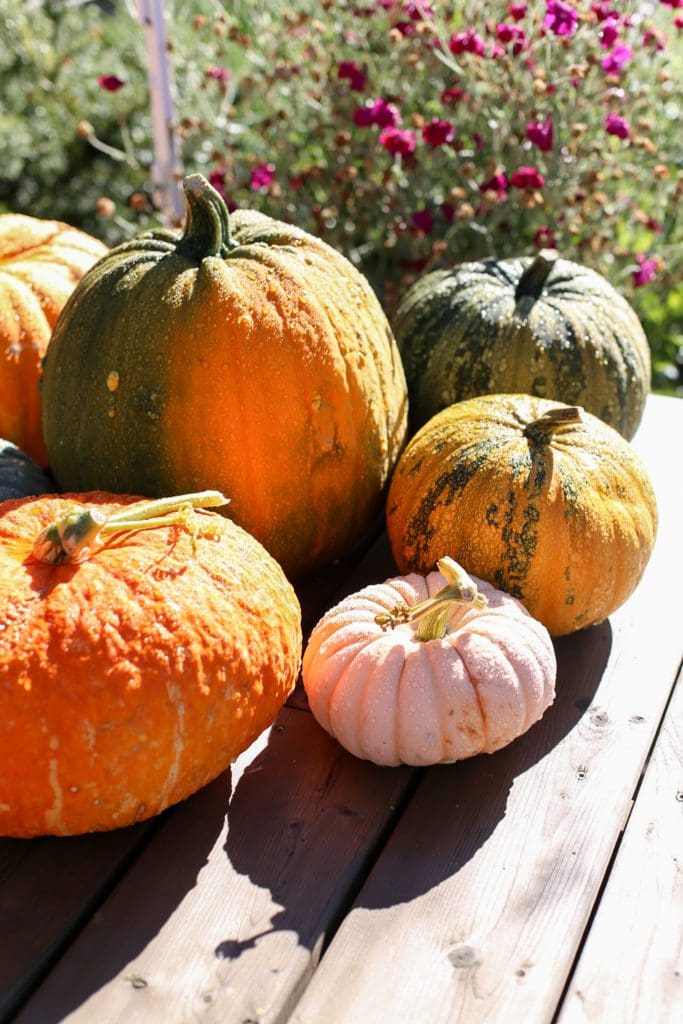 Somerset Pumpkin Farm is our favourite pumpkin patch to visit! Kate, the owner, was kind enough to give us a tour of the fields and share all her expert tips on how to grow, pick and preserve pumpkins! We had so much fun visiting all the fields and the girls met a new best friend!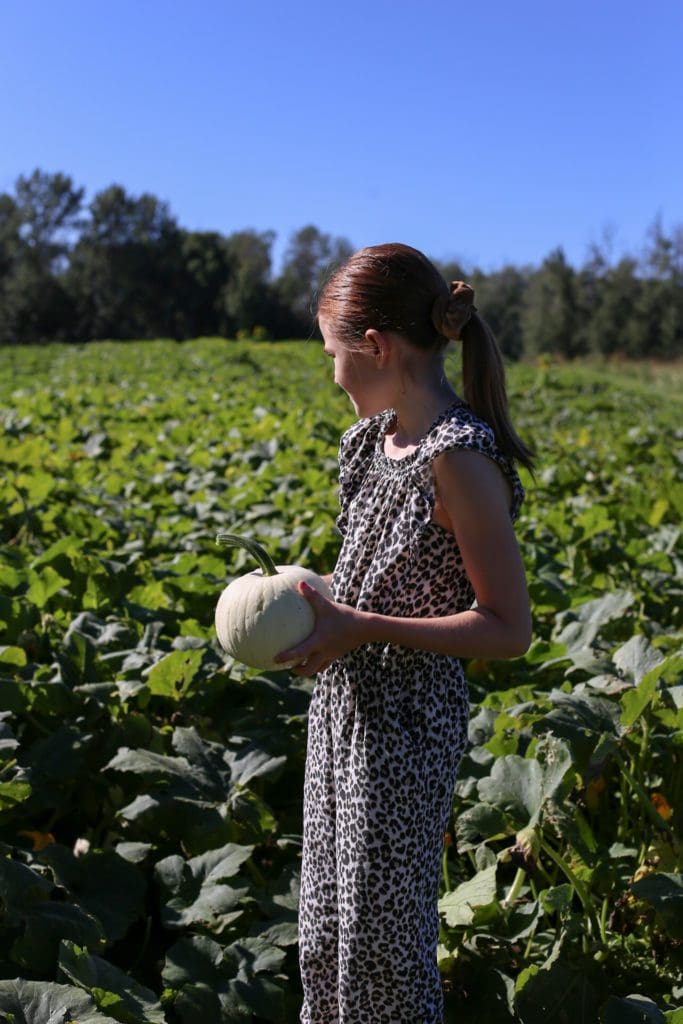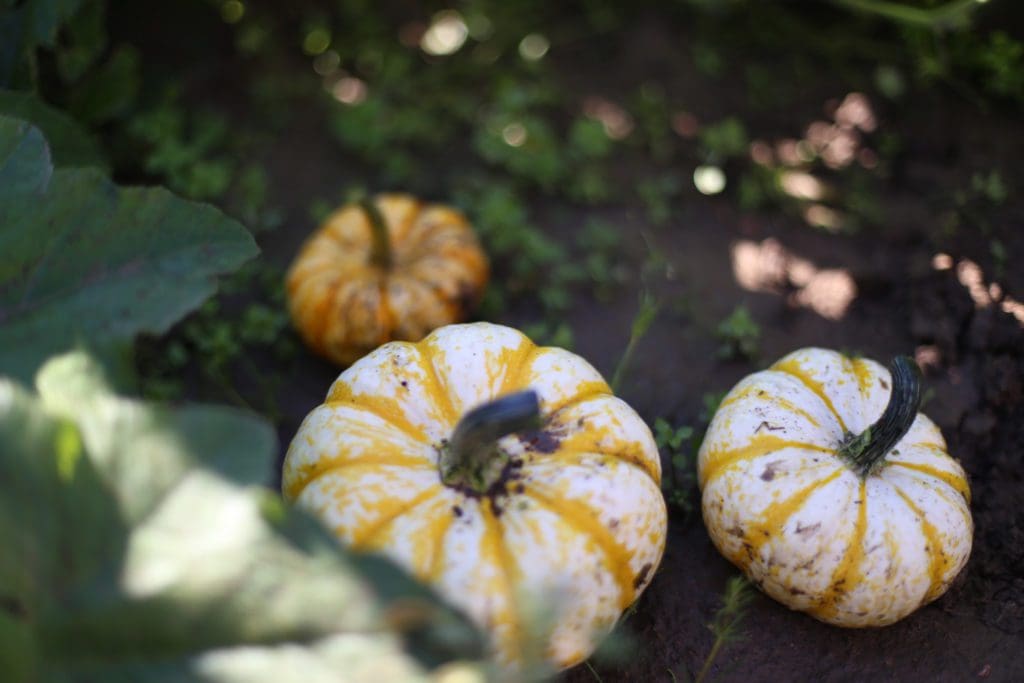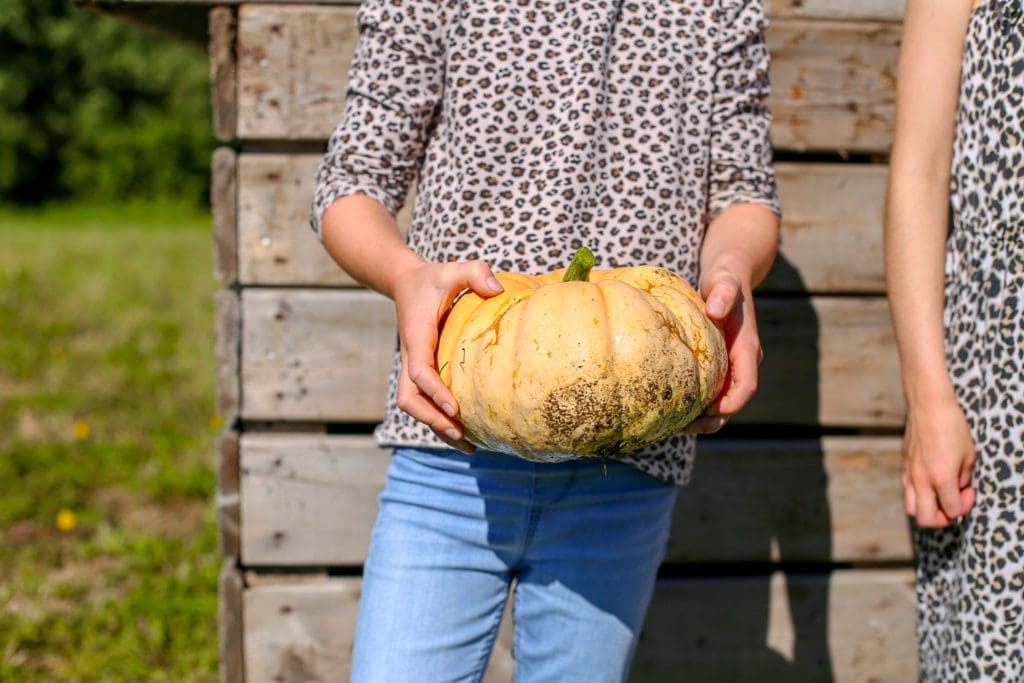 Pumpkin Varieties
We found so many pretty pumpkins at the farm this year! Here are some of our favourites…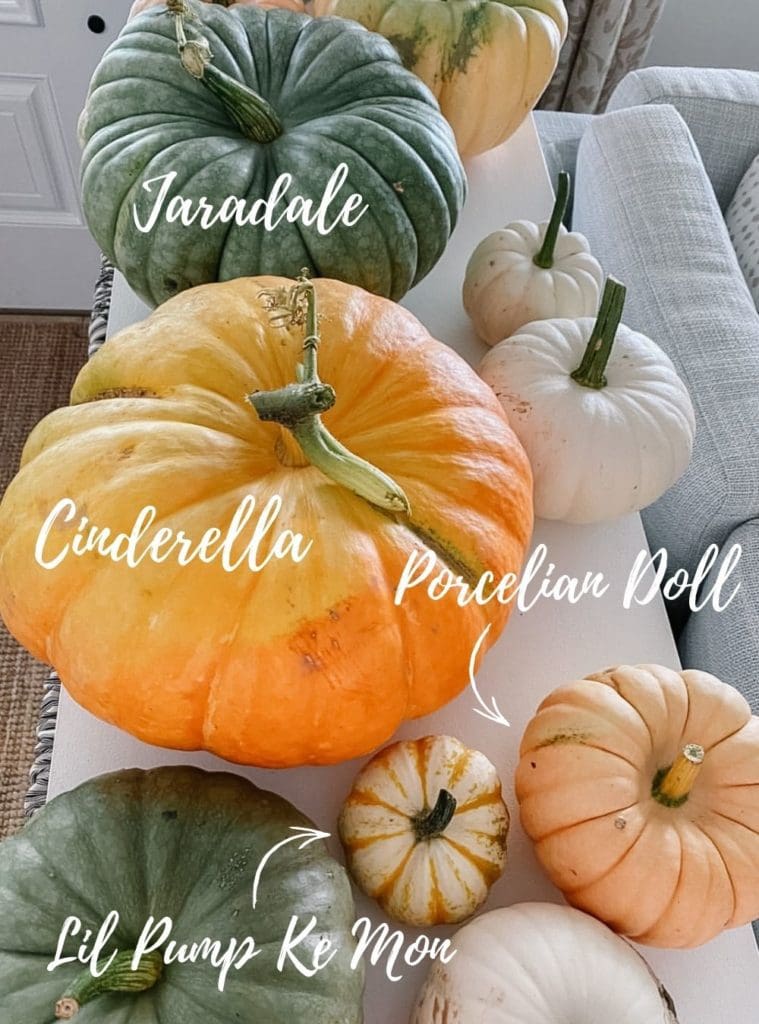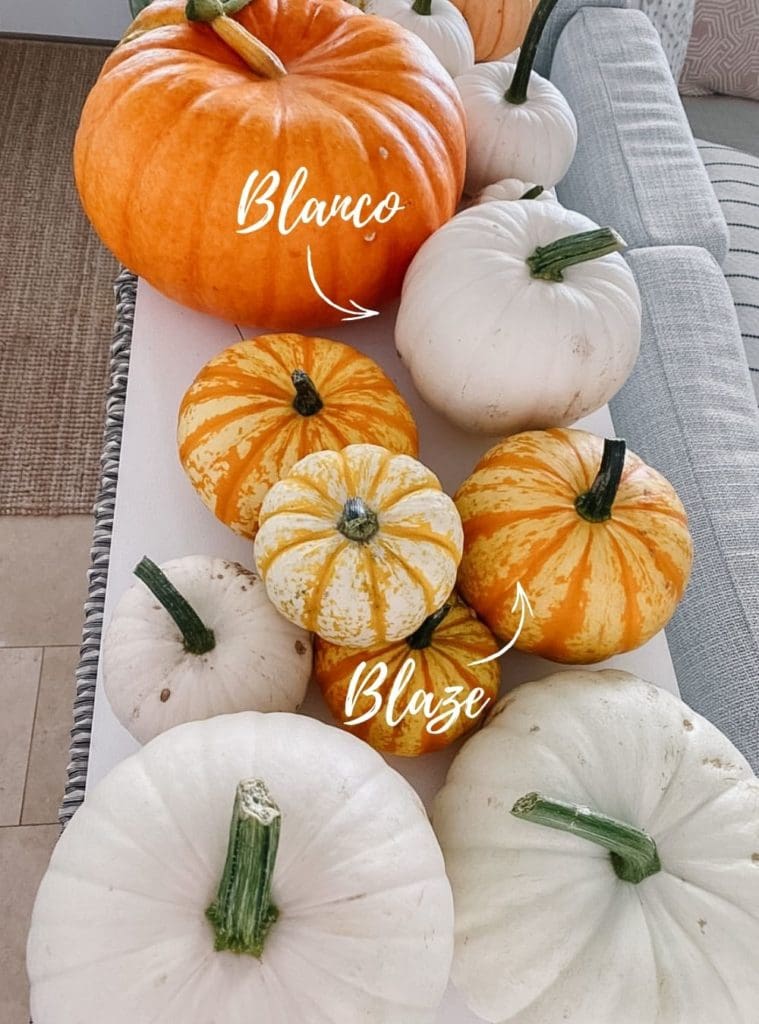 Pumpkin Growing Tips
Q: How do you manage to grow so many varieties of pumpkin in our short growing season?
A: Pumpkin growing season in Alberta is very short. The best way to grow pumpkins for a home gardener is to choose varieties that have a maturing date of fewer than 90 days.
Tip: We start many of our pumpkins in greenhouses to get a jump on the season!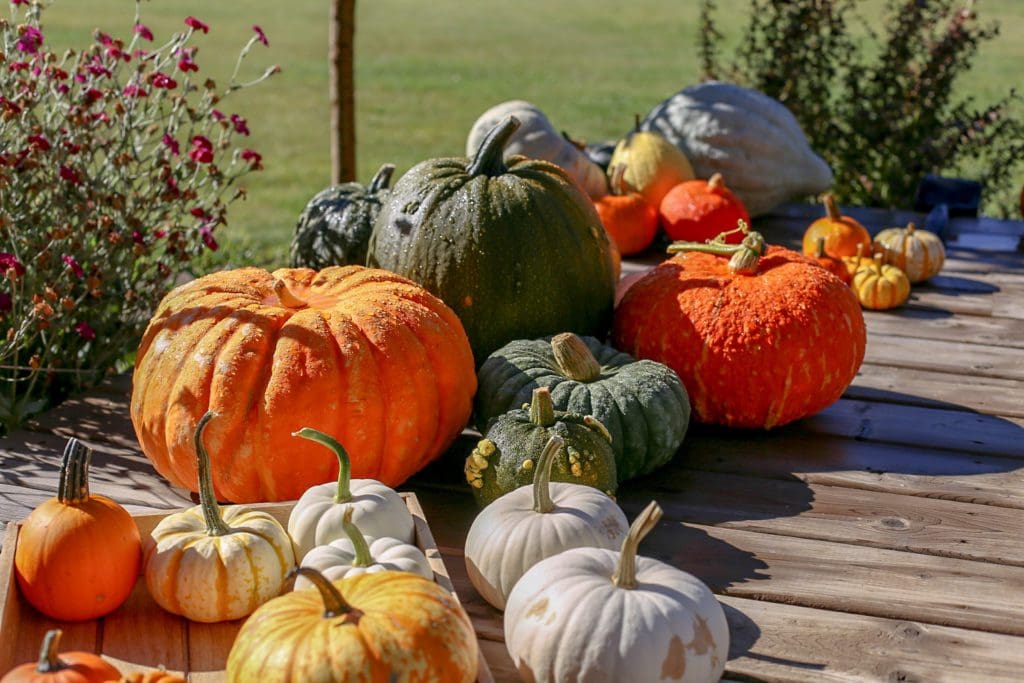 Q: Do you grow organically and are there any pests that are a problem?
We are not organic growers. However, we use sustainable methods to produce healthy, fresh pumpkins for the community. Our methods include crop rotation, the addition of compost and manure and using beneficial insects to control any pest outbreaks. Every year there seems to be a different pest that bothers our fields. In the past, it has been aphids, rodents and slugs. This year we had an issue with Crows… there is never a dull moment around here!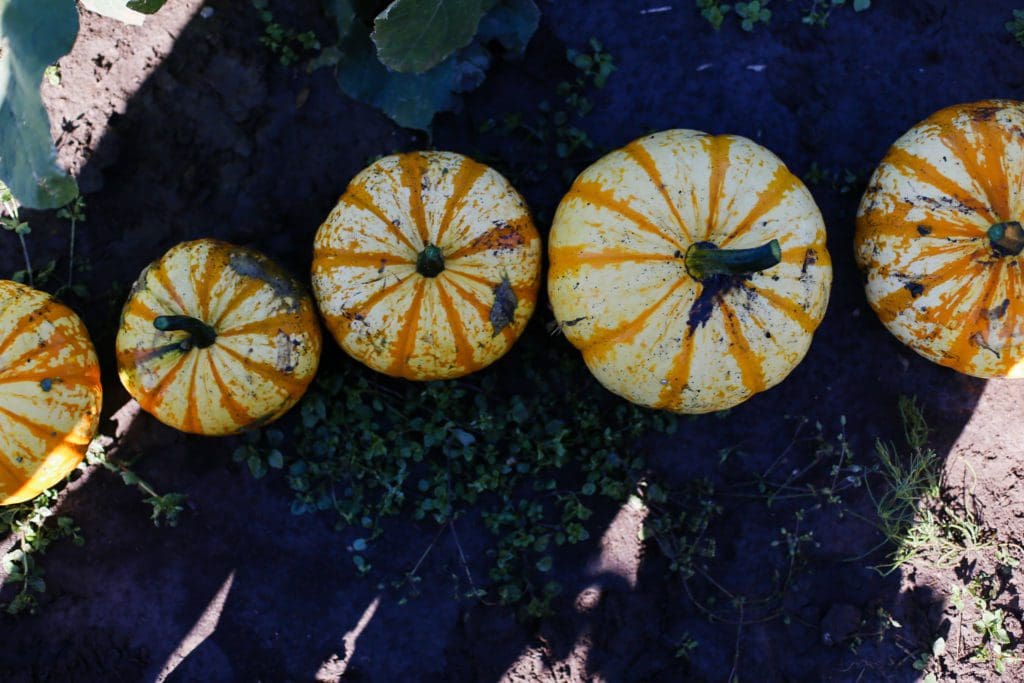 Q: What are the ideal growing conditions for pumpkins?
Pumpkins need lots of sun, water and food! Choose a sunny spot with fertile, well-draining, neutral pH soil. You can dig in compost and add fertilizer under each plant for a nutrient boost. Encourage bees into your garden for pollination!
Make sure seeds or transplants are in the ground safely after the last frost.
Sow seeds 1″ deep. If you are growing just one or two plants at home you can sow multiple seeds in each hole and choose the strongest plant to grow. Space plants a minimum of 36″ apart.
Keep well watered at the root and add extra fertilizer weekly if needed. Fruit will grow larger if you keep only one fruit per vine, but if you are a home gardener you may want a couple of slightly smaller specimens!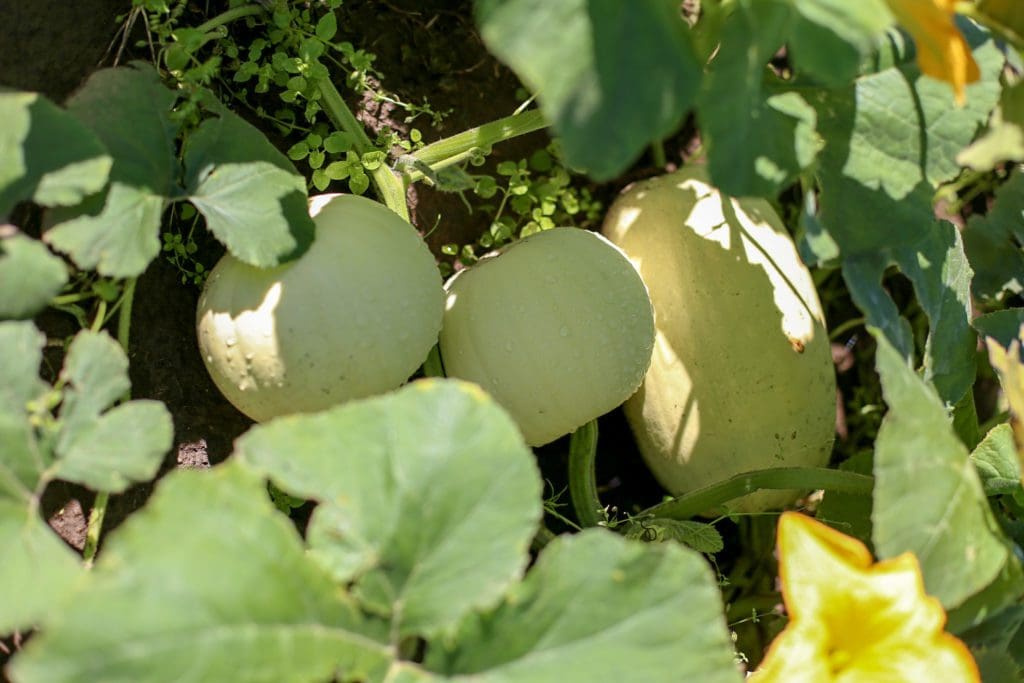 When To Pick Pumpkins
Q. When is the best time to pick a pumpkin?
A: Early as pumpkins cannot survive frost or freezing! It takes practice to get a real knack for which pumpkins are mature enough to pick. It's always best to leave them on the vine as long as possible, but if frost is threatening it's time to clip them off and bring them inside to cure.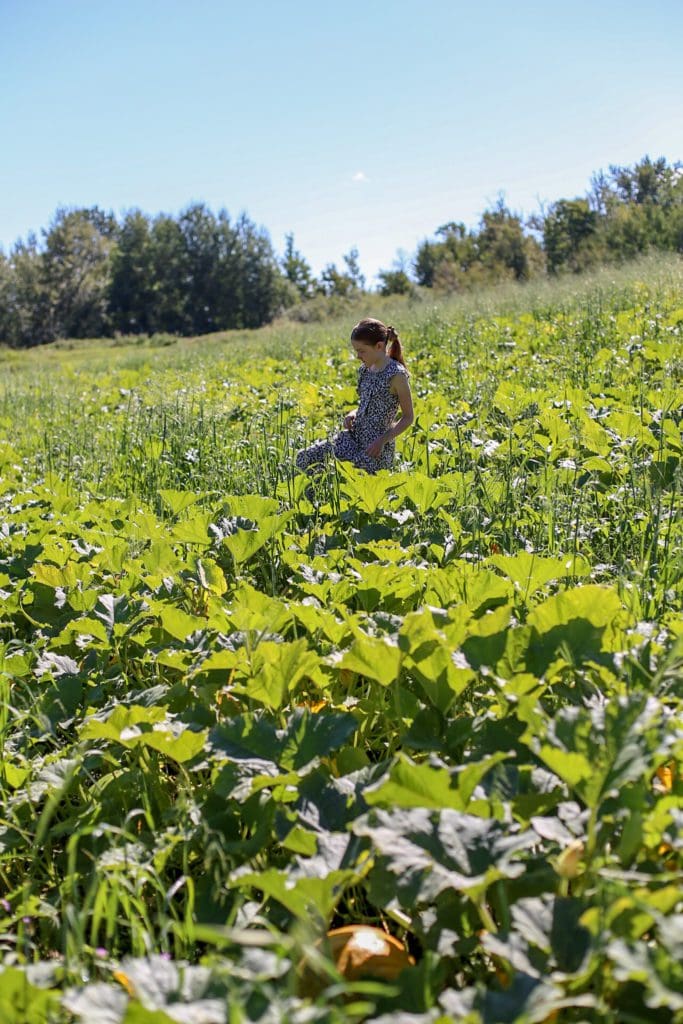 Q. How do you know when a pumpkin is ready to pick?
A: Pumpkins are ready to be clipped off the vine if their skin has started to harden and there is some color development. When you gently squeeze the pumpkin and it yields very little when squeezed it's probably ready to pick. If it feels a bit soft (sort of like a zucchini), it's probably not ready yet.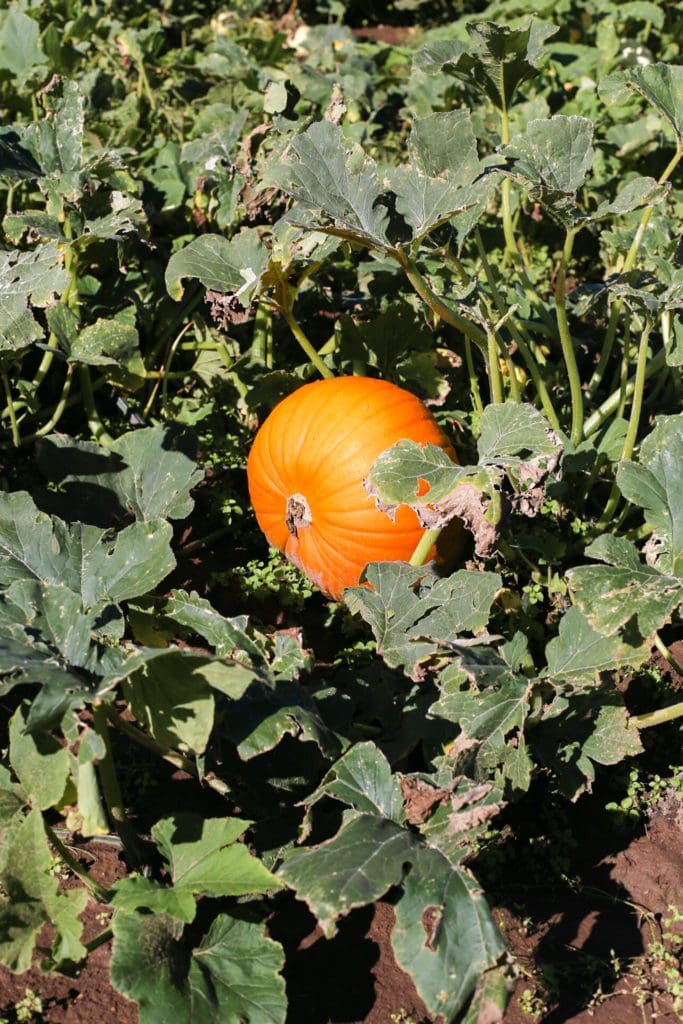 Q. What's the best way to remove a pumpkin from the vine?
A: We use sharp, clean gardening shears to cut the pumpkin's stems from the vine. Ideally, you want to leave the stem as long as possible to aid in its ability to survive in long-term storage. Stems that are 3 to 4 inches long are ideal. A pumpkin will last longer in storage if it has a stem on it.
Tip: Wear long pants and closed-toed shoes. Pumpkin vines and leaves are very prickly and can scratch your legs and arms. Be sure to carry your pumpkins from the bottom, NOT from the stem! Stems are also very prickly!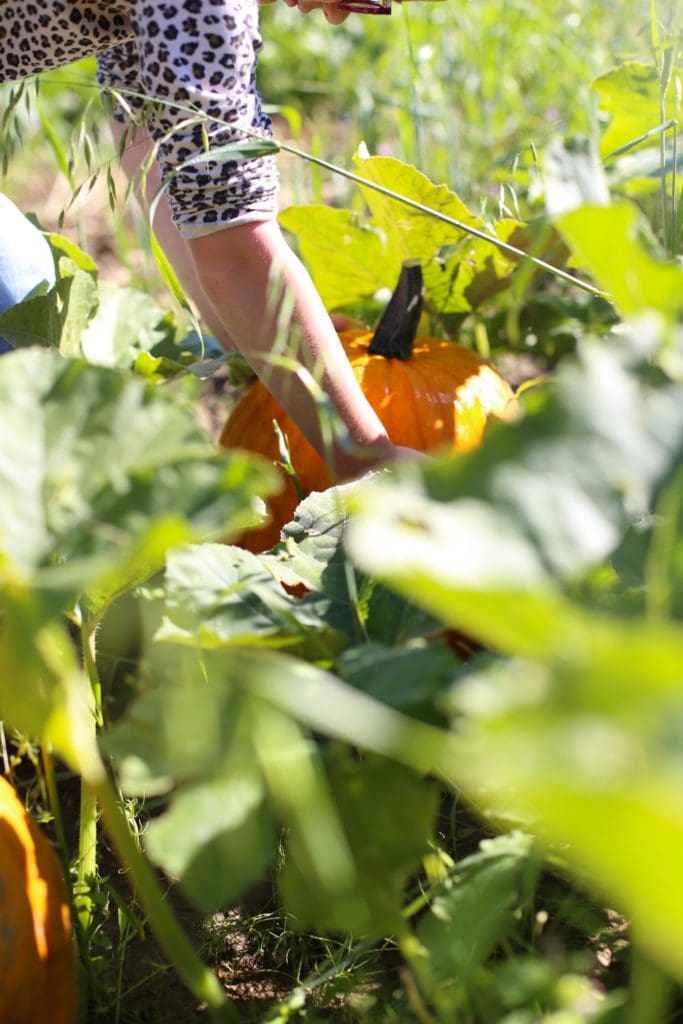 Q. Should you wash your pumpkins?
A: Yes, we use a solution called Sanidate to wash pumpkins for storage. We recommend customers who are picking their own pumpkins wash using water or a fruit and veggie wash to remove any of the dirt and bacteria that may be on them.
How To Preserve Pumpkins
Q. How do you "cure" a pumpkin?
Pumpkins picked fresh from the fields need to be "cured" prior to storage. Curing is actually a very simple process – leave your pumpkins in a warm location for two or more weeks in order to fully harden the skin and dry out the stem. This helps pumpkins become impenetrable to diseases and bacteria so they can survive in long-term storage.
Pumpkins should be stored in a cool dry location on a surface with plenty of airflow. For example, a slatted bench is ideal. Storing your pumpkins on concrete or cement will cause them to rot!
Just remember… NO FROST, NO FREEZING, NO SNOW, NO CONCRETE
Check your pumpkins every couple of days for soft spots. If there is a developing soft spot, scrape with a spoon until you reach firm flesh again. Then apply honey to the "wound". The natural antibacterial properties in the honey will stop the rot from spreading!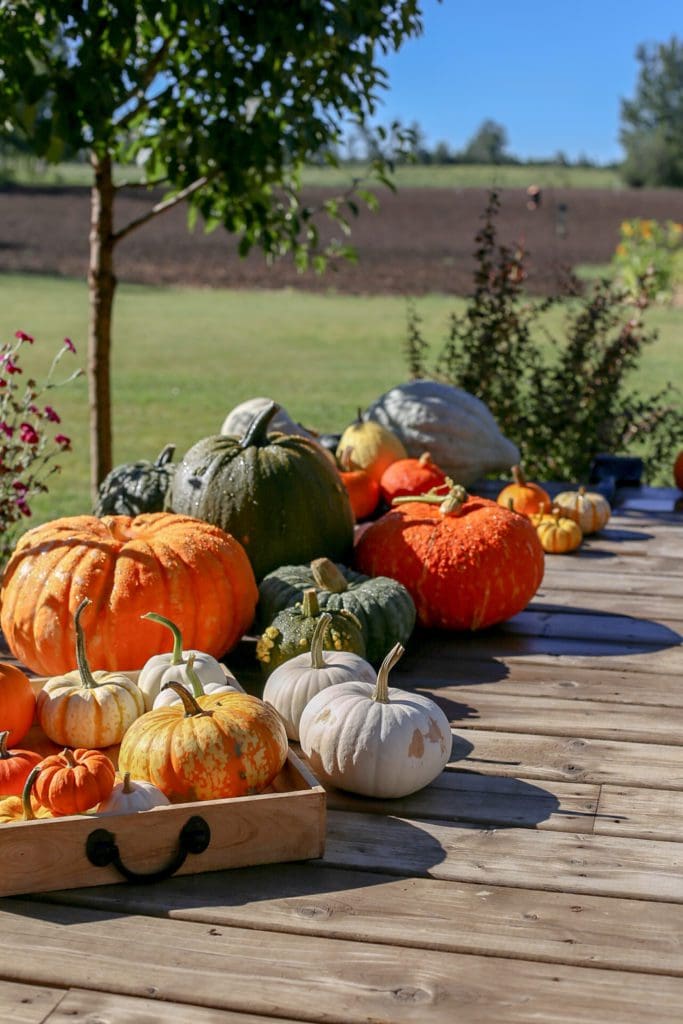 TIP: When I bring my pumpkins home I leave them indoors to cure because our nights get chilly already at this time of year. If you live somewhere warmer, a nice sunny spot outside is great. But be careful with your white pumpkins! They will yellow in the sun!!
Q. How do you know when the pumpkin is "cured"?
The pumpkin will harden and the stem will no longer have any green to it! The stem should be completely brown and dry.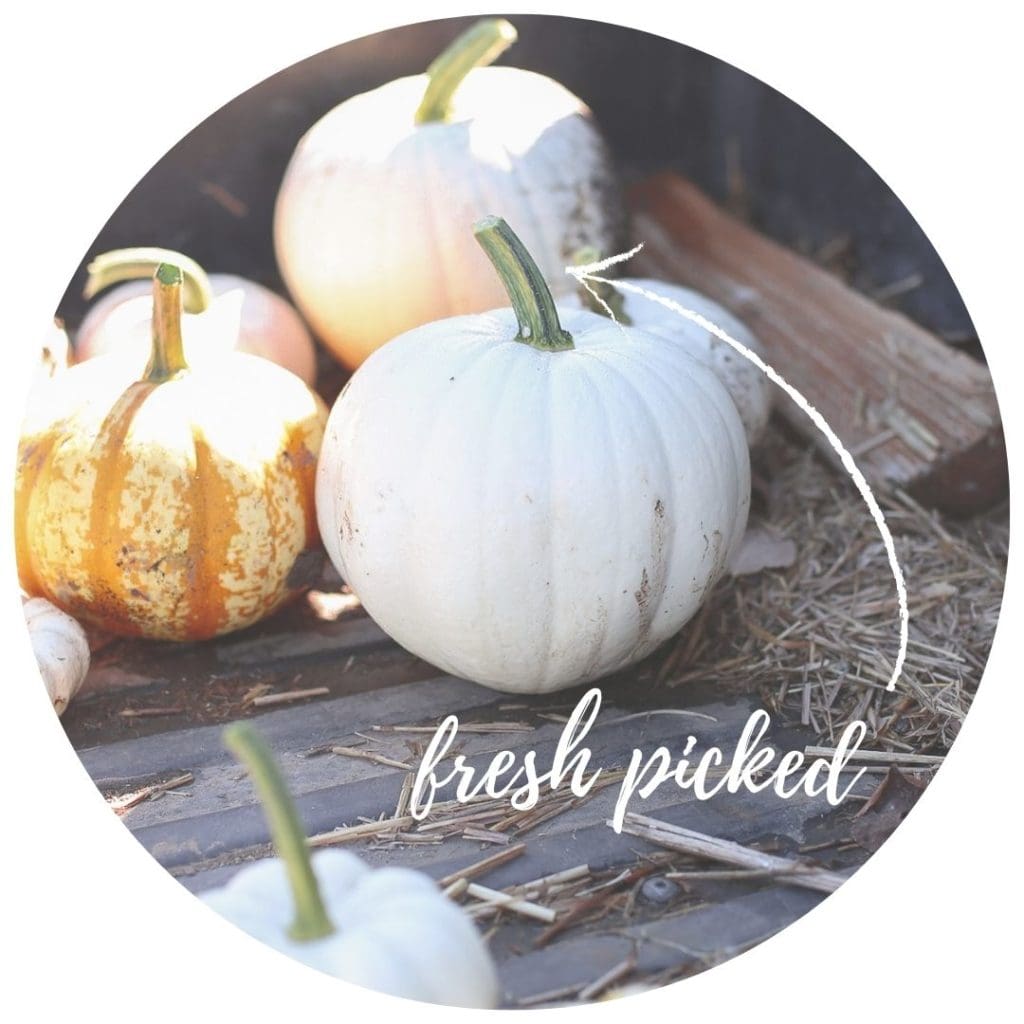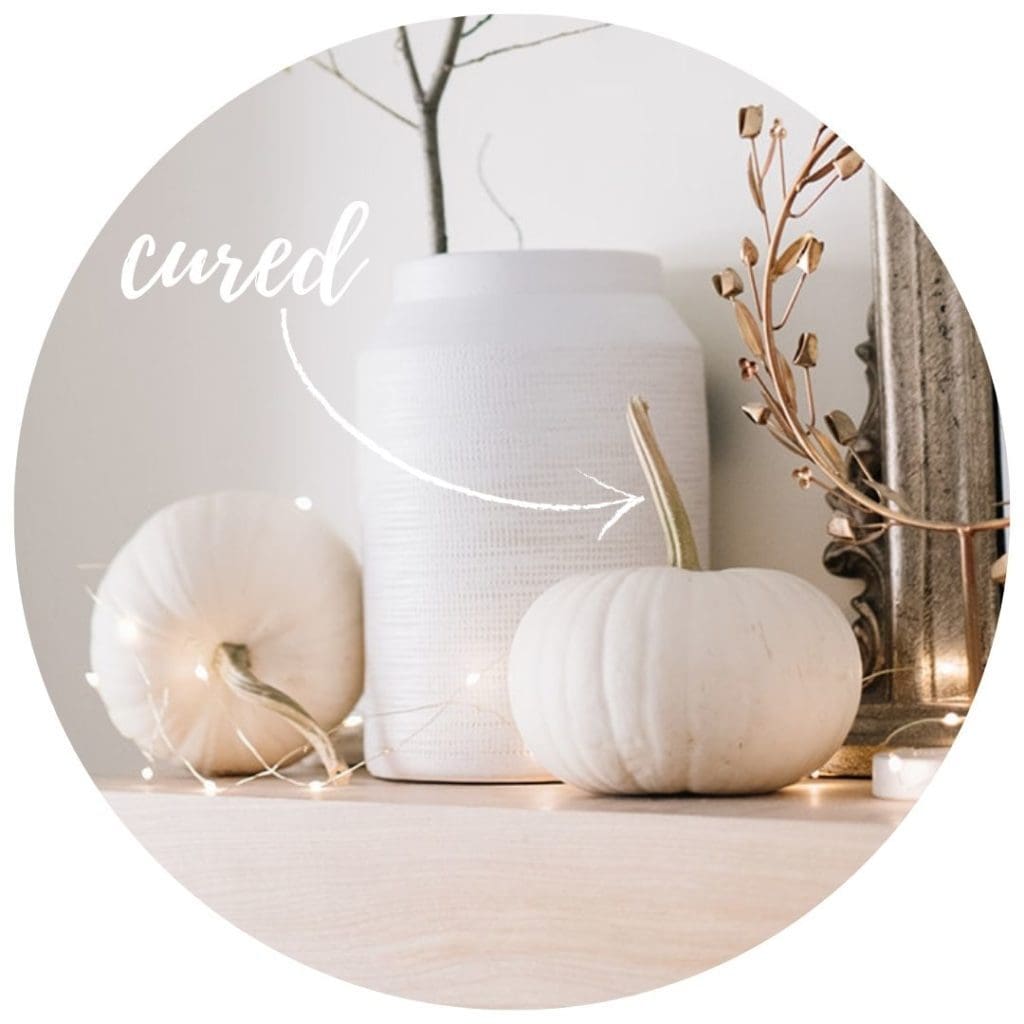 How To Decorate With Pumpkins
Now that you know the basics of how to pick and preserve pumpkins it's time to have fun with them! I love to use pumpkins everywhere during fall and of course Halloween! Here are some of my favourite fall decorating moments with pumpkins from seasons past!
FUN & BRIGHT
Read the post : A Bright and Happy Halloween Party
PRETTY & PINK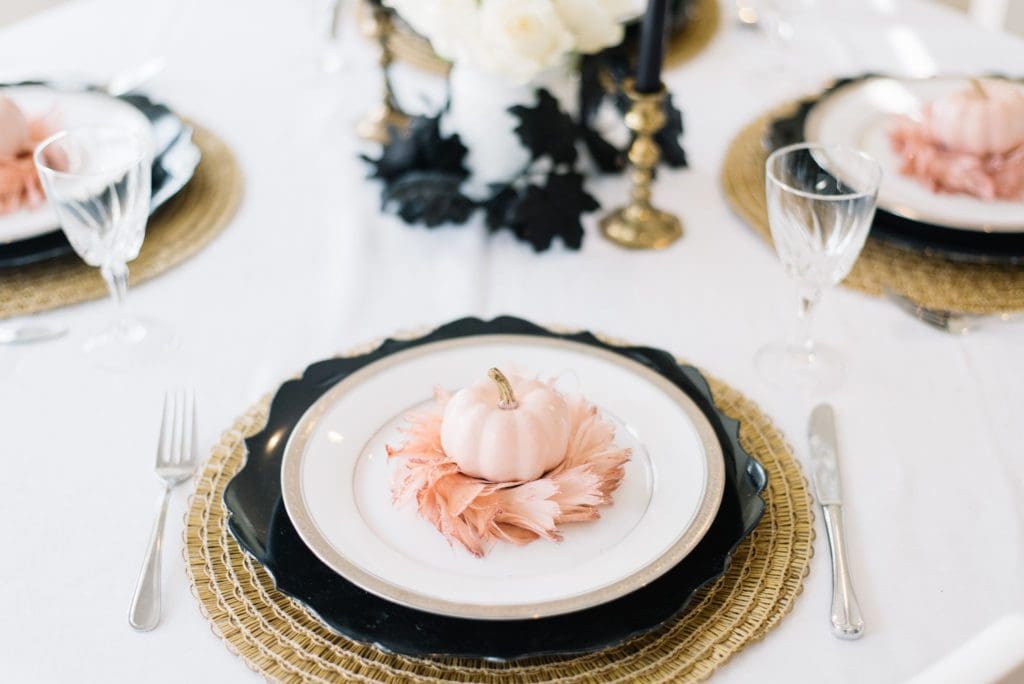 Read the post: Luxe Halloween Decor – 10 Budget Friendly Ideas
NATURALLY NEUTRAL
Read the post: A Pretty & Subtle Halloween Mantle
FABULOUS FALL
Read the Post: Simple and Neutral Fall Decor
---
I hope you've enjoyed these tips on how to pick and preserve pumpkins. Last year my pumpkins held up through the entire fall season and then we stored and ate them through the winter!! These tips really work! Thanks Kate for the valuable insight!!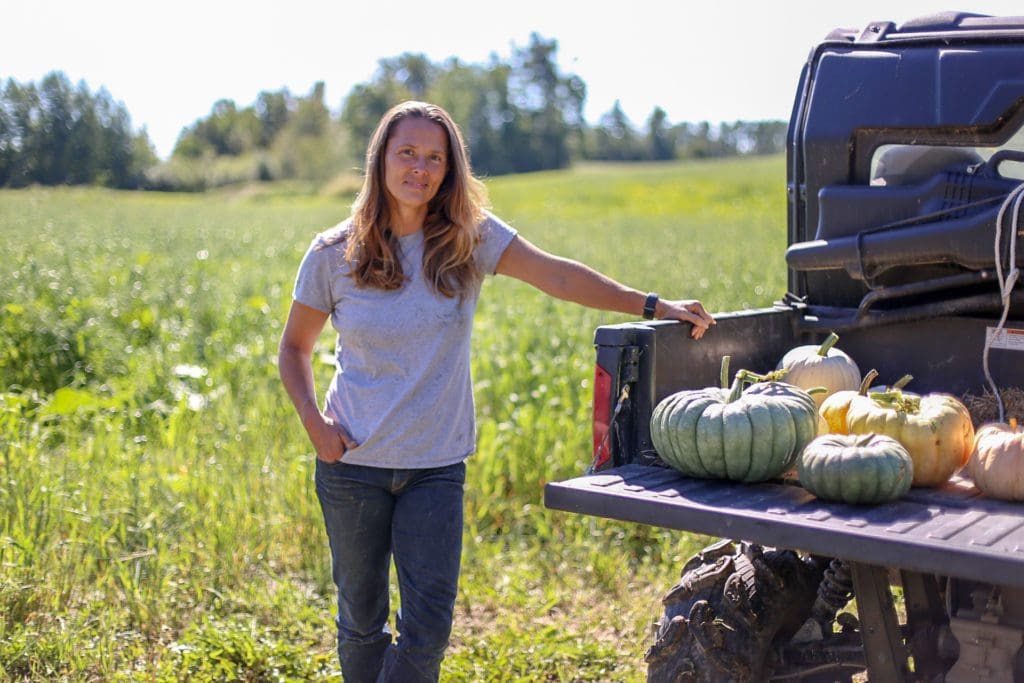 About Somerset Farms
Somerset Farms is owned and operated by the de Windt family. Nana, Grandpa, Kate, Steve and their two boys, Harmen and Cam, all work on the farm. Kate grew up in Ontario where pumpkin picking in the fall is a common occurrence. When she moved to Alberta, 16 years ago, she realized that not many people grew pumpkins here, but it was possible. Over the years, she grew more and more pumpkins for friends and family. Five years ago Somerset Farms grew 200 pumpkins and this year they grew 10,000! You can check out more about Somerset Farms and how to visit HERE.
---
MORE GOOD READS: