This past year cleaning our homes has been a hot topic! I've heard a lot of talk about cleaning with Tide powder, bleach etc… but the chemicals in most commercial cleaning products are just plain scary. By eliminating toxins from our daily cleaning rituals in the house, we give our immune systems one less thing to fight. Here are some tips on how to clean your home naturally without toxic chemicals.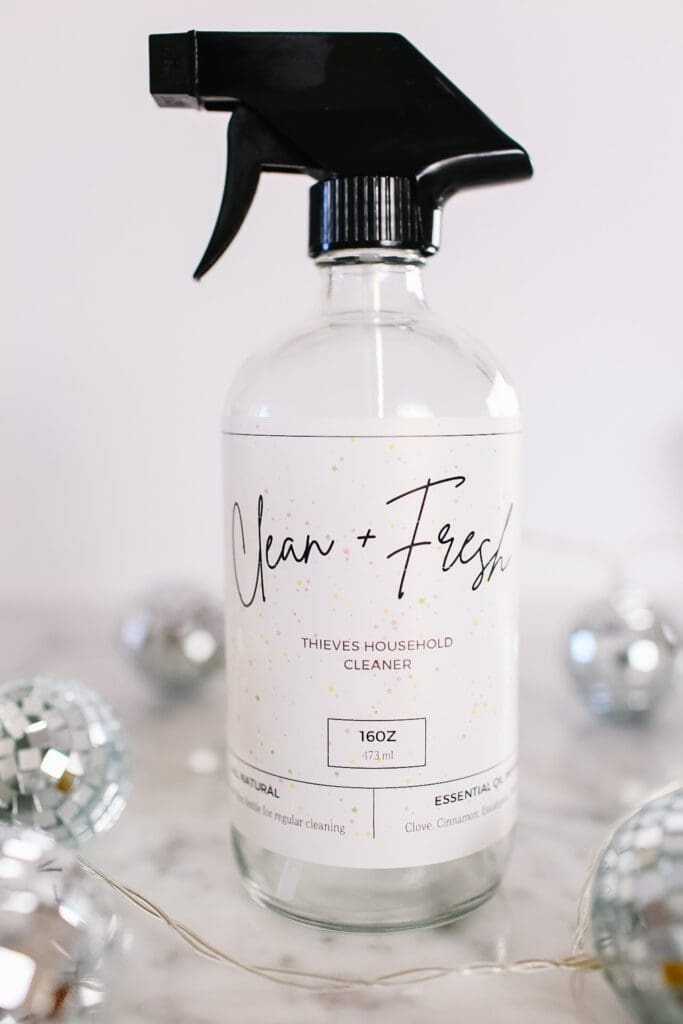 Estimated reading time: 9 minutes
Note: This post may contain affiliate links that won't change your price but may share some commission.
Why Natural Cleaning?
Common cleaning products can cause respiratory issues, allergic reactions, and eye and throat irritations. Chemicals found in household cleaners have been linked to some cancers. Products such as aerosol sprays, oven & appliance cleaners, dishwashing liquid & detergents and carpet & upholstery cleaners may release volatile organic compounds (VOCs). These VOCs can cause irritations, central nervous system damage, nausea and more. There are so many reasons to get these products out of your home!
The good thing is that switching to natural cleaning is simple. You only need a few recipes to clean the whole house. I used to have an army of cleaning chemicals, marketed for every use you could possibly think of….toilet bowl cleaner, toilet bowl scrubber, tub cleaner, floor cleaner, mildew cleaner. The list seemed to go on forever. And the lists of toxic ingredients did too! But to clean your house naturally, you only need a few basic supplies: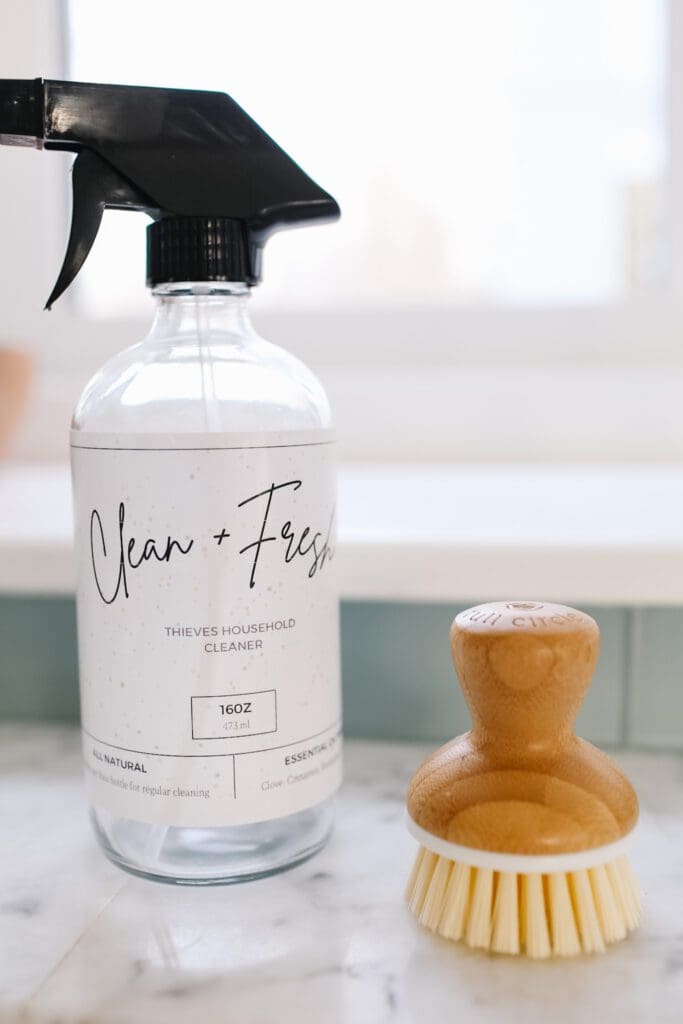 Natural Cleaning Supply List
You will need the following:
What is "Greenwashing"?
So many products that claim to be "natural" or "green" are actually full of chemicals and toxic ingredients…
Greenwashing is the process of conveying a false impression or providing misleading information about how a company's products are more environmentally sound. Greenwashing is considered an unsubstantiated claim to deceive consumers into believing that a company's products are environmentally friendly.

–INVESTOPEDIA
Where to Buy Clean Products
I buy my cleaning products from Young Living because I know they are made with high-quality, natural ingredients. You can substitute another cleaning concentrate in these recipes, but be sure to read the label carefully. Order natural cleaning products from Young Living.
It's so important to be a gatekeeper for your home and to clean with fewer toxic products! And the fact that it's actually easier to clean your home naturally is a huge bonus! So let's get to it….here are some of my favourite non-toxic cleaning recipes:
KITCHENS
Kitchen Sink
We have a white porcelain farmhouse sink so we need to use a soft scrub that will clean stains without being abrasive. You could also use this safely on a stainless steel sink.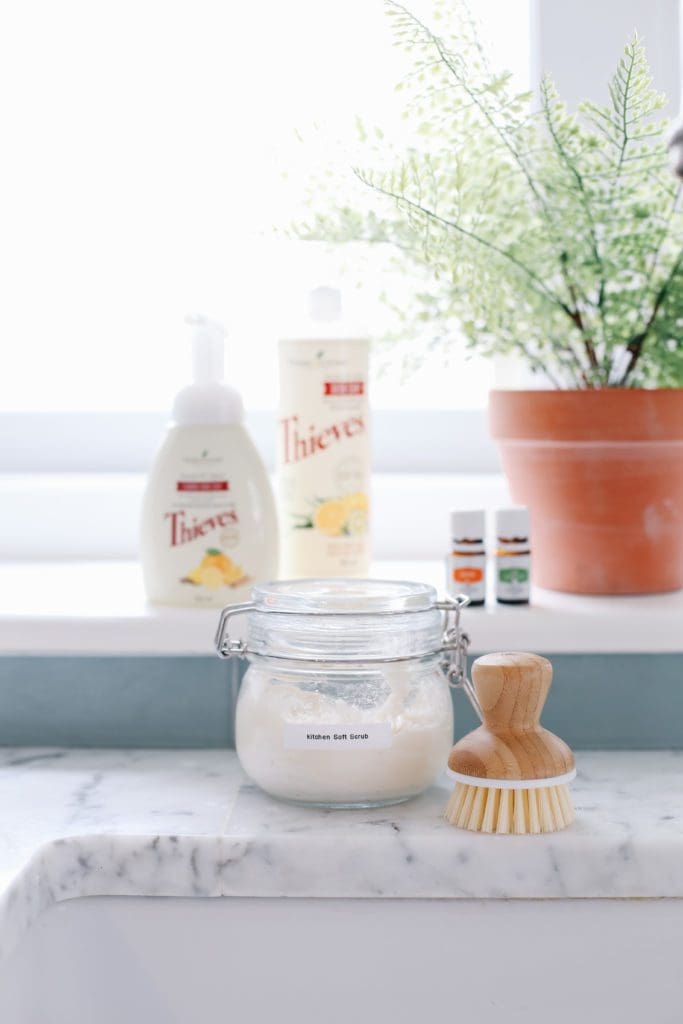 LEMON & BAKING SODA SOFT SCRUB
2 Cups baking soda
10 Caps Thieves Household Cleaner
20 Drops Lemon essential oil
Scrub with a cloth or soft bristle scrub brush and rinse with warm water. Let sit to lift stains out of porcelain.
Stove Top
We have a gas cooktop and it tends to get grease spatters on the stainless steel base. I use either the Lemon & Baking Soda Soft Scrub (see above), or I apply a capful of undiluted Thieves Household Cleaner onto the grease spot. I let sit for a minute and then wipe off.
Microwave
I've used this trick to clean my microwave for years. Place a bowl of water with 5-10 drops of lemon essential oil or freshly sliced lemons in the microwave and cook on high for a few minutes. The steam will loosen caked-on grime inside the unit and make it easy to wipe clean. As a bonus, your house will smell lemony!
Oven
I use undiluted Thieves Household Cleaner on the oven floor and on the door to remove stuck grease. Just scrub gently with a non-abrasive brush or sponge.
If you don't have Thieves cleaner you can also use baking soda. Stir together baking soda and water using a 2:1 ratio. ( For example, 2 cups baking soda + 1 cup water). Make sure you have enough to cover the surface area you want to clean. Apply to the surface and let sit 20 mins. Then easily wipe clean!
Fridge
Wipe your fridge down with Thieves Household Cleaner. If there are any sticky spots directly apply a few drops of Lemon essential oil and wipe clean after a few minutes.
I like to add a bowl of baking soda with 5-10 drops of Purification Essential oil added to neutralize odours as well.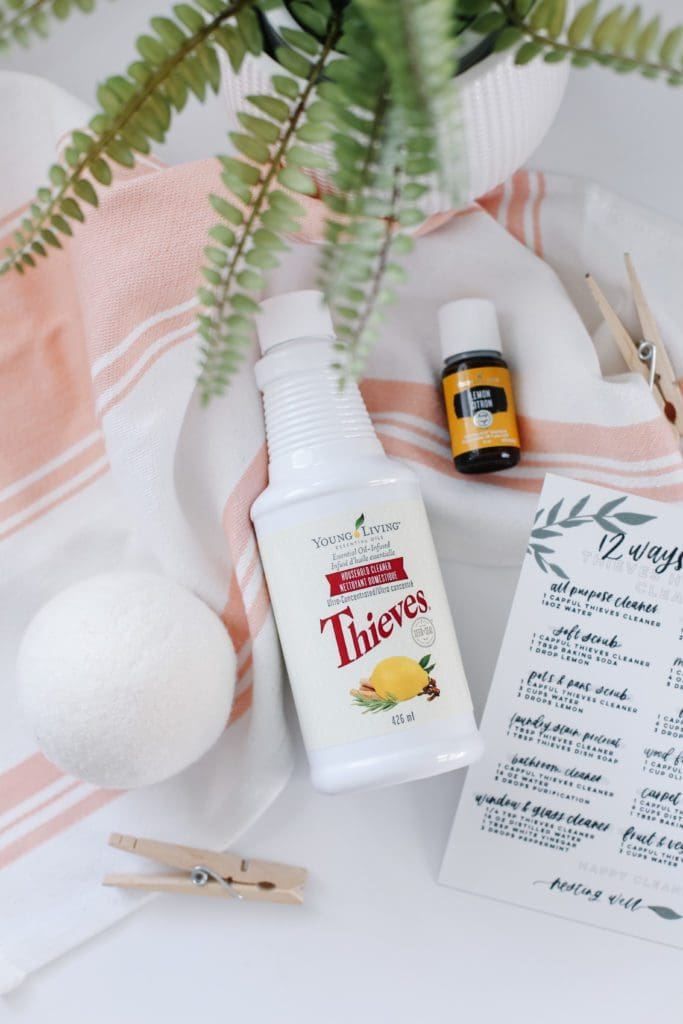 ALL-PURPOSE HOUSEHOLD CLEANER
Add 1 capful Thieves Household Cleaning Concentrate to a 16oz spray bottle and top with water.
Counters & Surfaces
I use the all-purpose household cleaner on my counters. I gave up sealing my marble countertops a few years ago. The chemical sealants are just too nasty! I use a few drops of lemon essential oil for sticky spots. The oil doesn't etch marble the same way lemon juice would. And I apply the soft scrub paste to any stains for a few minutes to lift them out.
I also use all-purpose cleaner to wipe down cabinet fronts and inside drawers and cutlery trays etc…
Stainless Steel
To polish stainless steel appliances mix 1/2 capful Thieves Household Cleaner + 2 Tbsp olive oil in a spray bottle. Buff the cleaner into the stainless steel with a damp, lint-free cloth. Wipe off excess with a clean, dry cloth.
BATHROOMS
Toilets, Tubs & Sinks
Once again I use the Soft Scrub recipe for cleaning toilet bowls or stubborn bathtub grime. Works like a charm on porcelain. Then I use the all purpose cleaner on the outside of the toilets, tubs and to spray down the sinks and counters etc..
Showers
This spray works well for glass doors, or tile or plastic surrounds to keep hard water & soap residue from building up.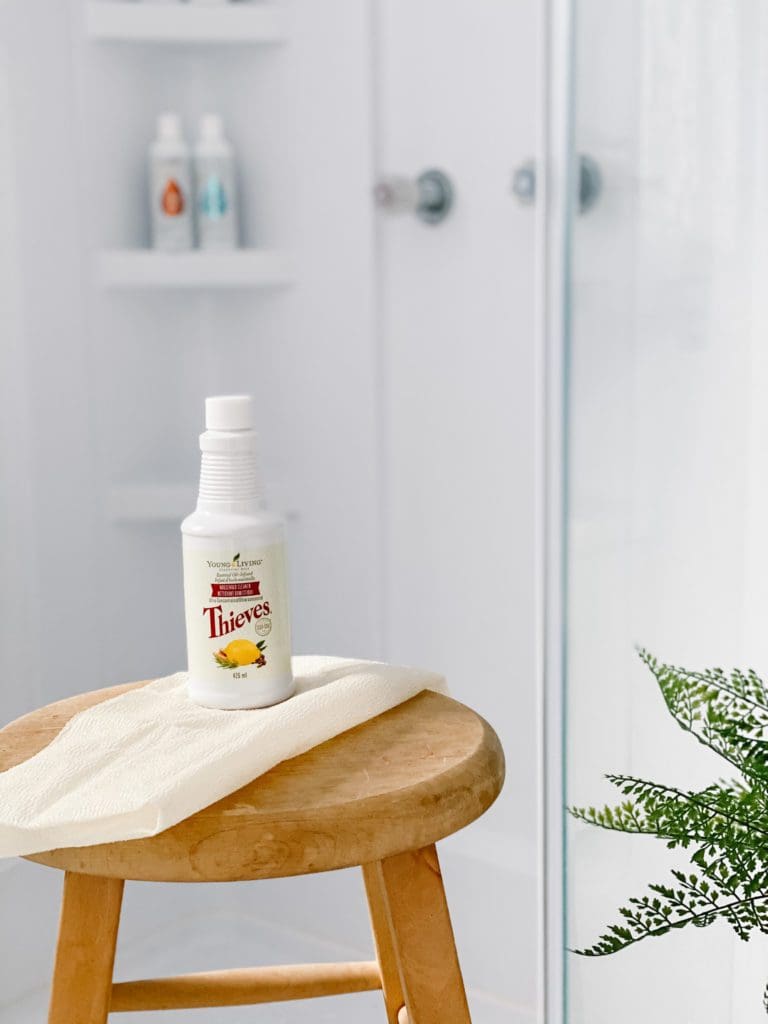 SHOWER SPRAY
1/2 capful Thieves Household Cleaner
1/2 cup vinegar + 1 cup water
1 Tbsp Thieves dish soap
3 drops Lemon Essential Oil
Spray on and scrub to remove water stains and soap residue on the glass
Shower Heads & Faucets
In a plastic bag mix 1 tsp Thieves Household Cleaner + ¾ cup white vinegar. Attach the bag to the fixture and leave for several hours. Scrub with a coarse brush if needed to remove hard water stains. Rinse well.
Mirrors
Use this simple glass cleaner for a streak-free shine on mirrors and reflective surfaces.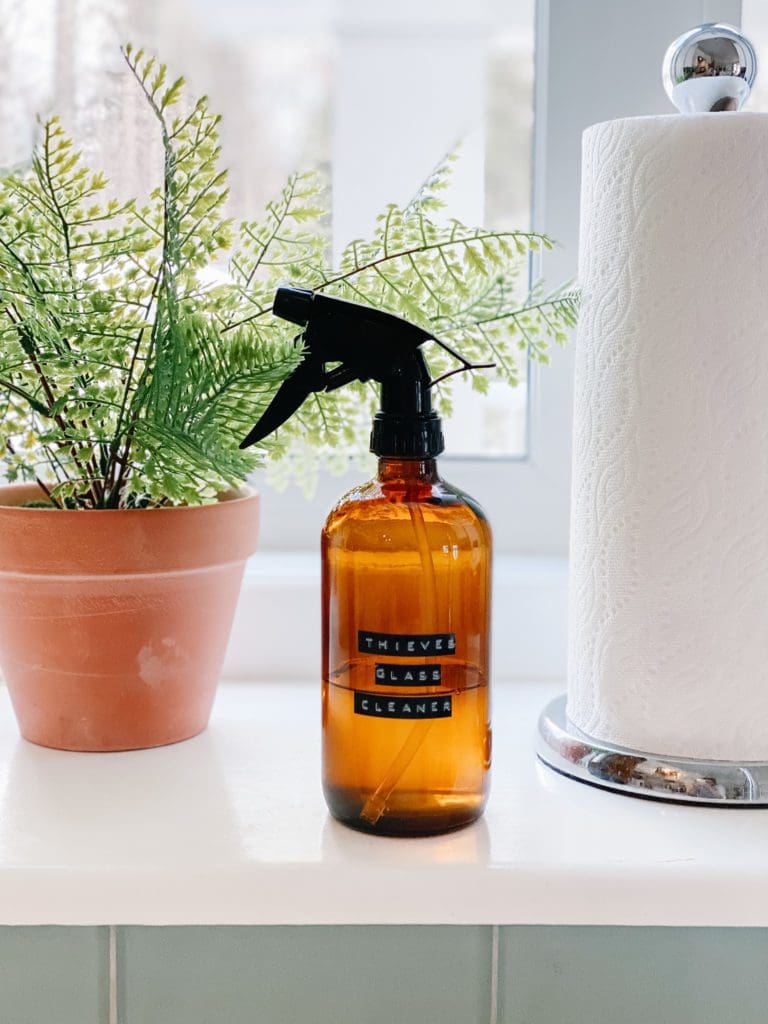 GLASS SPRAY
1 capful Thieves Household Cleaner
2 Tbsp white vinegar
3 drops Citrus Fresh Essential Oil
Top with water in a 16oz spray bottle.
SURFACES
Baseboards & Walls
Use all purpose cleaner for baseboards and walls and if there is "artwork" on the walls apply a splash of Thieves Household Cleaner + 3 drops of Lemon essential oil to a damp rag and wipe!
Windows
Adding a bit of vinegar keeps windows streak-free. Use the glass cleaner listed above for any windows, cabinet doors, or other glass surfaces. Another trick for streaks is to wipe the windows dry with newspaper instead of paper towel.
Floors
For tile and laminate flooring use the following recipe to wash floors by hand or use a steam mop: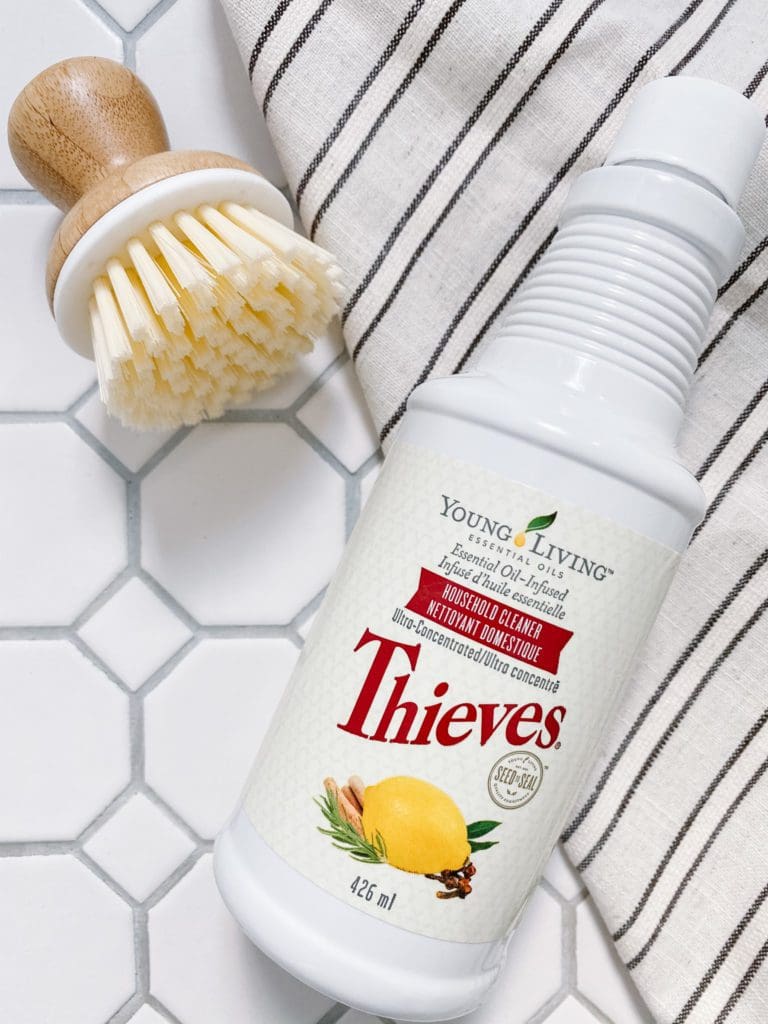 FLOOR CLEANER
1 Tbsp Thieves dish soap
1 capful Thieves Household Cleaner
2 Tbsp White Vinegar
1 gallon warm water
Mix ingredients in a bucket and mop floors.
LAUNDRY
Many laundry detergents, fabric softeners and dryer sheets are full of nasty chemicals, fragrances, hormone disrupters and carcinogens. I had no idea that they were some of the most toxic products we have in our homes.
The chemicals found in typical laundry detergents remain in your clothes after a wash cycle and can penetrate your skin, especially when your clothes become damp or wet.
Try these natural recipes instead: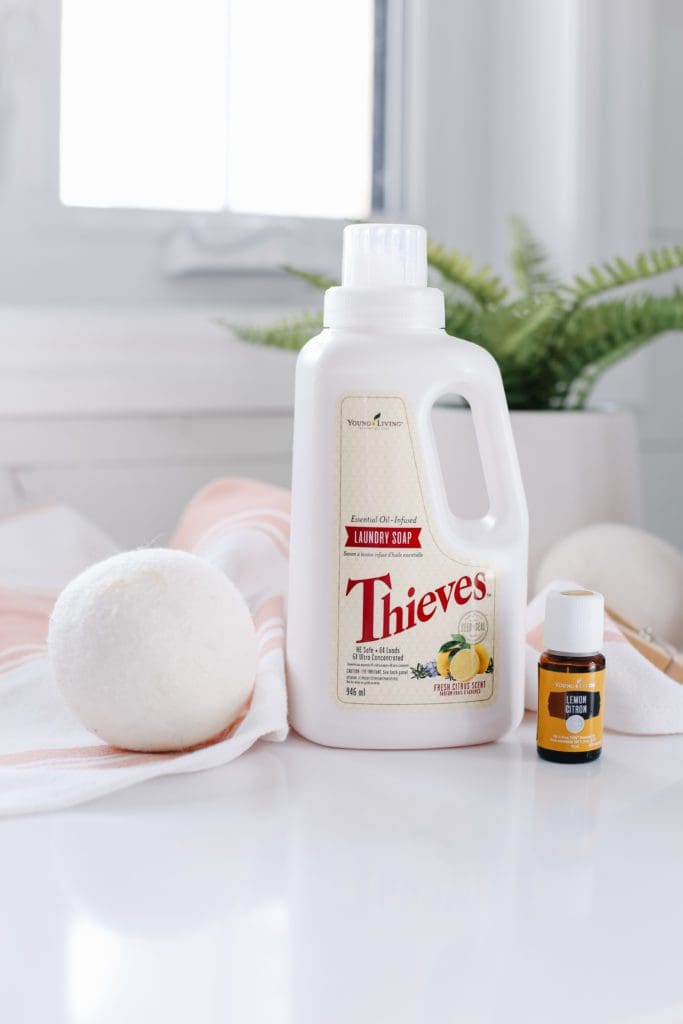 THIEVES LAUNDRY DETERGENT
32oz bottle Thieves Laundry Soap
6 caps Thieves Household Cleaner
64 oz of water
10 drops Lemon essential oil
Combine all ingredients in a 1-gallon drink dispenser. Use the laundry soap bottle lid to dispense (1/4 – 1/2 cap per load).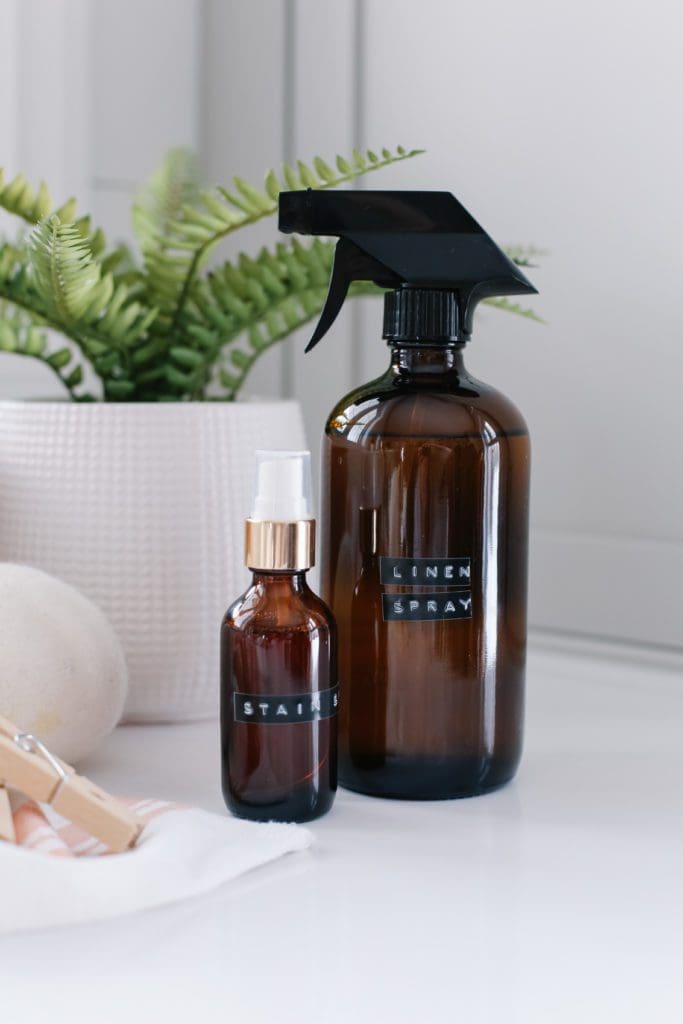 STAIN SPRAY
Fill a 4oz spray bottle with 1/2 Thieves Dish Soap and 1/2 Thieves Household Cleaner. Add 2 drops Lemon essential oil. Pretreat all stains prior to washing.
Because fabric softeners are made to stay in your clothing, the chemicals are slowly released, either into the air for you to inhale or onto your skin for you to absorb. Add 1/4 cup of white vinegar to the final rinse cycle of your wash as a natural fabric softener instead.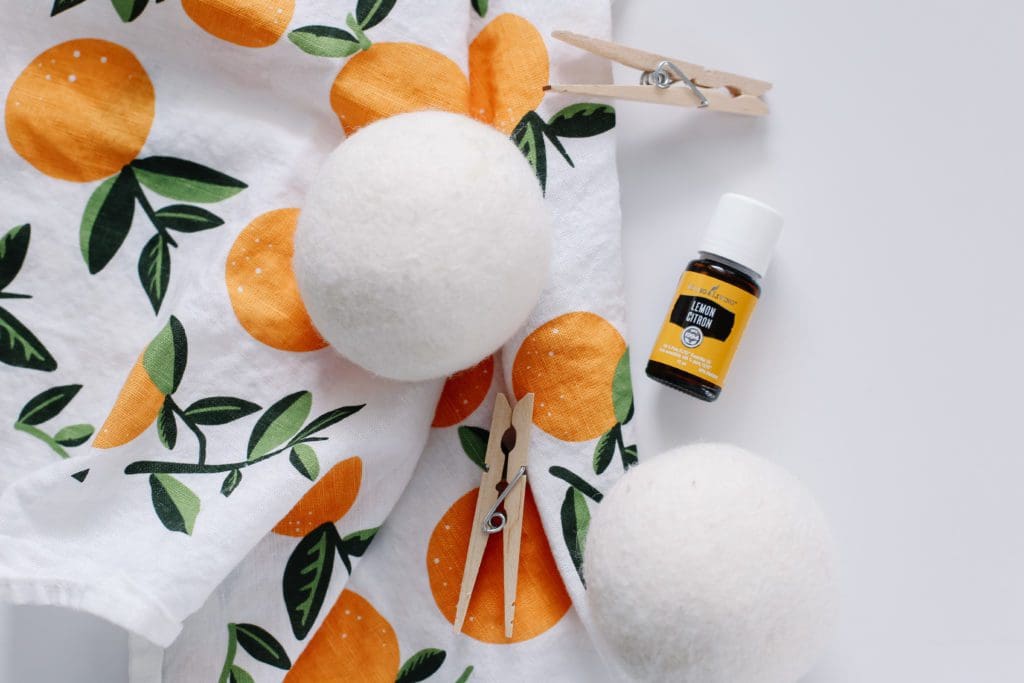 The effects of many chemicals are more acute when heated in clothes dryers, which exhaust toxic fumes into the air. Use wool dryer balls with 2-3 drops of Purification or Citrus Fresh essential oil added instead.
I find that if I overdry my clothes using wool dryer balls they will still have static. This might be your issue if you find wool dryer balls aren't working well for you.
And of course, hanging your laundry outside in the fresh air and sunshine is always an amazing natural drying option!
---
It's easy to "ditch and switch" the nasty chemicals in your house for natural cleaning options. It's more simple, less expensive, and most definitely better for your health! I hope you've enjoyed these tips on how to clean your home naturally. For more information on essential oils and natural living check out Ginger Home Essentials.
You may also like these free printable cleaning charts to help keep your house clean without the stress!