Love is in the air! Valentine's Day is almost here and we have 2 little girls in our house that are very excited about it! Mark and I prefer to show our love year-round rather than indulging in a grand gesture once a year. But my girls want all the hearts and all the candy, so what's a Mom to do except oblige! Here are 5 fun Valentine's Day decorating ideas!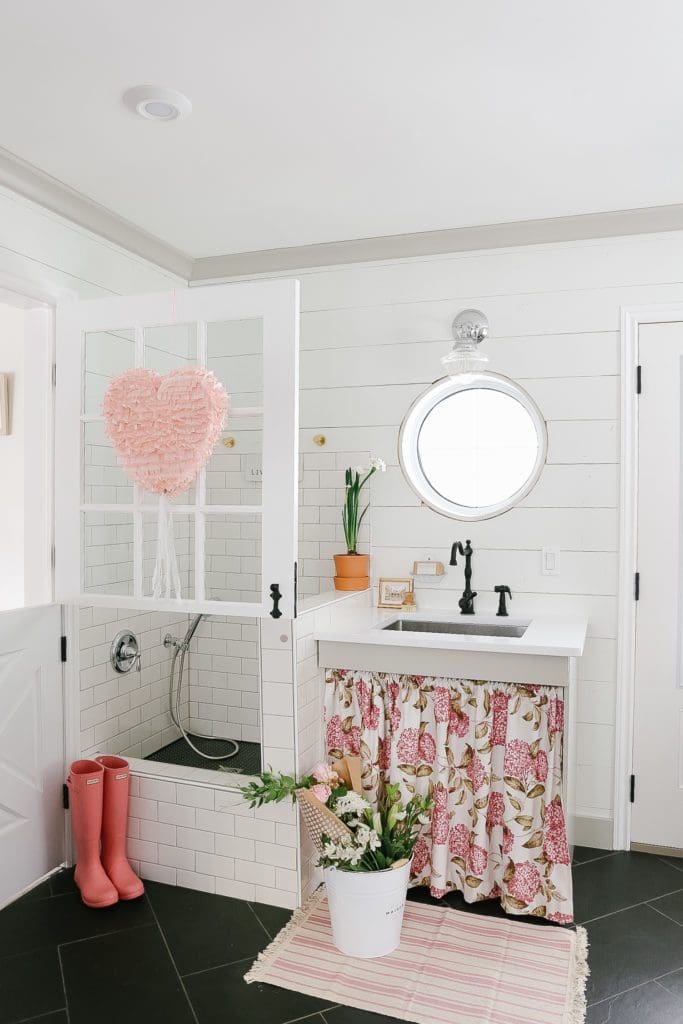 Estimated reading time: 7 minutes
Note: This post may contain affiliate links that won't change your price but may share some commission.
Think beyond red & white décor
I'm not a fan of traditional red Valentine's Day decor, but give me all the peachy pinks and I'm in my happy place! This year I added some colourful touches to the house starting with this gorgeous floral bouquet full of coral tones from Costco. (Total score!)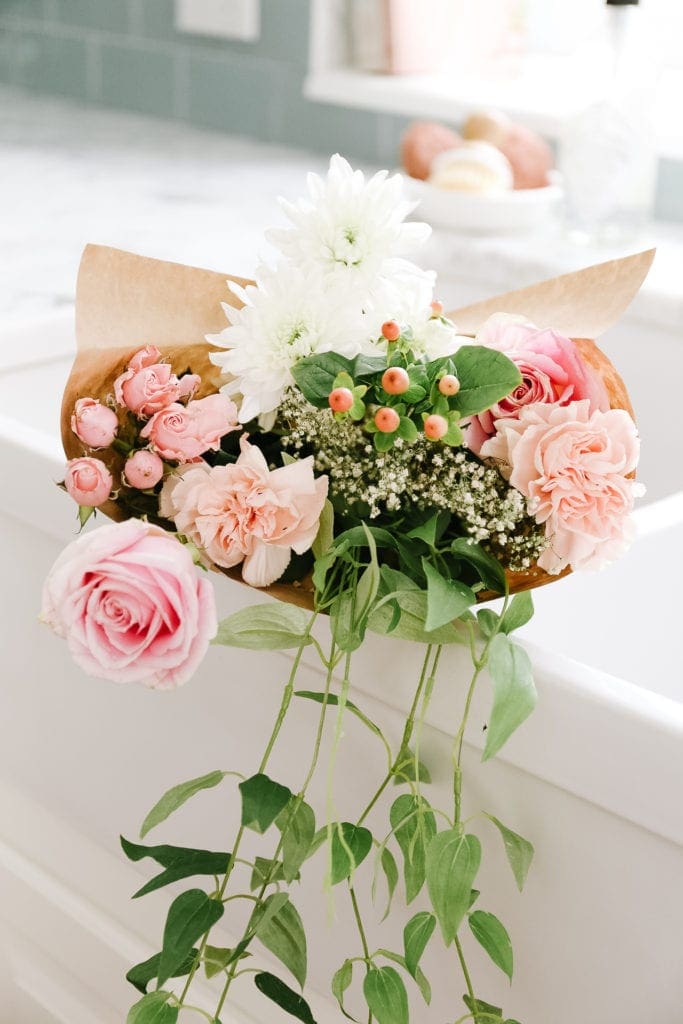 I continued the coral theme with a pretty paper tassel garland over the kitchen sink and a few berry sprigs added to a freshly baked cake.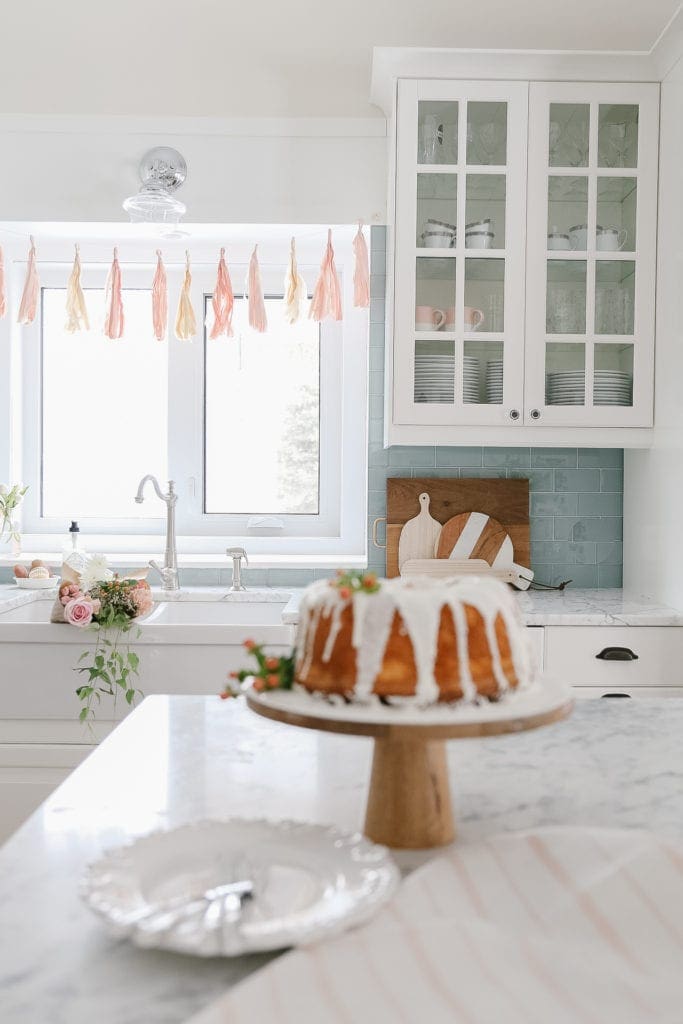 And if you look closely you can see I added a few pink mugs in the glass cupboard beside the fridge and a cute little vintage rug in soft pink tones by the kitchen sink! My go-to source for vintage rugs is always Etsy!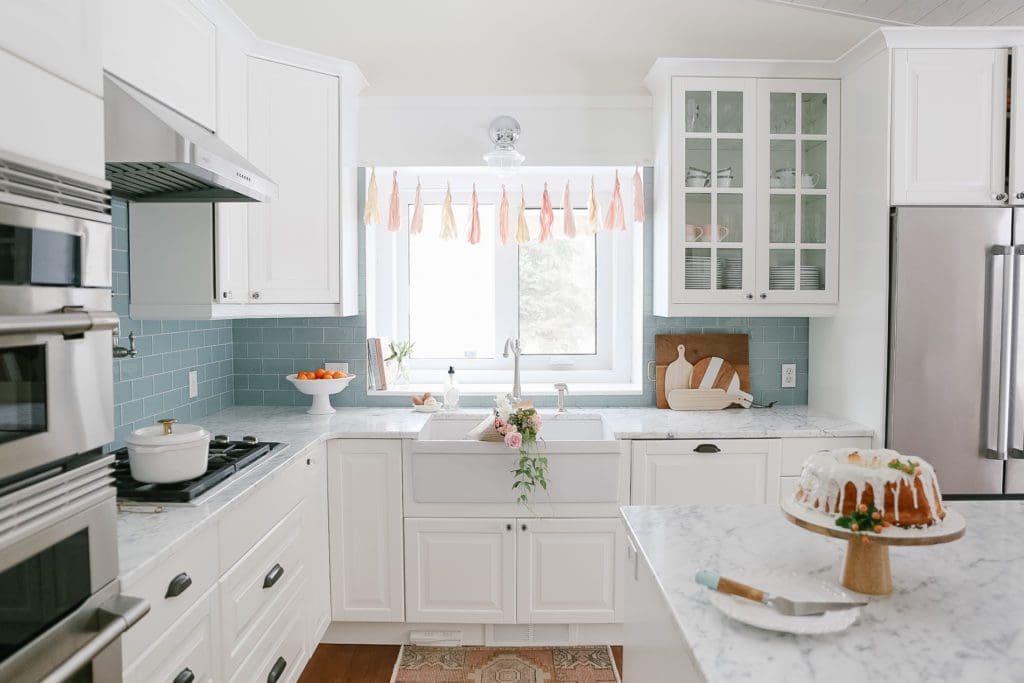 I usually make cupcakes at this time of year, but I love how pretty this bundt cake looks with drizzled white icing and berry sprigs. It's a little unexpected and compliments the peachy pink theme. And the little berries speak to the mandarin oranges sitting on the counter! Pink and orange is such a fun, fresh colour combo!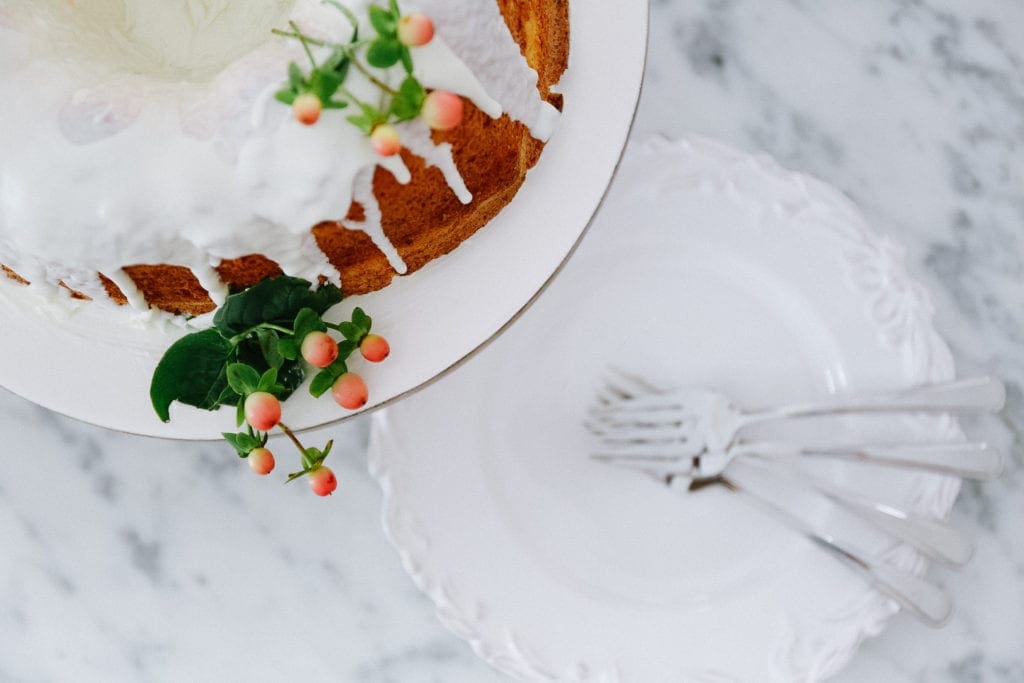 Set a pretty Valentine's Day table
We have a small eat-in kitchen and it's become a tradition for me to dress up the little round table we have in the dining nook for holidays, birthdays, etc… The girls know that when they wake up they will find something new and fun on special days as they wander in for breakfast!
This year I set the table with faux tulips, pretty glassware, and linen napkins tied with silk ribbon. It's simple, easy and pretty! I love how the subtle pink pattern on the plates plays against the pale pink stripe of the linen tablecloth and softly textured silk ribbon.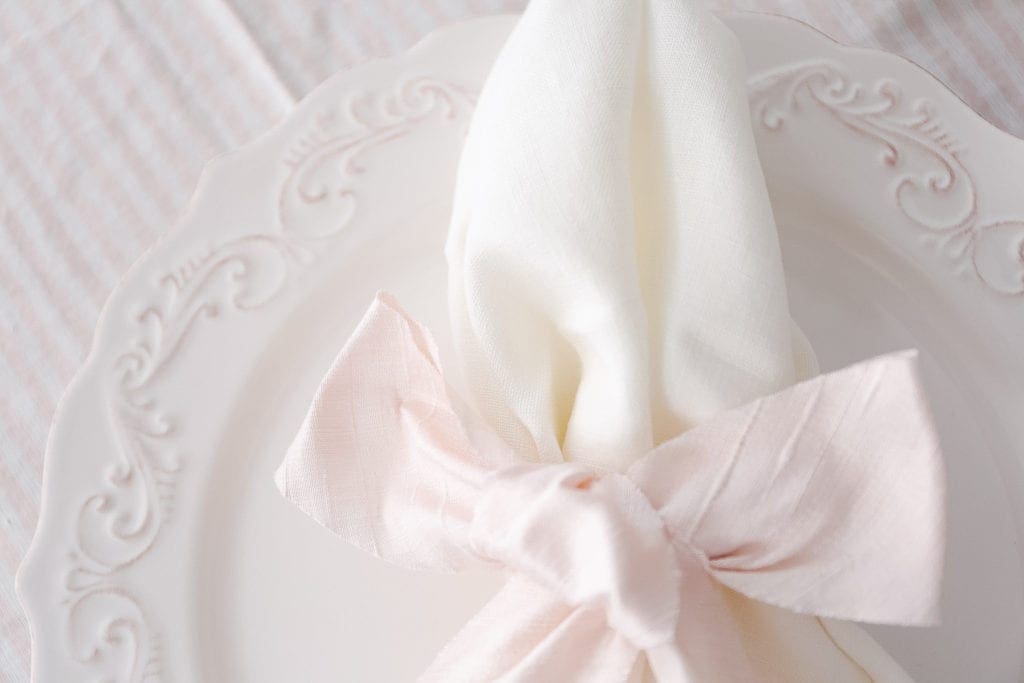 It only took about 5 minutes to set up and on Valentine's Day morning I added some pink lemonade in their glasses and candy to their plates and let them eat it for breakfast. You should have seen how their faces lit up lol!
Make a Valentine's Day Heart Piñata!
One thing the girls had been begging me for was a piñata! I couldn't find exactly what I looking for, so I decided to make a large pink heart piñata filled with candy and treats.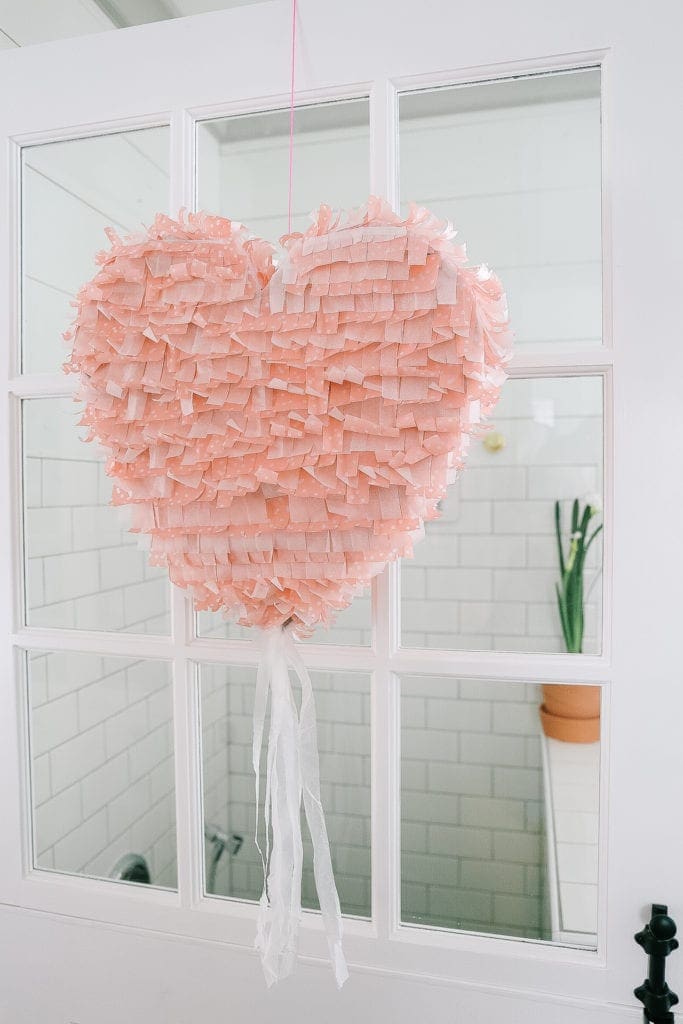 It was surprisingly easy to DIY and it looks so cute hanging on the mudroom door! If you want to make your own check out How To Make A Heart Pinata!
Use Household Items in Fun New Ways
Lately, I've been doing a lot of decluttering and I've been attempting to keep fewer seasonal items in storage. I've been moving towards more simple and natural décor that can be put in the compost when the season is over. For example, I've been using lots of fresh garlands, garden clippings, dried orange slices etc… (If you are interested you can read about why I've been embracing moderate minimalism to feel less overwhelmed.)
One way to decorate your home for seasons and holidays without collecting clutter is to use everyday items you already own! For example, you better believe I drag my favourite pink Hunter boots out come February every year!
I added a soft pink throw I stole from the living room and a French market basket that usually hangs by the front door to the bench. I put some leftover flowers in an enamel cleaning bucket I found in storage. And an extra paper tassel garland and a little wrapping station with some craft paper and pink wrapping paper on the counter make everything extra fun and festive!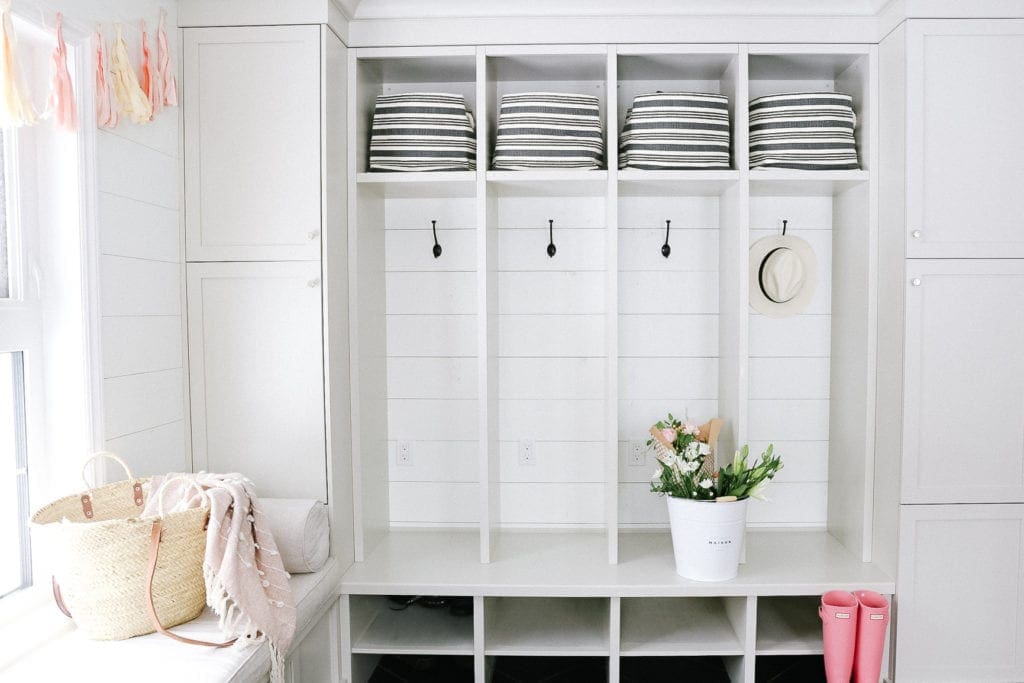 Create Heart-felt Valentine's Day Cards
Call me old fashioned, but I still like to write handwritten letters. I hope to teach my girls to appreciate the personal touch a handwritten note can impart. This year the mudroom is set up as a Valentine's Day creation station! The girls love making valentines for their friends and classmates. This allows them an area to create to their heart's content while keeping the mess somewhat contained!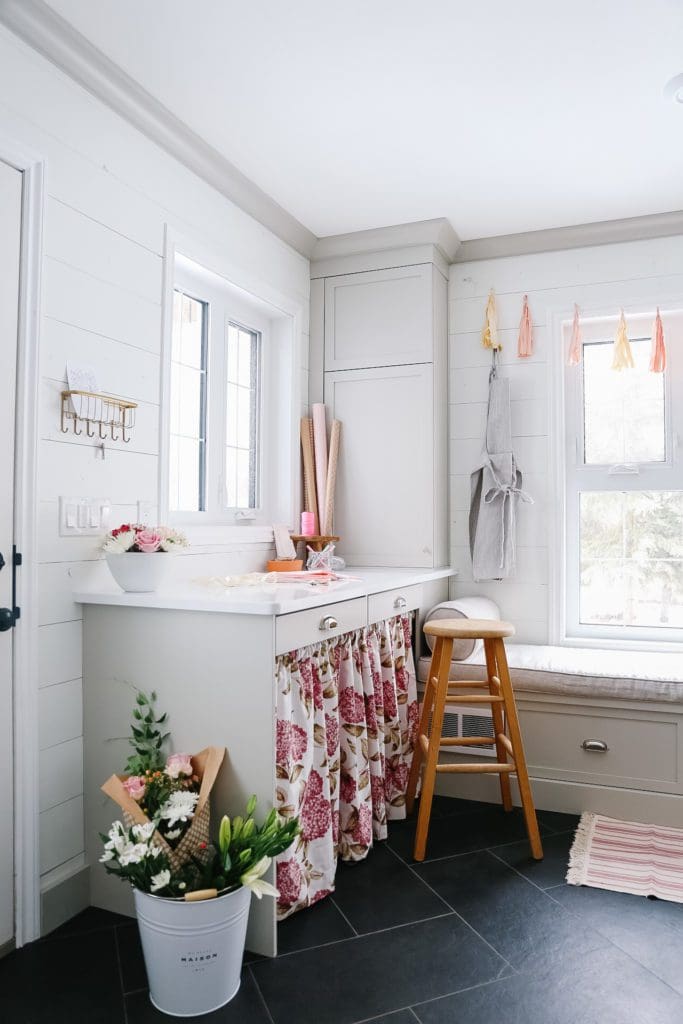 Some pretty string, wrapping paper, ribbon, scissors and pens encourage them to sit down and create something beautiful!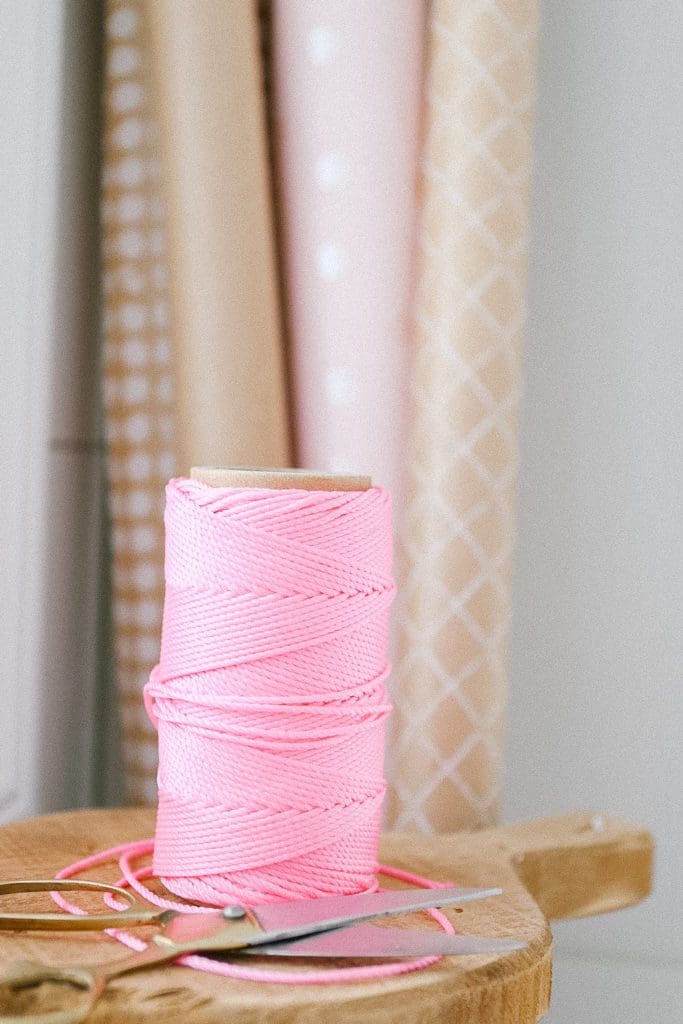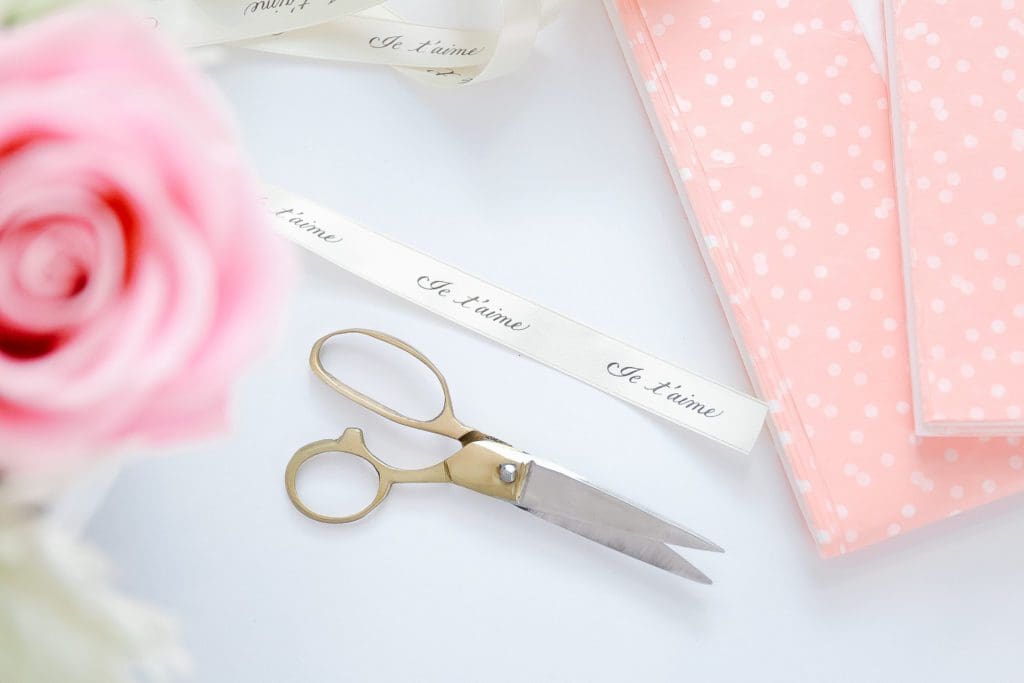 I hope you've enjoyed these Valentine's Day decorating ideas! Any questions or comments feel free to leave me a note in the comments below!
---
More good reads: