This cute little disco ball has recently become one of the home décor items that I use year-round in our home! We live in Alberta, Canada where our winters are long and this little mirror ball has been a surprising cure for the winter blues. So let's talk about why you need a disco ball in your home too!
Estimated reading time: 6 minutes
Note: This post may contain affiliate links. That means that if you purchase through one of these links I might receive a small commission at no extra cost to you. \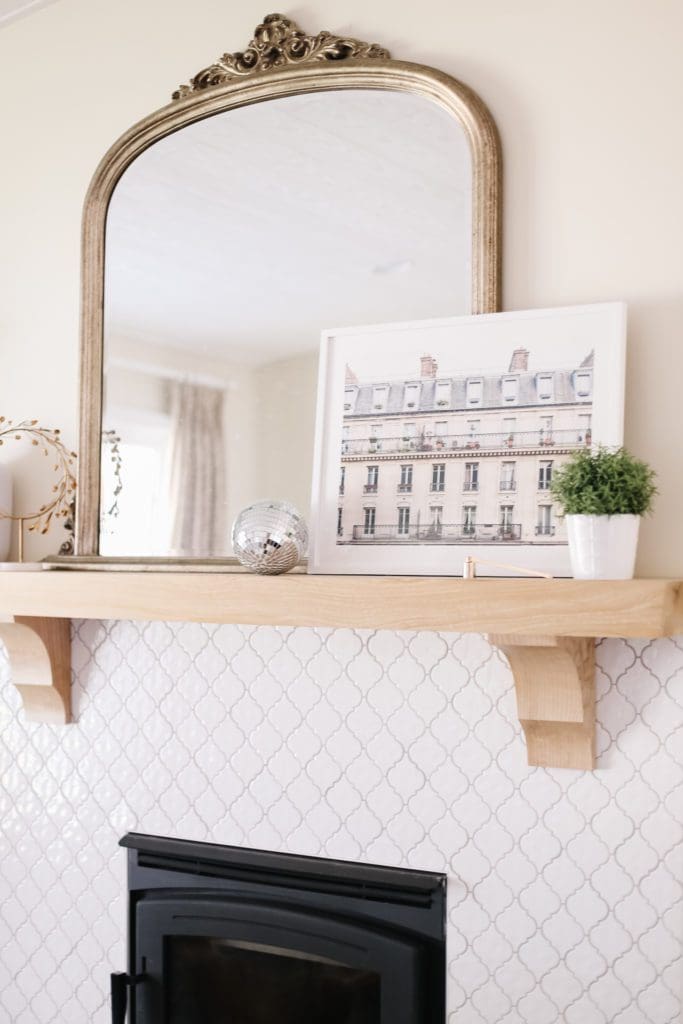 Disco balls are inexpensive
You can find disco balls for just a few dollars! I prefer the ones that aren't motorized to blend into everyday décor. Bonus, the simple ones are even less expensive!
Use a disco ball to reflect light
One trick that designers use to make a space feel bigger is to add a mirror to a small space to make it feel larger and bounce light back into the room. Disco balls are also called mirror balls because they are made up of hundreds of tiny mirrors. A disco ball will reflect light throughout the space it's in! When sunlight hits, they reflect tiny beams of light throughout the room! It's a lovely effect!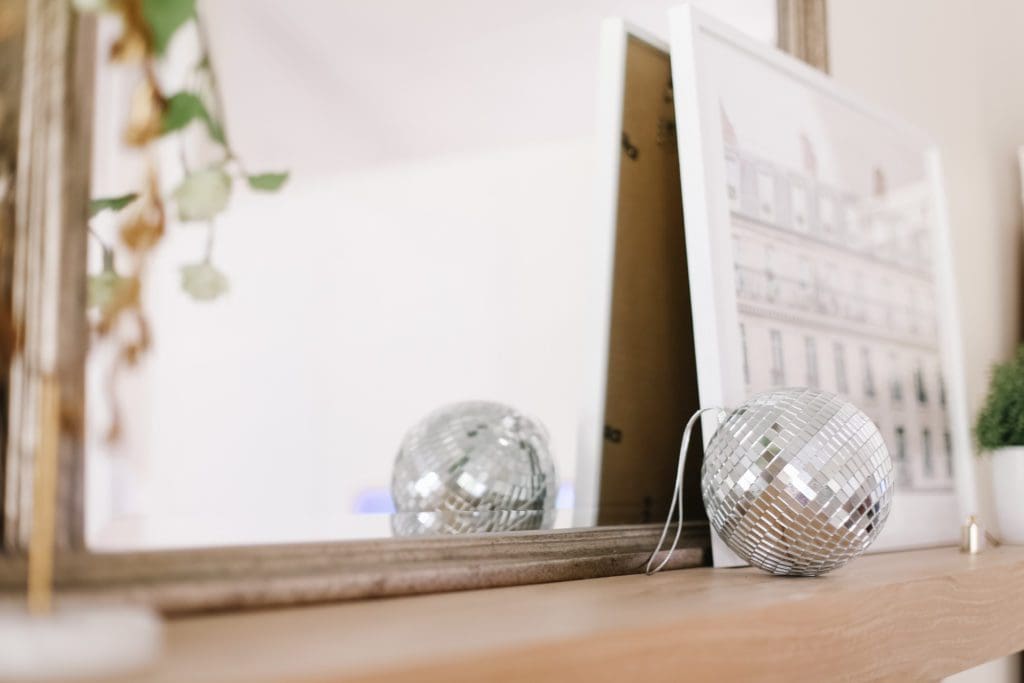 Disco balls work in any home
Disco balls are essentially a neutral object, even though you might not think of them that way at first thought. When blended into traditional décor like our English cottage style home they become less "party" and a little more "refined".
Disco balls work in everything from cute boho-chic apartments to large boutique hotels. They add a fun and quirky element to any style!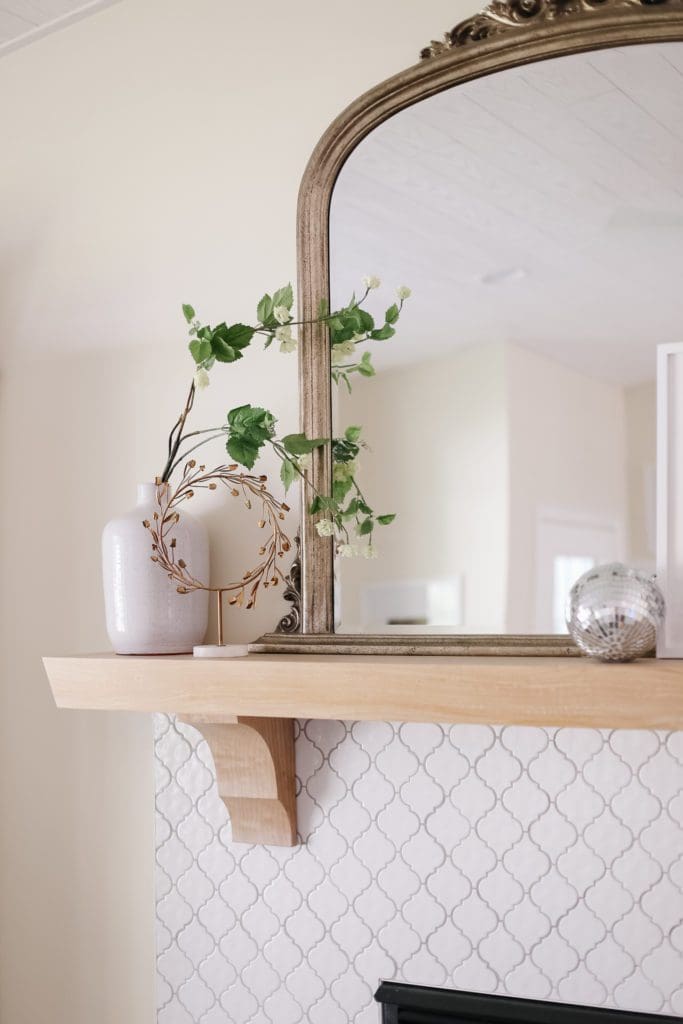 Ideas for disco ball décor
Looking for ideas about where to incorporate a disco ball into your own home? Here are some of my favourite ways to use disco balls as décor:
Put a disco ball on the mantle
This is where my disco ball is currently living! I love how unexpected it is and how it adds just a little shimmer to an otherwise neutral and traditional vignette!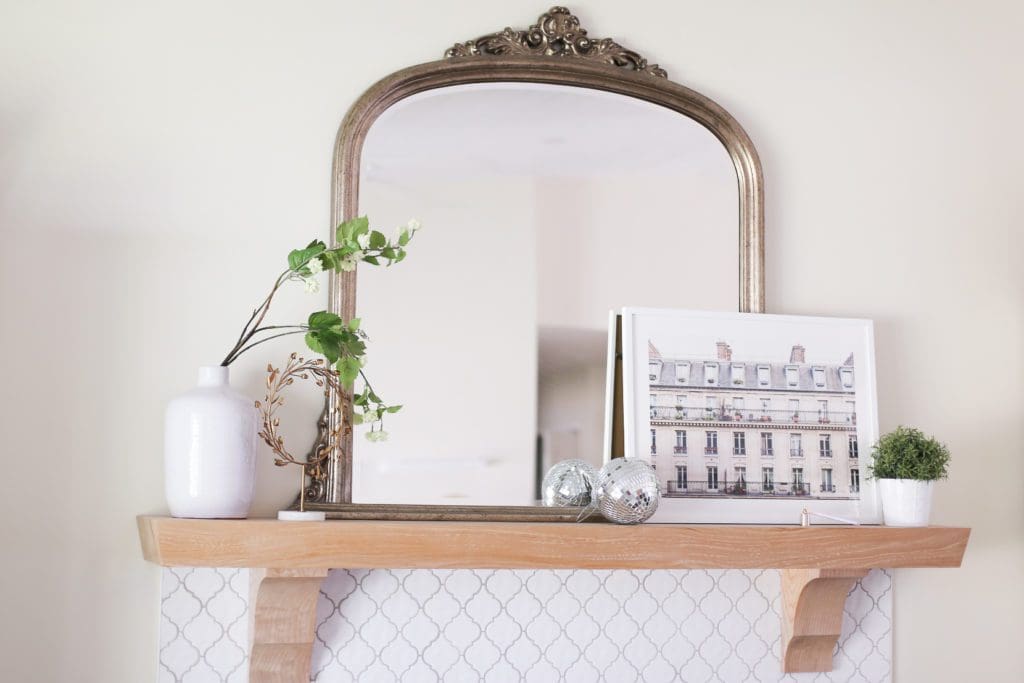 Hang a disco ball in the the window
This might be my favourite way to use a disco ball in your home since it catches the most light! Hang your disco ball in an east facing window to create morning sparkle or in a west facing window to energize your afternoon and evening!
Add a disco ball in your kids rooms
My kids love this idea lol! I just ordered them their own disco balls to hang in their windows or add to a shelf in their rooms. They love the idea of having their own "sparkle makers"!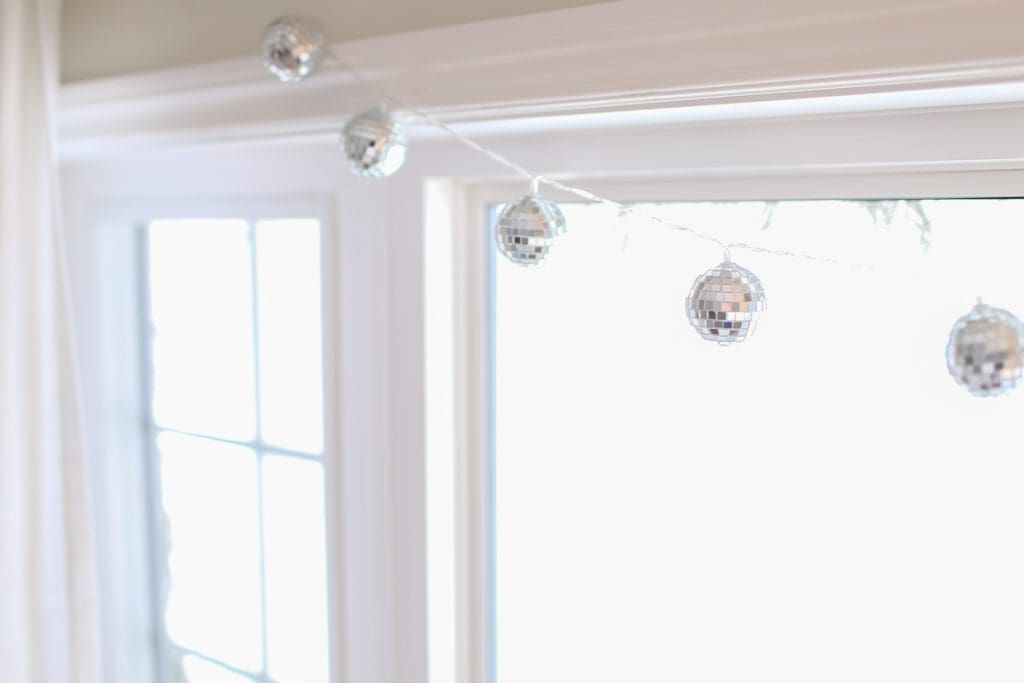 Use mini disco balls as bowl fillers
Use smaller disco balls ornaments or strings of disco ball lights to elevate your coffee table or living space décor. They look adorable placed in a vintage dough bowl or ceramic holder beside a stack of books and a plant!
Place a disco ball beside your plants
Call me crazy, but I swear my plants love the little light beams thrown by a disco ball! I like to add one to my plant corner and add an extra dose of happiness to my leafy friends' lives!
Add disco balls to your parties
A bonus…when you have extra disco balls around the house, it's really easy to set up for a party! Gather them all together and hang above the dining room table or in the windows to add sparkle to your party décor!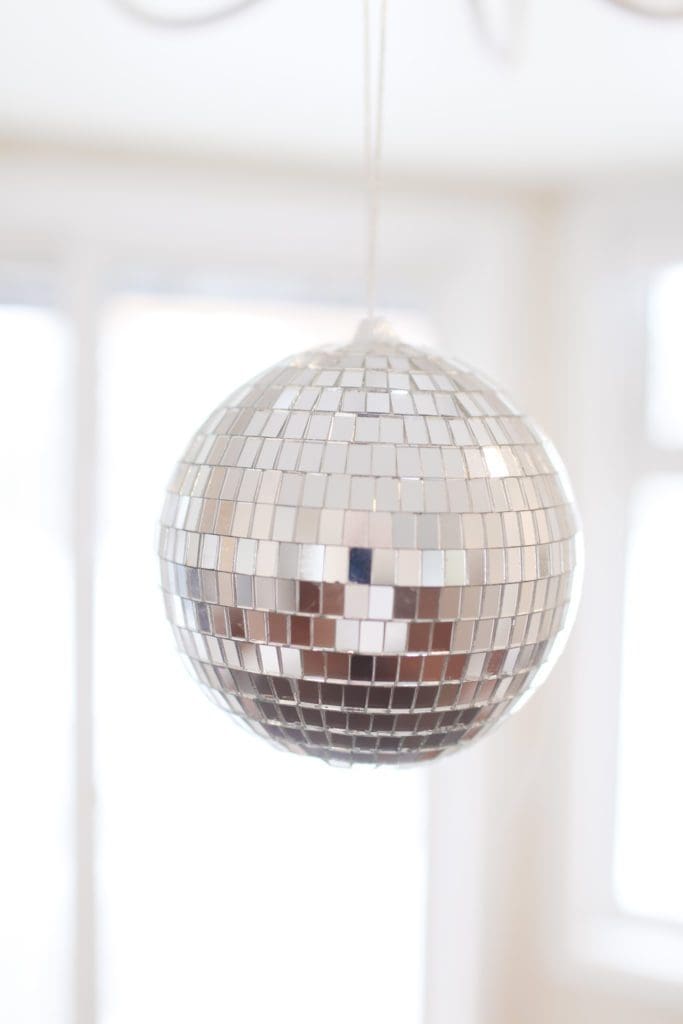 Add disco balls to your Christmas tree
If you already have pretty disco ball ornaments or strings of lights, why not add them as a fun, creative touch to your Christmas tree. Or when Christmas is over convert your tree into a New Year's tree with disco balls, sparkles and champagne!
Hang a disco ball from a chandelier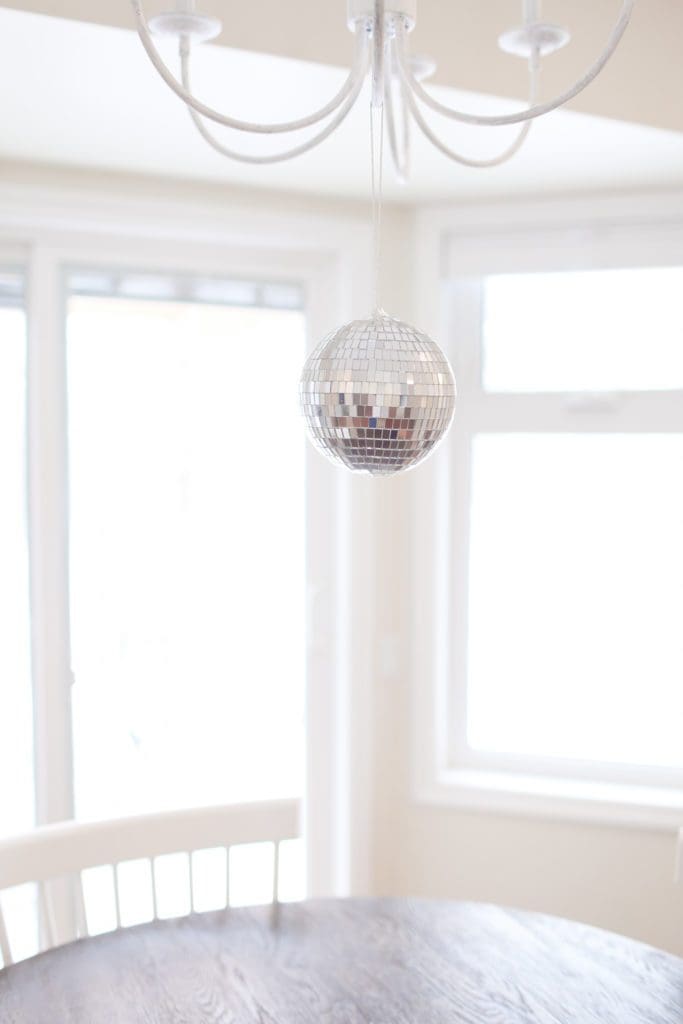 Disco balls make you happy!
I've found the afternoon sparkle and rays of light that bounce off this little disco ball lift my mood and just make me happier! To me, they embody the Danish concept of Hygge (Hoo-gah) in a fun new way. And whatever gets me through our long, cold winters with just a little more joy is a win in my book!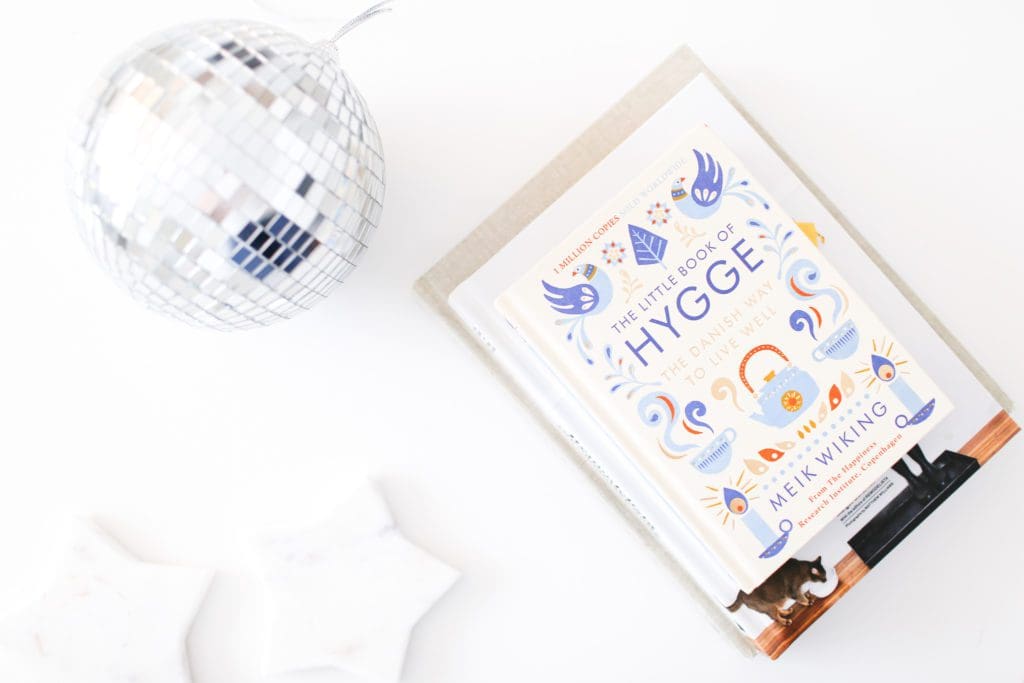 So are you convinced?! Do you think you need a disco ball in your home too? Let me know in the comments!
---
YOU MAY ALSO ENJOY: