If you have ever wondered how to create a perfectly undone floral arrangement this tutorial is for you!
I teamed up with Anita from Florals by Anita to bring you all the best tips and tricks for creating a beautiful floral arrangement that is free-flowing, natural and organic. Anita's philosophy is that flowers should be arranged as if they were just picked from the field and they should be allowed to dance! I couldn't agree more!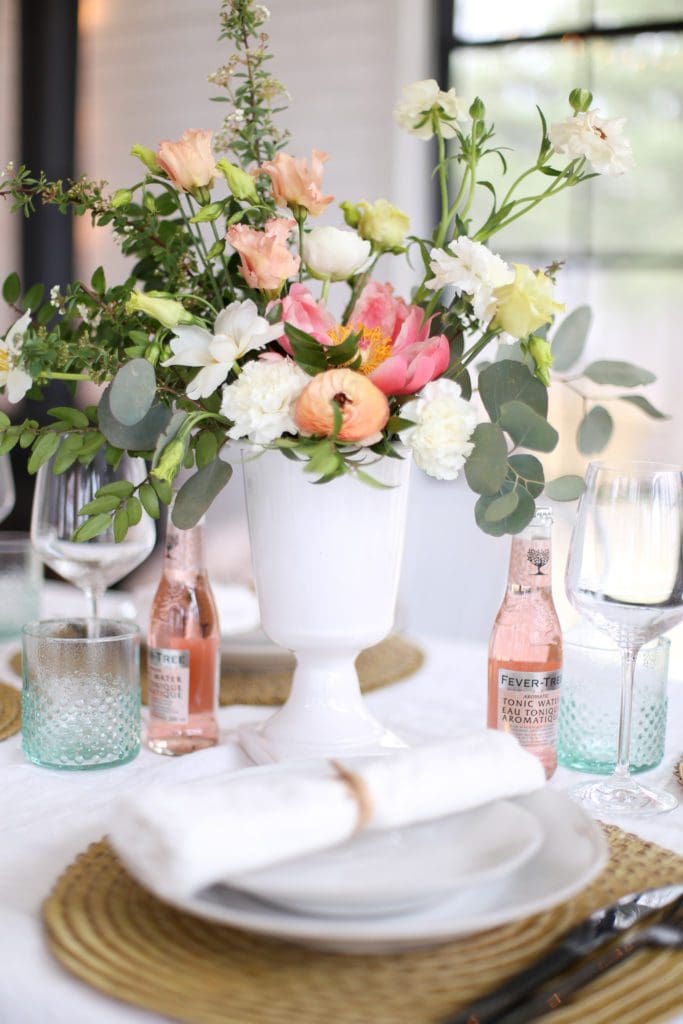 We created this beautiful, informal arrangement full of soft peachy pinks, white and green just in time for Mother's Day. But it would be perfect for any spring/summer gathering! And you have to check out what Anita taught us to do with tulips and carnations to make our creation look super luxe!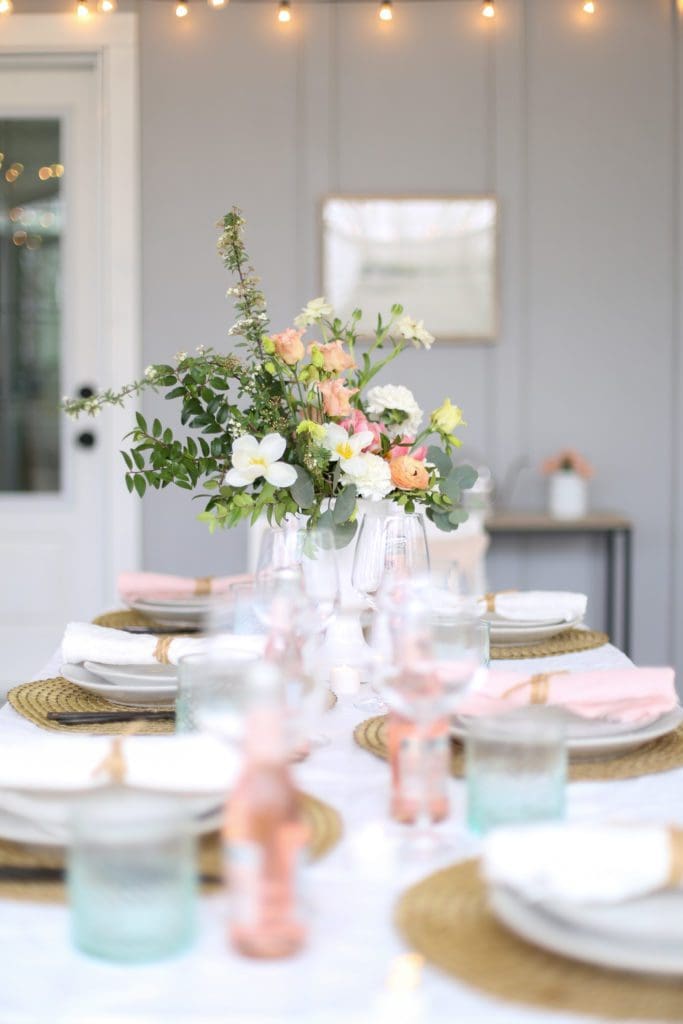 Note: This post may contain affiliate links that won't change your price but may share some commission.
Estimated reading time: 7 minutes
DIY Foral Kits
WATCH THE FULL TUTORIAL on how we created this arrangement.
If you want to follow along and create this exact arrangement you can order your own DIY kit through Anita (available through summer 2021 if you are local to the Edmonton area), or check out the supply list at the end of this post to gather your own supplies!
Floral List
Anita curated the most glorious collection of blooms. Here is the full list:
Flowers
3 stems white Carnations
2 stems white Tulips
1 stem apricot Lisianthus
1 stem coral Charm Peony
1 stem apricot Ranuncula
1 stem pink butterfly Ranuncula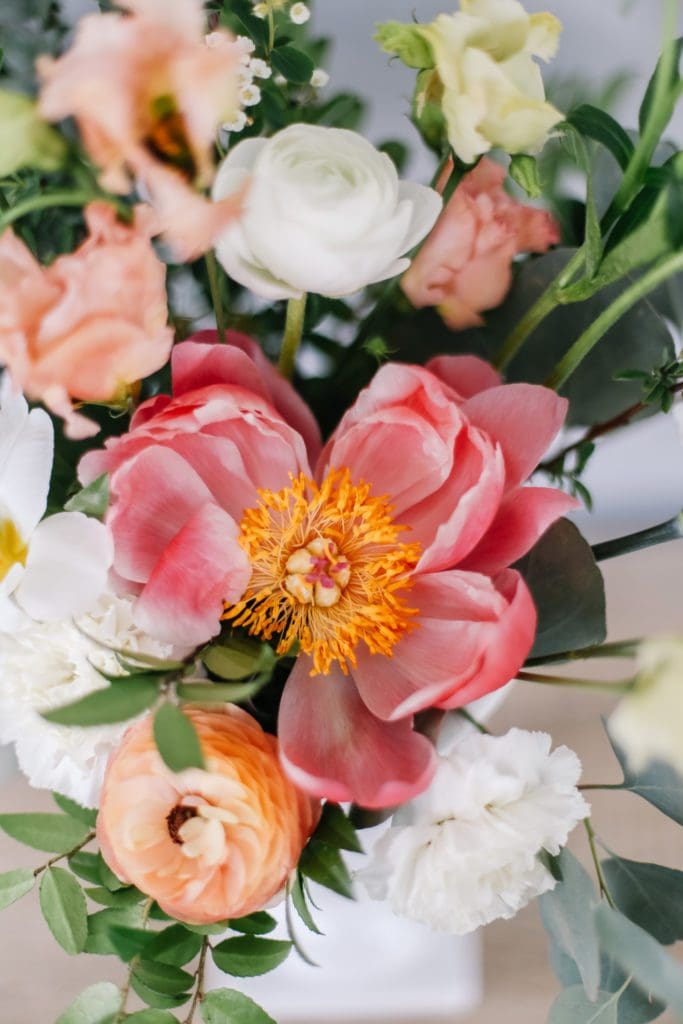 Greens
3 stems Green Huck
3 stems Spirea
2 Stems Silver Dollar Eucalyptus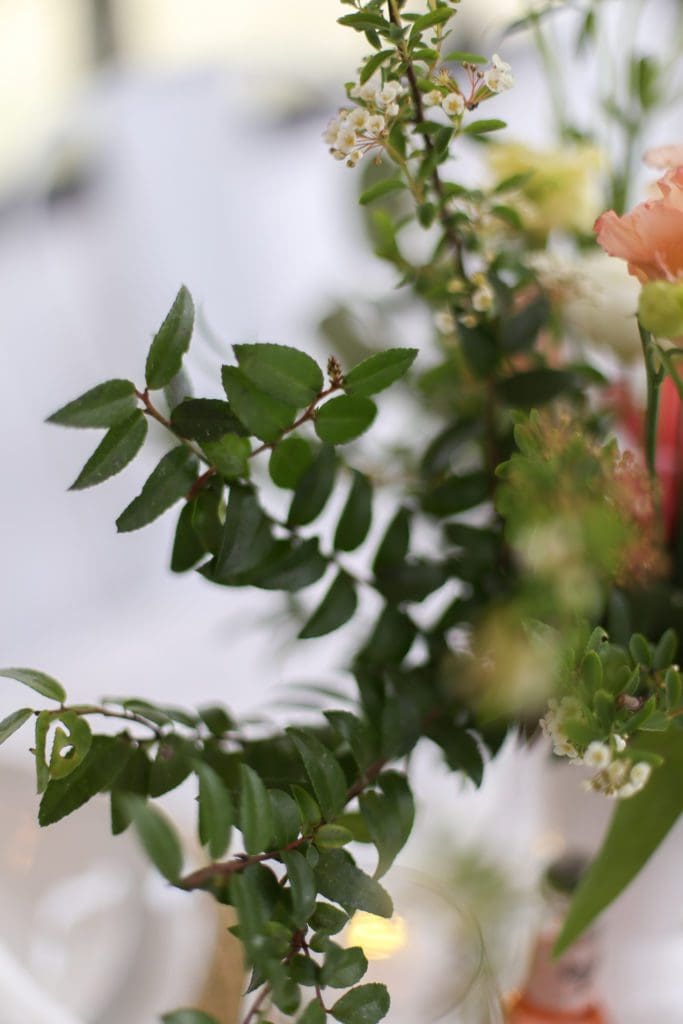 Tulip Hack
You may have noticed that the photo of a white tulip above does not look anything like a tulip! That's because Anita taught us the coolest hack…it's called reflexing your tulip! You simply take the petals and gently fold them back until they are inside out. The buttery yellow center is on full display and they look like a completely different flower!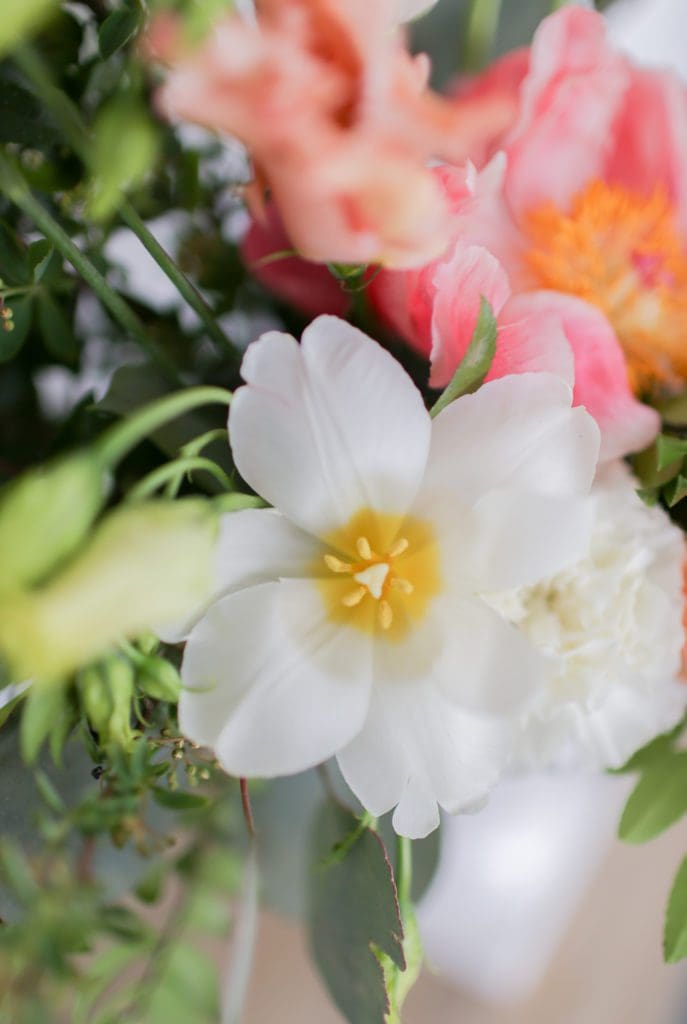 Carnation Hack
If you are like me, Carnations may not be at the top of your list of most loved flowers. But they are cheap and easy to find, so I loved this hack that makes them look so much more luxe!
You open up the carnation by supporting it underneath the flower head and then just prying the petals open with your fingers. Then you pull out the petals in the center until you can see a green patch.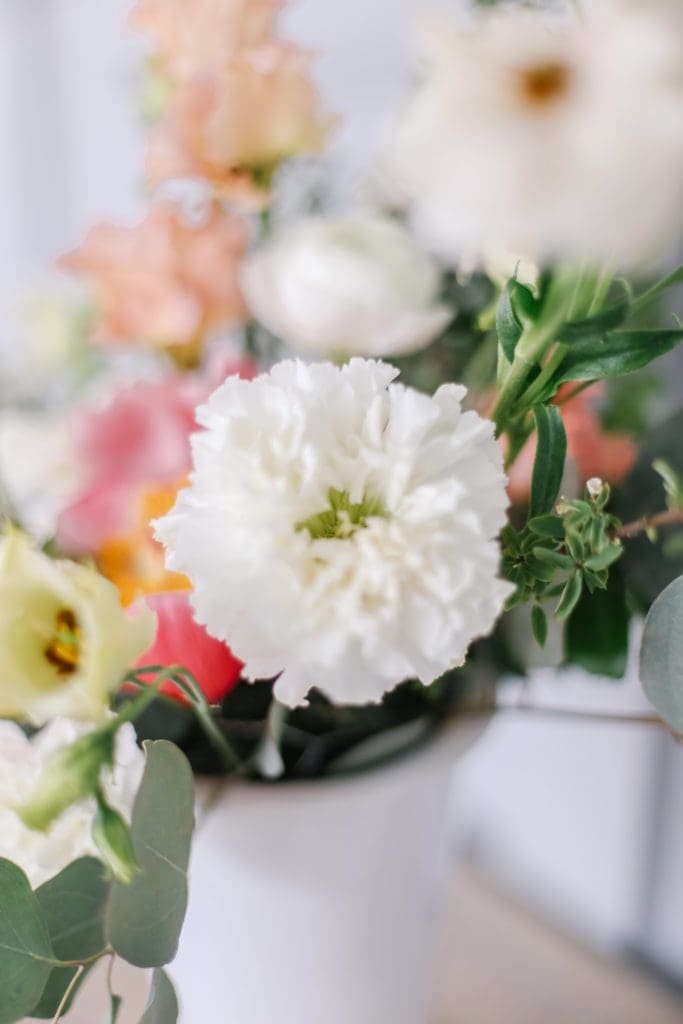 DIY Supply List
You can totally create an arrangement like this at home. It wasn't as hard as I thought and it was actually quite relaxing! Just gather the supplies listed below and then keep reading for some tips and tricks.
Florals & Greens listed above or substitutes
Chicken wire
Pedestal vase
Shears or sharp scissors
Water
Flower Food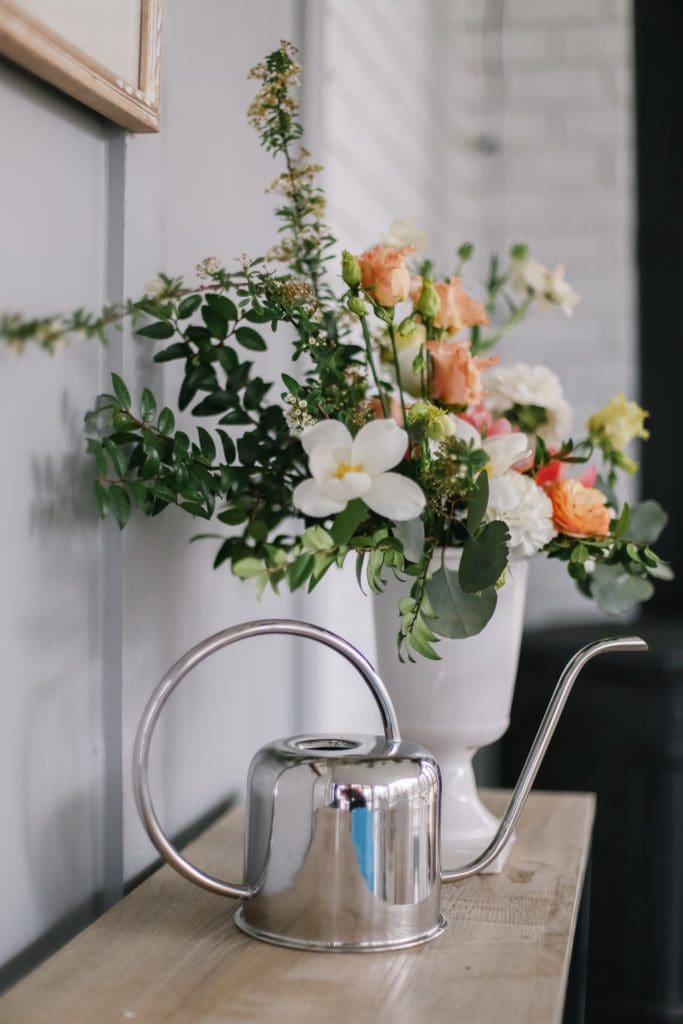 Tips for Floral Arranging
If you are short on time and just want some quick tips here are a few things to consider as you arrange your flowers and greens…
Shape your piece of chicken wire into a ball and wedge it into your vase. It should be nice and tight.
Fill your vase with water to about an inch or two from the top and add your flower food.
Recut your stems at a 45 degree angle before placing the in the water.
Start with your greens and create an asymmetrical shape for your flowers to follow. Save a few pieces to add finishing touches at the end.
Don't be afraid to clear the leaves from the bottoms of your stems. They will rot if left in the water!
Add your flowers allowing them to guide you. Use their natural shape and allow the arrangement to flow.
Add flowers in a variety of heights. To create the asymmetrical look one side should be higher than the other.
Do you want your arrangement to face front, or will it be viewed from multiple sides? Arrange accordingly.
Keep in a cool spot if possible to keep flowers fresh longer. Enjoy!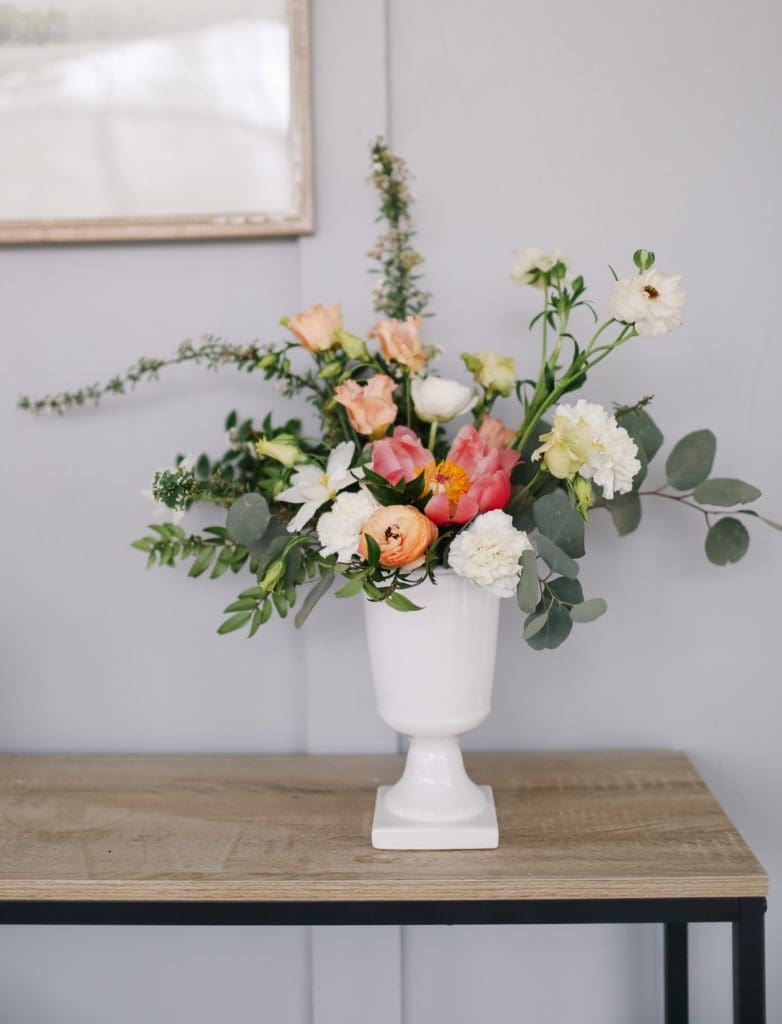 Printable DIY Floral Arrangment Instructions
[mv_create key="10″ type="diy" title="How to Create a Perfectly Undone Floral Arrangement" thumbnail="https://thegingerhome.com/wp-content/uploads/2021/05/IMG_5668.jpg"]
I hope you've enjoyed these tips and tricks to help you create a perfectly undone floral arrangement! You may also enjoy: