When we initially set eyes on our current home, it was definitely not love at first sight! But it was in a prime location, the price was right and it came with 4 beautiful treed and fenced acres of land. It even had its own pond! When we drove down the driveway something about it just felt like home, even though it needed a lot of work. This is a summary of our small house renovation and how we gave our dated bungalow a modern farmhouse makeover!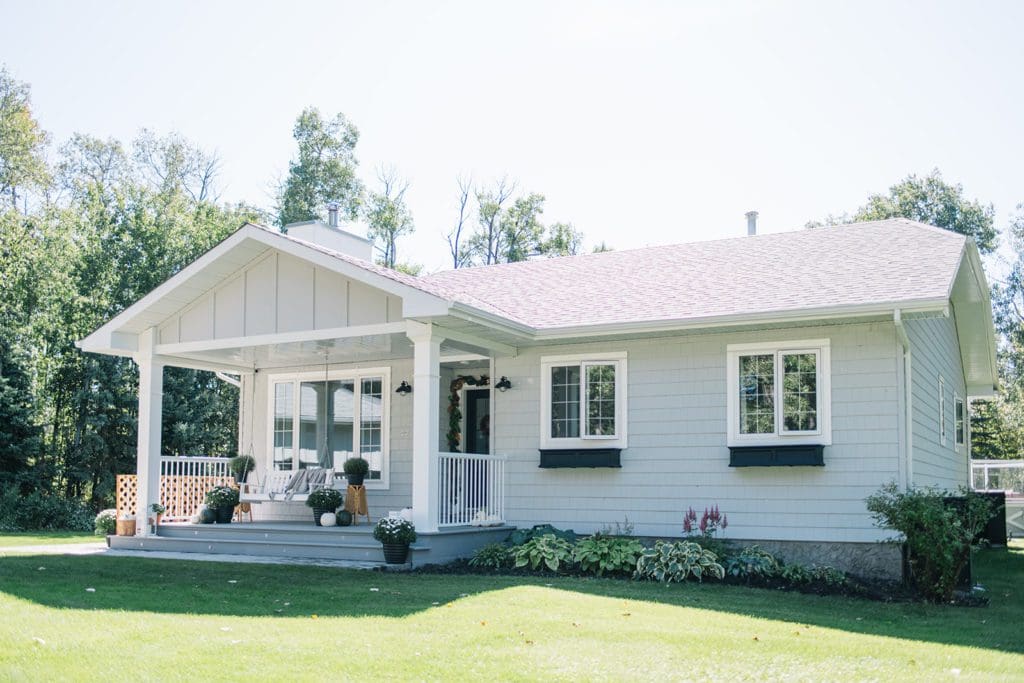 Estimated reading time: 15 minutes
Note: This post may contain affiliate links that won't change your price but may share some commission.
I've laid out the before & afters of each space in this post and links to separate posts with more details on each space. This should make it easy for you to find information on the spaces you are interested in! So let's get started!
I truly believe that any house can be a home with a little creativity! This house was the reason I started The Ginger Home in 2018! I wanted to document our renovations and help to inspire others to make their homes dreamy, even if it's not their dream home!
The Exterior
This was the most dramatic transformation by far! When we decided to add a mudroom to the house in 2017 it morphed into a whole-house renovation. We ended up adding a mudroom and screen room addition, two porches and large back deck!
FRONT BEFORE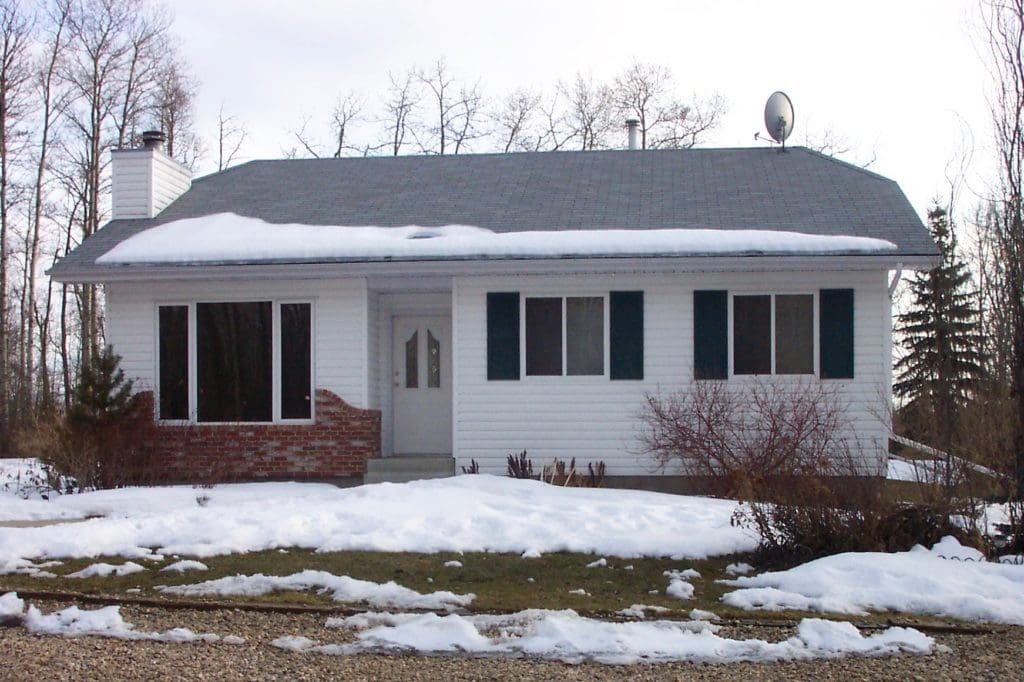 FRONT AFTER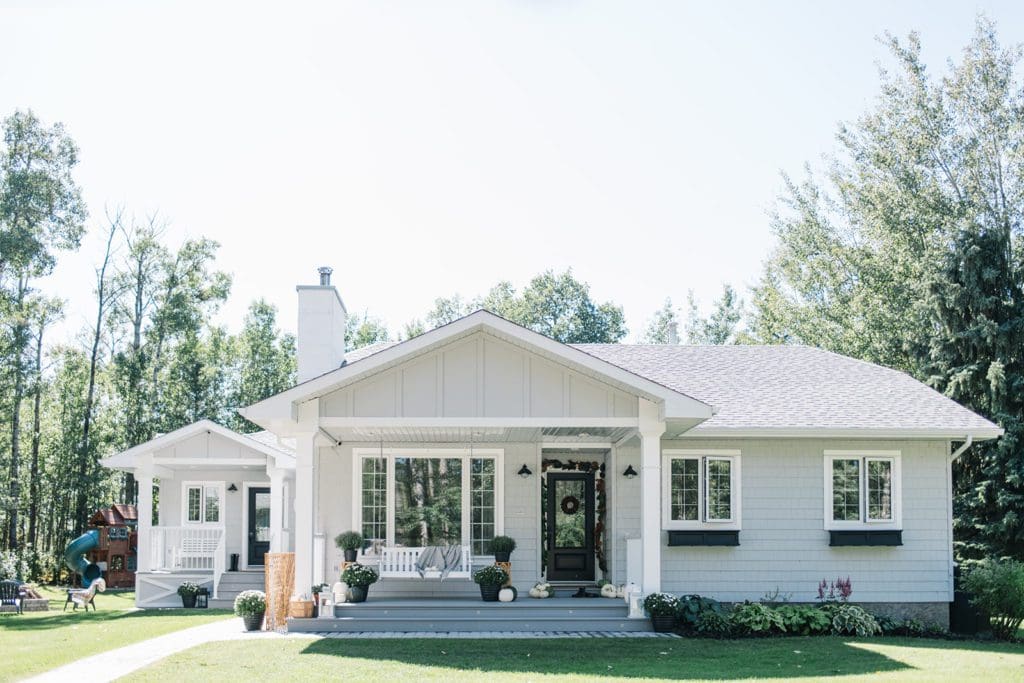 BACK BEFORE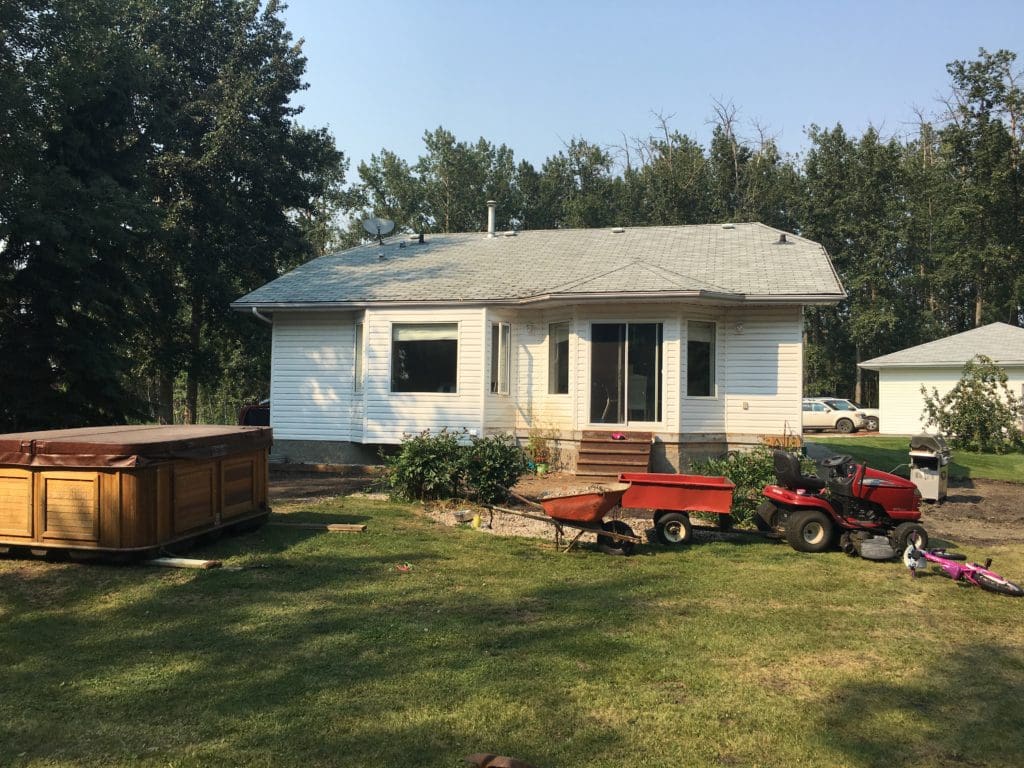 BACK AFTER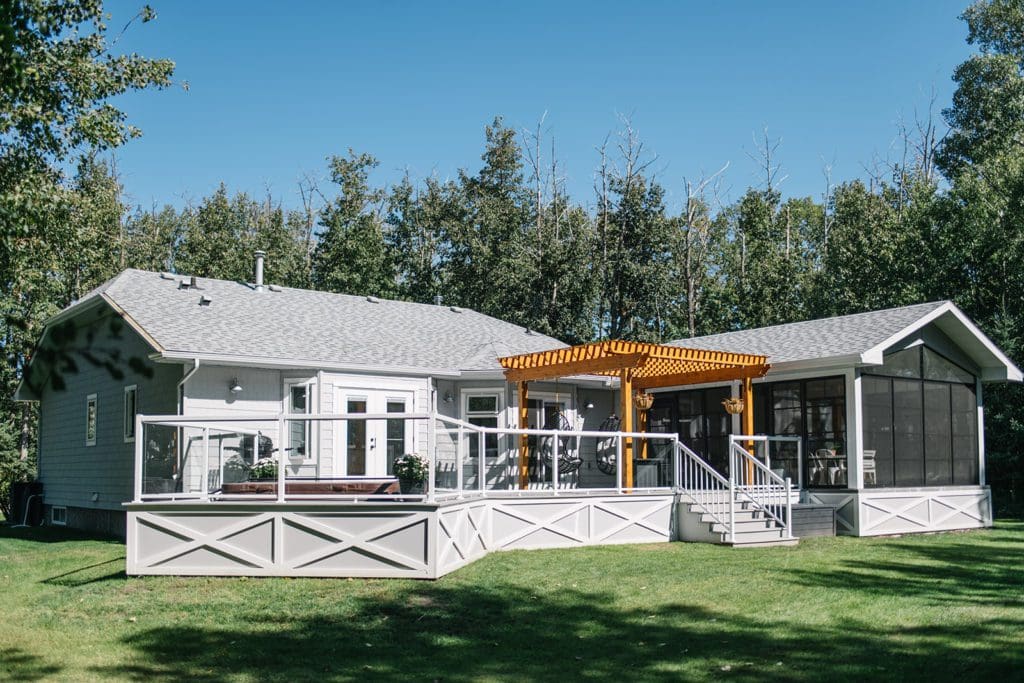 FOR MORE INFO:
A Modern Farmhouse Style Exterior Makeover
The Screen Room
When we put the mudroom addition on the house it made sense to add a much-needed screened-in outdoor living area at the same time. (The mosquitoes here are fierce!) It's used interchangeably as a lounge area, dining room, or entertaining space, and we added a fireplace so that it could be used for a longer period of time each year!
BEFORE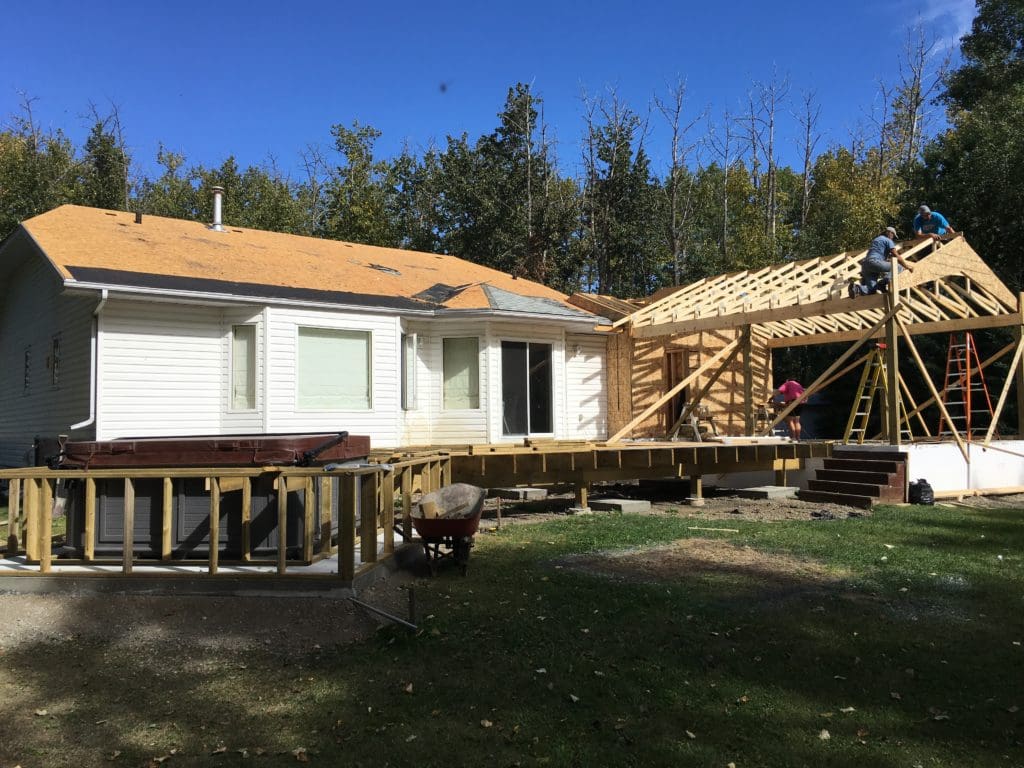 AFTER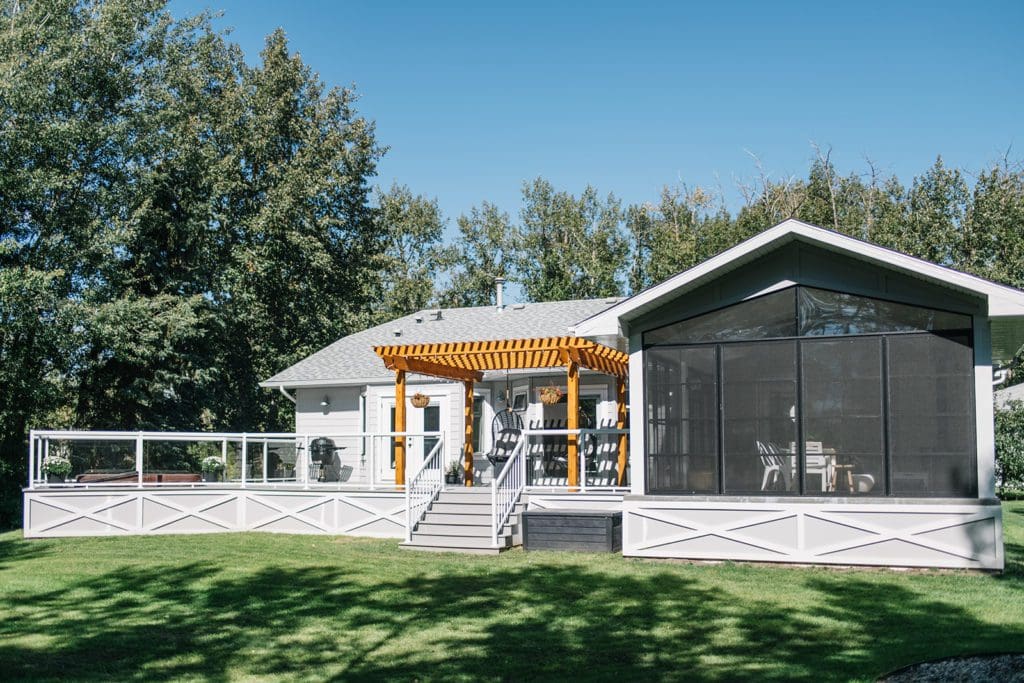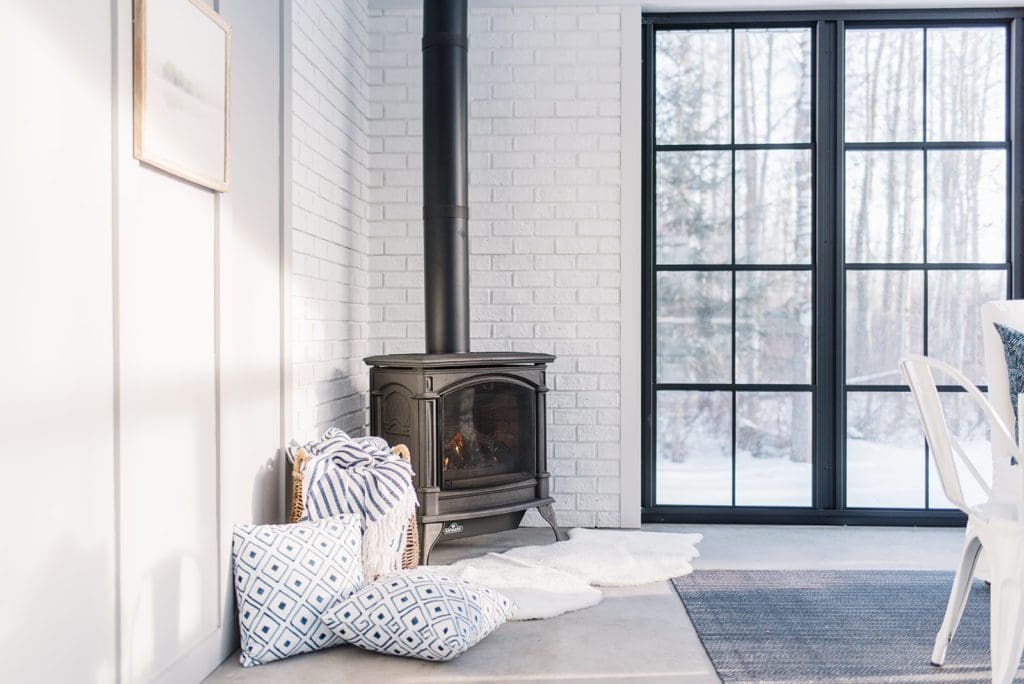 FOR MORE INFO:
All the Details on our Sunroom Addition
The Mudroom
The original house had a side door that entered directly into the kitchen. We looked at so many different options, but eventually, we chose to add the mudroom addition off this existing doorway to avoid extra structural changes.
BEFORE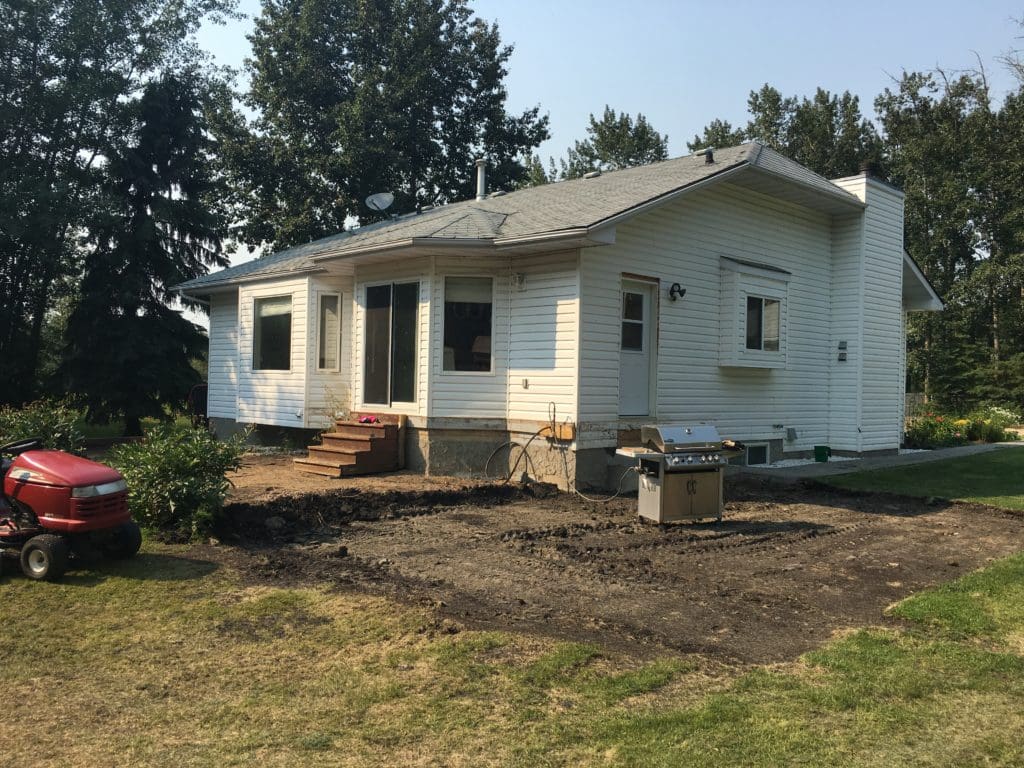 AFTER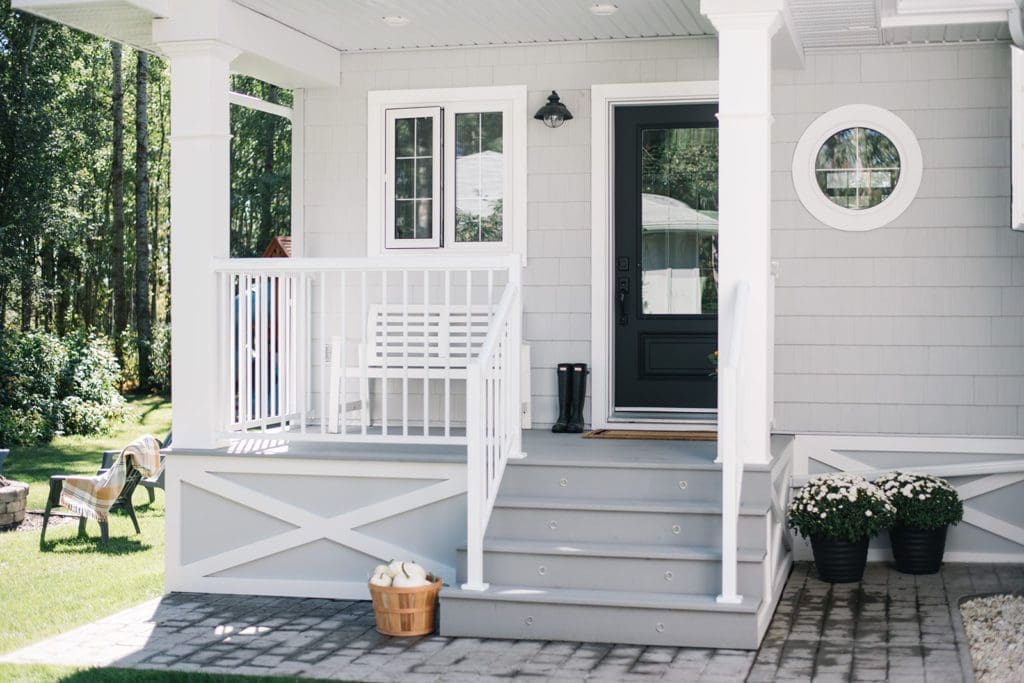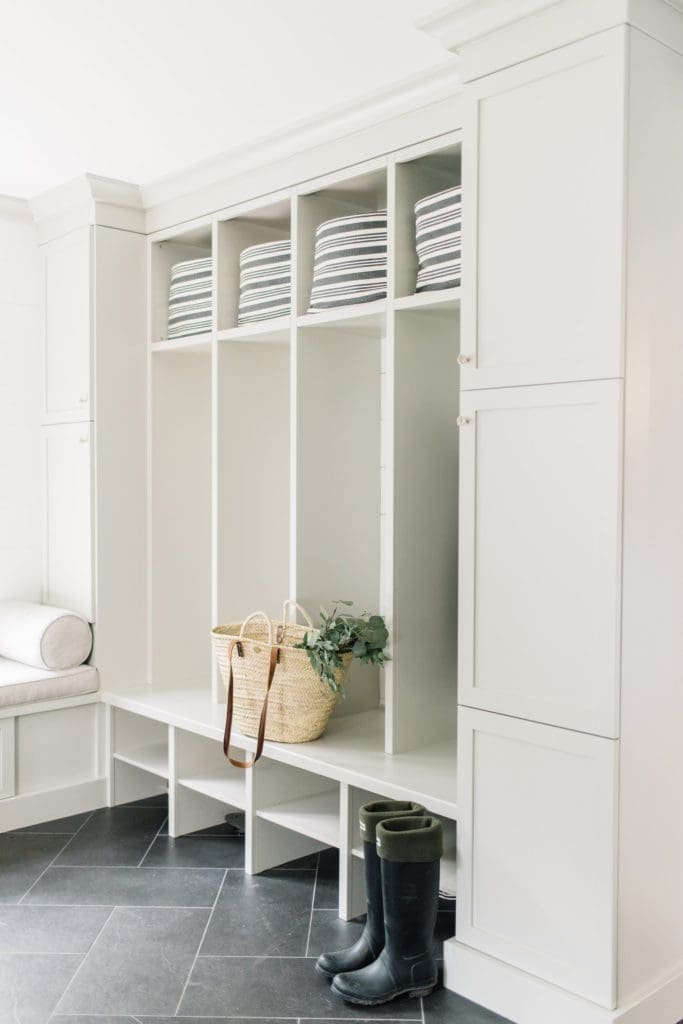 FOR MORE INFO:
Mudroom Design – Creating a Functional Entryway
Simple Ideas for Mudroom Organization
The Front Entryway
The original entrance to the house opened right into the living room with a strange stand-alone closet. We transformed this area into a proper entranceway by adding a half-wall with storage to delineate the spaces.
BEFORE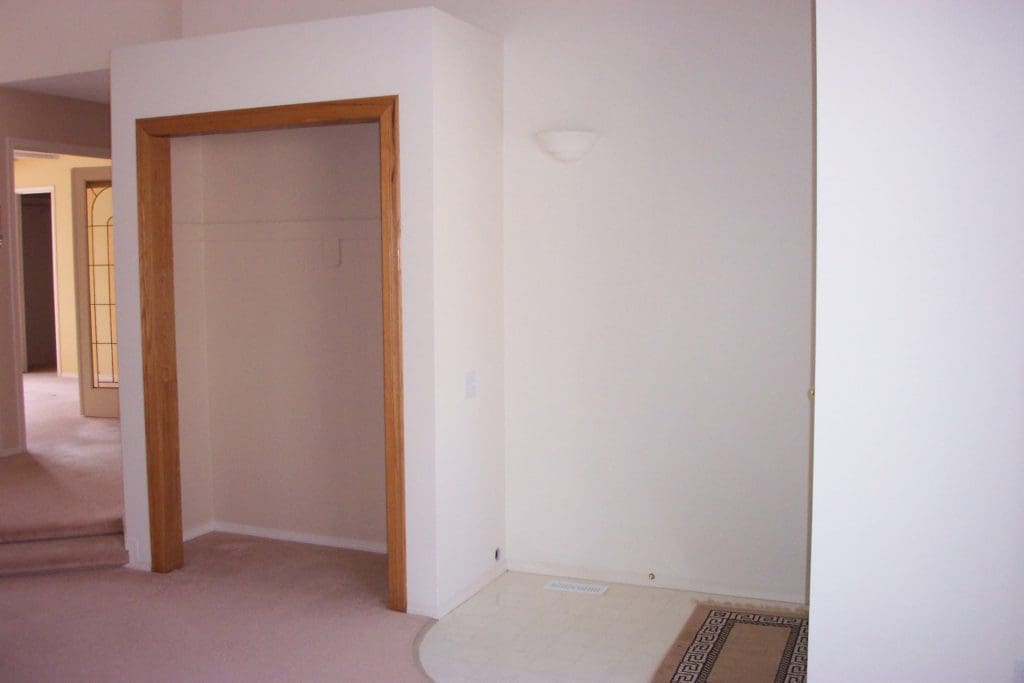 AFTER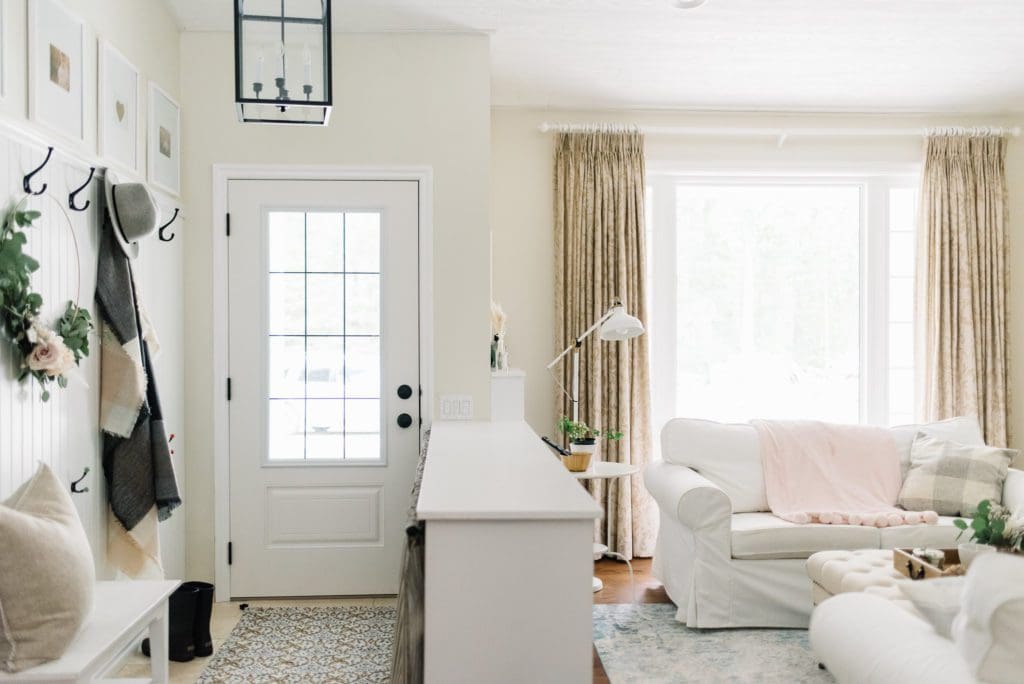 FOR MORE INFO:
How We Upgraded Our Small Home Entryway
The Living Room
The living room is quite small and was made even smaller when we stole some space from it to create the entryway. We ripped out carpet, replaced the fireplace with a wood-burning stove and added endless amount of trim and paint lol!
BEFORE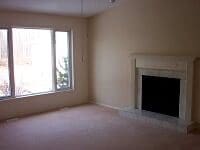 AFTER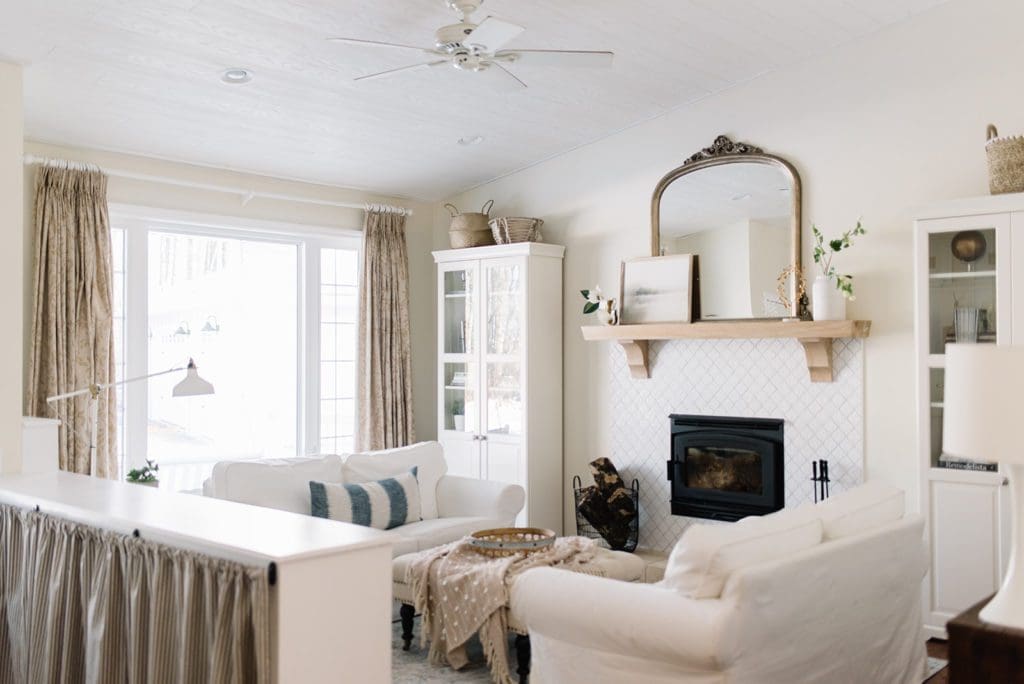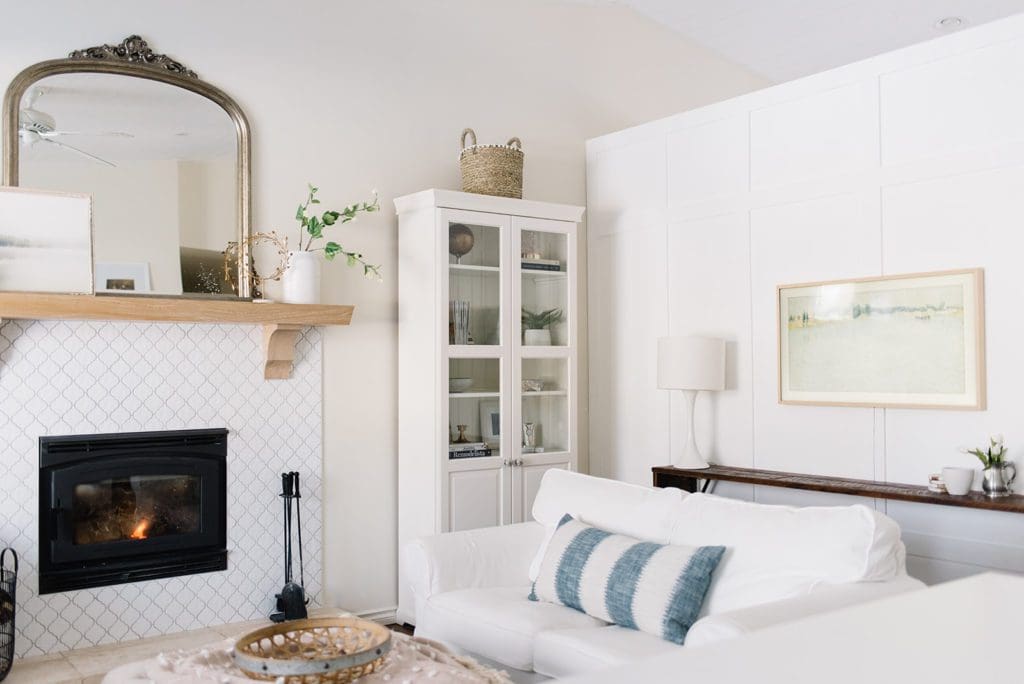 FOR MORE INFO:
Before & After – A Small Living Room Renovation
The Kitchen
One of the first projects we took on inside was the kitchen. It was extremely dated with melamine cabinets that were falling apart and a strangely angled island. We demolished the pantry during the renovation so we added as much storage as we could back into the design.
BEFORE
AFTER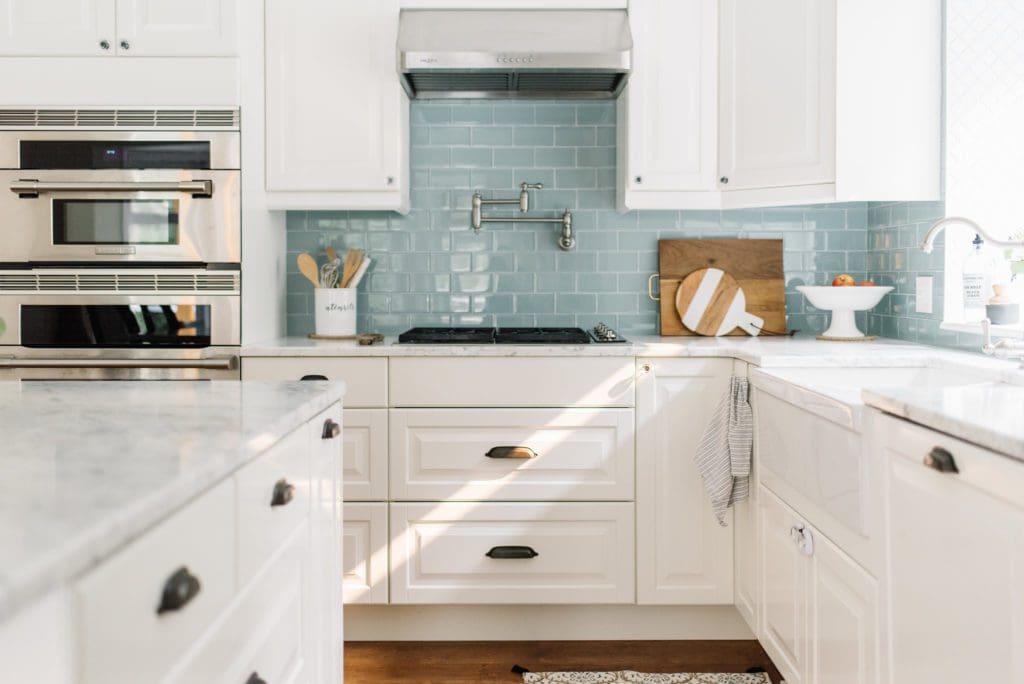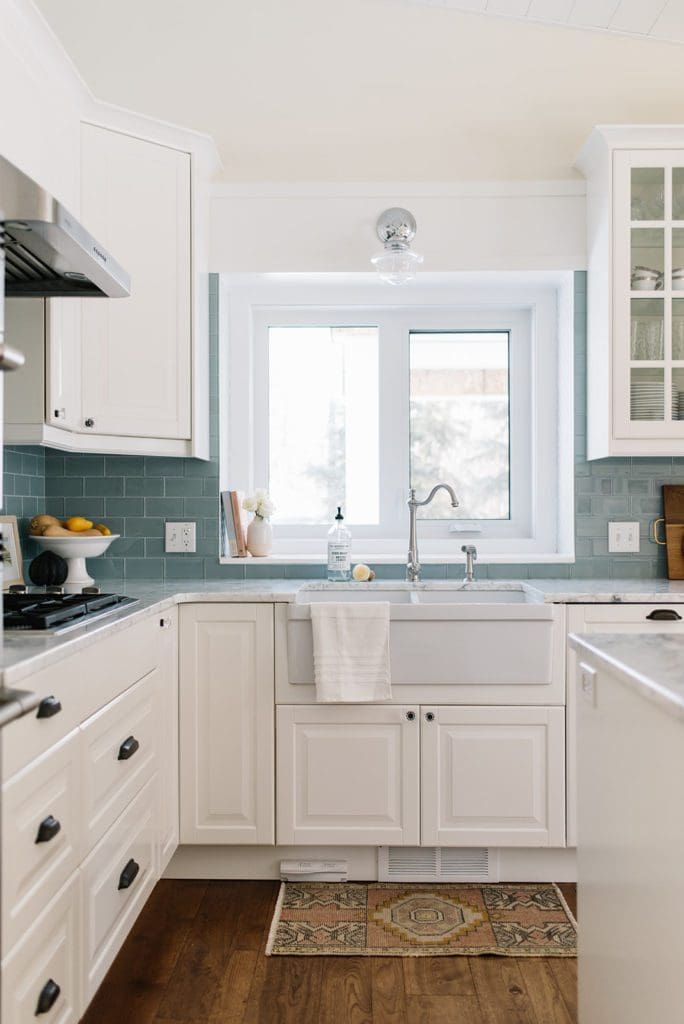 FOR MORE INFO:
10 Ways to Create A Custom Kitchen on A Budget
The Best Ways to Organize A Small Kitchen
The Master Bedroom
Like every other space in the house, the master bedroom was small and full of 90s decor. The icing on the cake was the vanity in the bedroom!! It was the first thing we ripped out!
BEFORE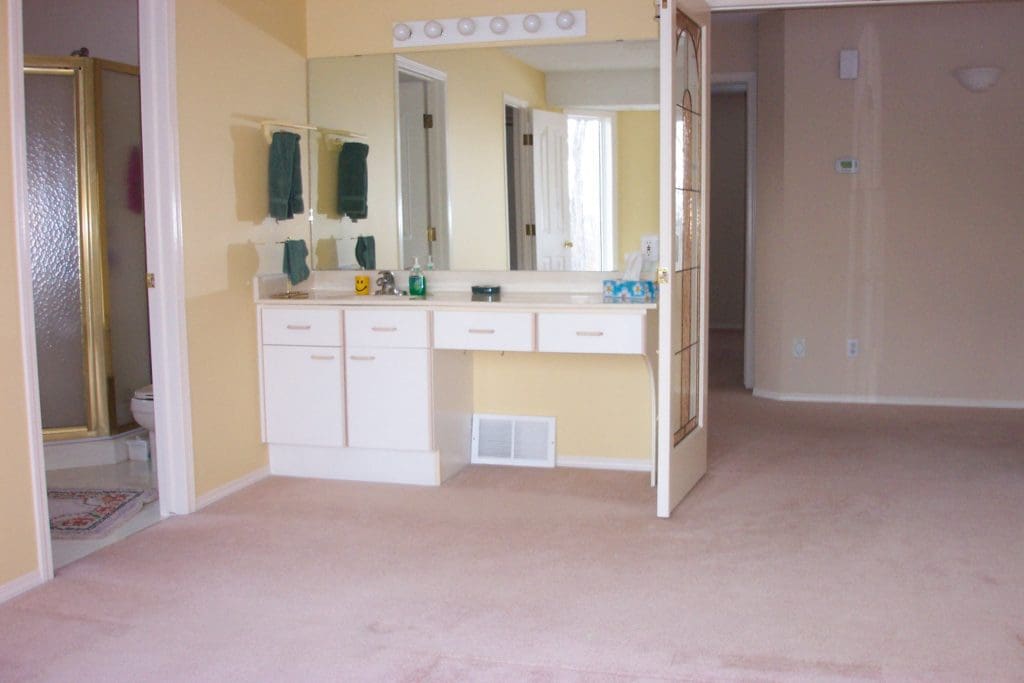 AFTER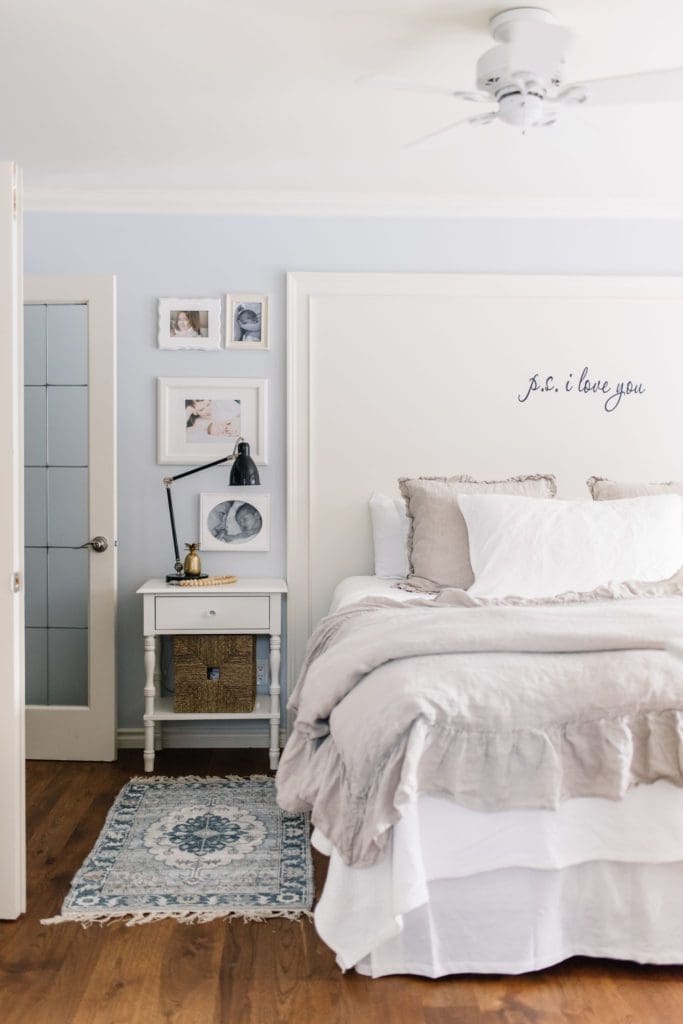 FOR MORE INFO:
7 Small Master Bedroom Design Ideas
The Master Bathroom
The master bathroom was tiny! It could only fit a toilet and small stand-up shower. (Remember the vanity was in the bedroom lol!) We had to knock out the wall between the bathroom and walk-in closet to gain enough space to make it a full bathroom.
BEFORE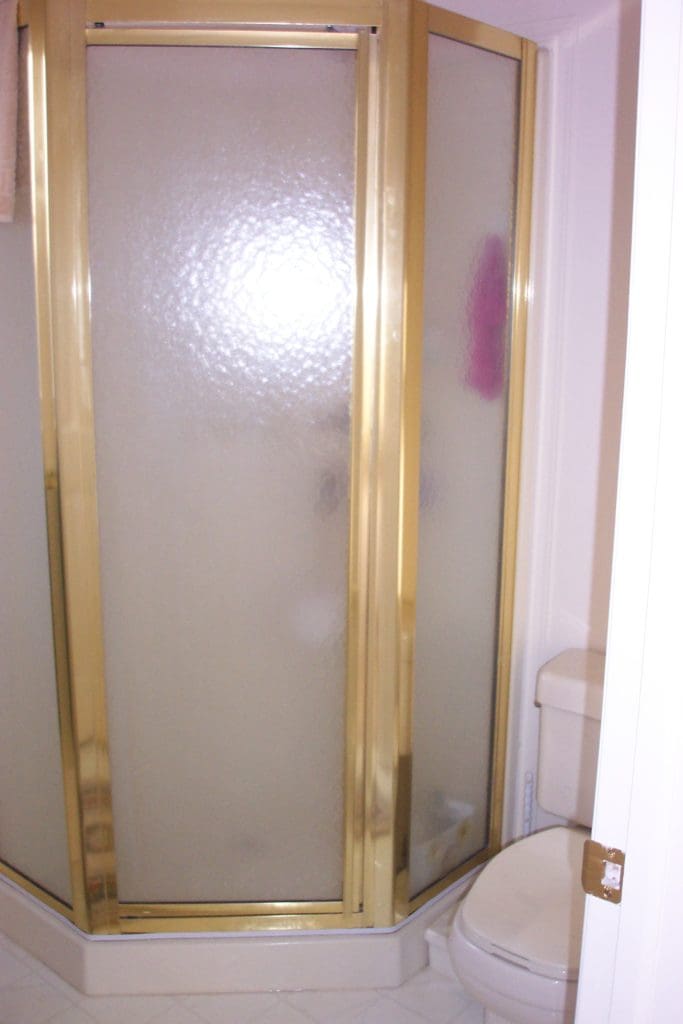 AFTER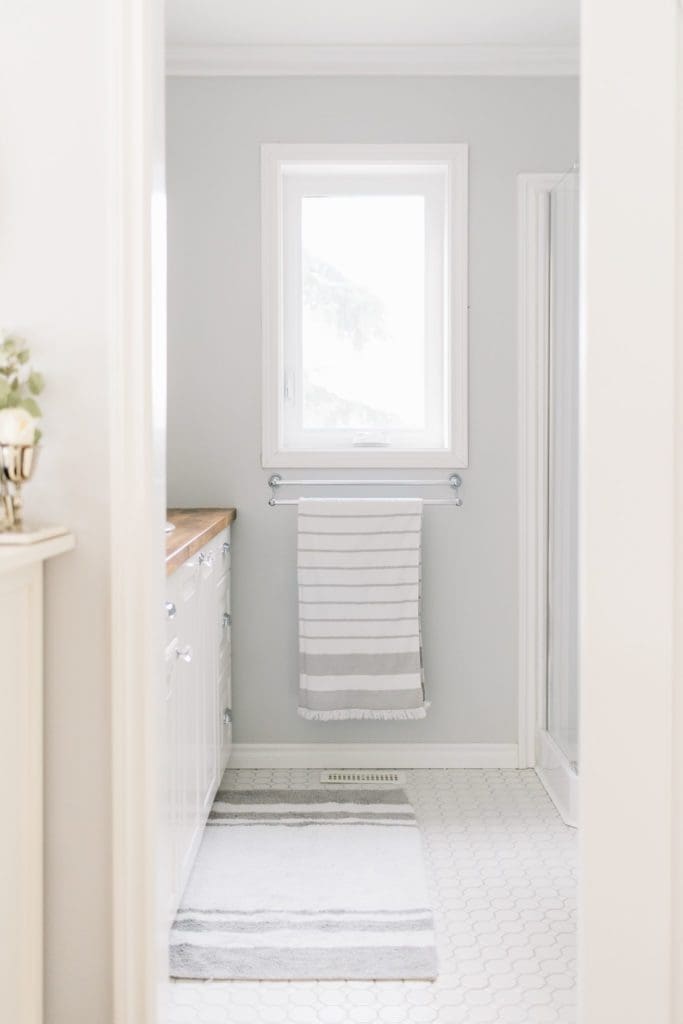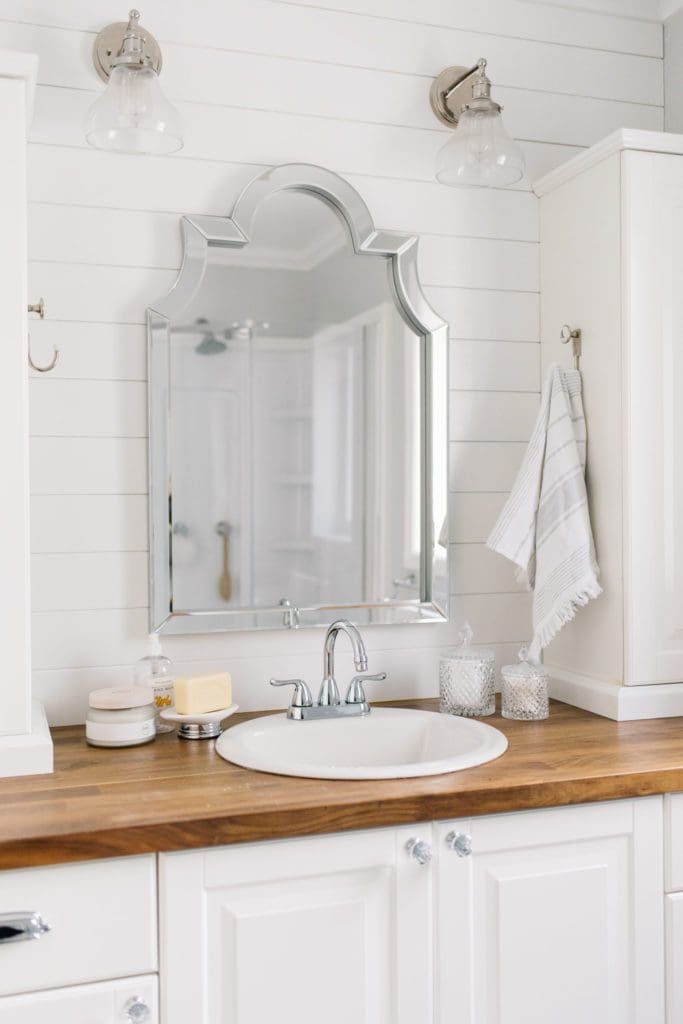 FOR MORE INFO:
7 Tiny Master Bathroom Design Tips
The Hallways
It's important to not forget the in-between spaces! The upstairs hallway got new flooring and a lot of paint, similar to the rest of the spaces in the house!
BEFORE
AFTER
There was also a strange little nook by the kitchen that we turned into a mini office/homework space! I'm sure it was very useful in the 1990s as a phone table!
BEFORE
AFTER
The Main Bathroom
This was the very first space that we renovated in this small house renovation when we moved in. We used it as a test to see if we were any good at DIYs. If only we knew what the next 10 years would bring! I think it cost us a grand total of $1000 to totally gut and redo the space, and I have hardly any photos to prove it. I think that might have been before cell phones lol!!
BEFORE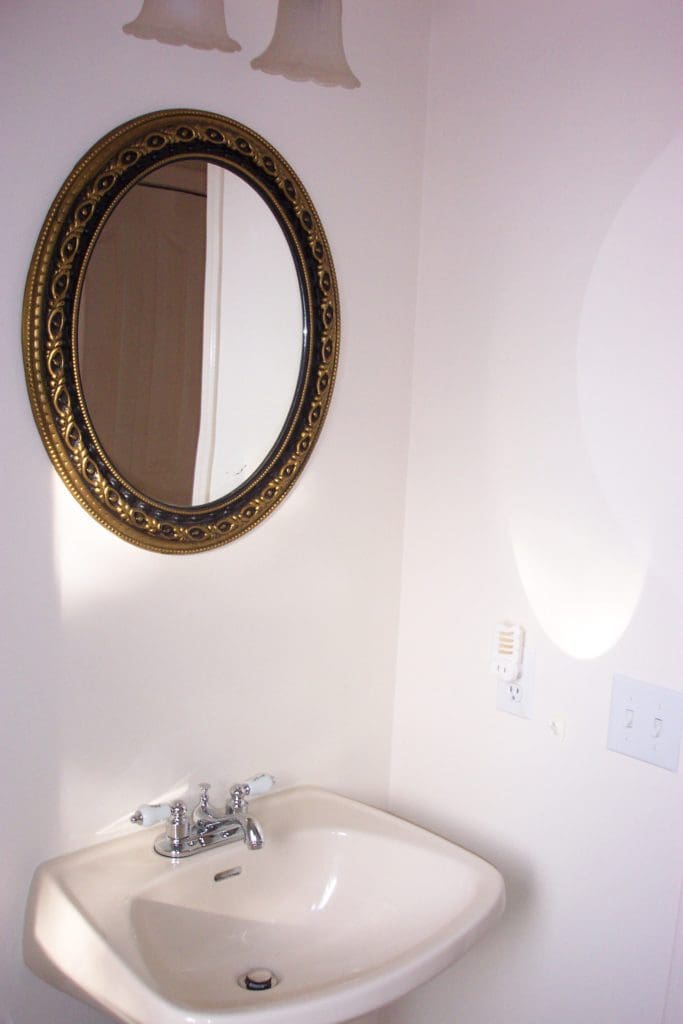 AFTER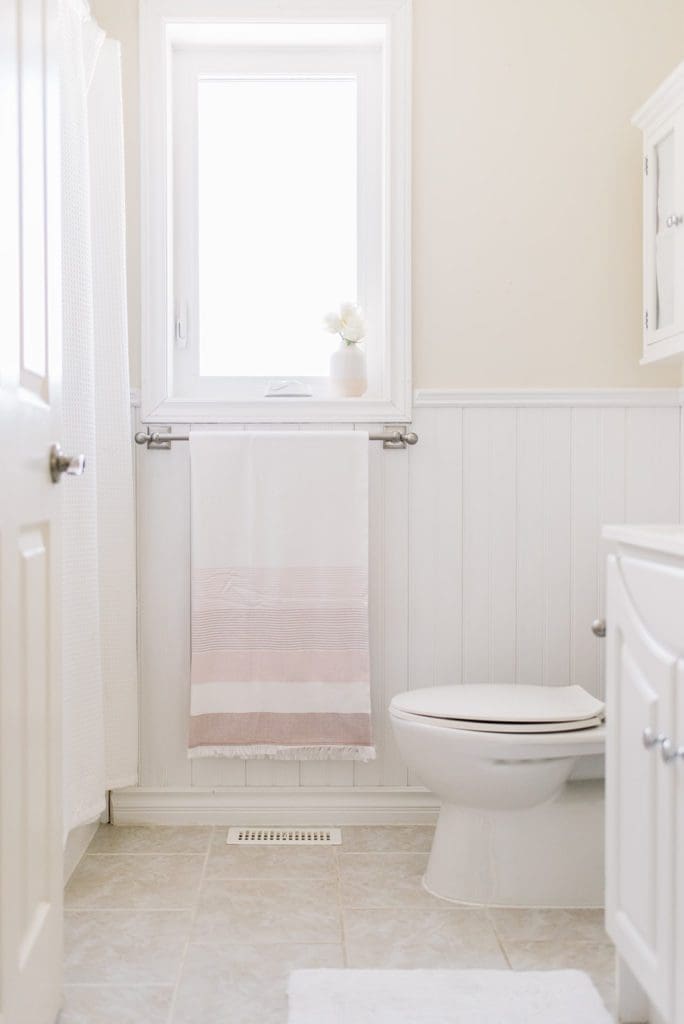 After 10 years of hard use by the kids, this bathroom was in need of a refresh, so we gave it a second mini makeover, which you can see below!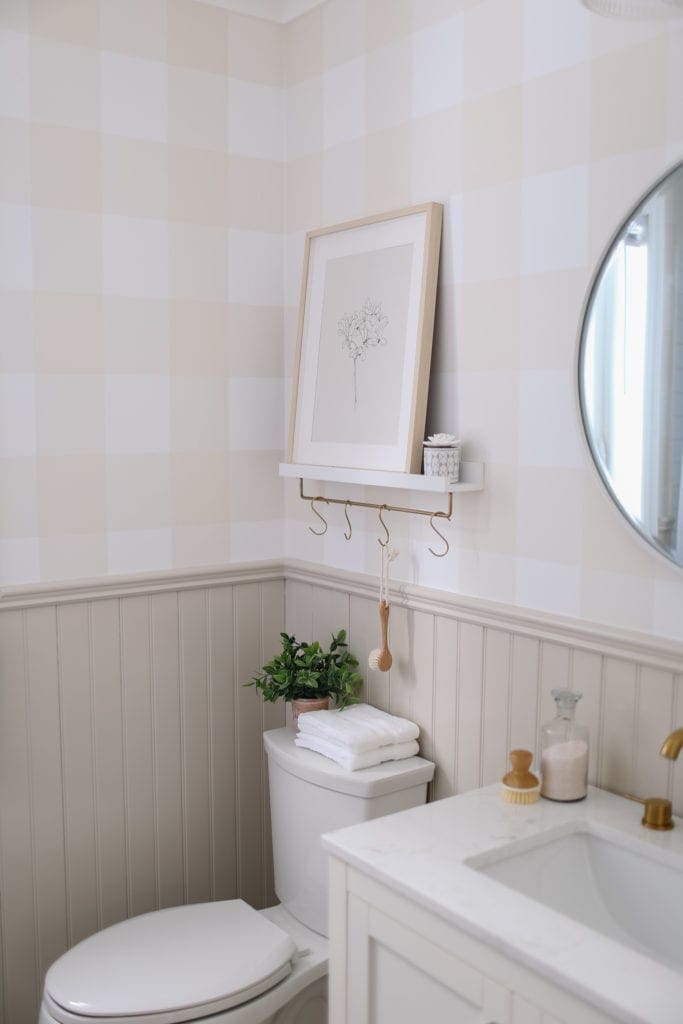 FOR MORE INFO:
English Country Style Small Bathroom Refresh
The Kids Rooms
The kid's rooms are very standard-sized bedrooms. They are usually very messy and to protect the girls' privacy they aren't shared often. But here's a peek!
BEFORE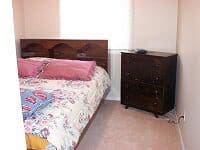 AFTER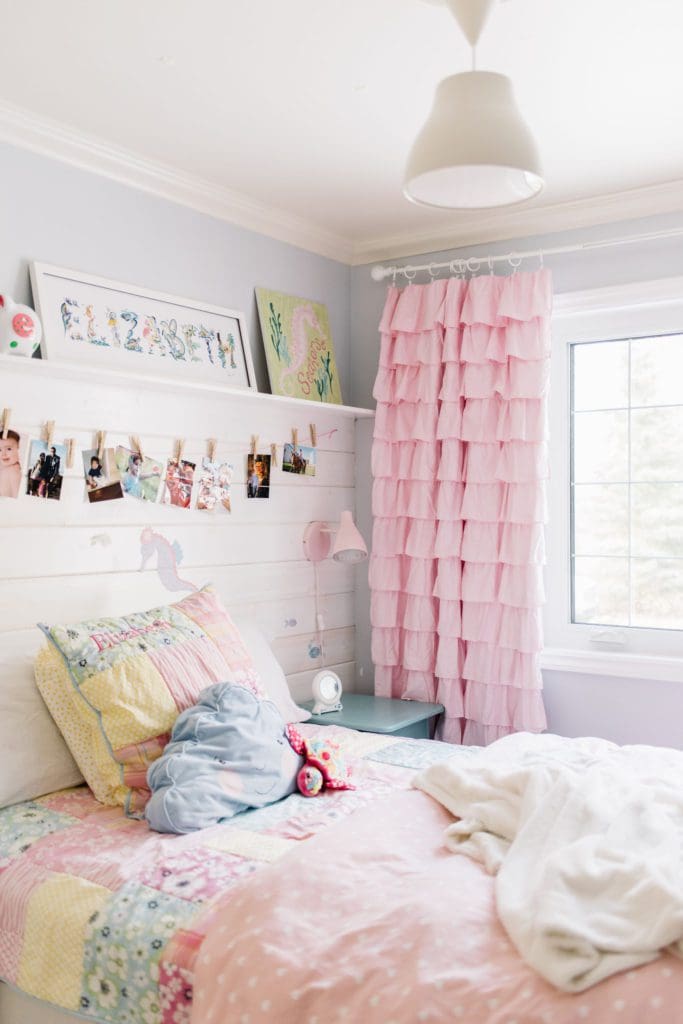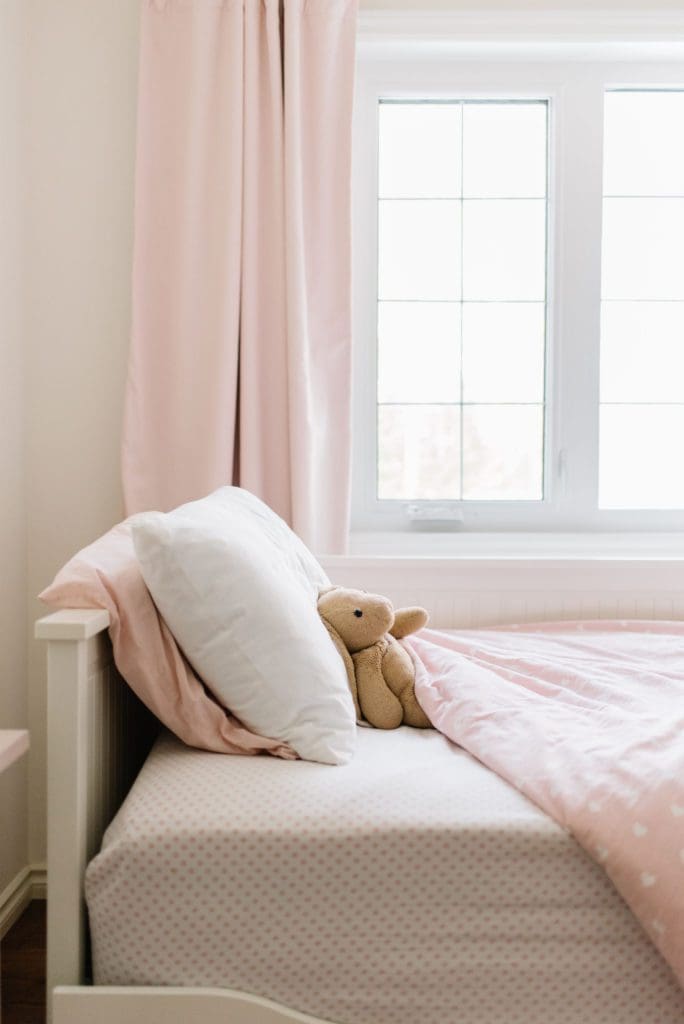 Elizabeth has been asking for loft bed so stay tuned. There may be some major DIY happening in these rooms this year!
The Laundry Room
This room was only ever half-finished. We sort of just ran out of steam in the basement as we were working on our small house renovation. We made it functional and we chose a cheerful yellow colour that seemed like a good idea 10 years ago lol! I'm thinking this would make an excellent One Room Challenge project.
BEFORE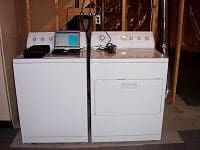 AFTER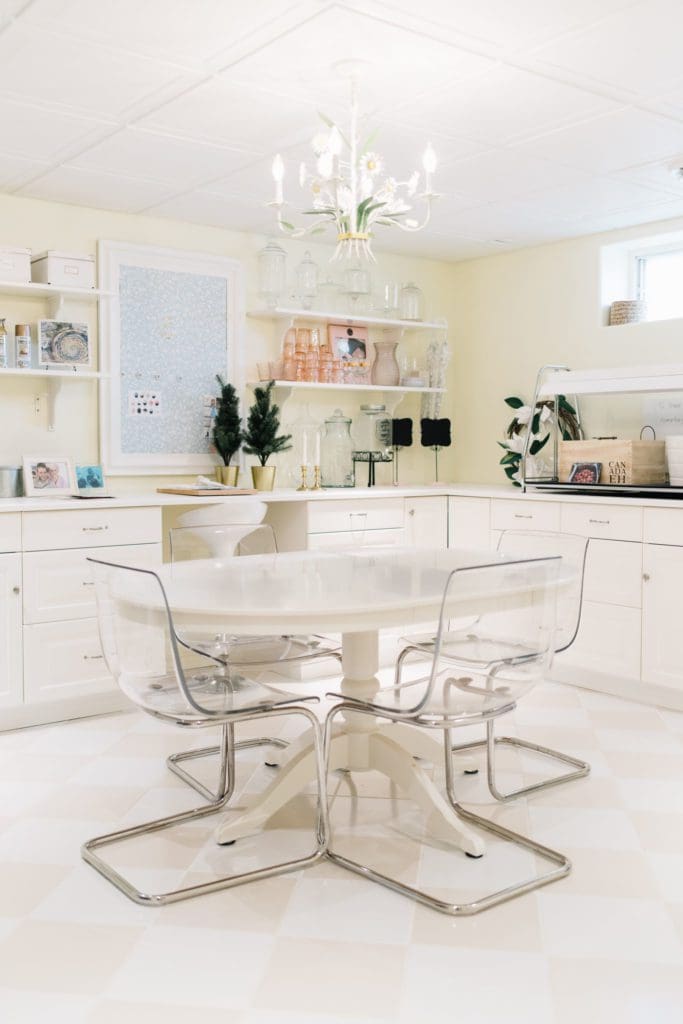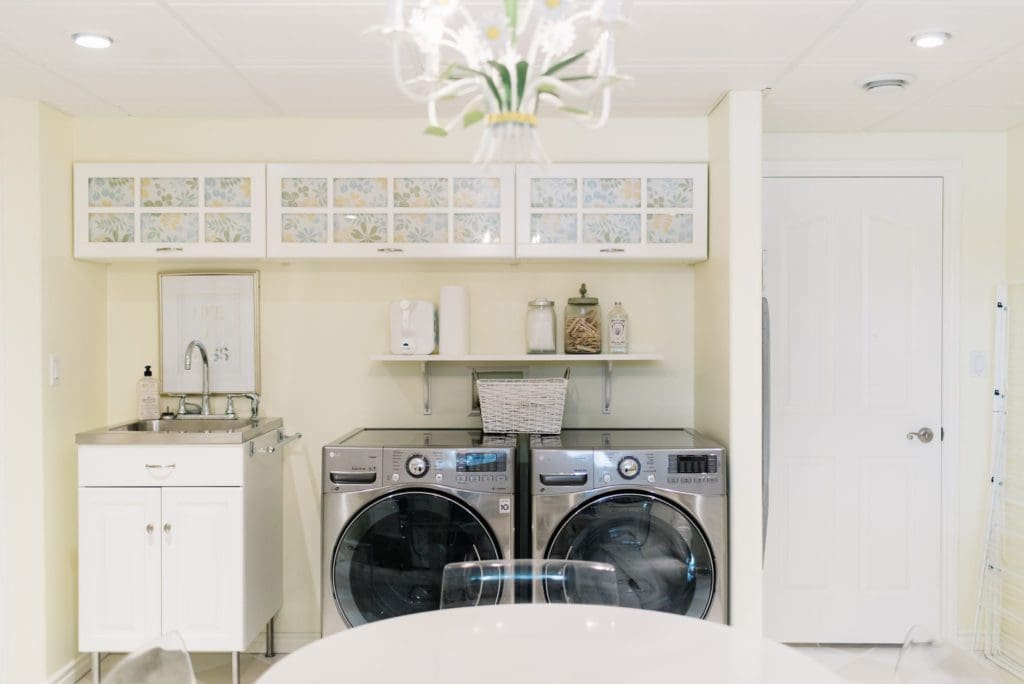 Stay tuned to see what we do with this space!
---
The Guest Space
The guest bedroom and bathroom downstairs was finished in 2009. I think it's stood the test of time well, but I also have some plans for a refresh in this space too!
BEFORE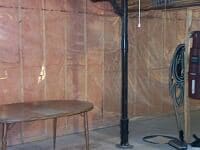 AFTER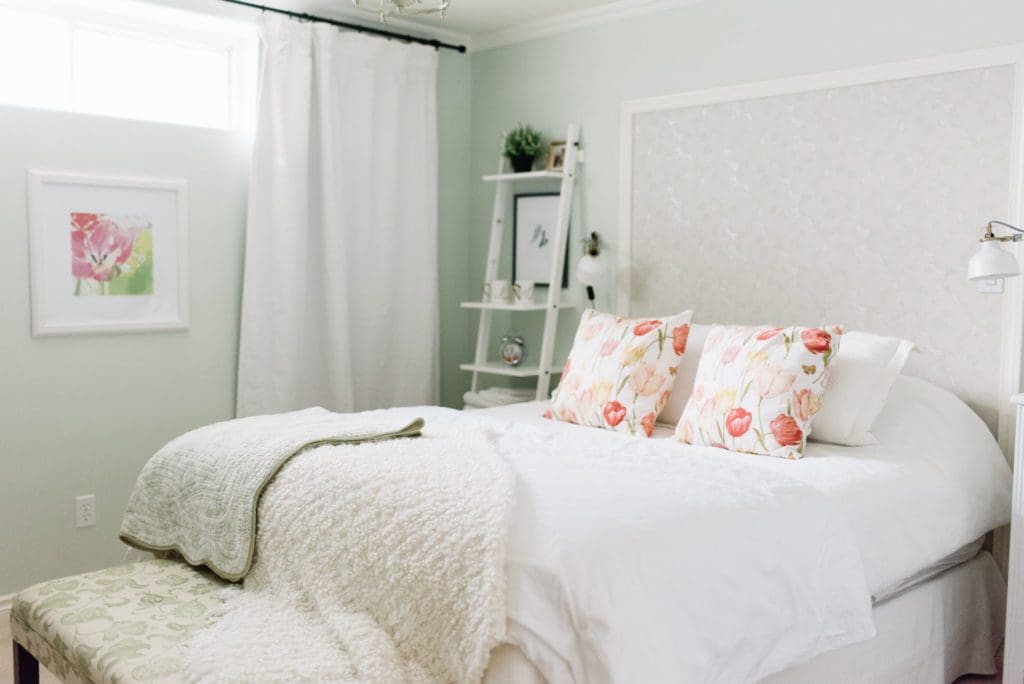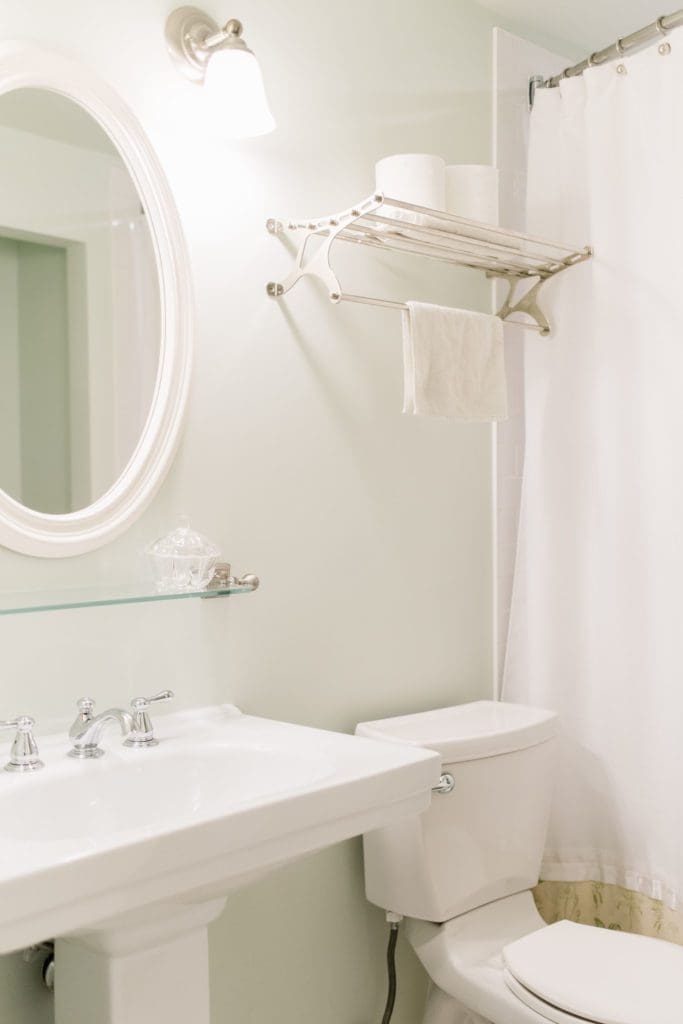 This space will hopefully get a refresh soon as well. Since it's in the basement we'd like to add underfloor heat in the bathroom and a built-in cabinet for guest toiletries and extra supplies!
---
The Basement Family Room
Our most recent renovation was a makeover of our basement family room. During 2020 we spent so much time at home and during a long winter of pandemic lockdown, it was so important to have this extra space! We added a family TV and games area as well as a homework area for the girls to do their online learning.
BEFORE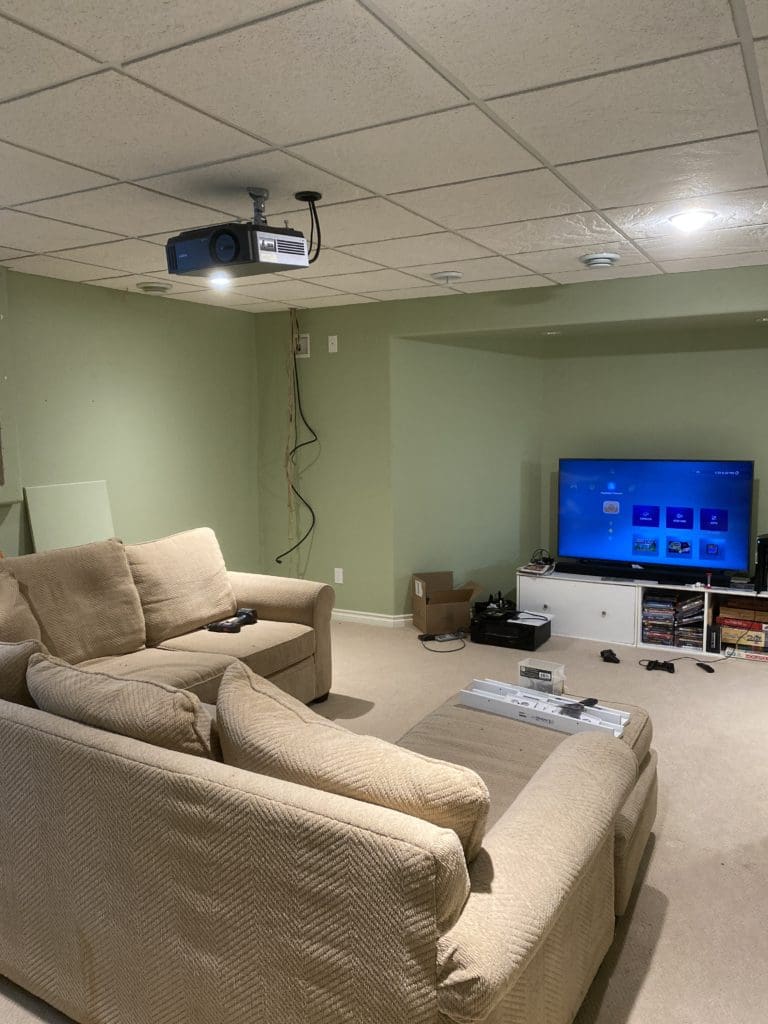 AFTER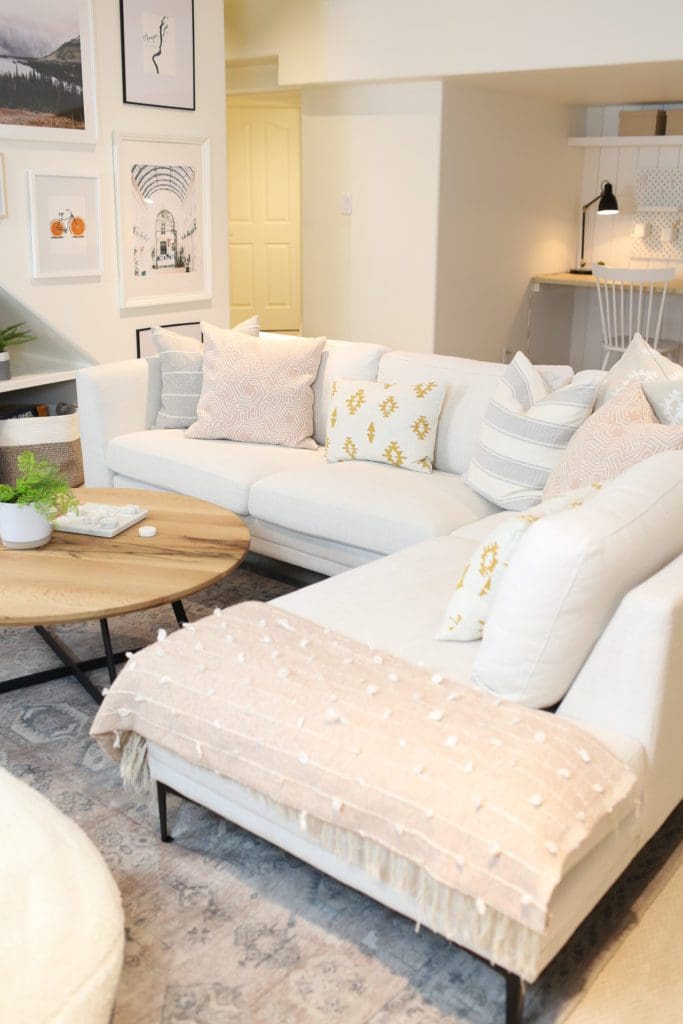 FOR MORE INFO:
7 Ways to Create a Cozy Basement Family Room
Future Plans
We have a few more spaces that are still waiting for renovation! We also just started building a chicken coop, and we have plans to upgrade our pond and add a large garden & greenhouse … So I hope you'll follow along as we continue the renovation of The Ginger Home!
---
If you need a little help planning your home renovations check out my printable Home Renovation Project Planner!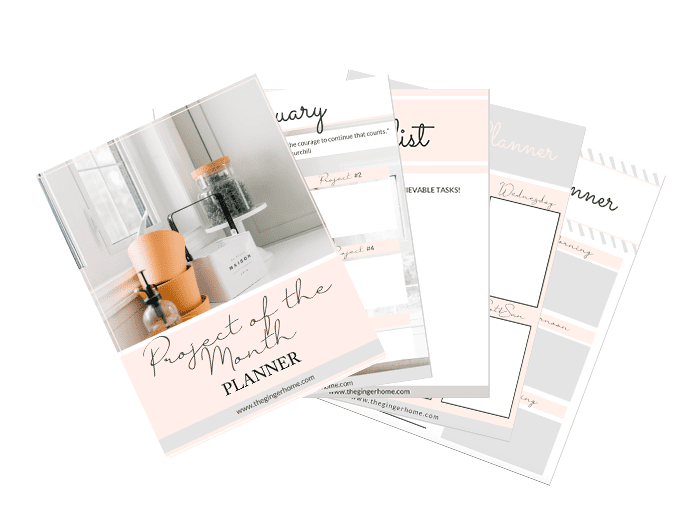 ---
Our small house renovation has been featured in several online publications. You can check those out here!
Apartment Therapy – A Modern English Country Farmhouse Has a Notably Neat Entryway
Rue Magazine – Modern Meets English Country at The Ginger Home
---
MORE GOOD READS: