Our mudroom is the most heavily used room in the house. Although it's not a huge space (approx 200sq ft), we packed thoughtful storage into every square inch! Below are some simple ideas for mudroom organization that we incorporated in our space!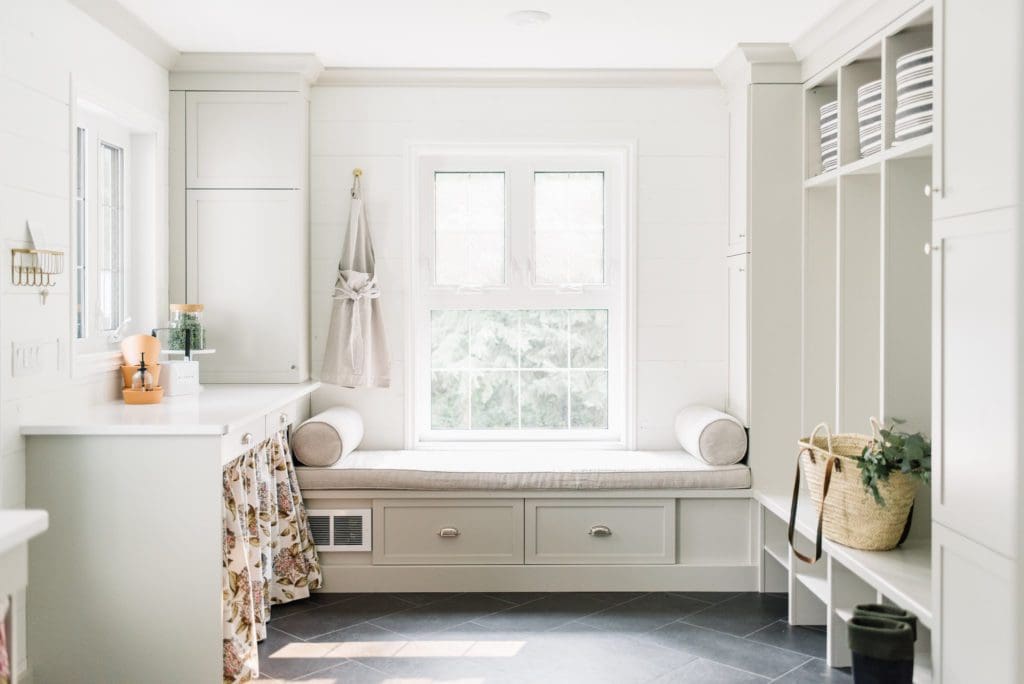 Estimated reading time: 5 minutes
Note: This post may contain affiliate links that won't change your price but may share some commission.
Flexible Storage
Some flexible space was left in the room to allow for storage of larger items such as recycling bins or dog food. The simplest way to do that, while still hiding the clutter, was to use skirting instead of the traditional cupboard doors. Skirting material like this is common in English country houses and I love the European flair it adds.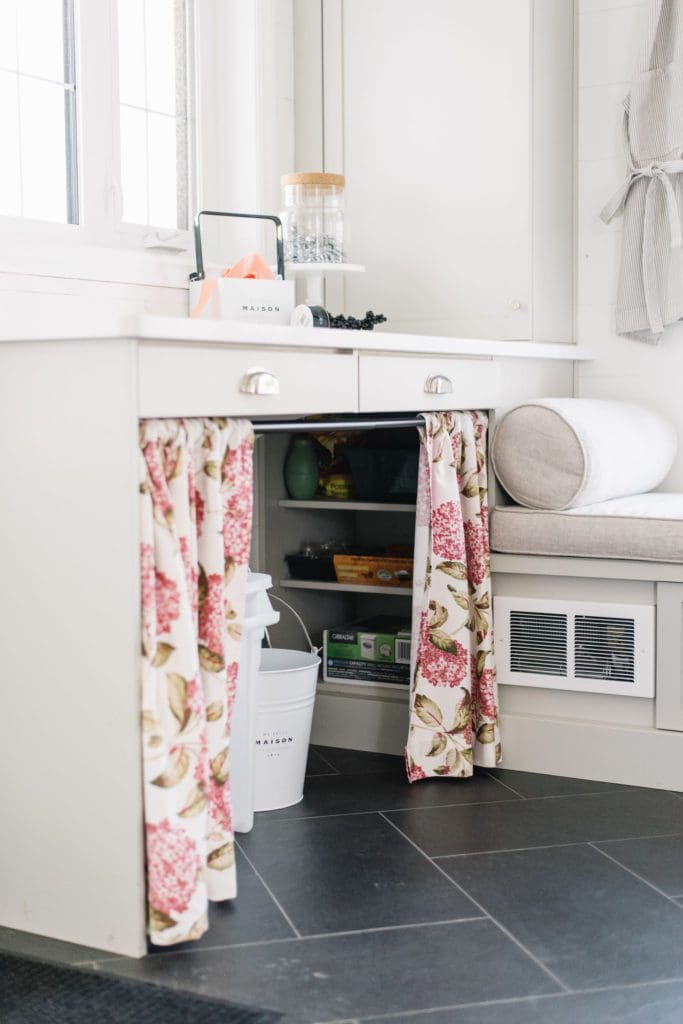 Use Every Square Inch
Not an inch was wasted in the design. We added a few shelves in the corner behind the curtains where we currently store indoor plant supplies. The small drawers hold pens, scissors, string and other odds & ends. The tall cupboard hides sunscreen, insect repellent, hot tub chemicals etc.. All the things we didn't have a dedicated space for before now have a home!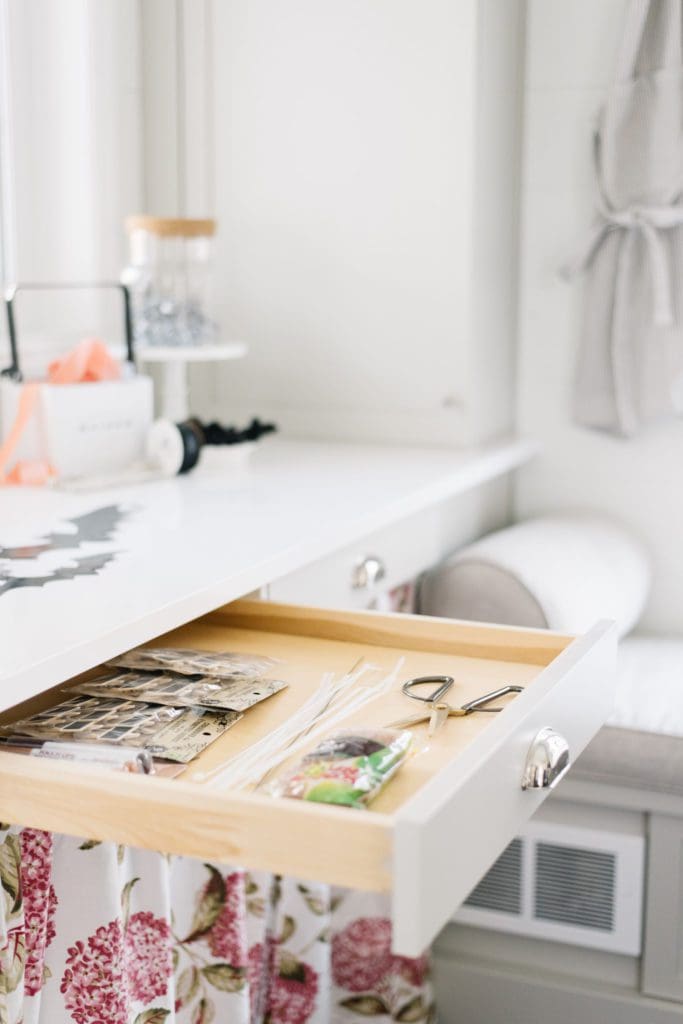 Open Cubbies
Below is a realistic view of what our mudroom looks like on an average day! I toyed with the idea of making this area completely closed off by adding doors to all the cubbies. However, leaving the area open makes it easy to just grab and go! There are still tall cupboards on either side where we store extra/out-of-season jackets, snow pants etc… Bins above each cubby hold mitts, hats etc..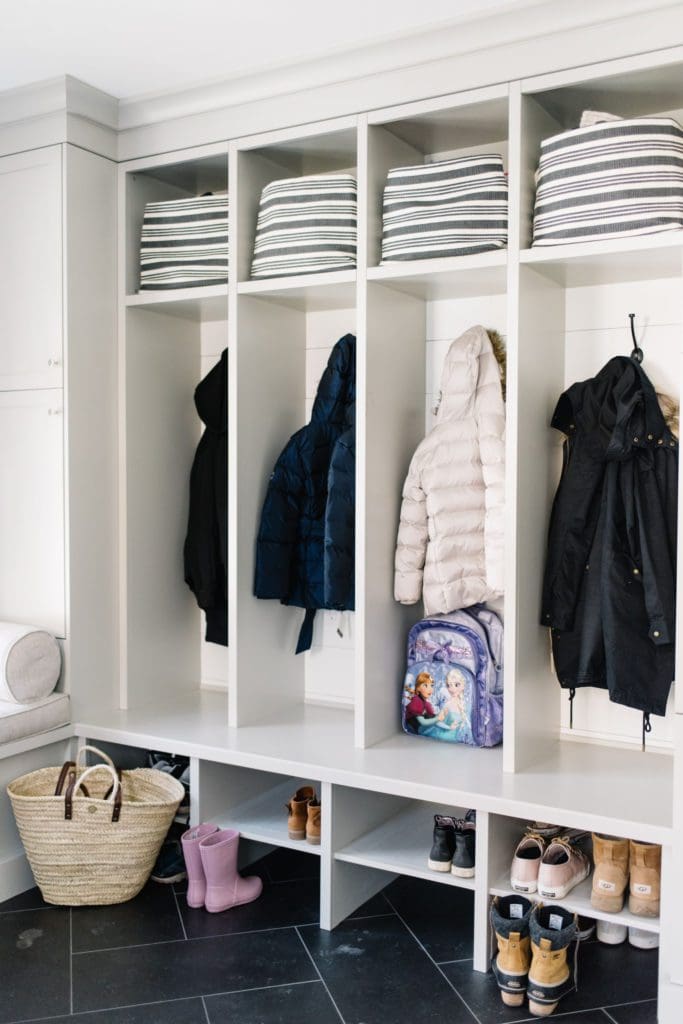 Built-In Drawers
We opted to put drawers underneath the bench seat instead of a lid that lifts up. Even though it reduced the amount of storage space, the contents of the drawers are more easily accessible. We also aren't lifting the benchtop up while people are trying to put their shoes on!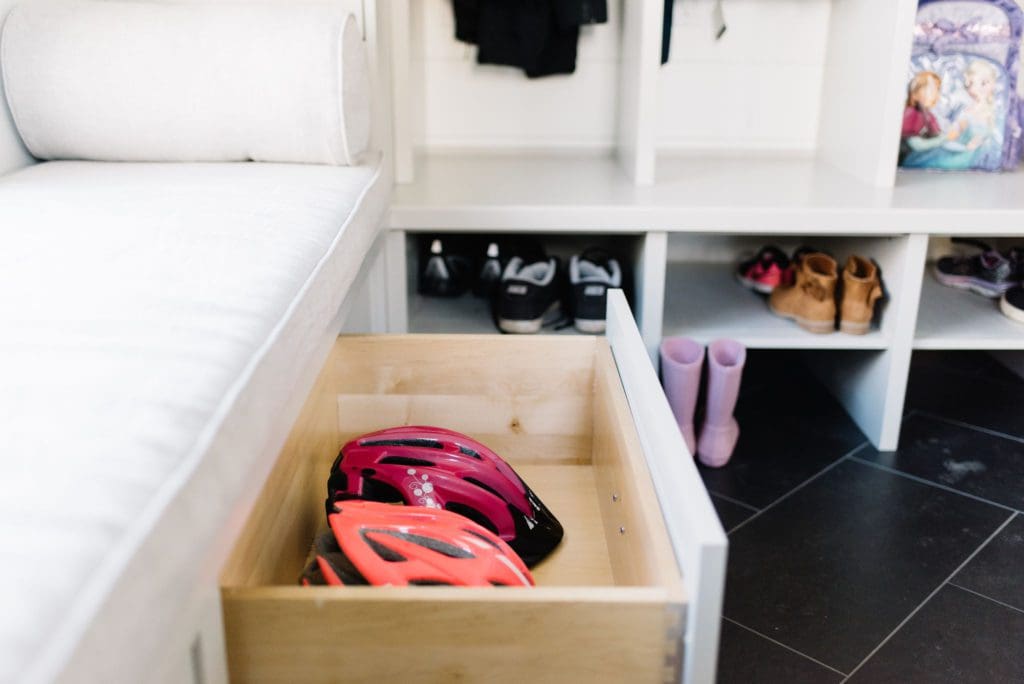 I designed this room to not only hold all of our coats and boots etc… but to handle overflow storage from the kitchen! The fridge/freezer in the kitchen is counter depth. It looks sleek in the space, but it has less interior space than a traditional fridge. The built-in freezer in the mudroom increases our storage capacity substantially.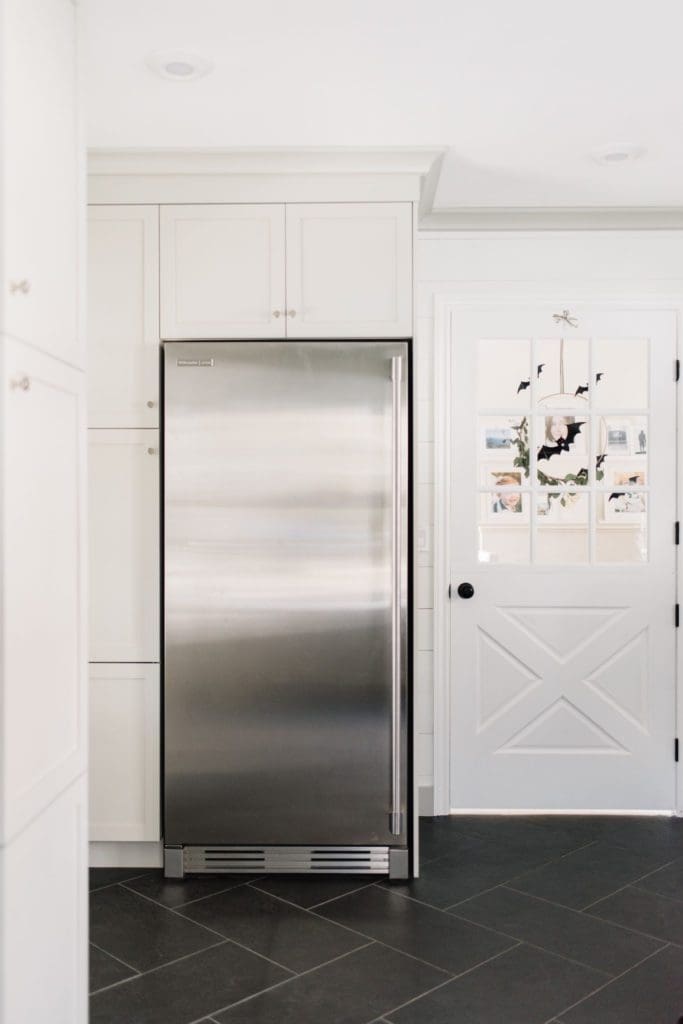 The freezer houses extra meat, veggies & fruit, treats like ice cream and long term storage items. I also throw in portioned meals for work that are easy to grab and go as I head out the door!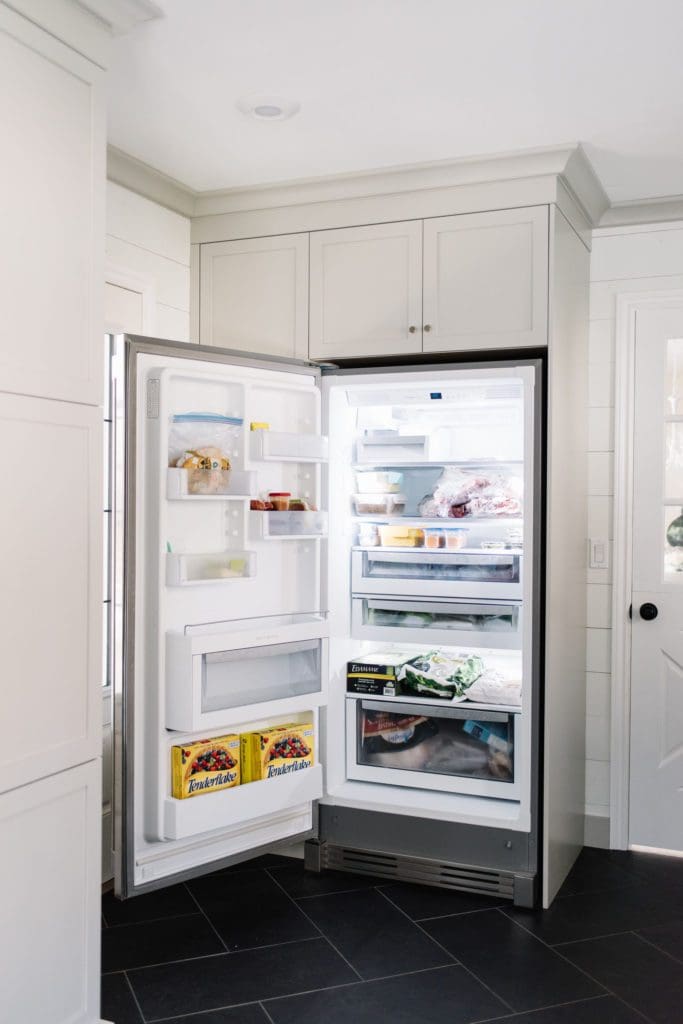 There is also a pantry cupboard beside the freezer where we keep staples like canned foods, pasta & grains, and potatoes & onions. This works well as the mudroom tends to be a slightly cooler space than the main house. I call this area my mini butlers pantry!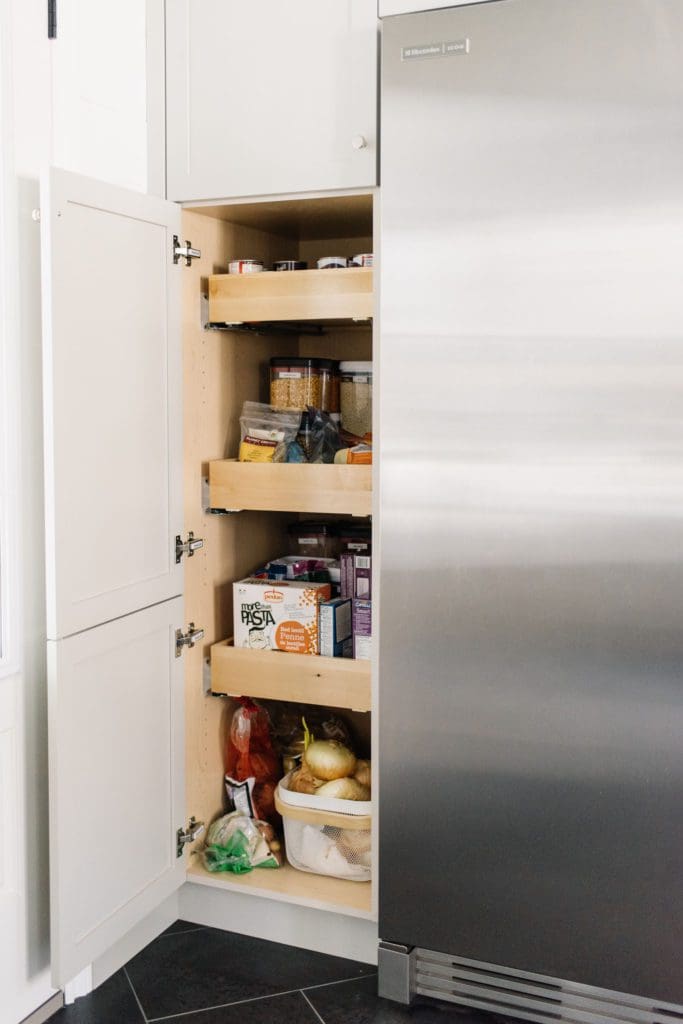 I hope this look into our home has given you some ideas for mudroom organization in your own space!
---
For more info on how we designed the mudroom check out this post:
---
MORE GOOD READS: