When we were house hunting one thing that was high on our list of wants was a master bedroom with an ensuite bathroom. Well, our wish was granted with this house…sort of!! The ensuite bathroom was incredibly small and we had to get creative to make it functional! Here are 7 tiny master bathroom design tips to keep in mind if you have a very small bathroom!
Estimated reading time: 5 minutes
Note: This post may contain affiliate links that won't change your price but may share some commission.
#1 Get Creative
The bedroom and bathroom were so small that having the door swing into either space just didn't work! So we installed a sliding barn door instead! A sliding barn or pocket door is always a great option for small spaces!
The door just tucks in behind the wardrobes in the bedroom and doesn't take away any precious square footage in the bathroom!
#2 Maximize Storage
Maximizing storage is always key in making a small space functional. Instead of putting in a traditional bathroom vanity, we created our own custom vanity using Ikea kitchen cabinet units. These units are 24 inches deep and we added a combination of drawers and cupboards to suit our needs.
#3 Go Vertical
We also added vertical storage towers by using Ikea kitchen wall cabinets on either side of the mirror.
These cabinets house extra towels etc… as there is no room for a linen closet in the space. They also hold our toothbrushes and toiletries etc… within easy reach.
#4 Weigh Sink Options
We had about 66″ of space to work with for the vanity wall. We really wanted double sinks in the space, but in order to fit 2 sinks in we would have had to give up a lot of storage and counter space! Since Mark and I are on different schedules and don't usually get ready at the same time every morning, it made sense for us to have a single sink!
We also didn't need a large sink as we have a laundry sink downstairs as well as a deep sink in the mudroom. So we chose a small round sink, which gave us more coveted counter space.
#5 Use Wall Space
In a small space, it's important to use every square inch wisely! We hung our hand towels on the sides of the storage towers for easy access.
And we used the space under the window to hang bath towels. We used a double bar so that we could hang two towels instead of one. The towels hang right over the floor vent, so they also dry quickly and stay warm when the heat is on in the winter!
#6 Stand Up Shower
Although I'd love to have a tub in the master bathroom, storage was much more important. We chose to have a large vanity and stand-up shower instead of a tub/shower combo and a small vanity. We have 2 other bathtubs in the house and we also have a hot tub that's accessible through patio doors from the bedroom.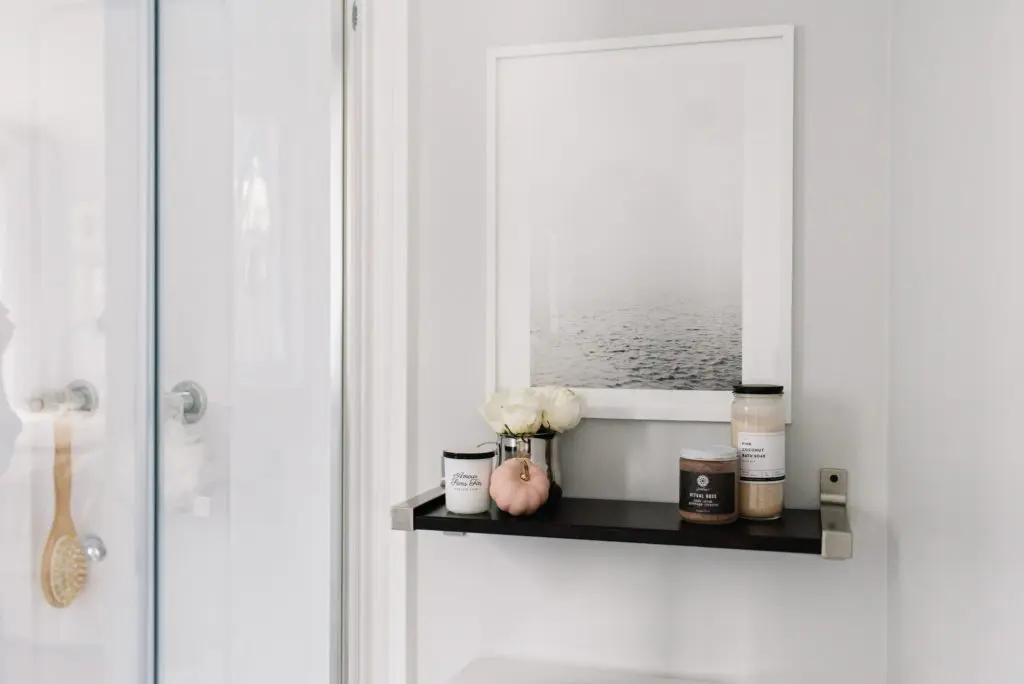 #7 Keep it Simple
By making sure that we had enough storage and hanging space we were able to keep clutter to a minimum. Just a few accessories are out on the counters and everything else is tucked away. This keeps the room feeling spacious and uncluttered.
I hope this look at our small master ensuite bathroom has been helpful. Keep these tiny master bathroom design tips in mind to create a beautiful and functional small master bath!
MORE GOOD READS: