This year I chose neutral Christmas decor with a pink peppermint twist! I love the fun bursts of red and pink tempered by more classic, neutral pieces!
I started from scratch with my holiday decor this year. When I looked through my old boxes of Christmas things there wasn't much to see. Our faux tree was the least realistic tree I think I've ever seen. The lights didn't even work because it was so old! I had a random assortment of ornaments and decor items, most of which I didn't really like and that didn't work well together. So I donated almost all of it and only kept items with sentimental value. Then I headed out and picked out a few things to get me started on a fresh Christmas theme! I plan to add a little more each year choosing only things I really love (and of course waiting for those after Christmas sales to stock up)!
I hunted for mostly neutral and white decor. However, I can't resist classic candy cane stripes at Christmas so I added in a "pink peppermint twist" by including a few red stripe and pink items as well.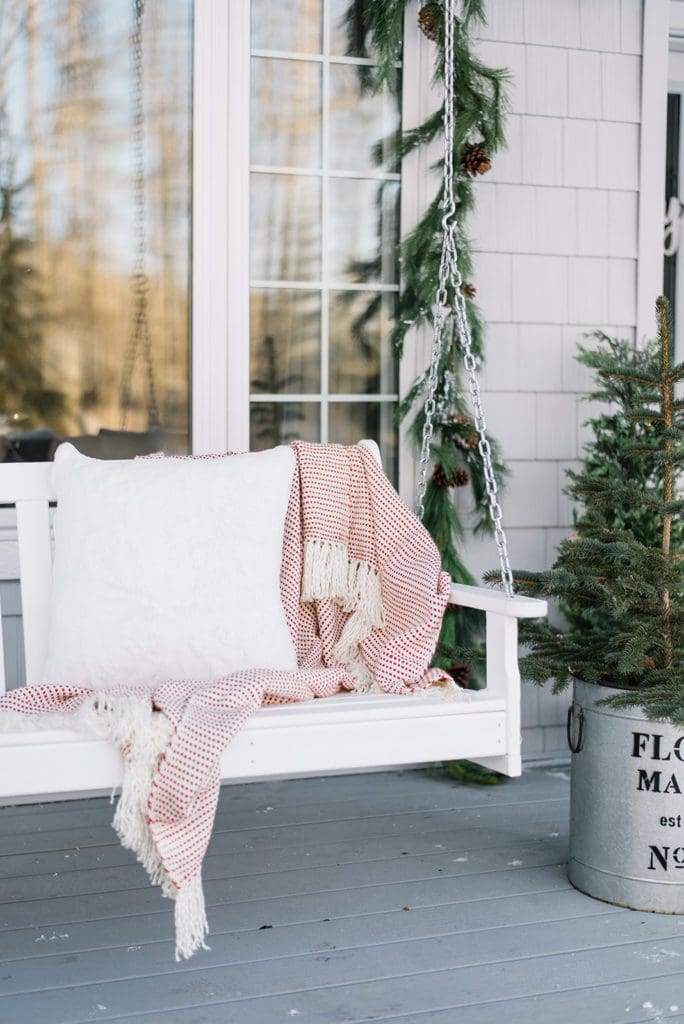 Estimated reading time: 8 minutes
Note: This post may contain affiliate links that won't change your price but may share some commission.
A Minimalist Christmas Tree
This beautiful flocked tree from Balsam Hill caught my eye. It had the simple, straight out of the forest feel that I was looking for.
However, I found a slightly smaller and less expensive version at Canadian Tire. I decided to try out the look before buying the larger one! This version isn't available anymore, but it's 5ft tall for reference if you are looking for a similar one.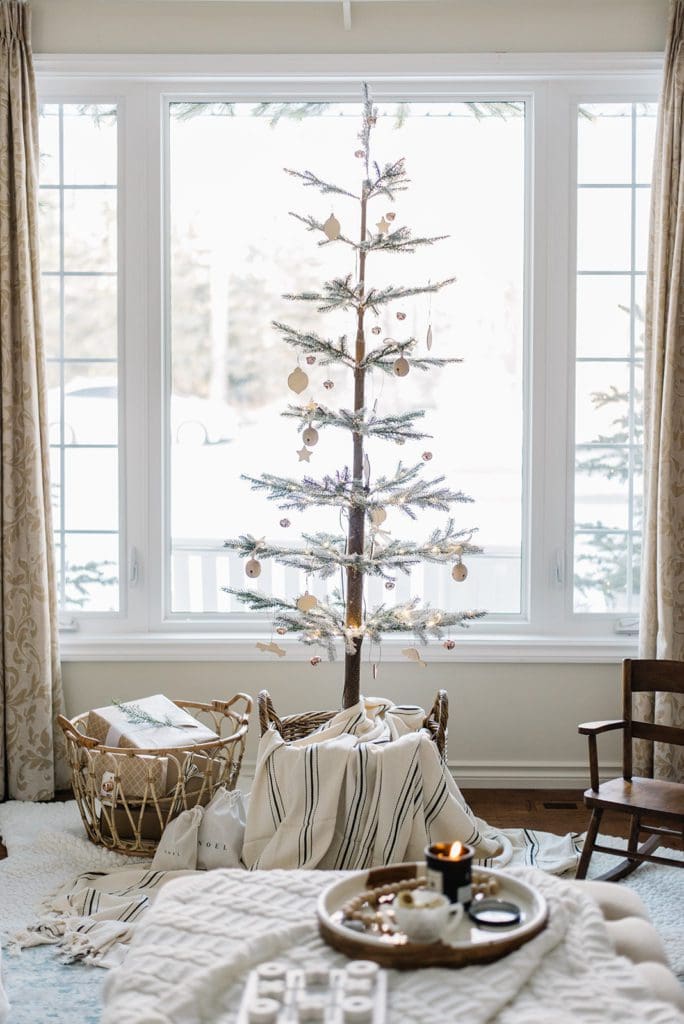 It's sweet in a Charlie Brown sort of way! It wasn't as tall as a full-size tree, so I placed it on top of some stacked books in a basket to add extra height. Instead of a traditional tree skirt, a beautiful striped throw from Cloth and Main keeps the look casual!
Thinking outside the box opens up so many beautiful and budget-friendly solutions for home decor. When you use what you already have in different ways it can make old things feel fresh and new again! For example, these wooden bell ornaments are recycled from my Thanksgiving Tablescape! I love items that can be used for multiple seasons.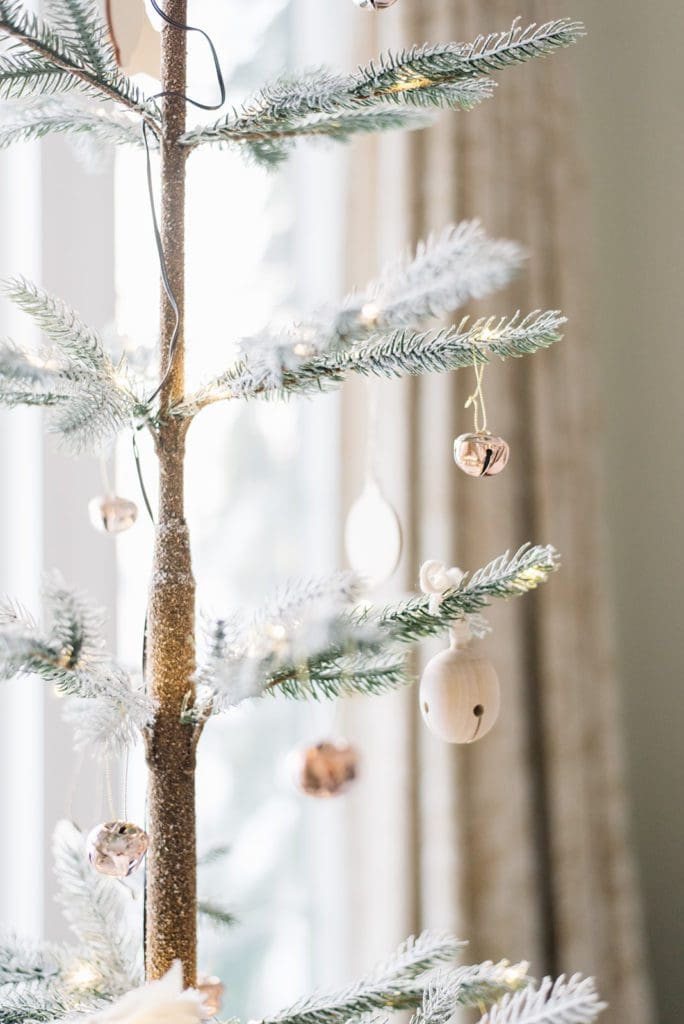 The little rose gold bells were another score from Canadian Tire! And I found cutest little wooden ornaments from Pi'lo, perfect for neutral Christmas decor. They are so sweet and they came in a variety of shapes like this little star!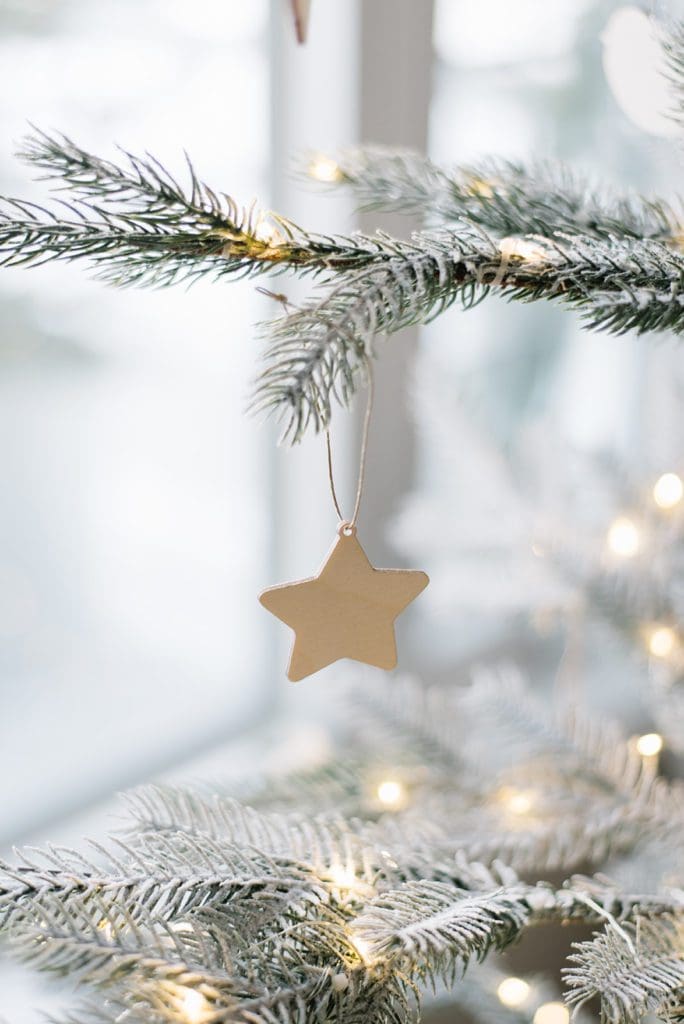 Because we put up a minimalist Christmas tree this year I added mini trees here and there around the house for extra sparkle and cheer! And next year when the family room is complete, the girls will have their own kids tree to decorate to their heart's content!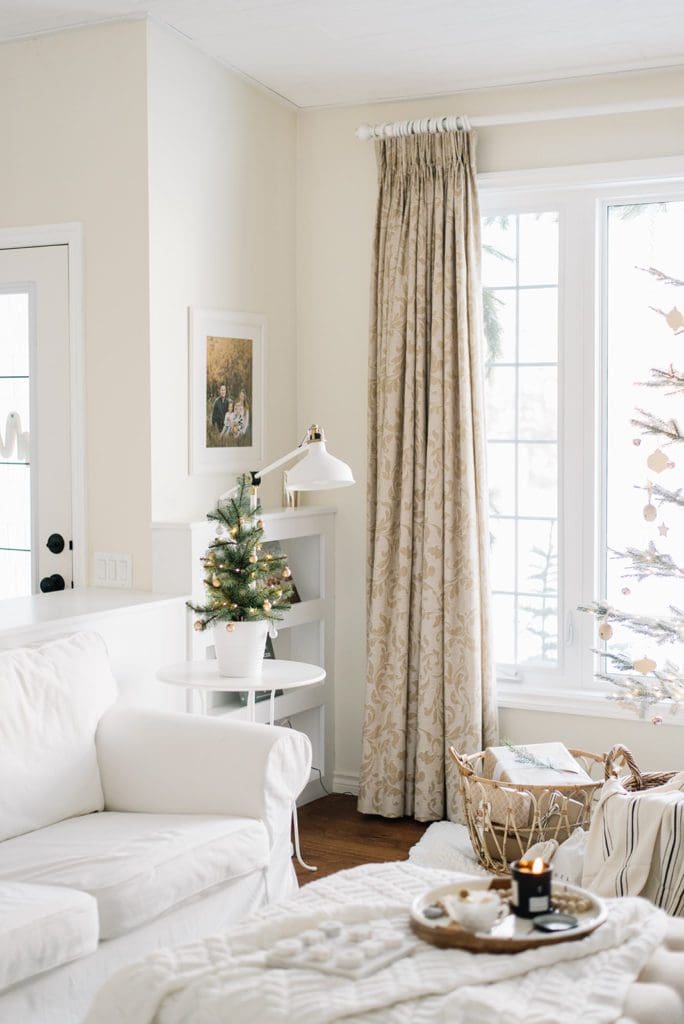 Neutral & Natural Decor
Faux cedar garland draped on the mantle continues the simple, neutral theme. I love fresh garland, but it dries so quickly that I prefer to use faux and add in fresh clippings!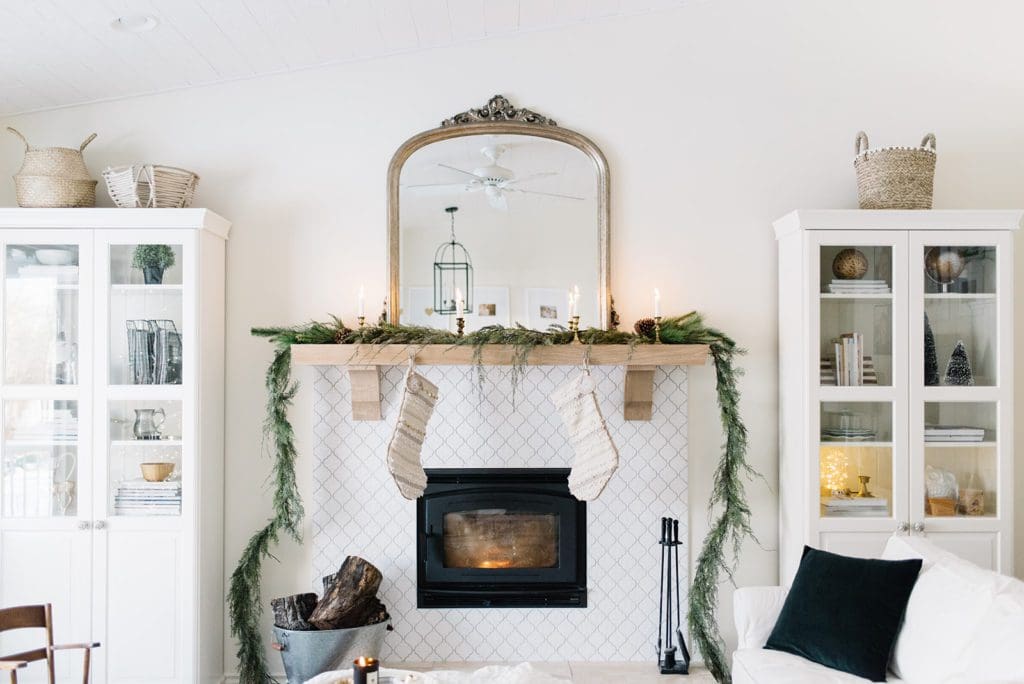 A pail of logs by the fire, vintage brass candlesticks, neutral stockings and green velvet pillows round out the living room decor.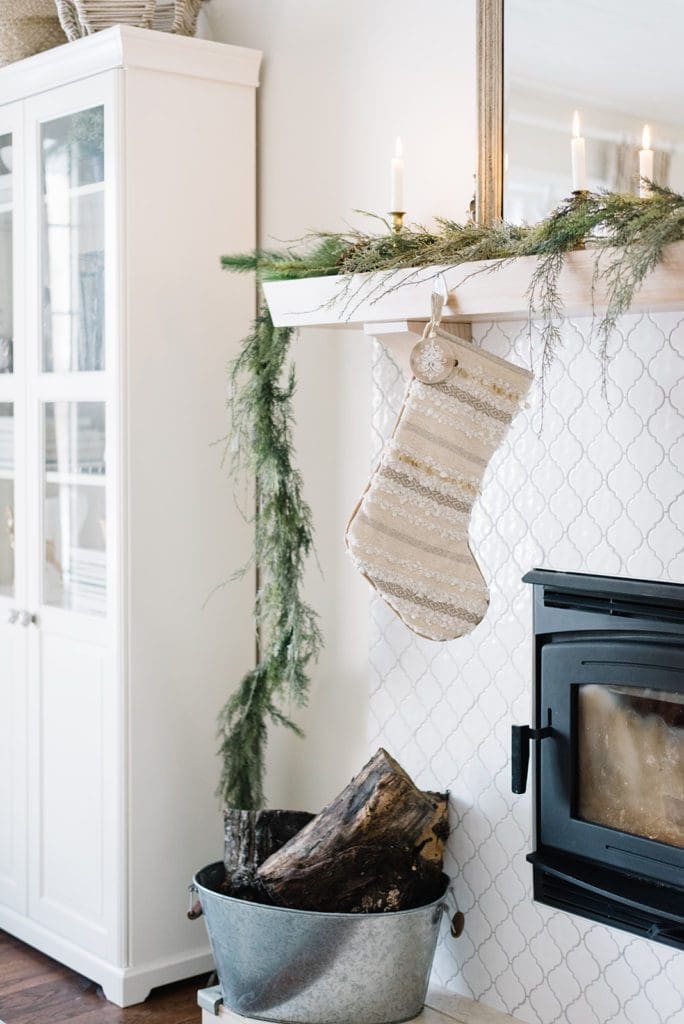 In the guest entrance, I added a jute rug for warmth and a simple green garland along the coat hooks.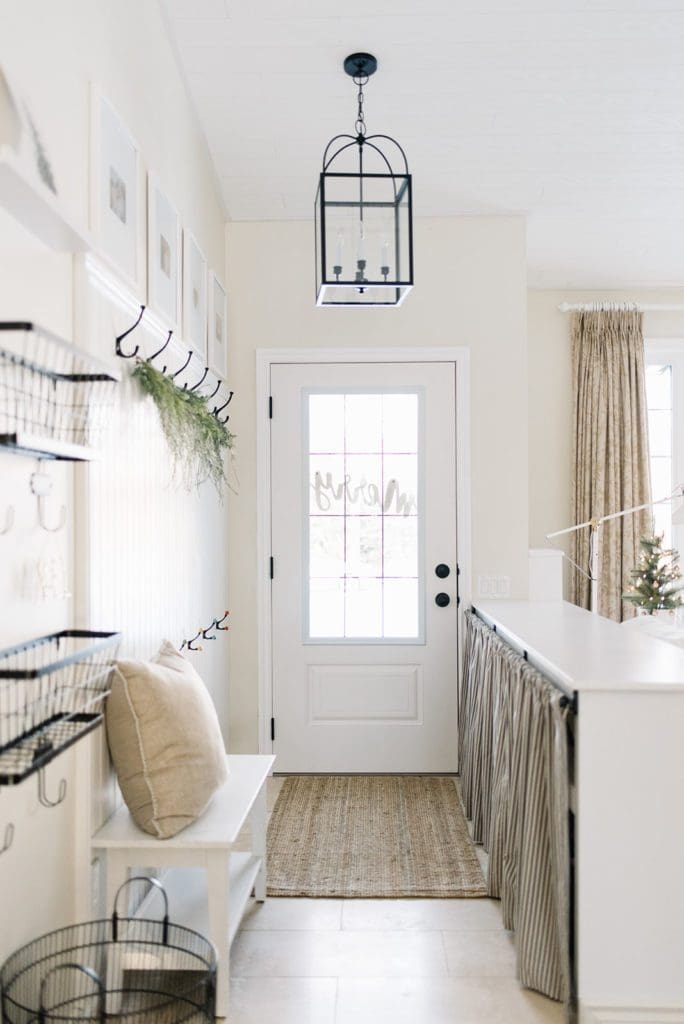 A Pink Peppermint Twist
In the kitchen, I added that pink peppermint twist I've been talking about! The pops of colour are a fun complement to the mostly neutral Christmas decor.
I like having sweet treats on hand during the holidays, but I don't always have time to bake. This year I picked up some goodies from Duchess Bake Shop. Their pink macarons and chewy ginger cookies were irresistible! I also found peppermint bark at Crate & Barrel and pink marshmallows at Canadian Tire.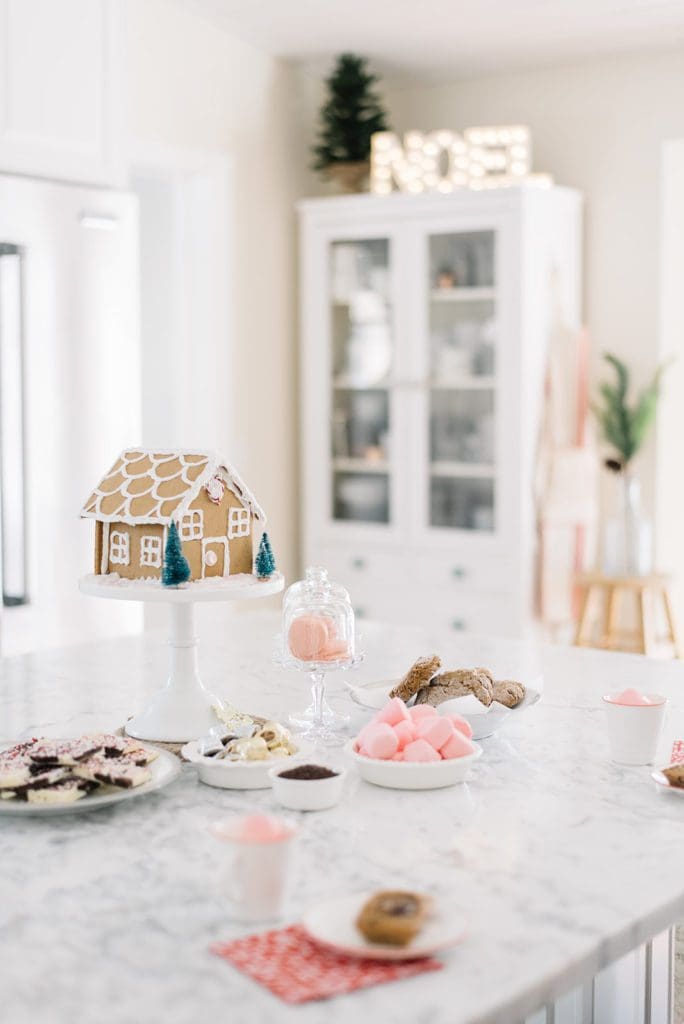 Cedar garland around the kitchen window ties into the rest of the living space. Festive striped oven mitts add a holiday feel when it's time to cook!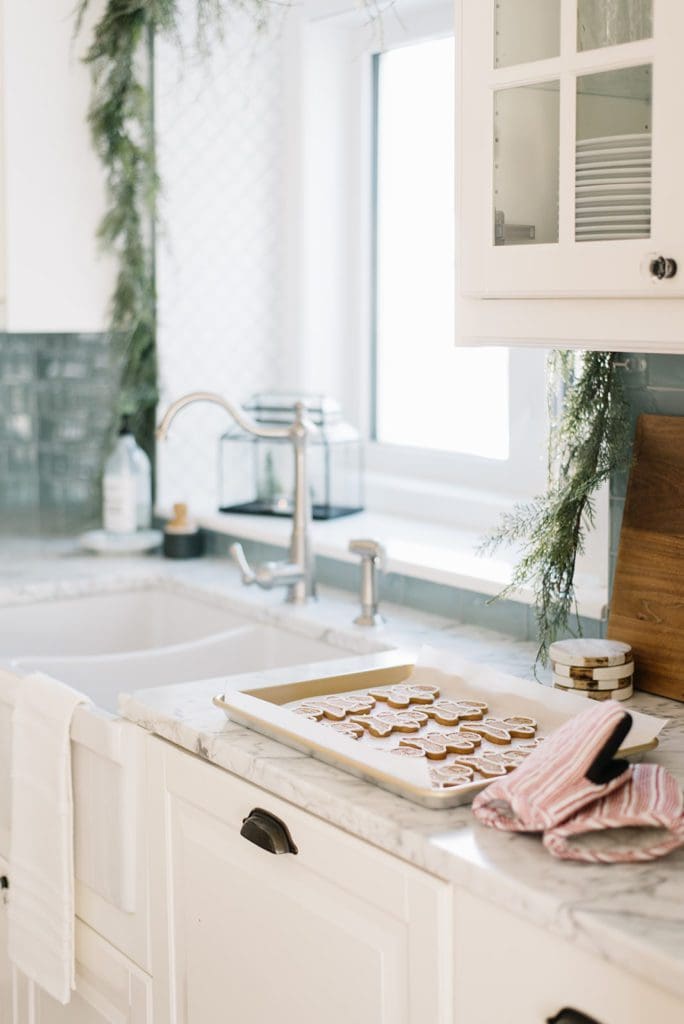 In the dining nook, greenery over the door and tucked into the chandelier looks striking against the neutral walls. A few candy canes add a splash of colour (and are tasty snacks)!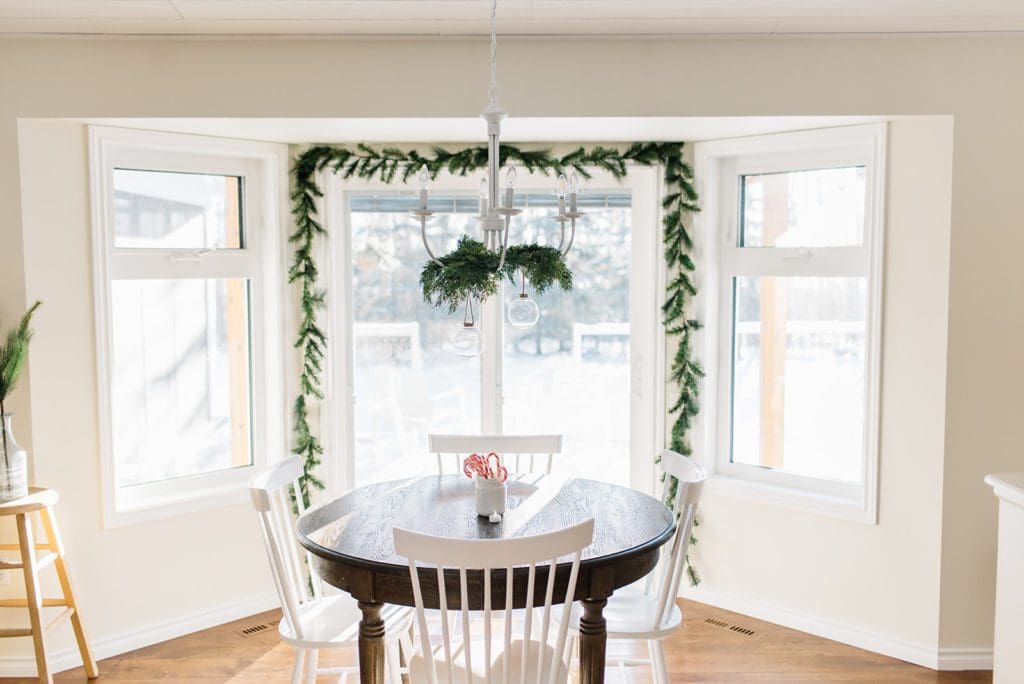 Clear glass and twine ornaments hung from the chandelier add natural texture! I was going to fill them with sparkly faux snow, but I ended up liking them just as they were!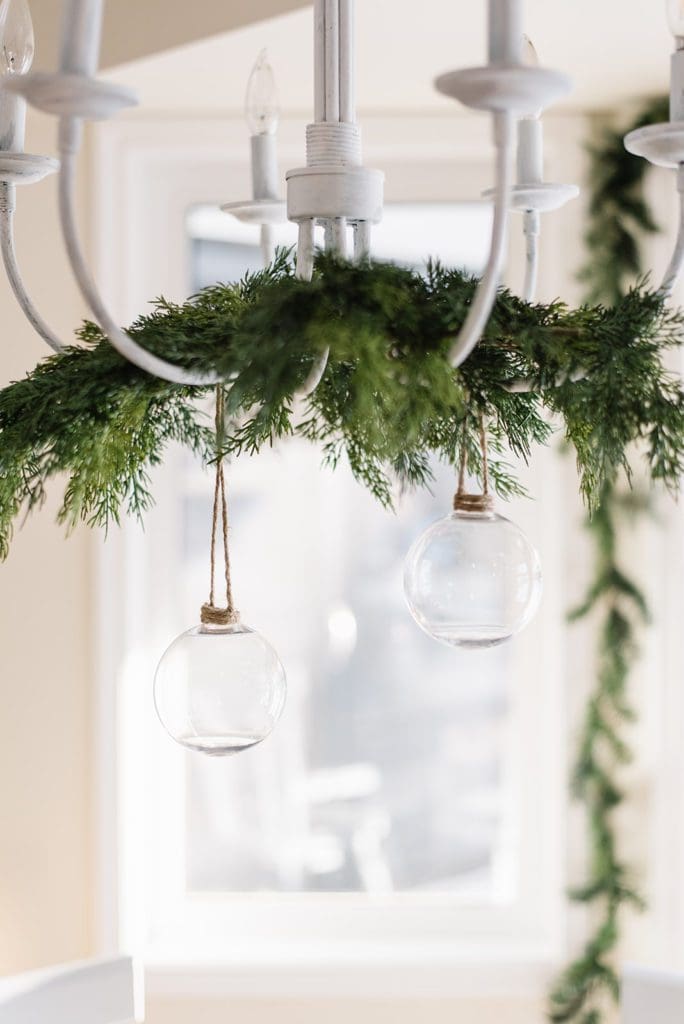 Vintage Advent Calendar
One special item that I kept during the decor purge was our family advent calendar. My Aunt made it when I was a baby. I remember carefully placing the handmade felt ornaments on the tree each Christmas as a child. I love that we can continue that tradition with my girls! And the bright vintage colours add some festive fun to this corner of the house!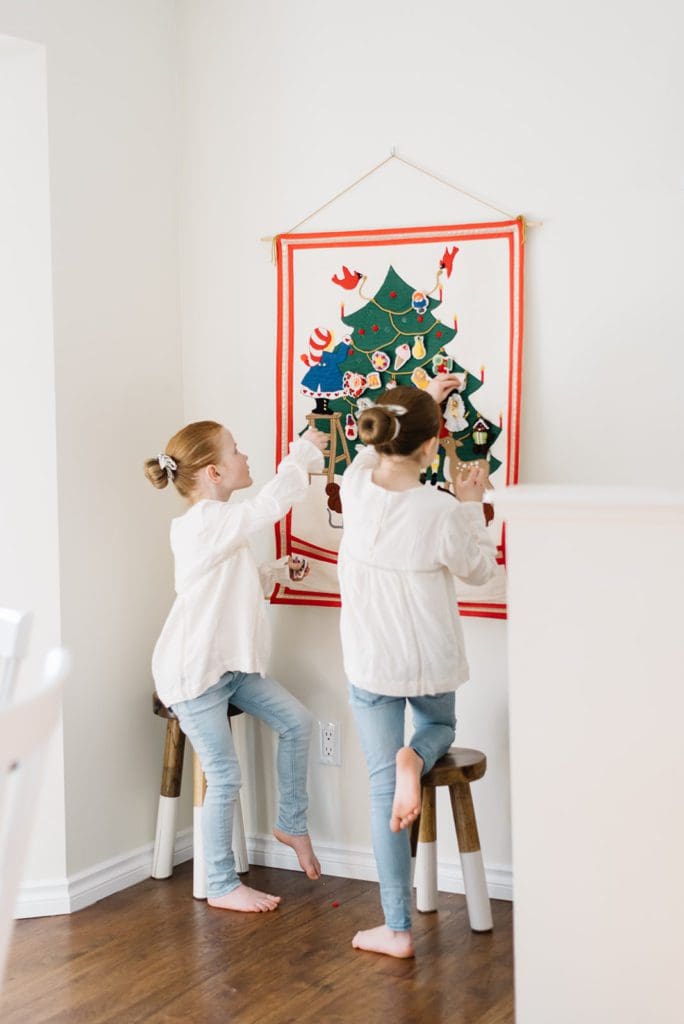 Festive Details
Other festive touches around the house include a dusting of "snow" on the buffet in the hall. Favourite snow globe ornaments, tealights, and a sparkly church create a softly lit winter scene.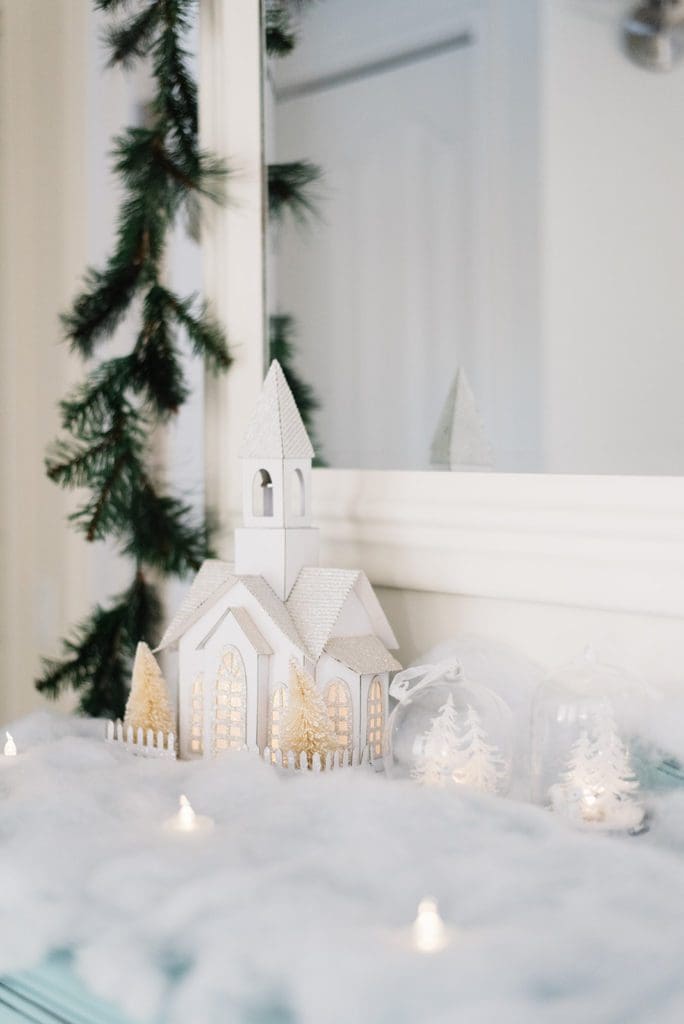 Even the girls' rooms got a mini festive makeover! I put a little tree, a snow globe, a sparkly deer and some twinkle lights in each of their rooms. The trees have their own mini lights and mini ornaments! The girls love sleeping in the glow of the twinkle lights instead of their usual nightlights.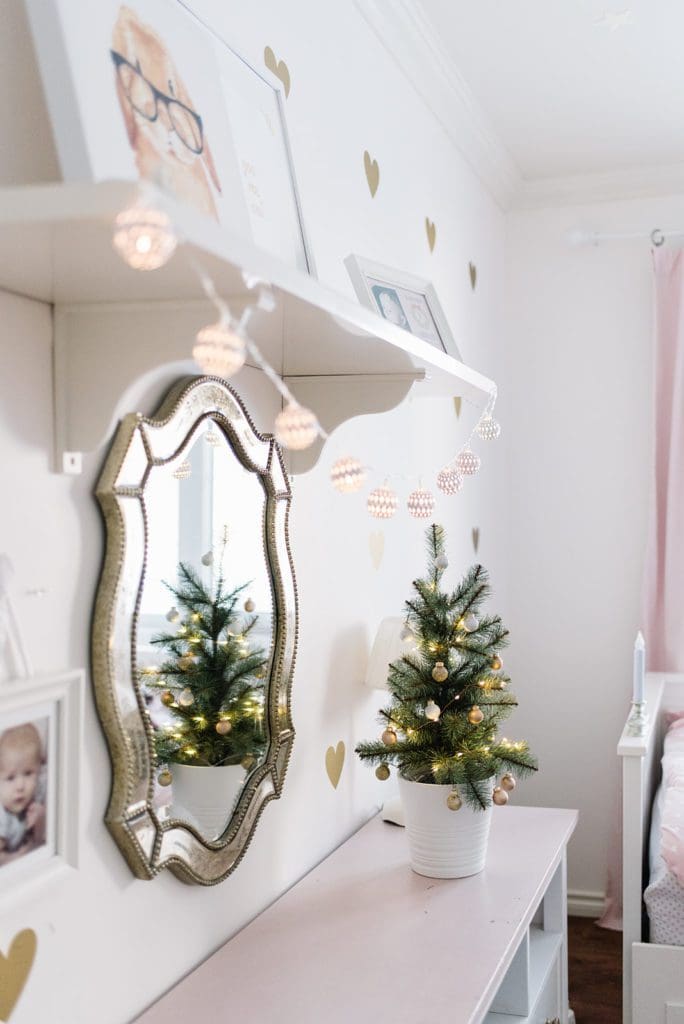 I hope you enjoyed this tour of our neutral Christmas decor with a pink peppermint twist! Starting fresh with our holiday decor this year allowed us to embrace a minimal feel. Our family enjoyed a less cluttered Christmas and it truly made the season feel less hectic.
Looking for some of the Christmas décor I have in my home? SHOP CHRISTMAS & WINTER
---
For more Christmas inspiration check out these posts!