I have really enjoyed making Advent calendars for my girls over the past couple of years! And this one might just be my favourite! Read on for all the deets on creating your own DIY Gingerbread House Advent Calendar Tree.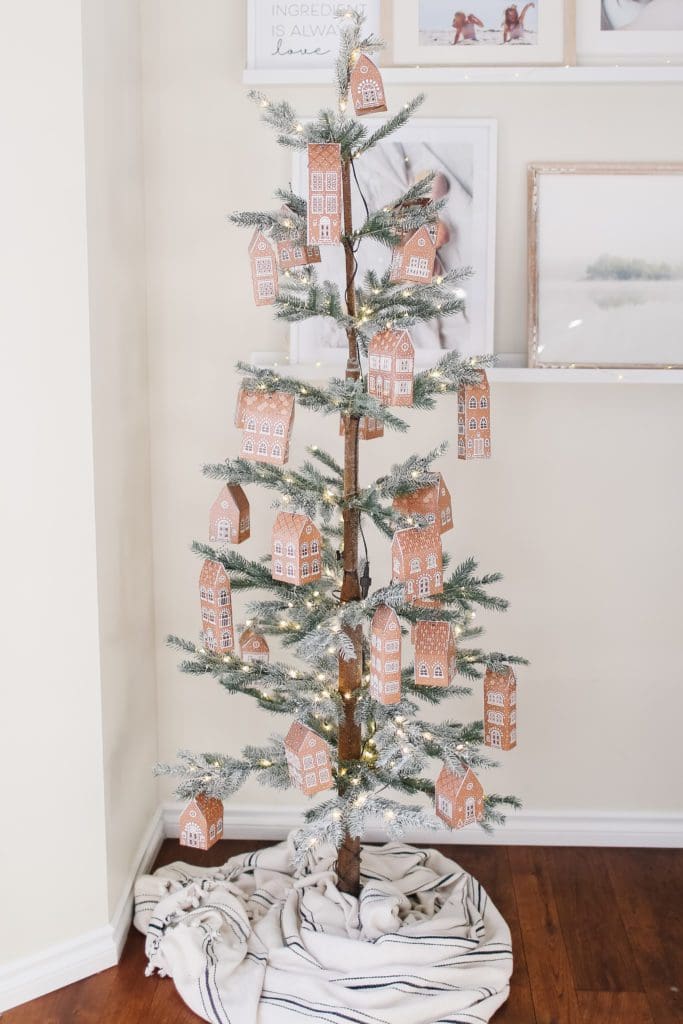 I decorated our home this year with an understated gingerbread theme. I wanted a neutral Scandinavian feel and simple touches to make it feel warm and welcoming, but not overdone. (Baking pun intended lol!)
Estimated reading time: 11 minutes
Note: This post may contain affiliate links that won't change your price but may share some commission.
Where to find Gingerbread House Advent Calendar Templates
I thought about making my own houses and then realized it was 2020 and that Mama don't have time or energy for that! So I found the sweetest Printable Gingerbread House Advent Calendar templates for under $10 on Etsy. Bonus… if you purchase these you get to support a small shop this Christmas, yay!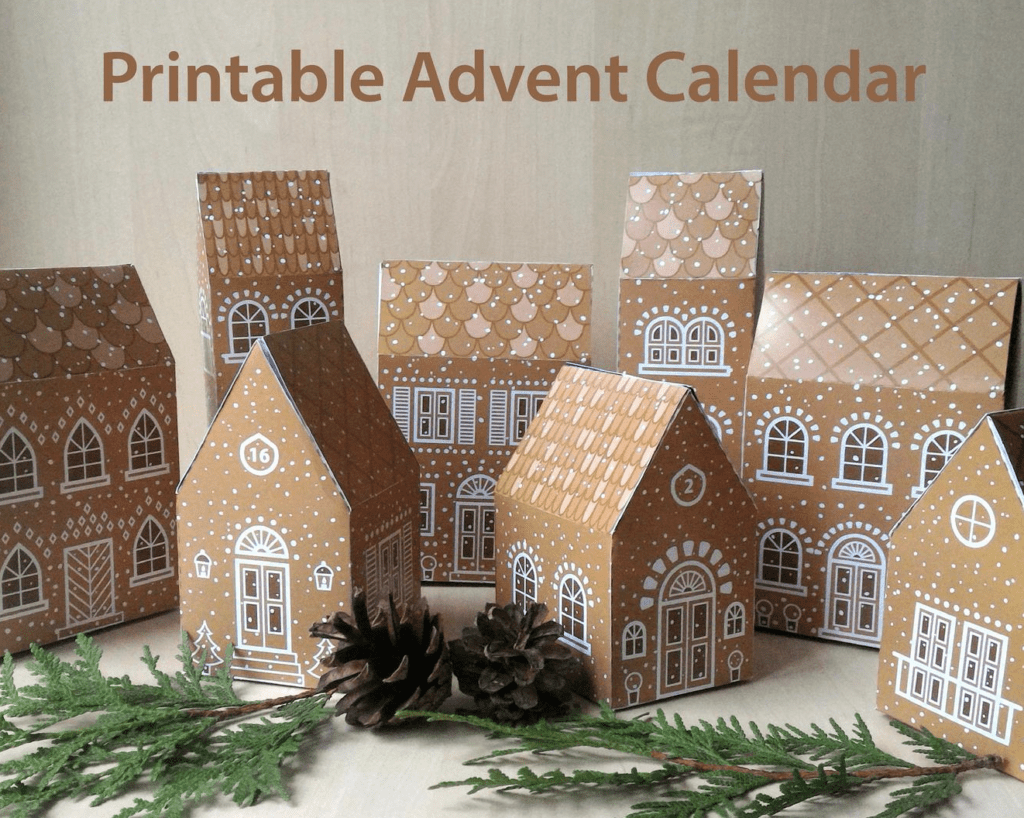 All I did was get a teensy bit crafty to hang these on a little Christmas tree instead of setting them up in a little village, (which is also super cute).
How to Construct Mini Gingerbread House Gift Boxes
Step 1: Print Gingerbread House Templates
If you buy the Etsy templates, it's simple to download the files and send them to a local print shop. My go-to is Staples. I had each template (there are 25) printed on US letter size white 100lb cardstock to make sure the boxes were sturdy enough to hold small treats and toys!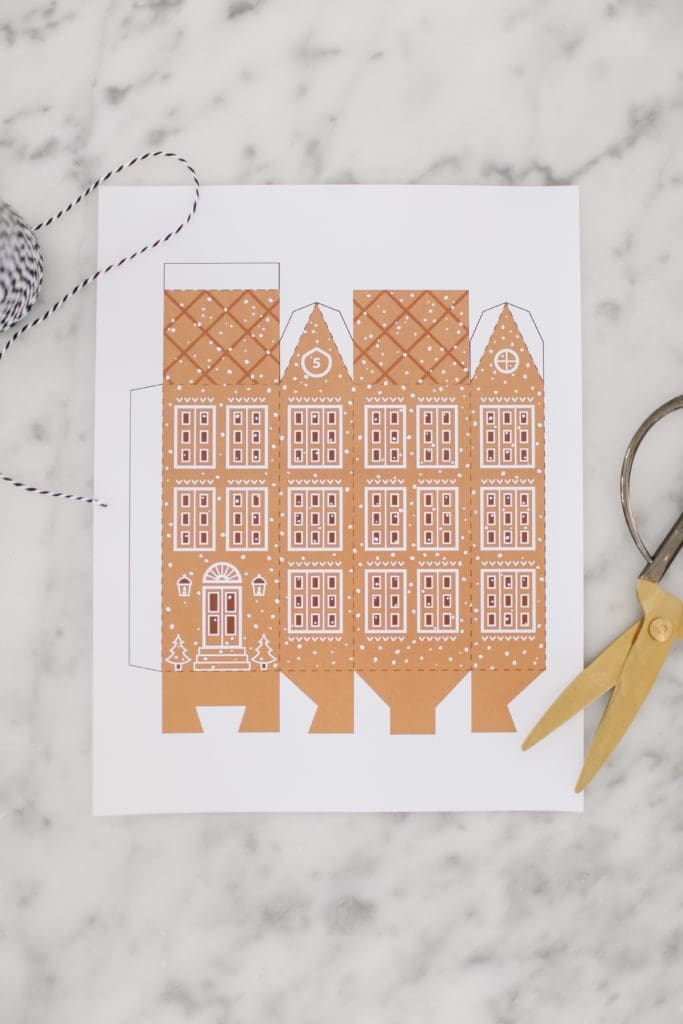 Each template is slightly different and comes numbered from 1-25 so no extra tags are needed. Genius! I love that some of the houses are cute and tiny and some are tall like Amsterdam canal houses, which I have a weakness for.
Step 2: Cut Out Gingerbread House Templates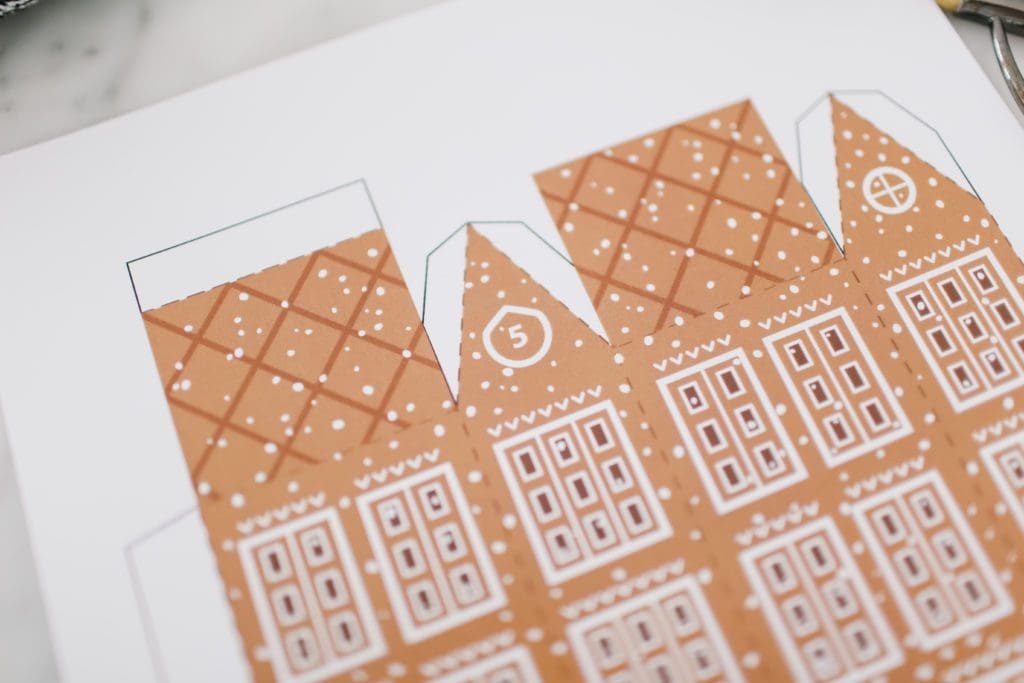 This may seem obvious, but cut along the solid lines and bend along the dotted lines. I couldn't figure out why I couldn't fold the peaks of the roof properly on the first one I folded until I realized I had missed a cut line between the white flap and the large roof!
Step 3: Fold Gingerbread House Templates
Because I am not naturally gifted in the craft department lol, it took me a hot minute to find the best way to actually fold these! If you don't have the same difficulties that I do, feel free to skip this section.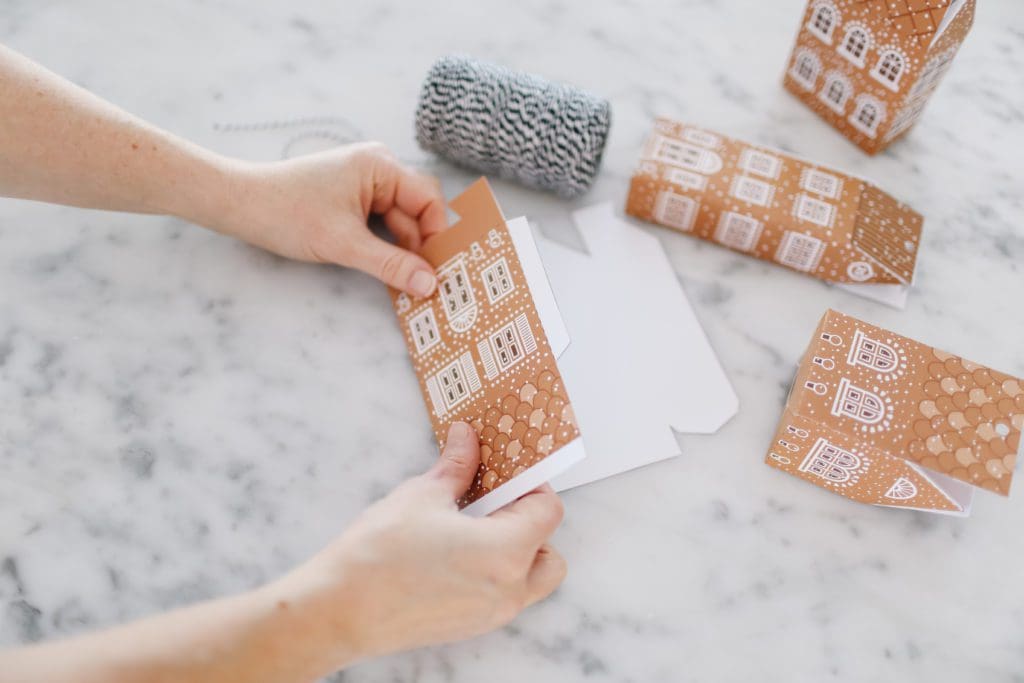 It took me a couple of hours to cut out and fold all of the houses, so factor that in when you start.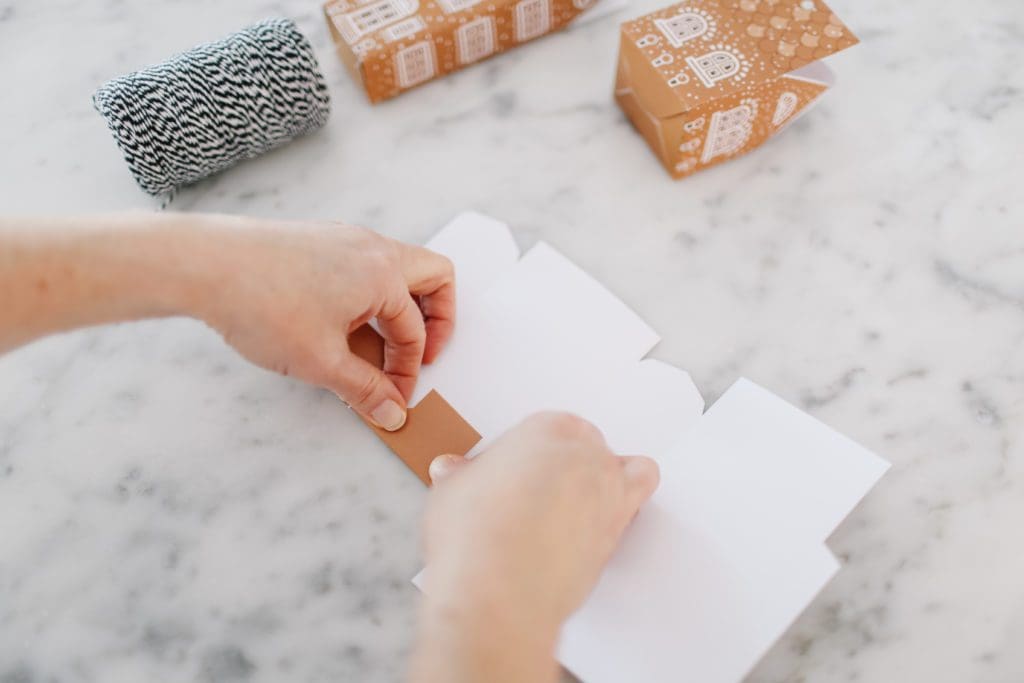 The bottom will stay together nicely when folded correctly. No glue or tape is needed. Make sure the cutout flap on the long side is on the bottom. Next fold in the two shorter side flaps.
Then tuck in the tabbed flap to hold it all together.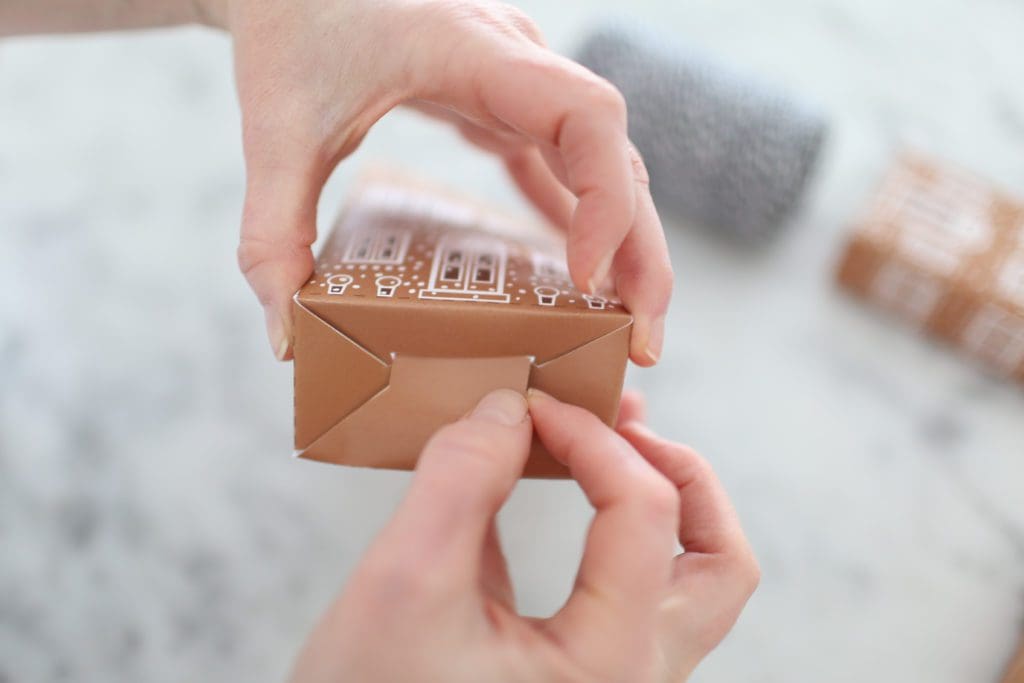 Step 4: Glue the Sides of the Gingerbread Houses
Next, I used a hot glue gun to secure the side of the house. You could use tape, but I like that the hot glue is easy to apply when the house is already folded and is invisible once the house is constructed.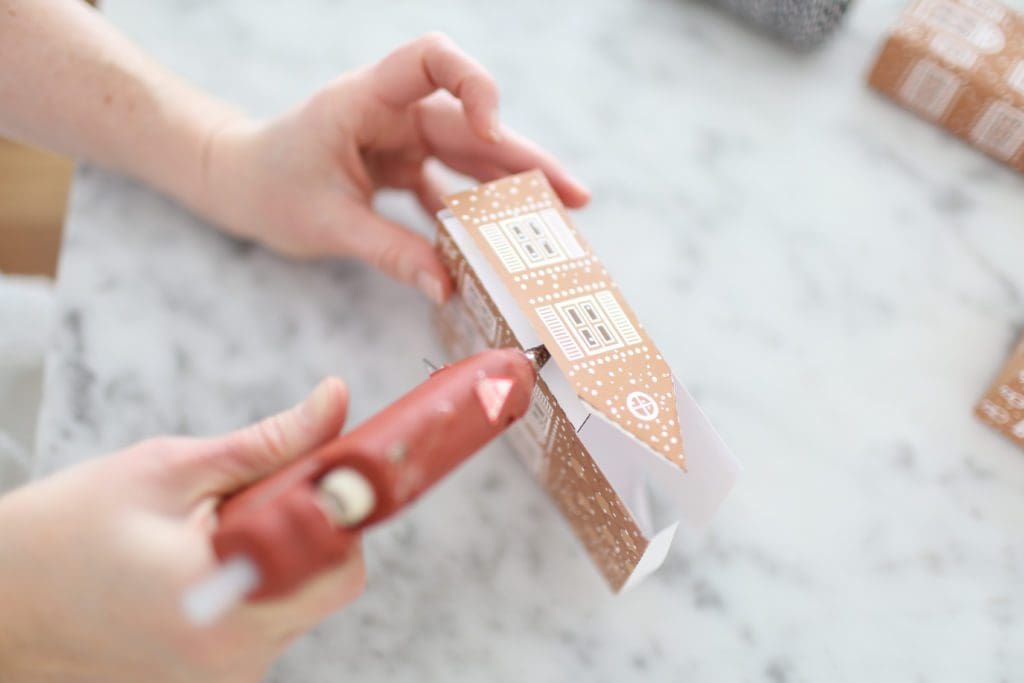 Step 5: Punch Holes to Hang your Houses
Don't forget to punch holes in the roof to hang your gingerbread houses before you close them up. I punched 3 holes…one on each side of the roof and one on the roof flap. (You need the third hole in the flap so that when the roof folds together the flap doesn't block the other holes).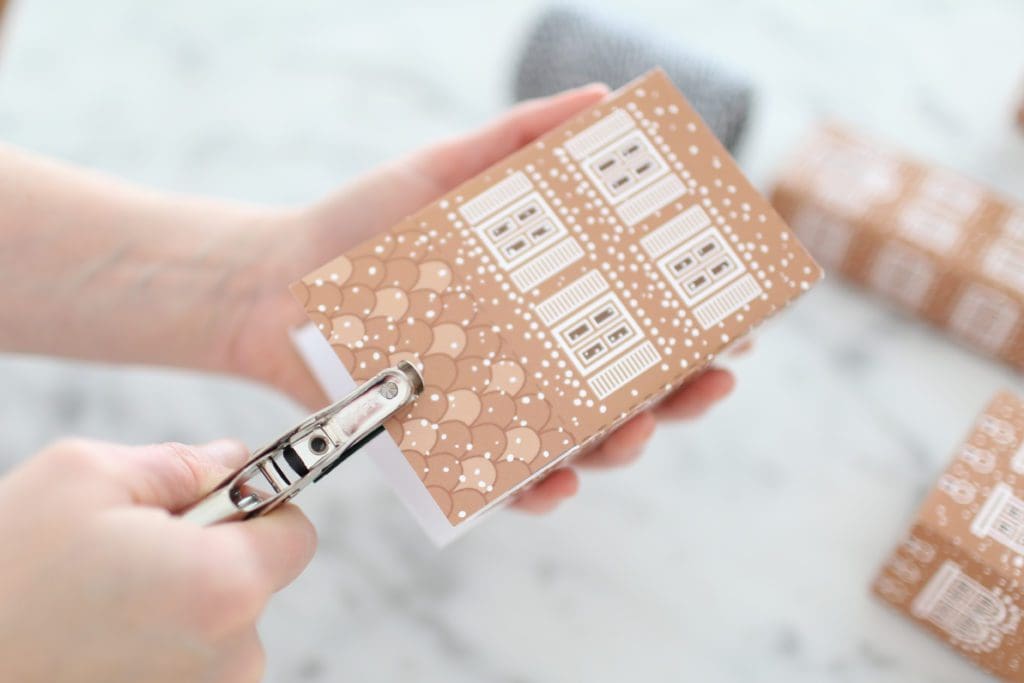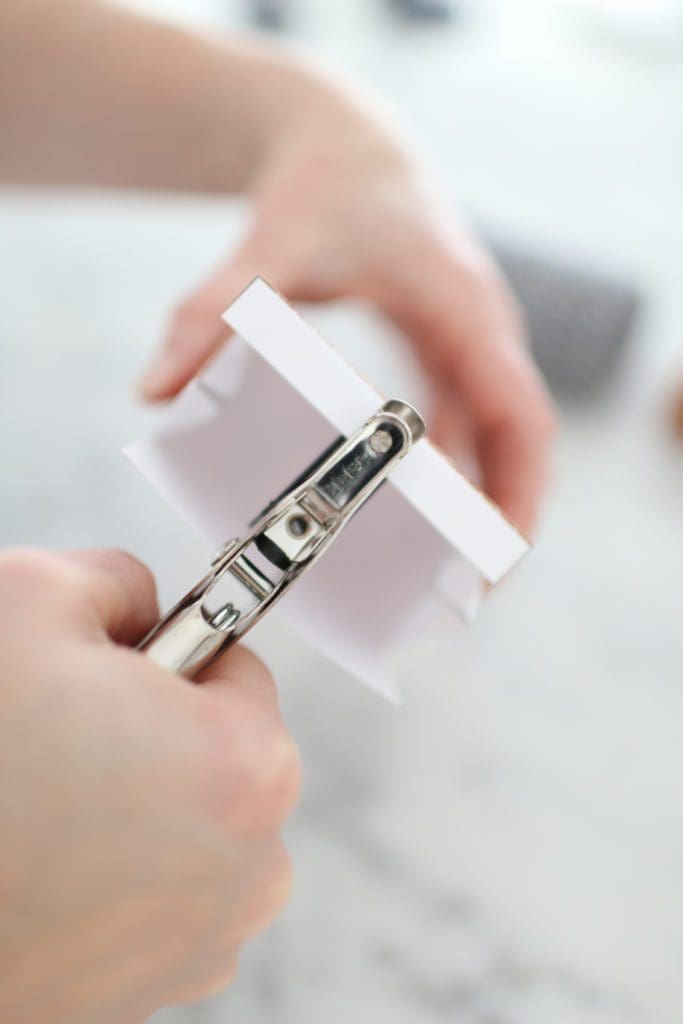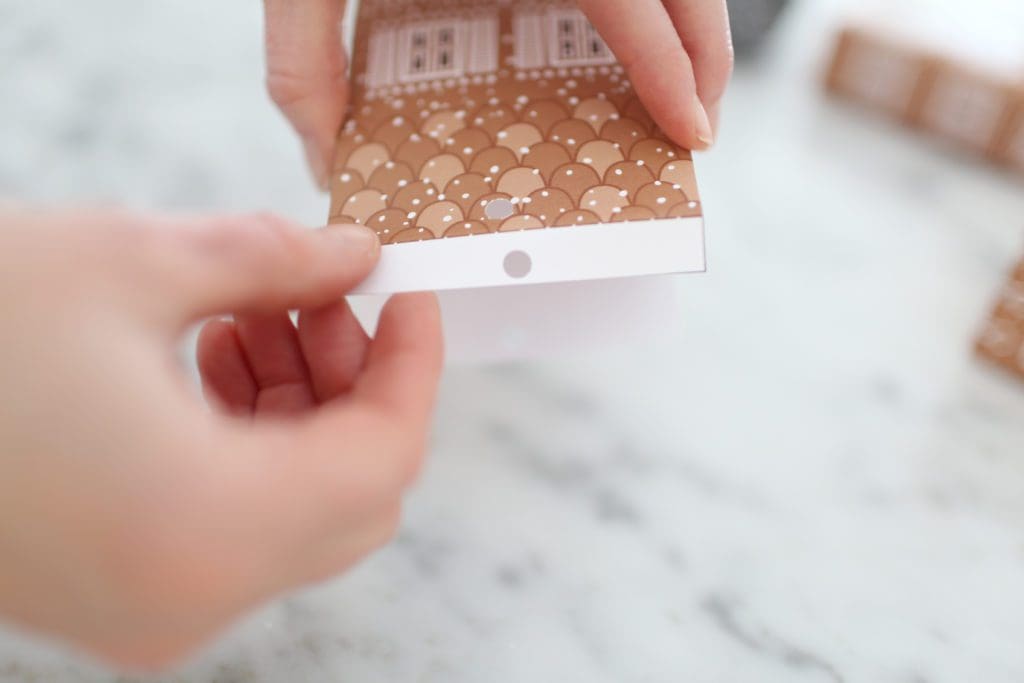 Step 6: Stuff with Goodies
Now before you seal up your houses…the fun part! Stuff them with goodies. I'd love to say that I filled them with artisanal goods, organic healthy snacks, and educational toys, but I just went to the dollar store.
Here are some ideas of goodies you could put in:
Candy canes
Lego
Cookies
Small notebooks
Mini pens, markers or crayons
Stickers
Bouncy balls
Lip Chap
Nail Polish
Money
Mini Puzzles
Candy
Small games
Gum
Fun activities to do together
Words of affirmation
Spread Christmas Cheer tasks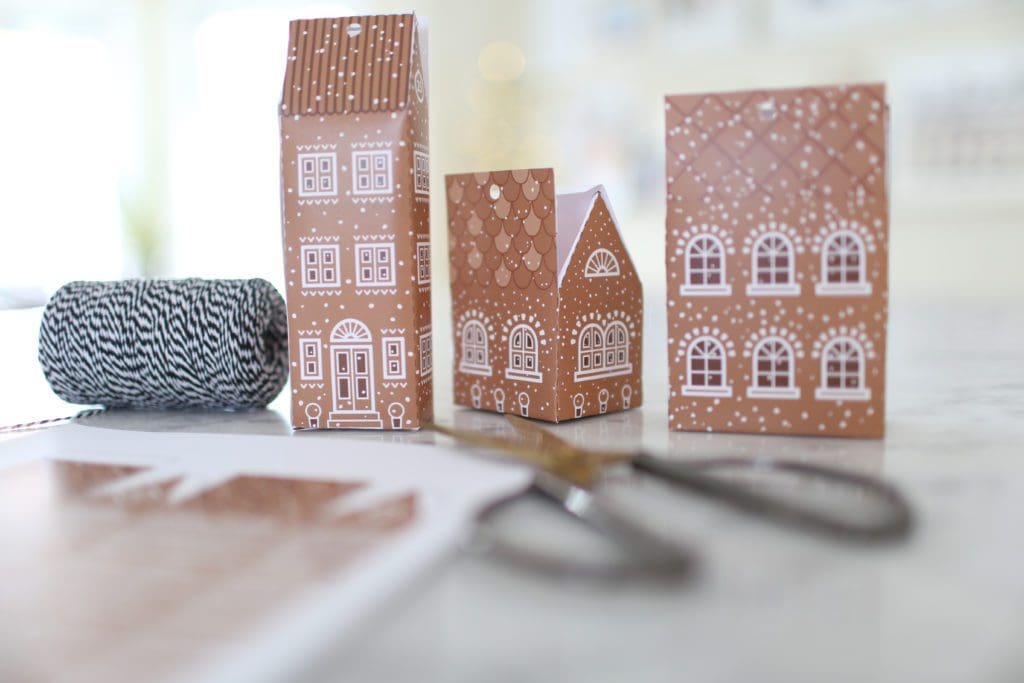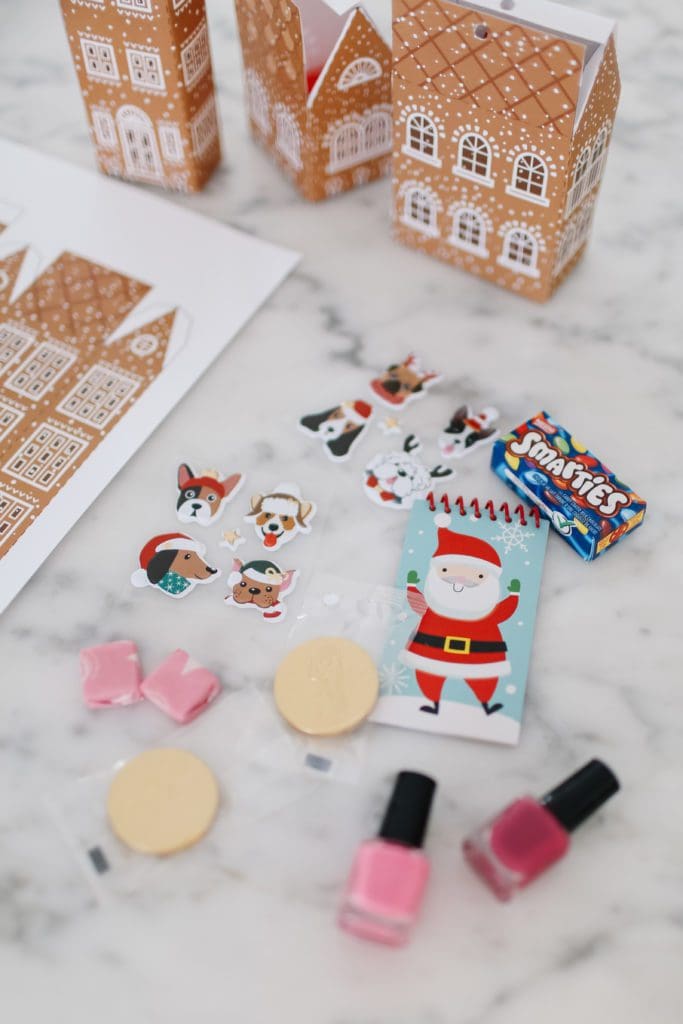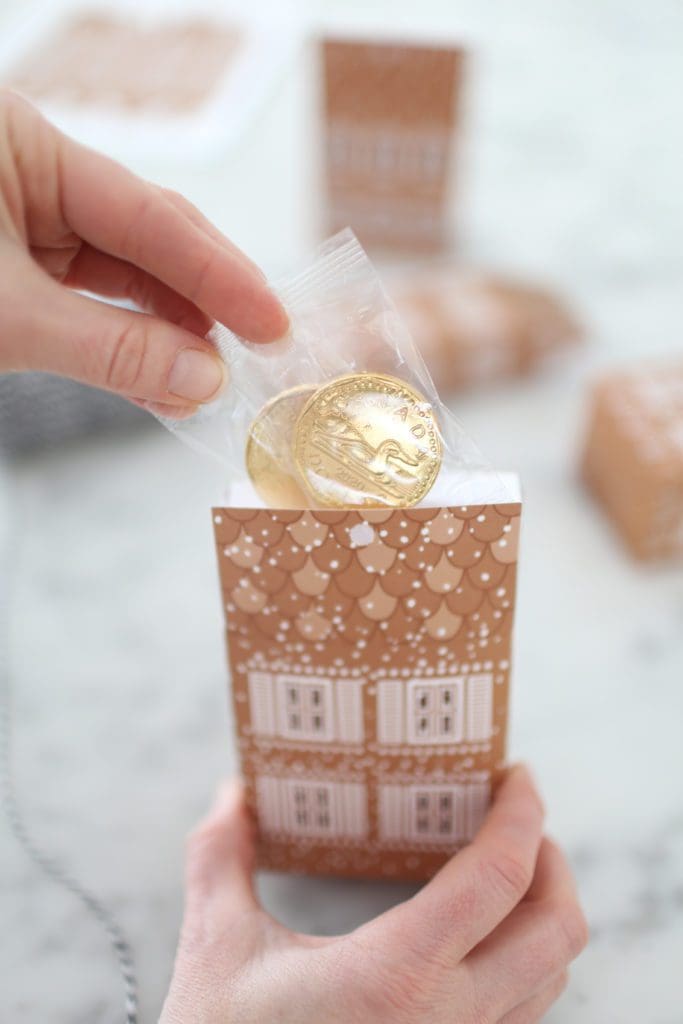 Step 7: Glue the Roof
Once your boxes are full of treats you can close them up. I glued only one side of the roof and then secured it with string so that the treats inside could be retrieved without tearing the boxes apart. They are too cute to ruin.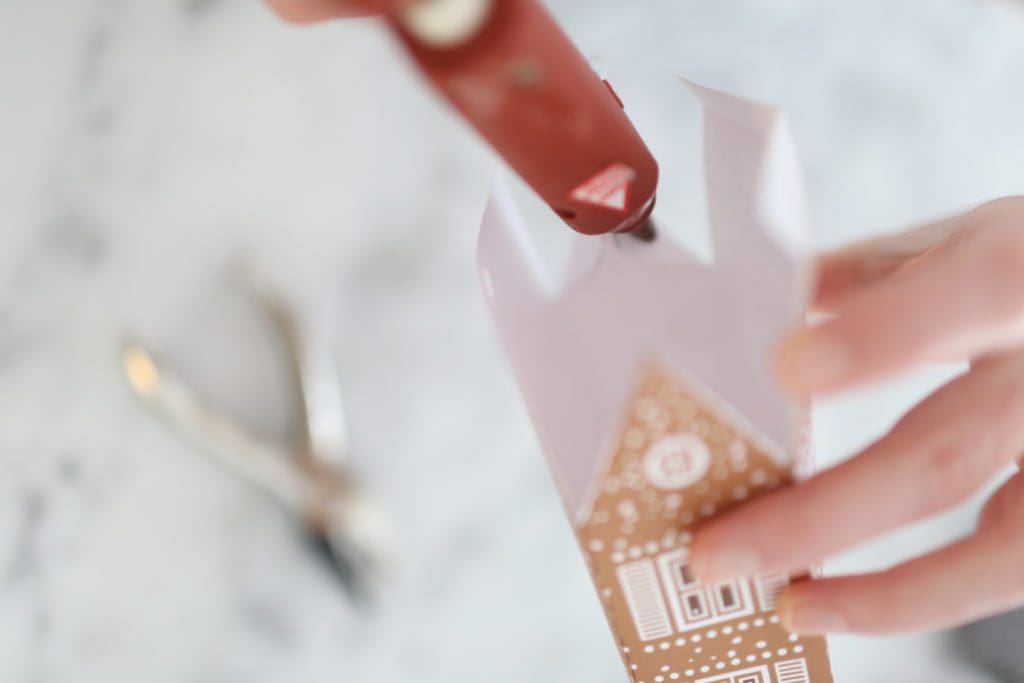 I added hot glue to the flaps that attach to the roof section that also has a flap and then pressed them together for a couple of seconds until the glue was set.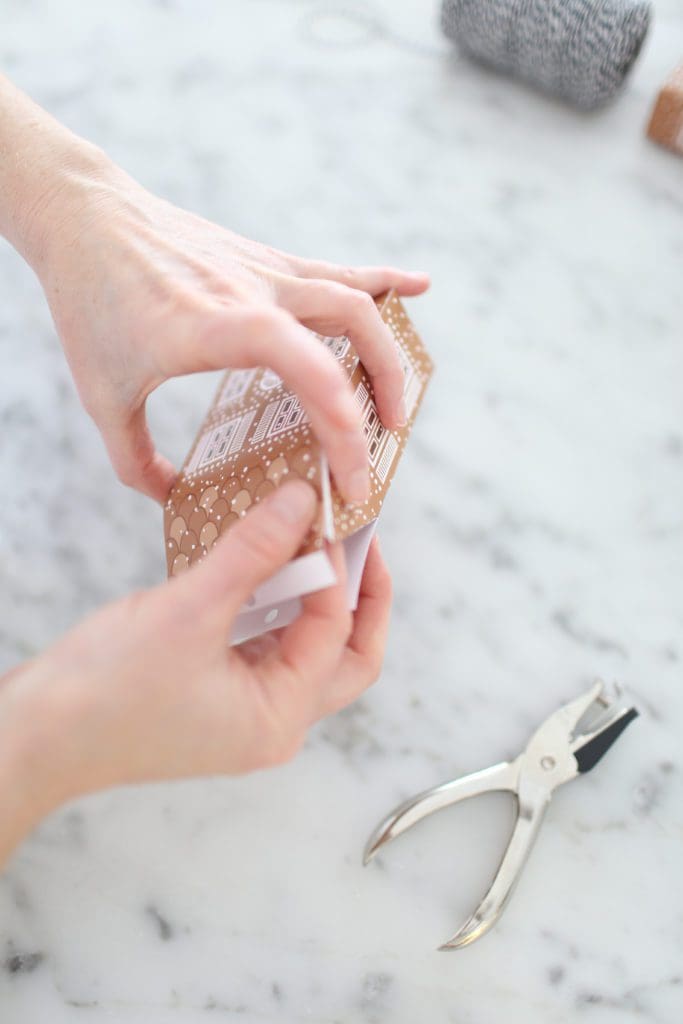 Step 8: Tie With Twine or Ribbon
Then I used pretty baker's twine to string through the pre-punched holes to hold the houses together.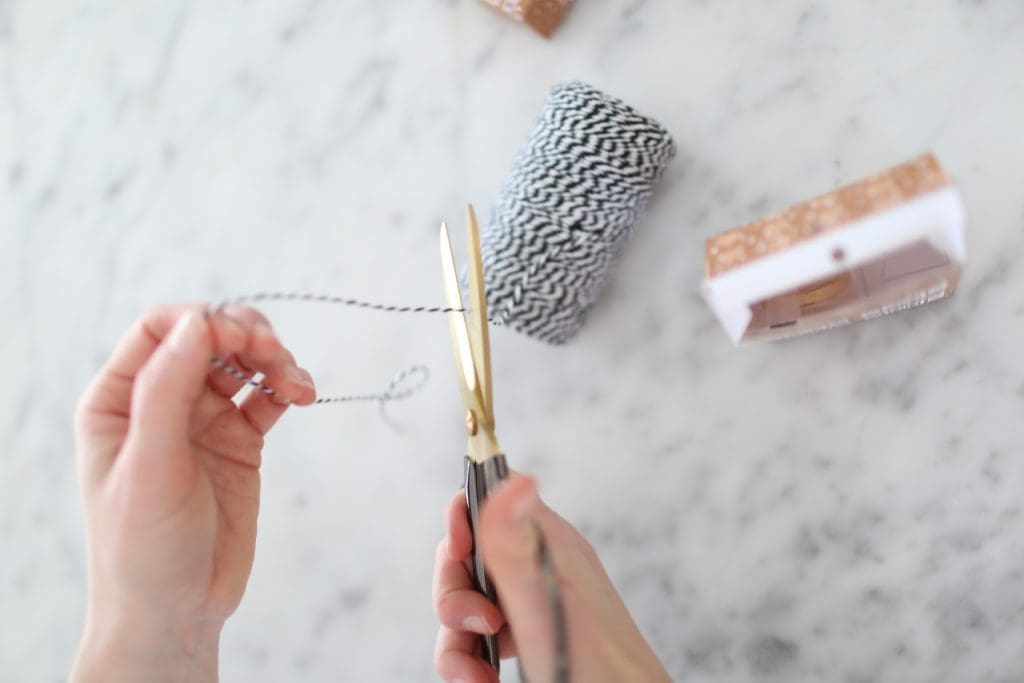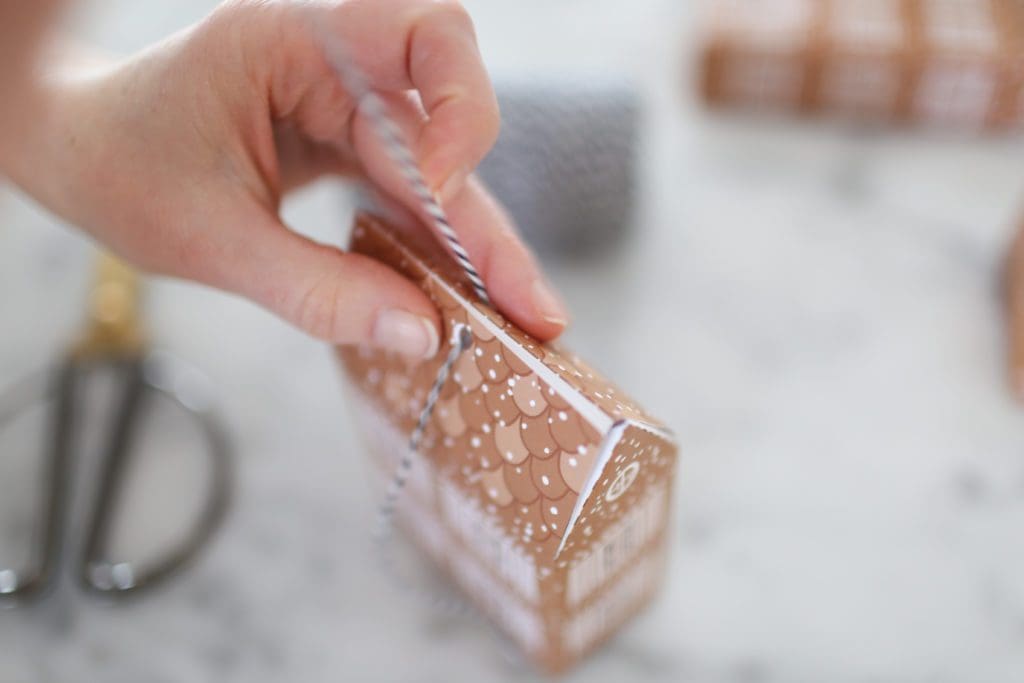 Step 9: Hang on the Tree
Next just use the twine to hang them on the tree. Easy peasy!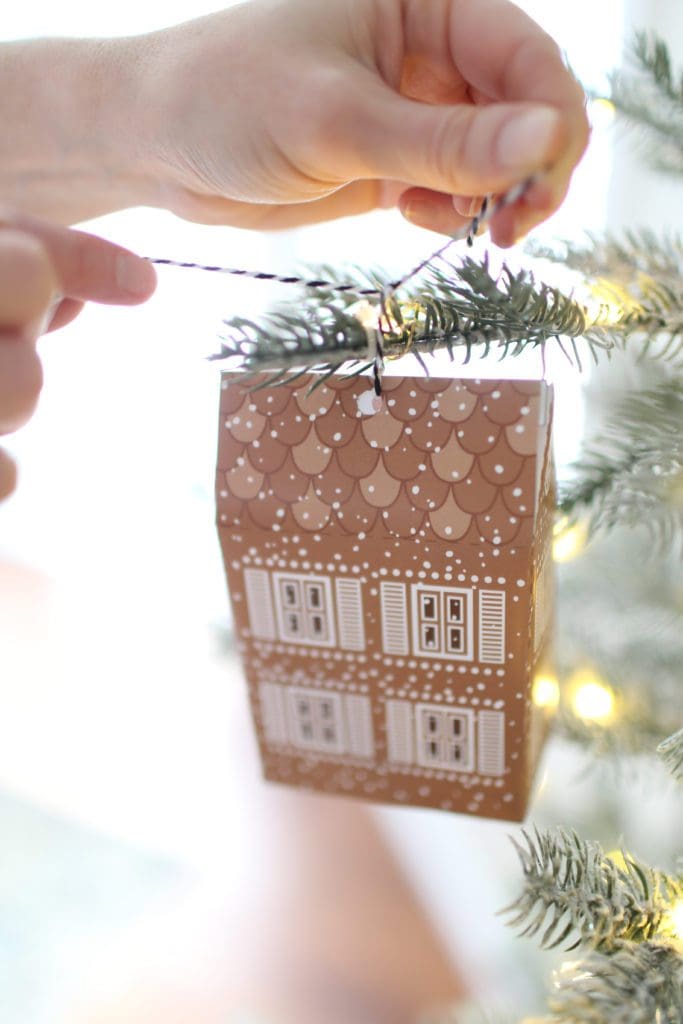 I think they are just the cutest little things ever and I love all the intricate details.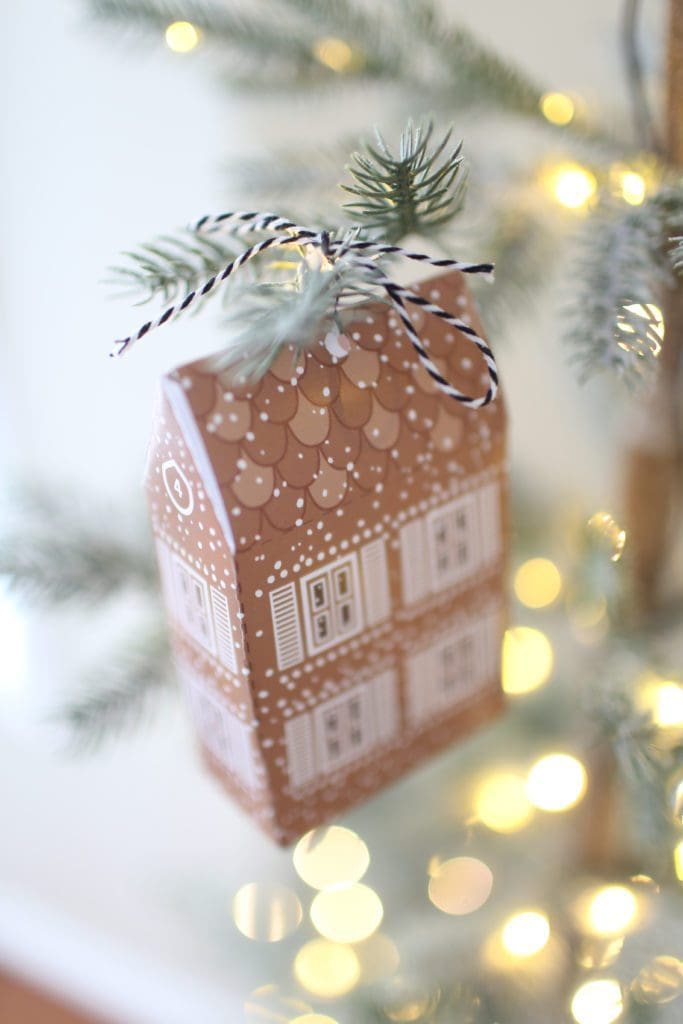 Step 10: Enjoy Every Day Until Christmas!
Now all that's left is to enjoy the looks on your little's faces when they see their special "Advent Tree". And if you made one for yourself or another grown human, no judgment here!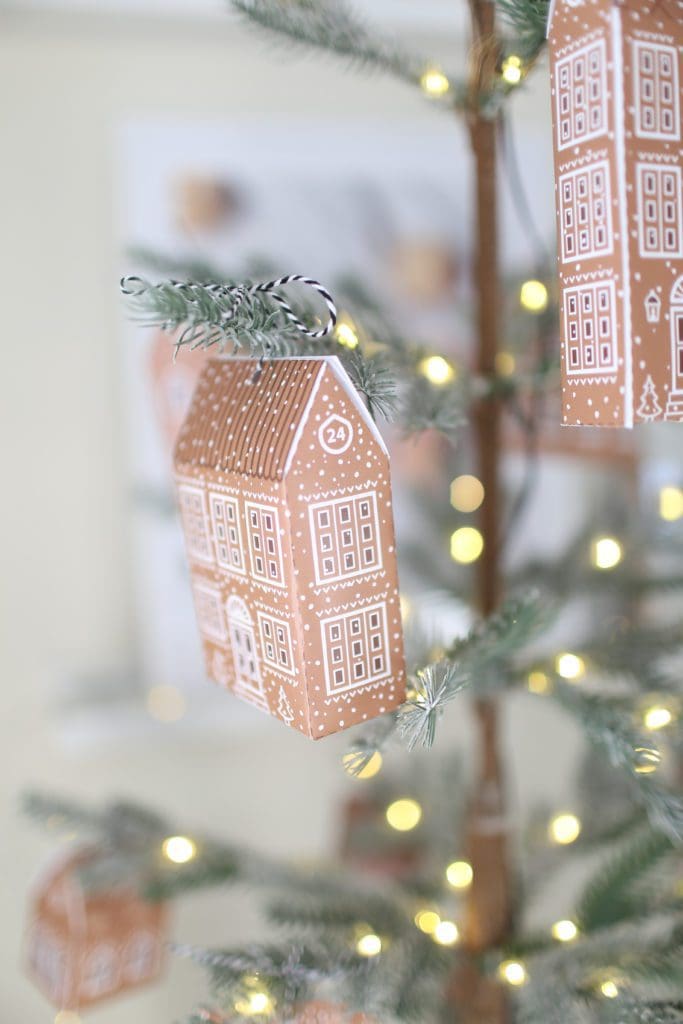 I found this sparse tree at Canadian Tire. The last time I checked they still carried the slightly smaller 4ft size CANVAS East White Pine Tree, which is a little smaller than this 5ft one. Check out How to decorate a Sparse Christmas Tree for more Christmas tree options.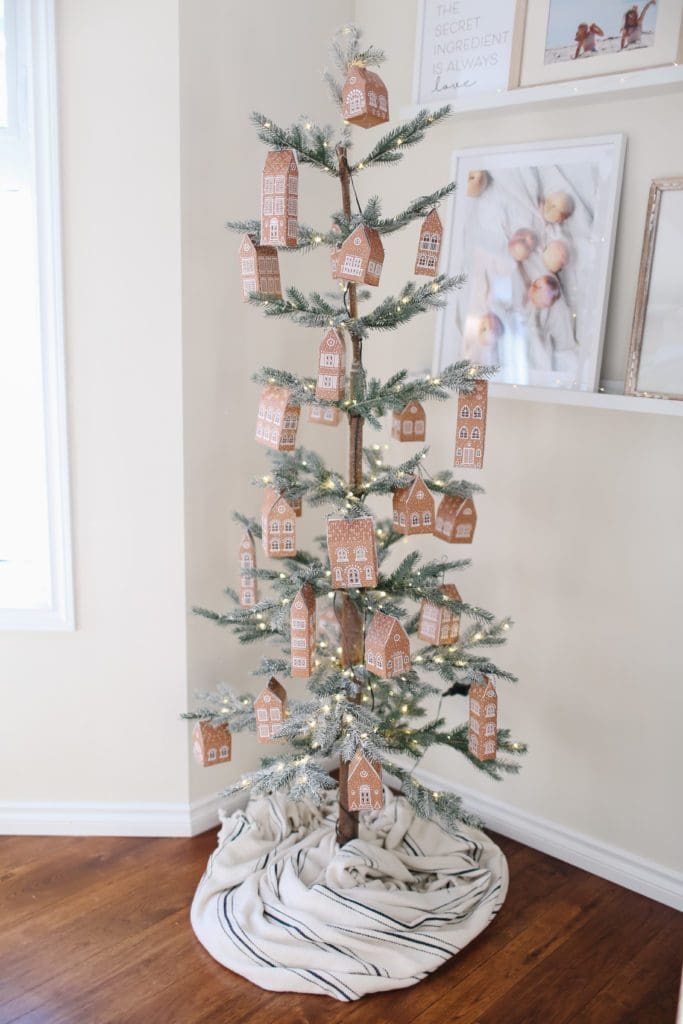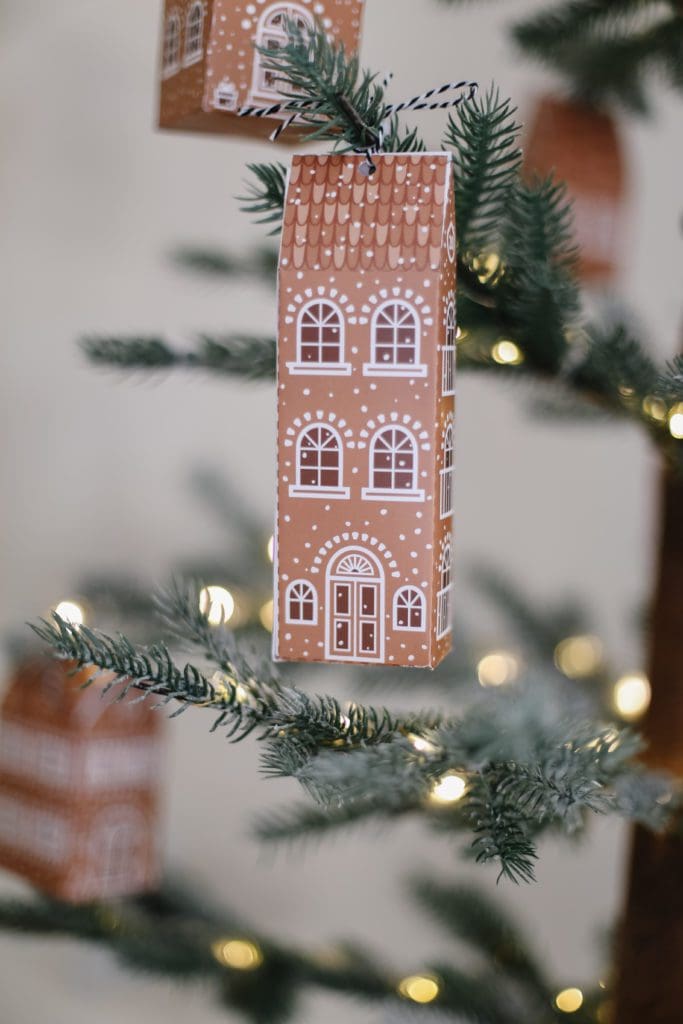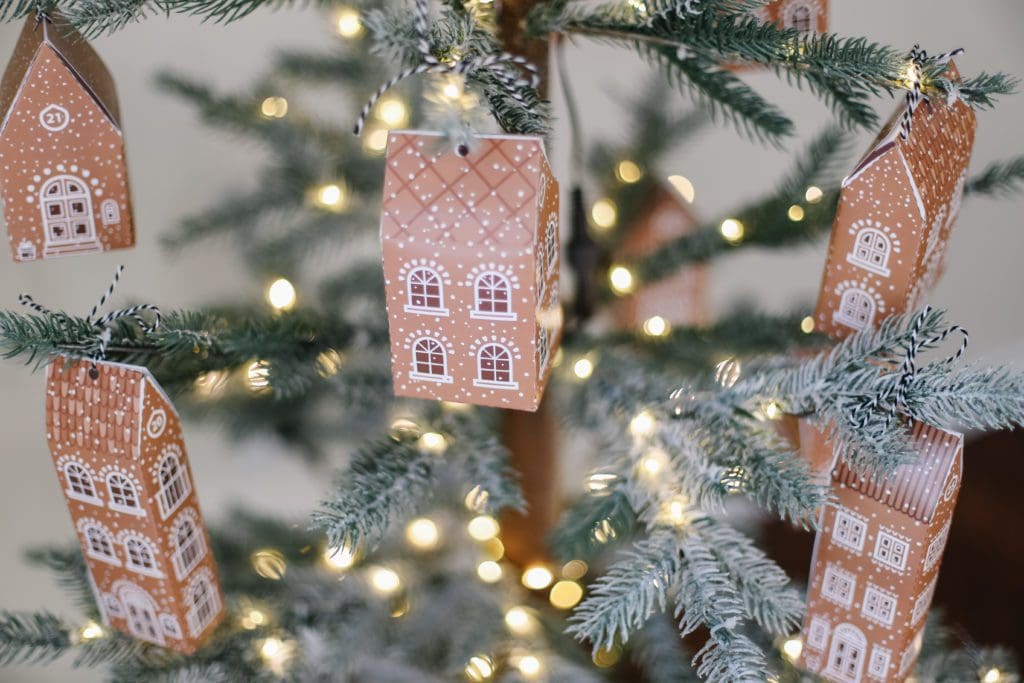 I'd love to see if you make this DIY Gingerbread House Advent Calendar Tree or an Advent Calendar Tree of your own! Tag me on Instagram @thegingerhome!
For more Christmas shopping visit the Christmas Favourites Shop.
---
MORE GOOD READS: