Thanksgiving is a special day in our house. We cook up a big meal and sit down together to celebrate gratitude! We tend to eat in our kitchen nook when it's just the four of us. And even if we aren't having a big gathering, I believe that it's still important to set the table and make it special. This year I used what we already owned, thrift store finds and fresh greens to make a simple, but beautiful Thanksgiving tablescape. Here's what I used: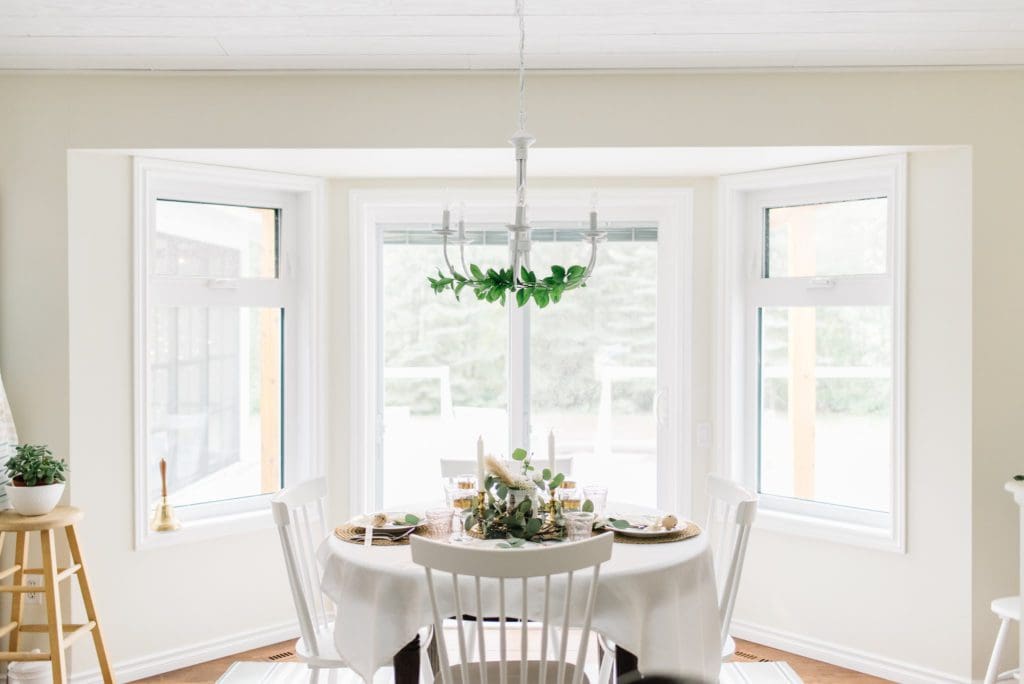 Estimated reading time: 5 minutes
Note: This post may contain affiliate links that won't change your price but may share some commission.
#1 Vintage Silver & Gold
There are so many things you can find for pennies on the dollar second-hand. Some of my favourite items to search for at Goodwill are vintage brass items like candlestick holders and vases and antique silver items like tea sets and spoons. For this table setting, I found gorgeous glasses with gold leaf detailing for a couple of dollars. They are so pretty!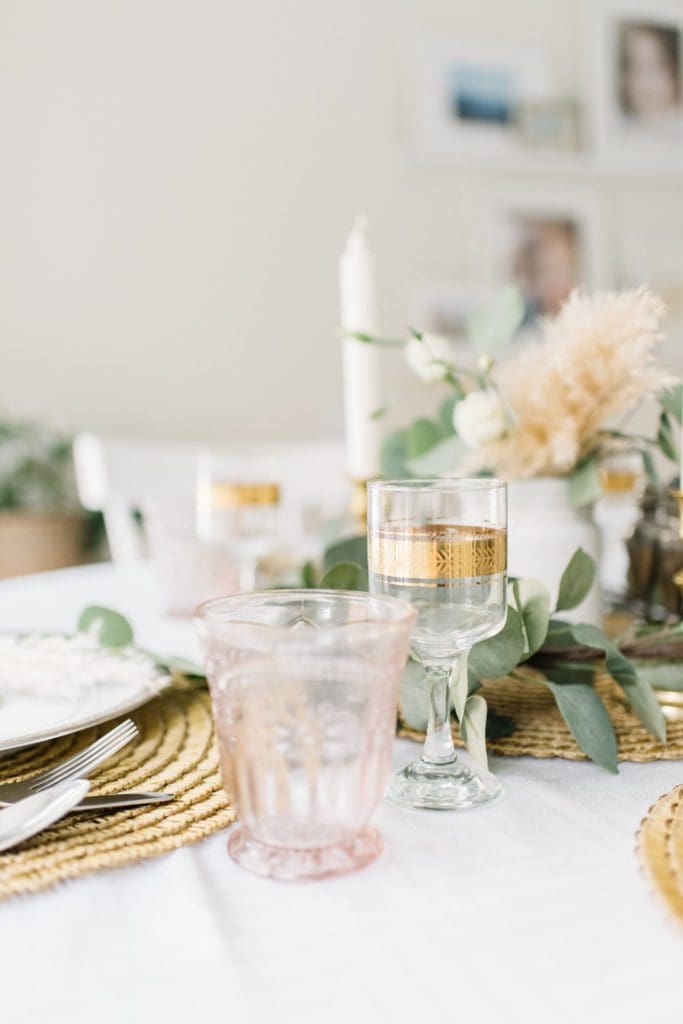 The antique silver salt and pepper shakers were another score from Goodwill! I don't know who gives these treasures away, but it's another thing to be thankful for this season!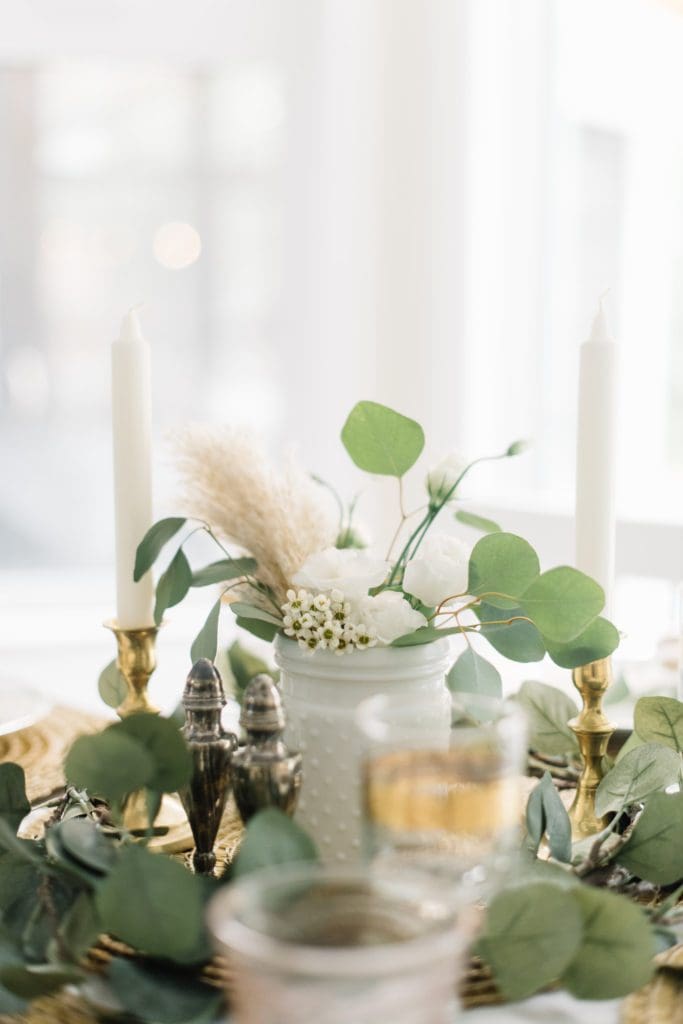 #2 Everyday Dishes
Then I dug out plates from our wedding china collection, woven placemats from the back of the linen cupboard and our everyday silverware! I used to have way too many holiday-specific dishes and linens etc… but recently I've been embracing moderate minimalism and I just use the same basic sets of plates, cutlery etc… It's so much easier and I don't have to store a million out of season items.
#3 Unexpected Colour
The little pink glasses I bought earlier in the year from Simons for Valentine's day. I love how they add a touch of blush to the table. Blush isn't a traditional fall colour, but I believe your home should be a reflection of you and what makes you happy! That means no rules…get that creativity flowing!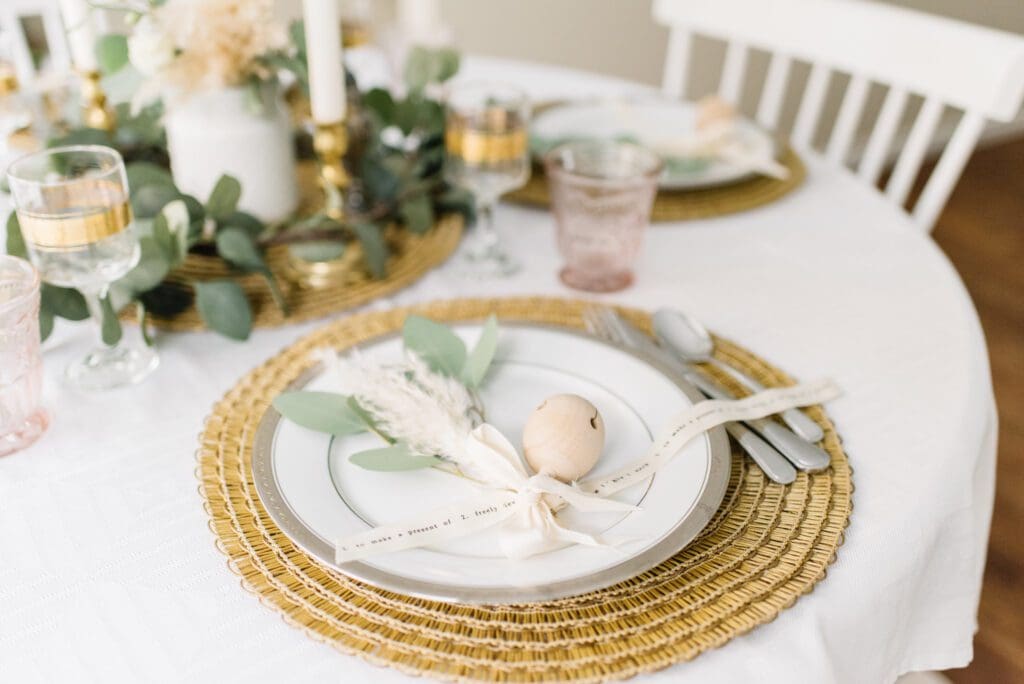 #4 Bells & Ribbons
I tied clippings of eucalyptus and feathery grasses up with a gorgeous wooden bell and printed ribbon from a new favourite Canadian artisan shop Pi'lo to add some festive interest to each setting.
Even though I purchased these items, I made sure they were reusable or multipurpose. The wooden bells will make beautiful Christmas tree decorations. The ribbon can be reused or added to gifts etc…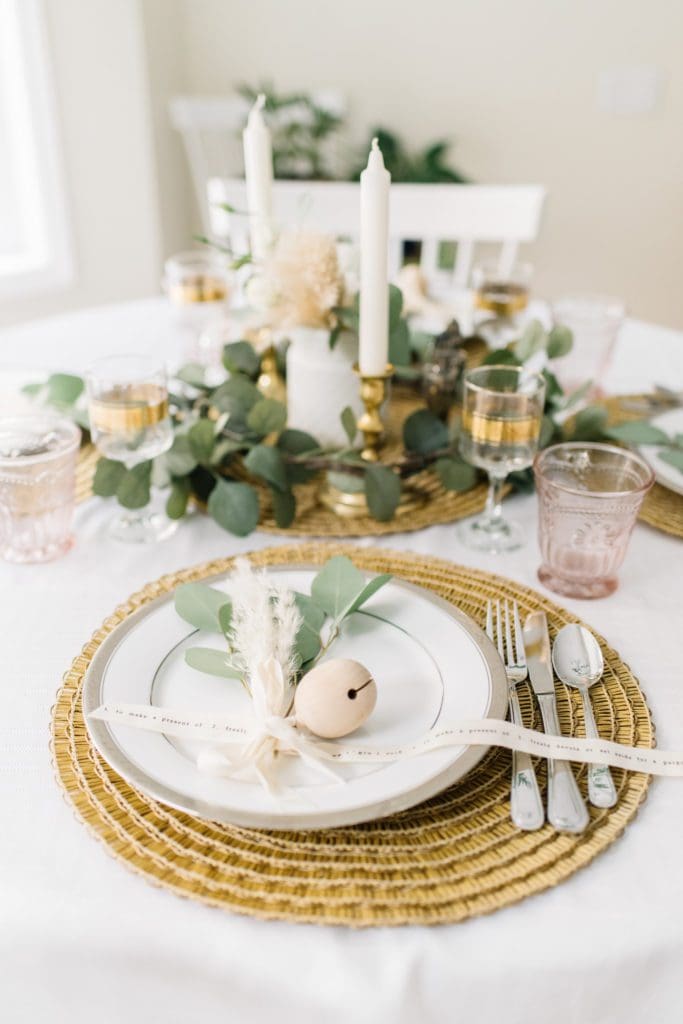 # 5 Leftover Florals & Greens
Arranged in a cute little hobnail vase, fresh florals from Fabloomosity are a pretty touch. I had some leftover clippings from a large fall decor floral arrangement so I just added them in with some eucalyptus to make a cute mini arrangement for the table.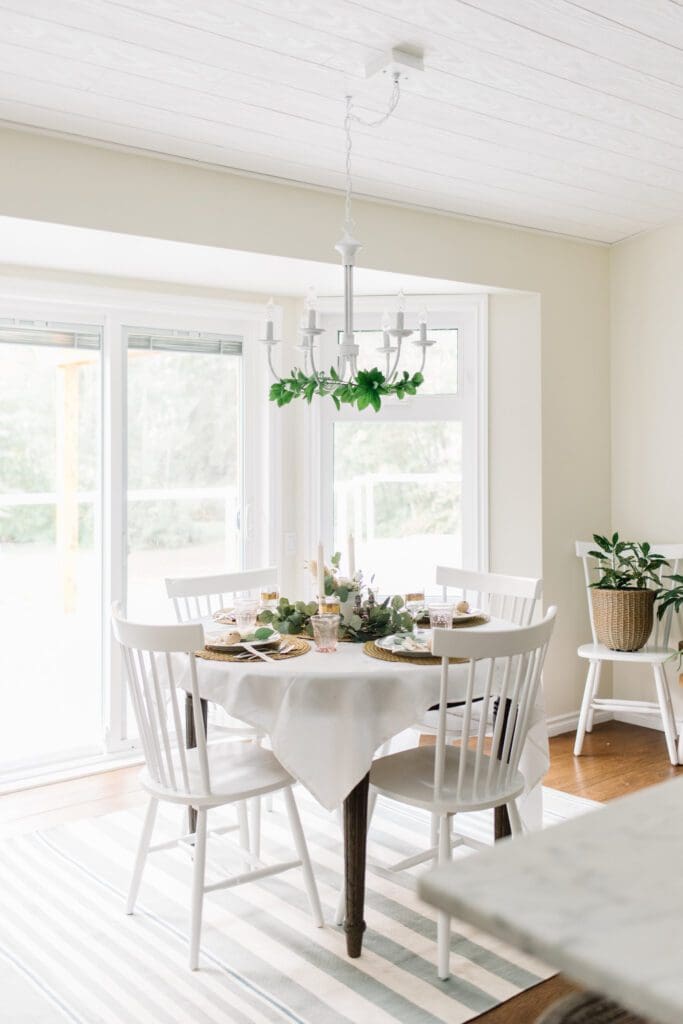 I also added a few snippets of greenery to the chandelier and I love the fresh simplicity! For Winter I plan to add evergreen cuttings to continue the festivity through to Christmas!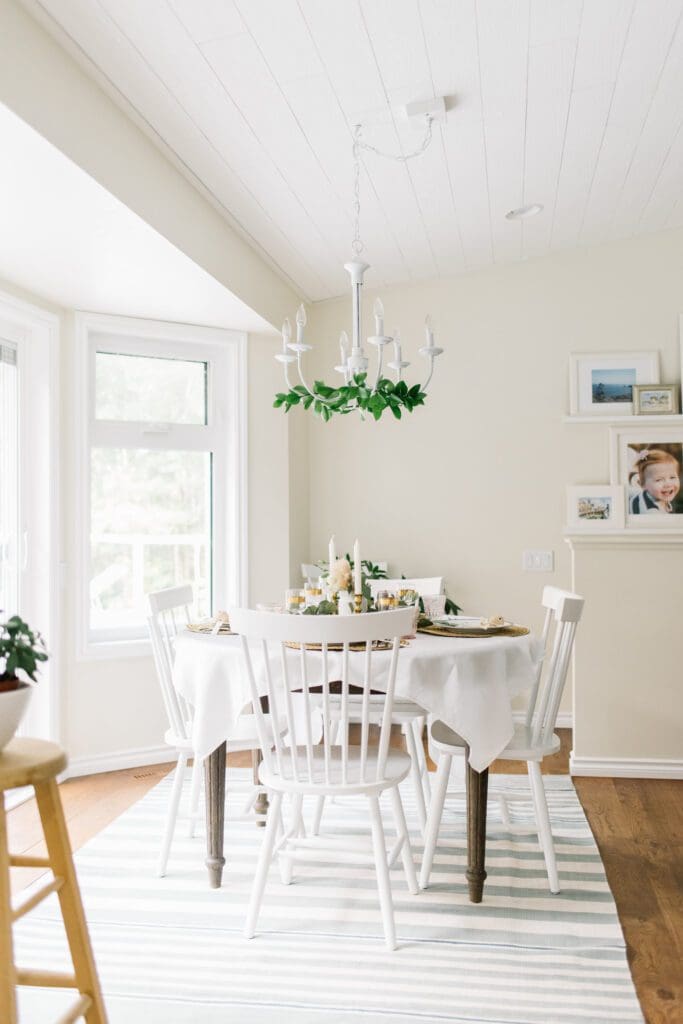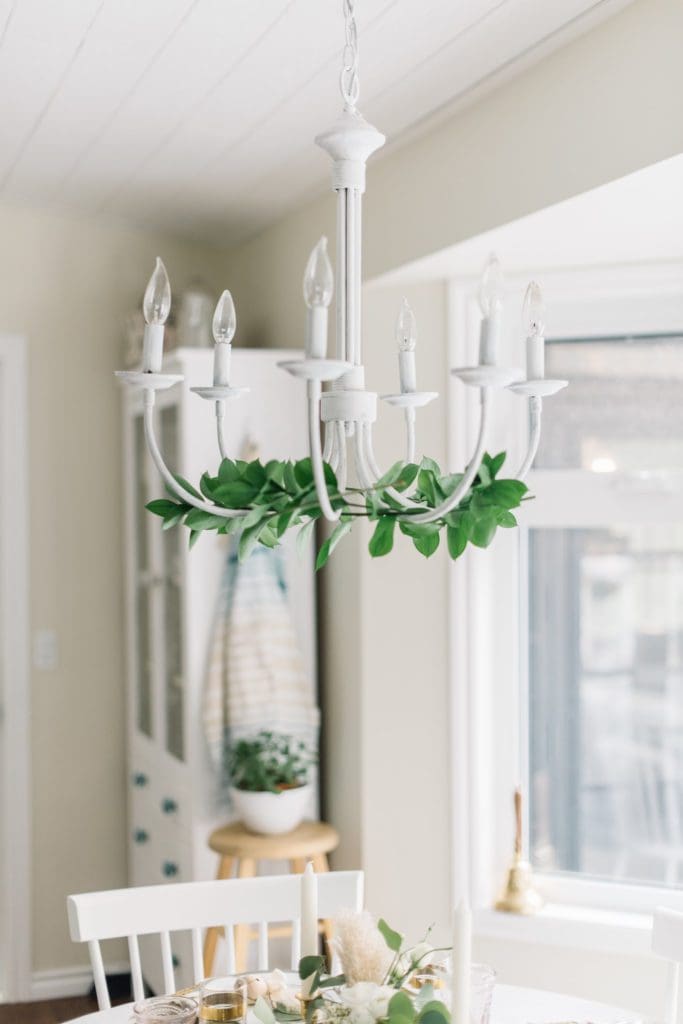 I hope this post inspires you to create your own simple Thanksgiving table setting! You can easily set a beautiful table and stay on budget by shopping your own home as well as scoring vintage finds.
Looking for some of the fall décor items I have in my home? SHOP FALL
---
MORE GOOD READS: