I love Halloween, but I'm not really into over-the-top gory or scary Halloween decor. I like to keep our Halloween décor a little bit pretty, inexpensive, but still fun for the kids. Here are 10 ideas for luxe Halloween decor on a budget!
This year I made black maple leaf garlands, a flock of black bats, DIY witches brooms, mini pastel pink pumpkins, witch hat luminaries, and sparkly black twig wreaths! The dollar store is my go-to for Halloween shopping and I found a few other budget items from places like Canadian Tire and Party City.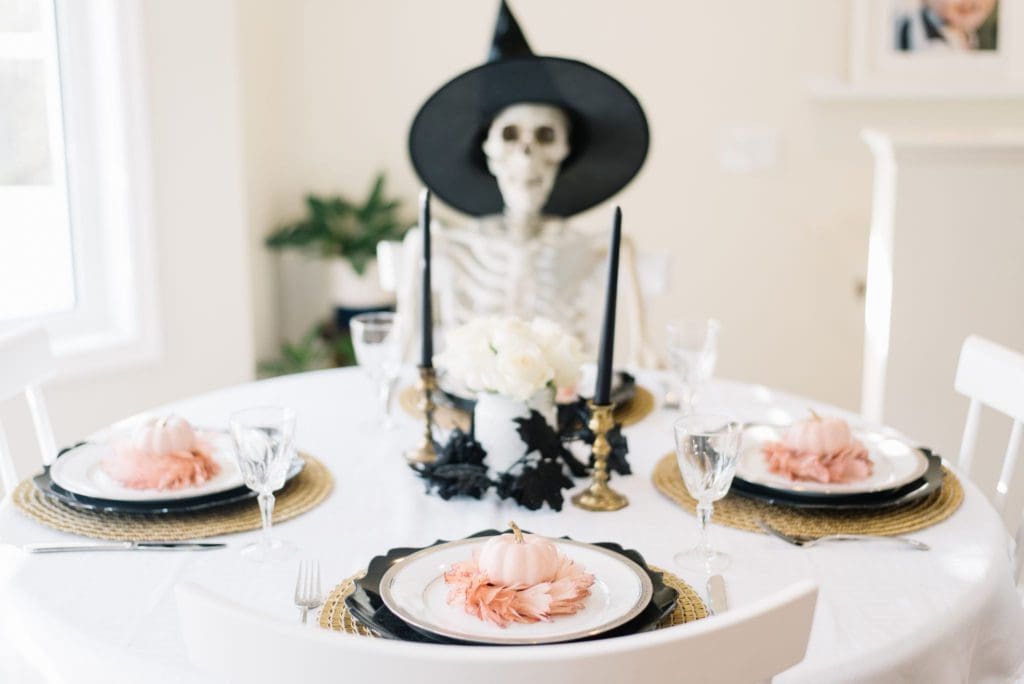 Estimated reading time: 7 minutes
Note: This post may contain affiliate links. This means that if you make a purchase through one of these links, I may receive a small commission at no extra cost to you.
1. Black Garlands
The simplest DIY was making Halloween garlands from faux grape garlands I found at the dollar store. I just cut off the berries leaving the sparkly black leaves. The grape leaves actually look like maple leaves on their own, which I thought was a very cute and Canadian way to do Halloween!
I put the simplified garlands all over the house…around the kitchen window, along the front entrance hooks, and on the dining table!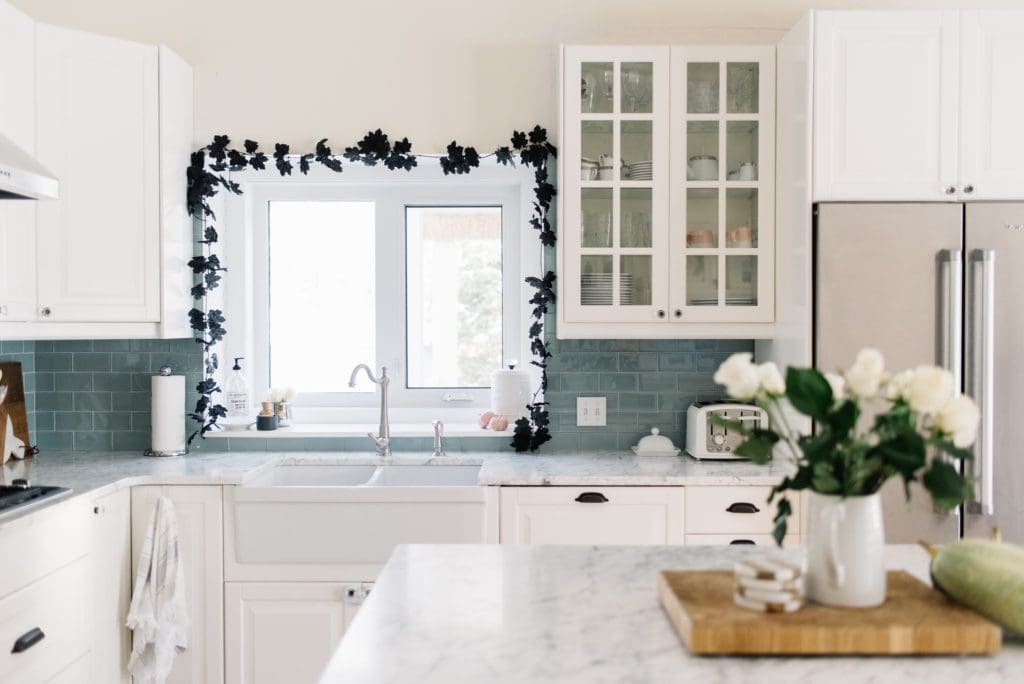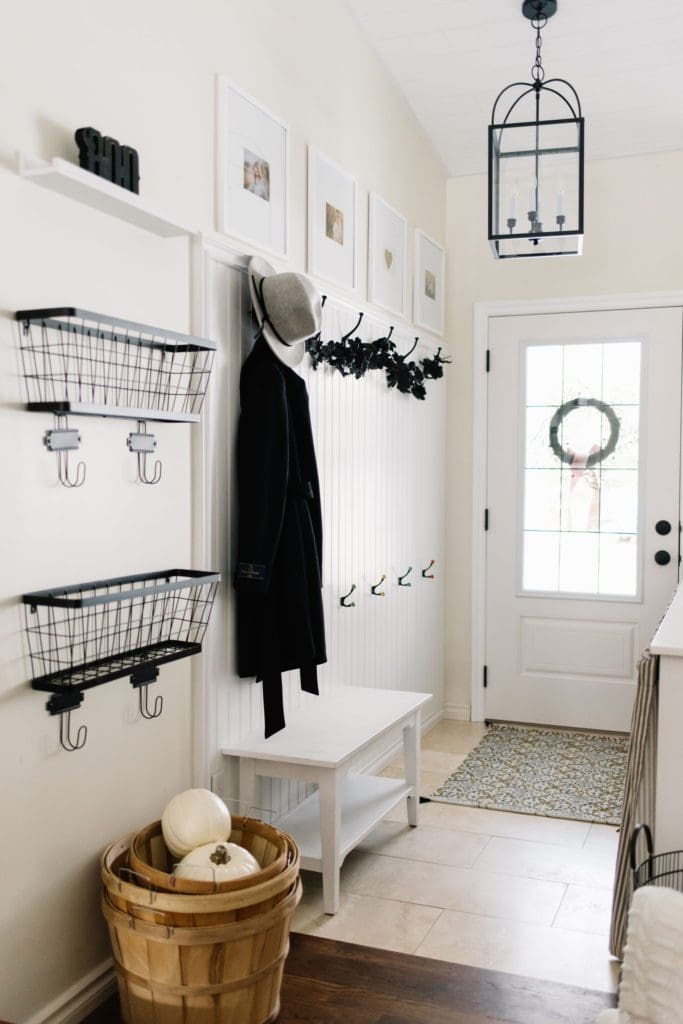 2. Pink Mini Pumpkins
The mini pumpkins are just little gold pumpkins from Dollarama painted with pink spray paint! I added them all over the house and used them in my Halloween Tablescape.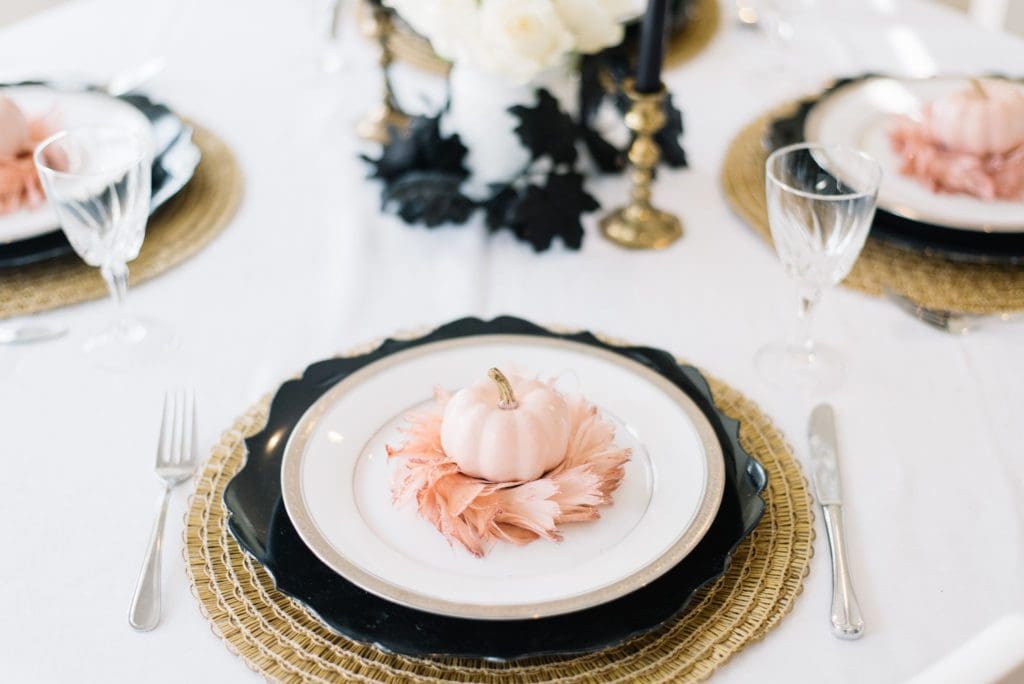 3. Paper Bats
I found pre-cut packages of paper bats that came with stickies to attach to the wall at the dollar store! Score! The only problem was that they had red eyes and I don't love scary Halloween. So another super easy fix…I just coloured the red eyes in with a black permanent marker… problem solved!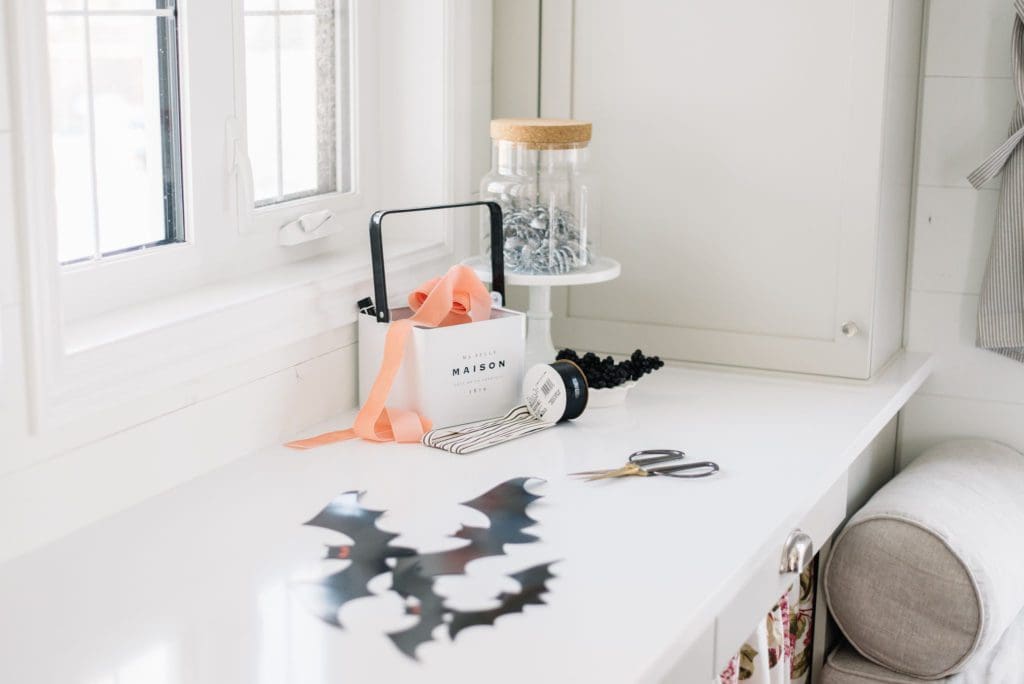 We put a flock of bats on the mantle as well as in the dining nook. A few even ended up down the hall in the girls' bathroom!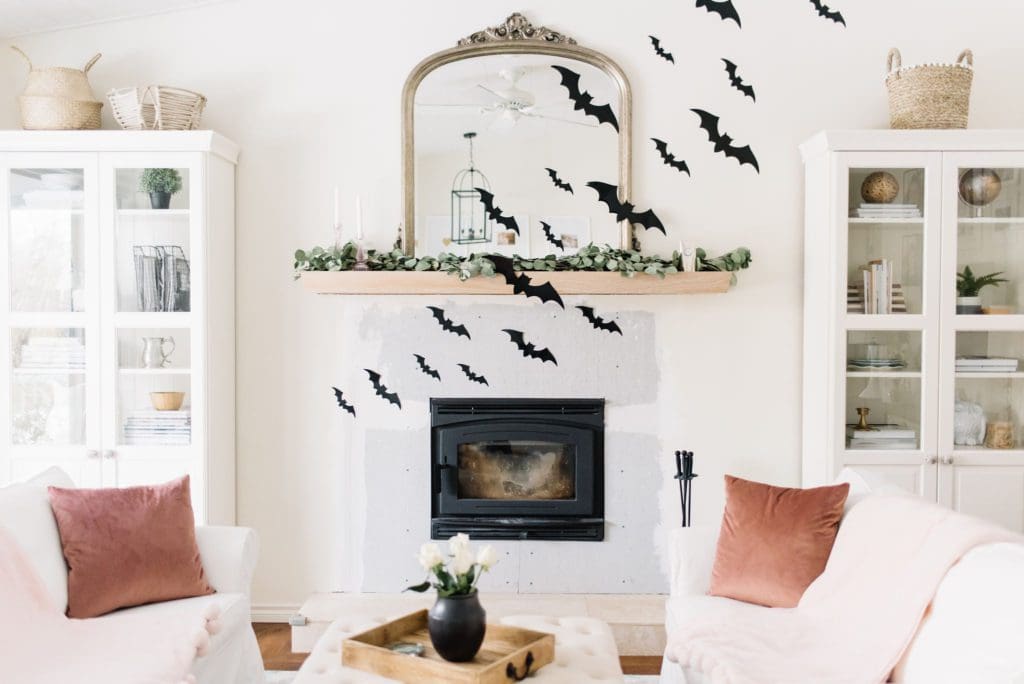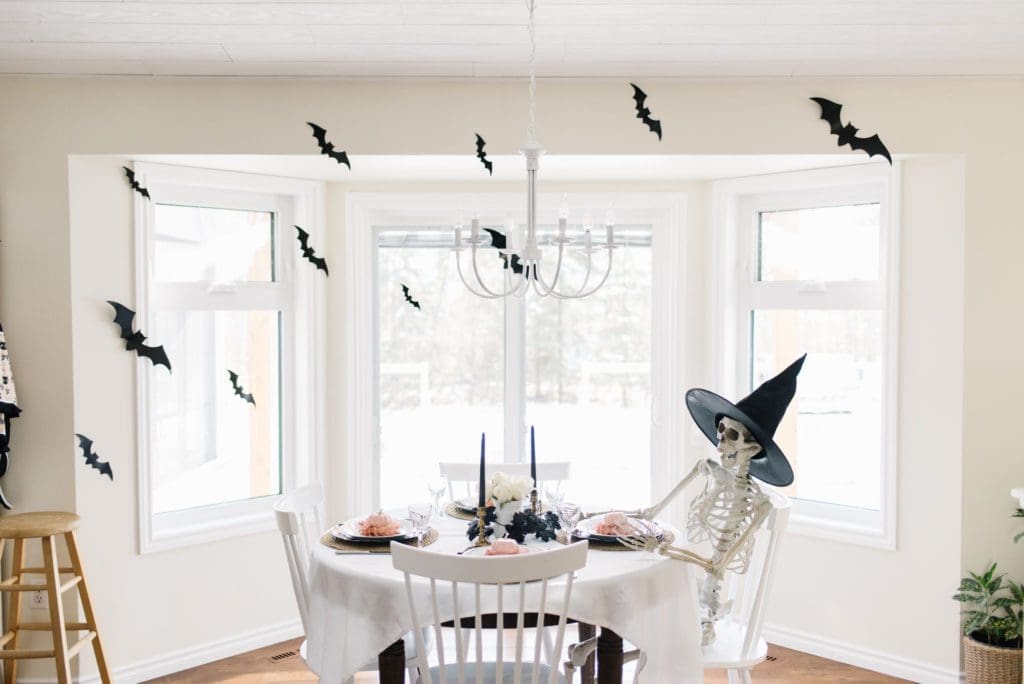 4. Halloween Floral Hoops
The floral hoop from my Fall Decor that I made for the dutch door in the kitchen was still in good shape. The eucalyptus had dried nicely. I simply removed the flowers and added a few of the paper bats to the door to update it for Halloween!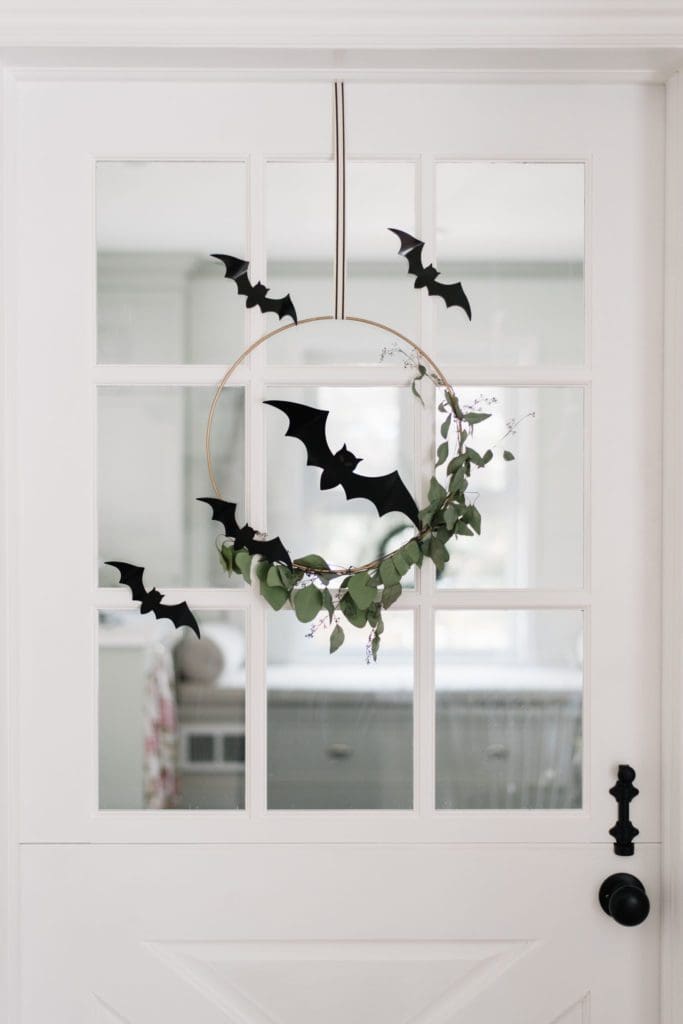 5. Crows
I also added a few crows here and there in unexpected places! Each crow was only a dollar or two at Dollorama and they look quite feathery and realistic.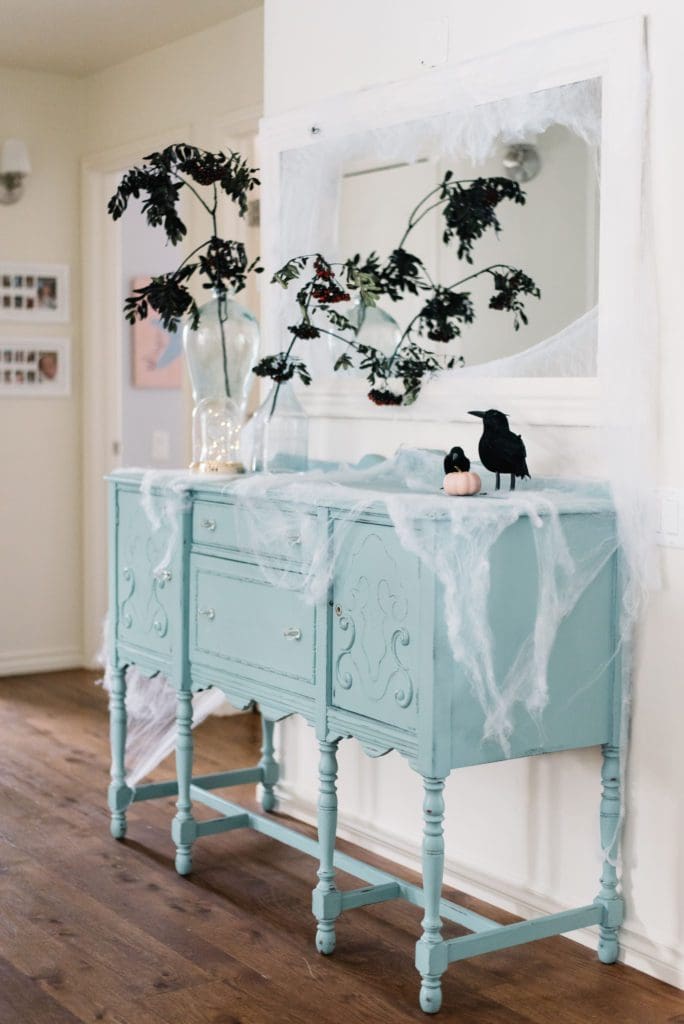 6. Black Branches
The branches I put in the vases on the buffet and in the buckets on the front deck were the same berry branches we used for fall decor. We just spray-painted them black to make them look wilted and a little creepy!
7. Plastic Pumpkins
I kept it really simple on the front porch and just added a couple of white faux pumpkins that handle our frosty nights without turning to mush! The "Boo" sign in from Balsam Hill and it lights up at night!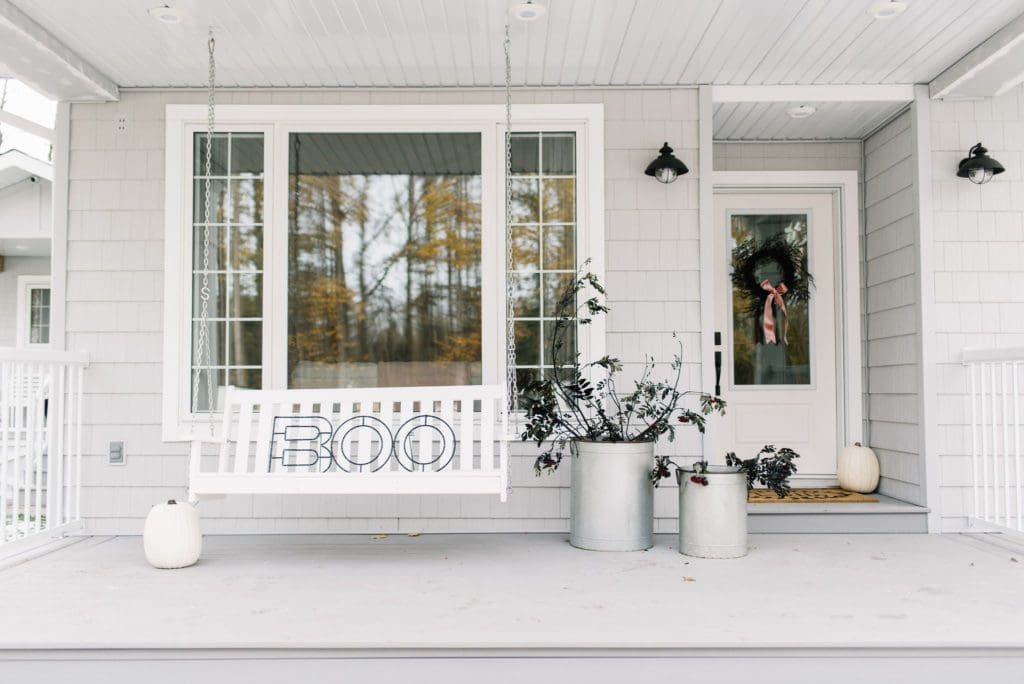 8. Twig Wreaths
The wreath on the door was another quick DIY! I was going to make my own wreaths for the doors out of spray painted twigs because I just couldn't find a really simple Halloween wreath that I liked. Then I came across these little beauties from Canadian Tire. I simply snipped off the colored berries and I also removed the sparkly spiders and saved them in a jar for later! He he he!
Now the wreaths had the beautiful, minimal look that I had been after, but I didn't have to make them from scratch myself! I added a blush velvet ribbon to tie in with the rest of my luxe Halloween decor.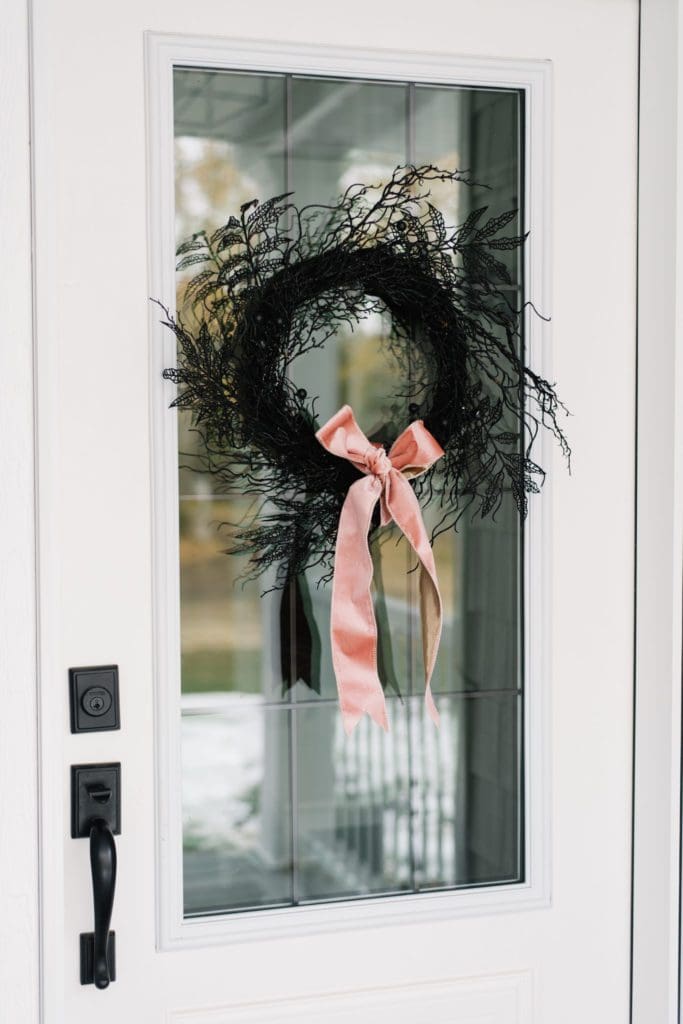 And FYI I just hung them on the glass of the door using a clear Command Hook! Easy and no damage done to the door!
9. Candelabras
The candelabras were a score from Homesense. I ordered the black taper candles from Amazon. The black lace tablecloth was another dollar store find. I added some bats to my lit birch trees and voila… a gothic and romantic spot for a candlelight dinner!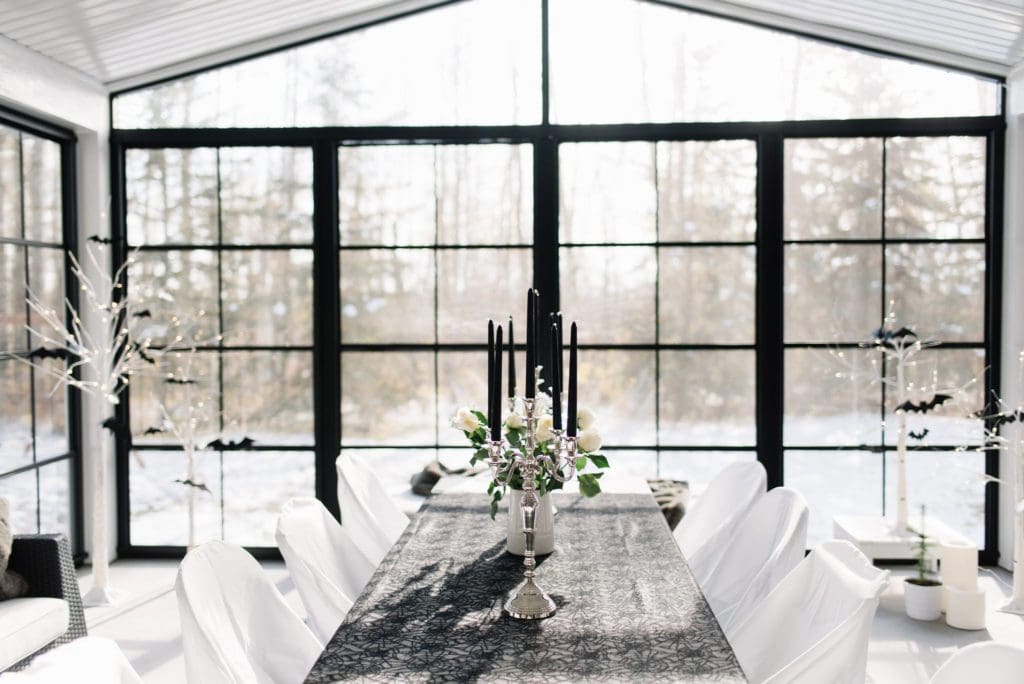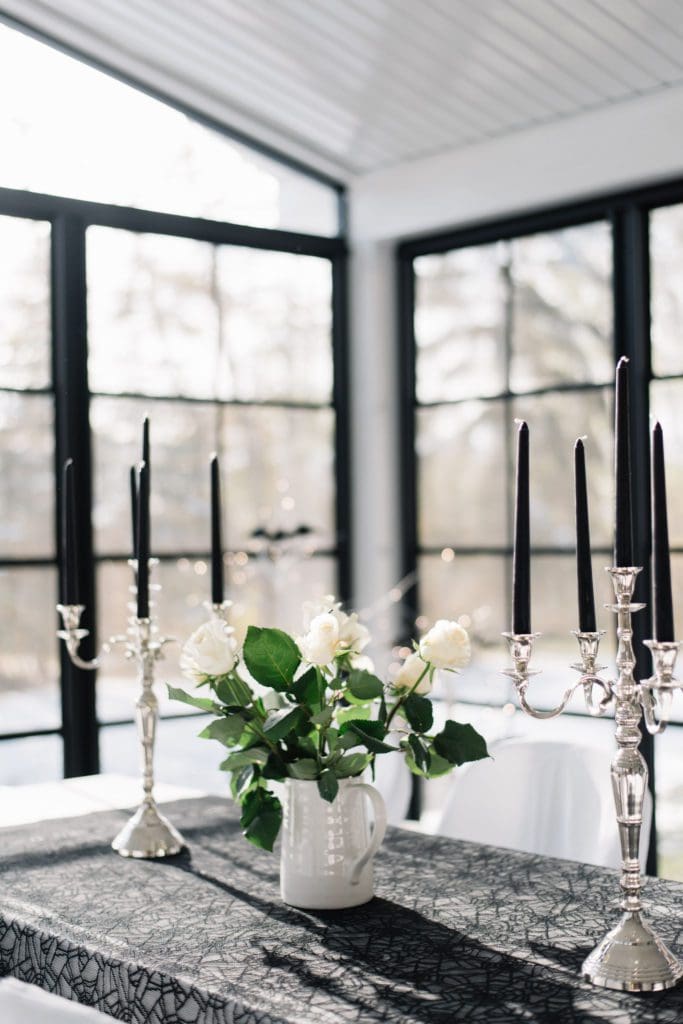 10. Spiderwebs
Even Sir Fluffykins is getting into the Halloween spirit with some $1 cobwebs draped across his frame! Since the cobweb is so inexpensive I draped it around the house in lots of other spots too.
Blah, I hate spiders! This little white one keeping Sir Fluffykins company is the only one that made it into the Halloween Decor! I've been reading Charlotte's Web with Elizabeth so I named it Charlotte….didn't help, still hate it lol!
That wraps up my 10 Budget Friendly Ideas for Luxe Halloween Decor! I hope I proved that it doesn't have to cost a lot to add some luxe and romantic Halloween touches around the house!
MORE HALLOWEEN INSPIRATION: