Ahh summer… warm breezes, sunshine sparkling on the water, long lazy days, camping, sticky s'mores, stargazing and road trips! Summer is the best! Our summers are short and we like to make the most of them. The last thing we want to do on a hot summer day is to cook an elaborate meal or host a formal dinner party. Here's how I like to create a simple summer tablescape for casual dining!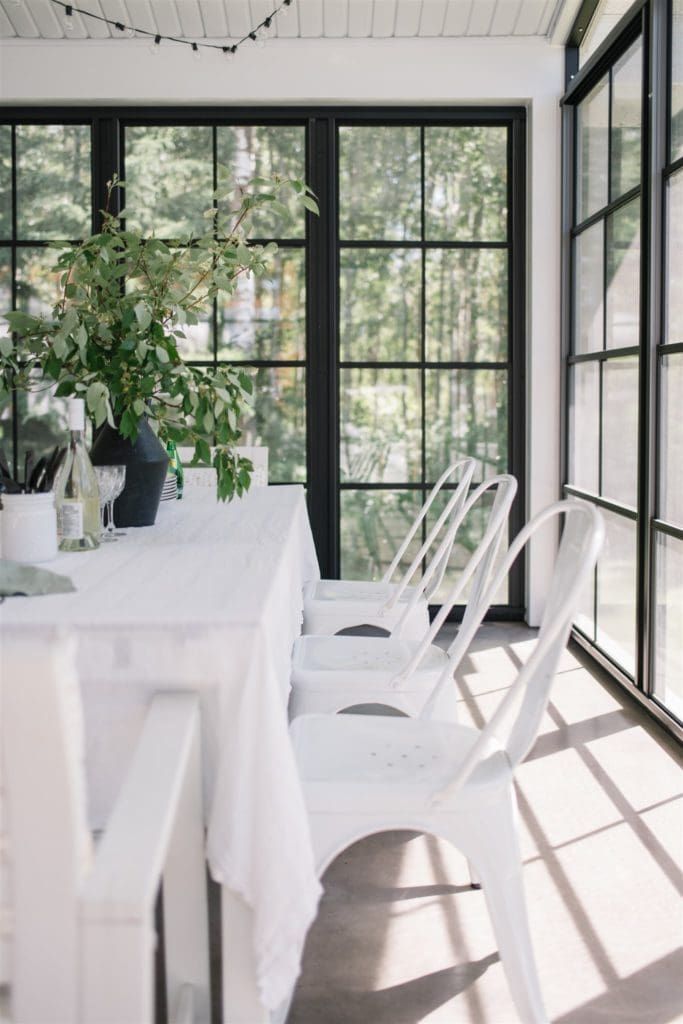 Estimated reading time: 8 minutes
Note: This post may contain affiliate links that won't change your price but may share some commission.
Don't Set the Table
Usually, when we have friends or family coming for dinner, I spend a few hours madly cleaning the house, setting the table and making sure every last dessert fork is in place. But this summer I'm trying something new!
Simplicity is something I've been working hard on this year in all aspects of my life. So this Summer I decided to hustle less, and let go and enjoy the moment more! And this goes for hosting summer parties as well!
This is my favorite summer tablescape tip… don't set the table!!
For this simple summer "tablescape", I threw a linen tablecloth over the old patio table, placed a stack of plates, a few glasses, some fresh greens and a few other items on the table and called it a day!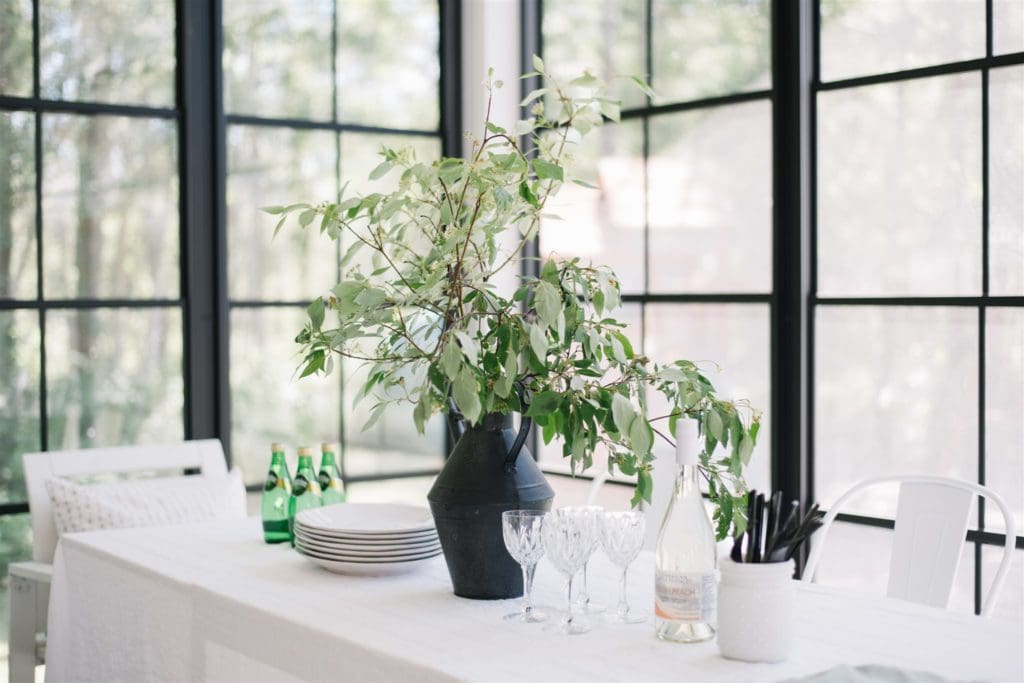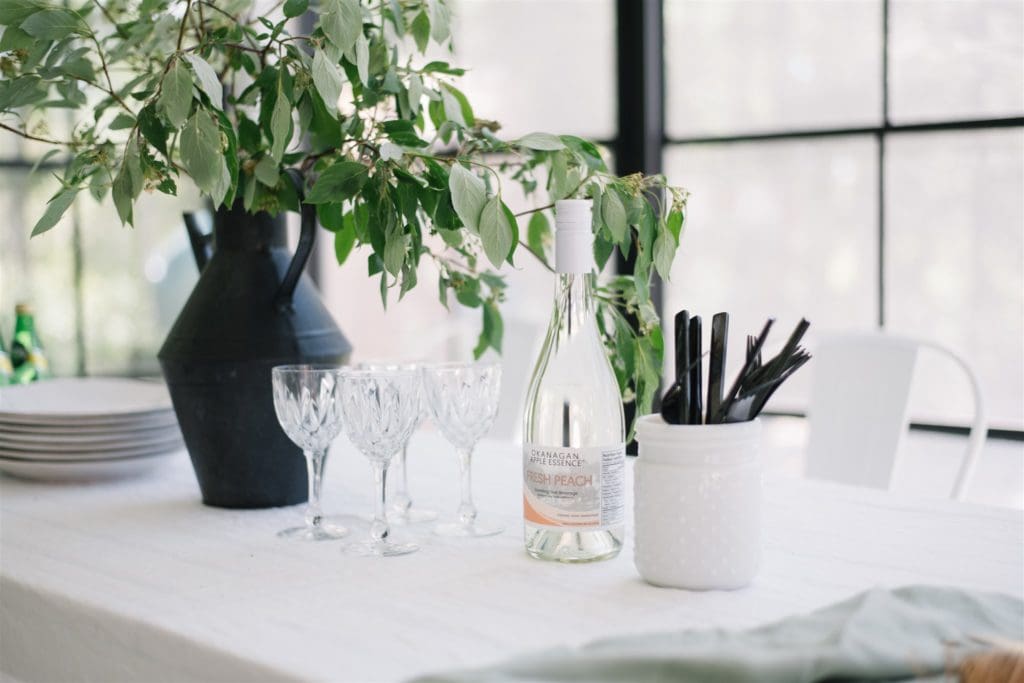 You don't need formal place settings or a perfectly accessorized table to make guests feel welcome. In fact, a more informal and casual setting makes everyone feel more at home!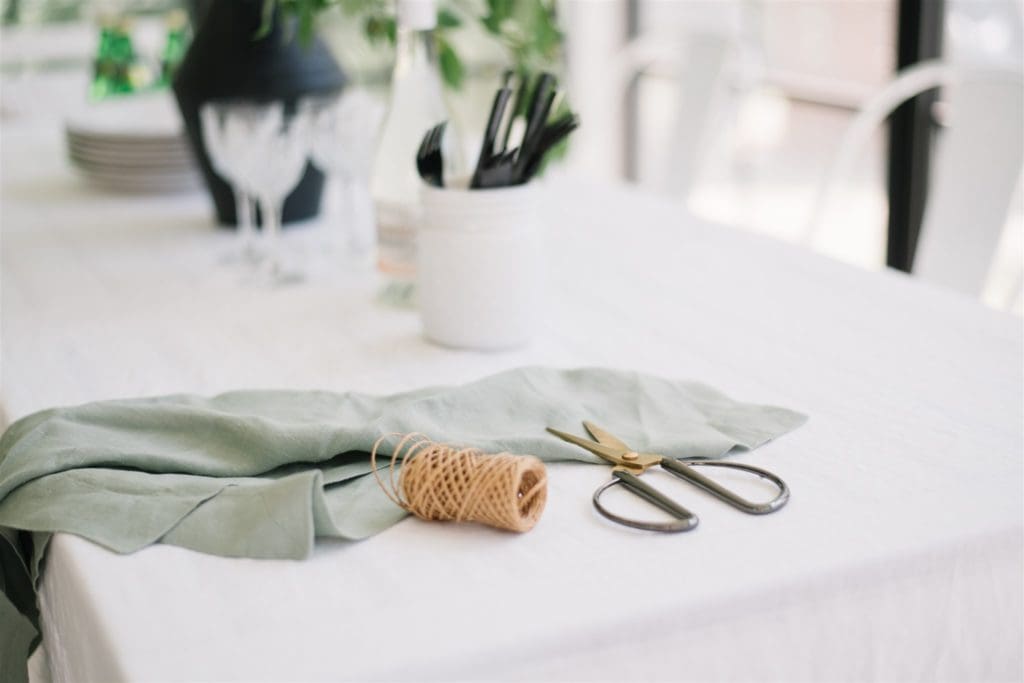 I was going to roll up the napkins and wrap with twine to make a cute stack, but then I liked the way everything looked just sitting on the table lol! So I didn't even do that!
Slow Down
The summer heat causes everything and everyone to move a little more slowly. So for summer dining we just throw out the timeline…there's no formal start or end to the meal. Everyone can just eat when they are ready. This also makes feeding the kids way easier. Trying to get littles to sit down and eat at a specific time is always challenging!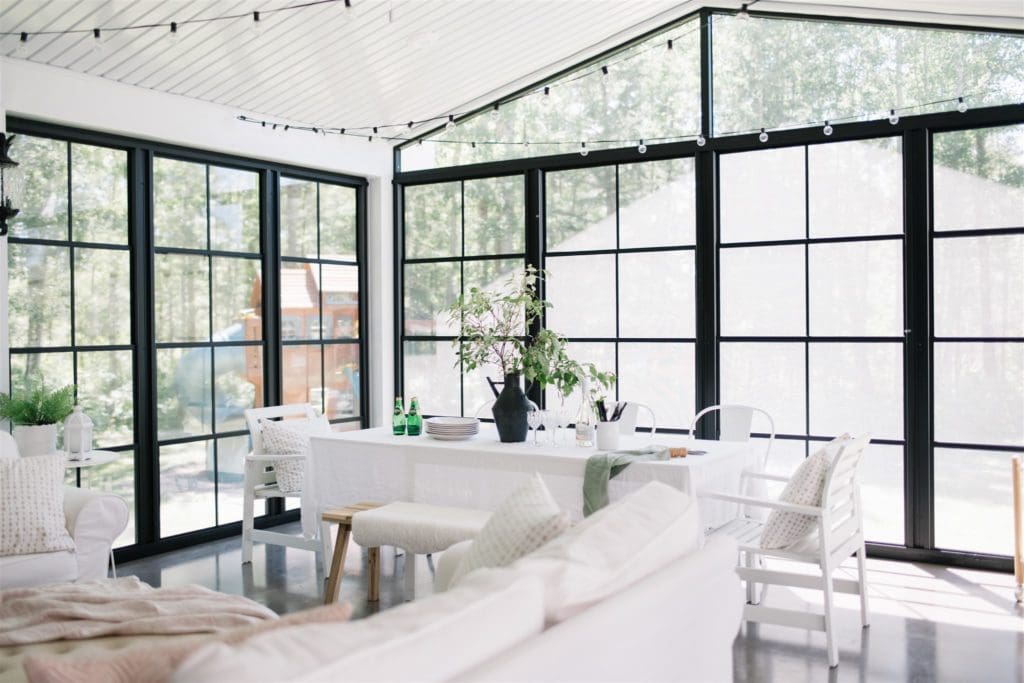 We usually eat outside or in the outdoor screen room where we have a view of the playset and the back yard. That way we can keep an eye on the littles and they can wander off with their food and eat on the grass or wherever they choose as long as we can see them.
Keep it Casual
In the summer we usually try to do non-cook options for dinner like salads or cold pasta that can be prepared ahead. If we cook, it's on the BBQ outside! I like to set up a self-serve food station in the kitchen and I usually have a bar cart by the dining table with extra drinks, napkins etc..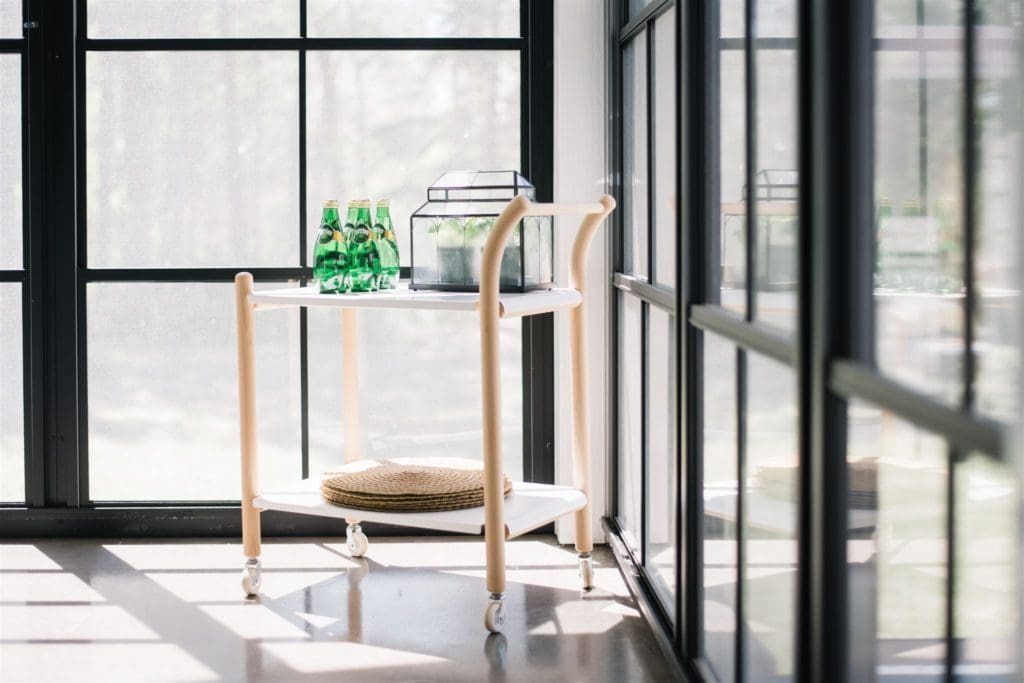 The table has cutlery, glasses, extra drinks etc.. to grab and a basket for napkins! Everything else can be found in the kitchen or straight off the bbq!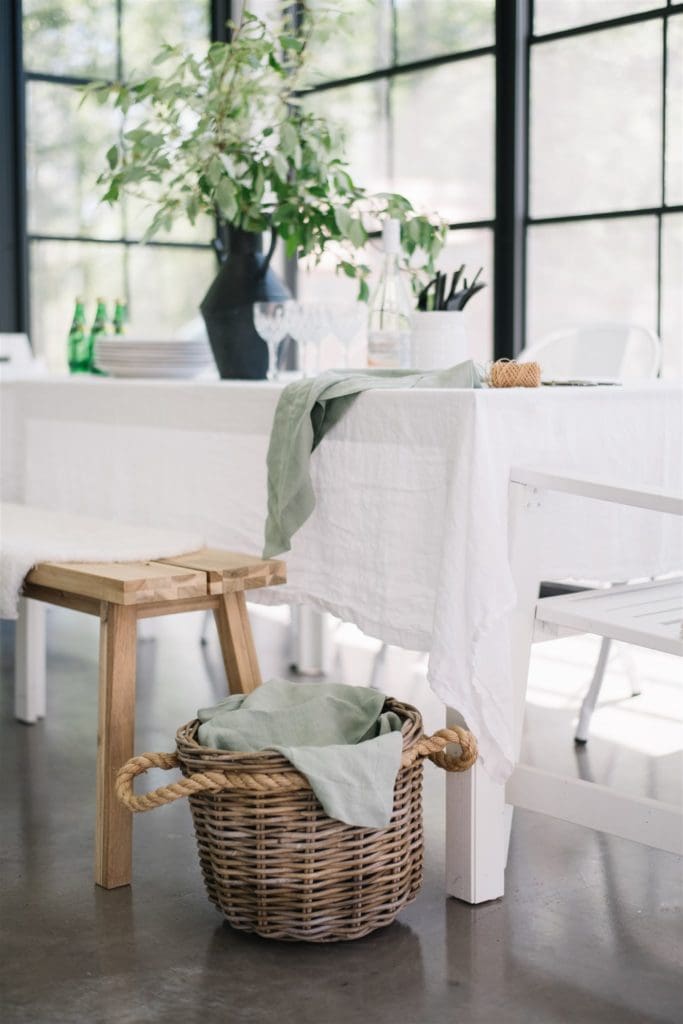 Make it Comfy
There's nothing worse than feeling uncomfortable at a dinner party or when you are over at someone's house. I never want anyone who visits to feel this way in our home! We have comfy seating and lots of it and nothing is so precious that it can't withstand a spill or sticky little hands!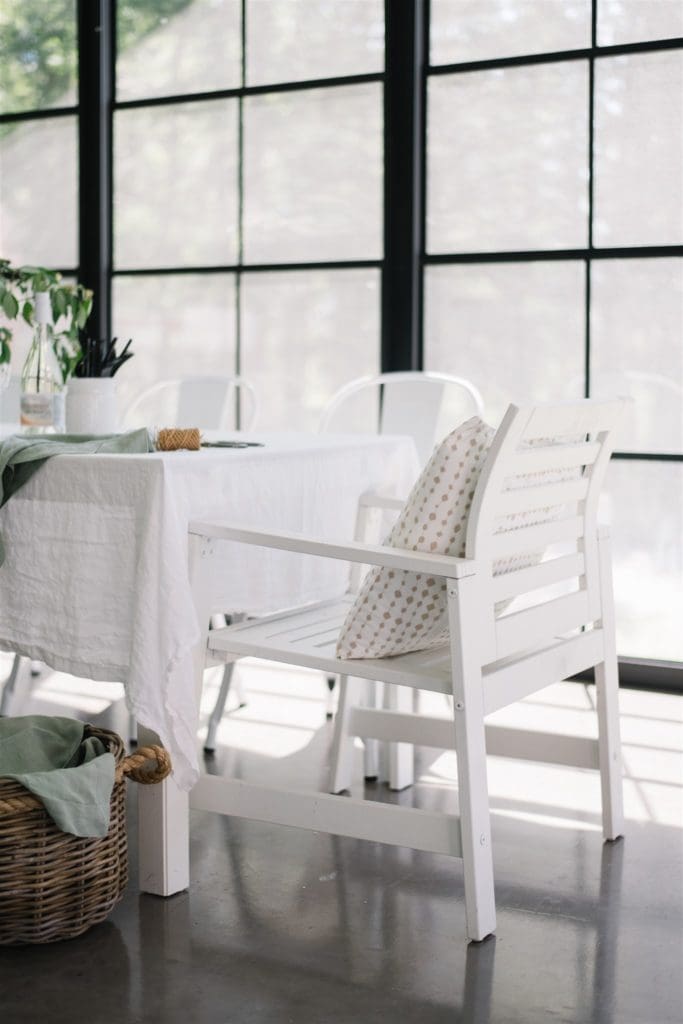 Side Note: I actually like to use white linen tablecloths because I can use bleach alternatives to keep them clean! It's easier than darker or patterned cloth! And linen is durable and washes well.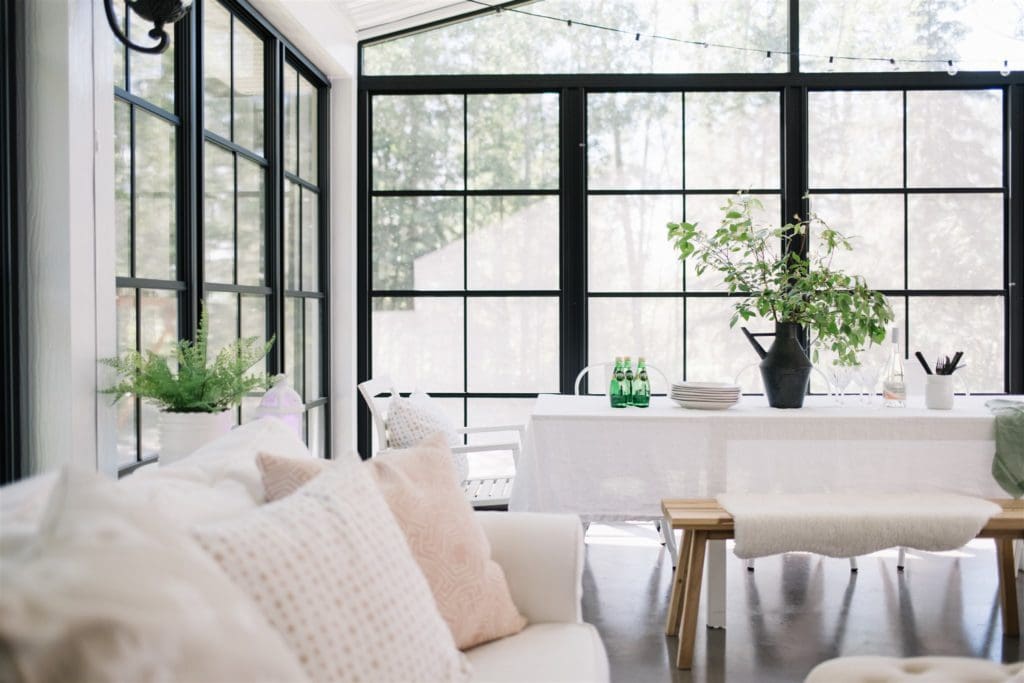 I make sure that there are plenty of pillows and throws that can be used on the dining chairs or in the adjoining living space! Hard dining chairs are no fun for anyone! And if people would rather sit on the sofas or out in the swinging chairs on the deck that works too!
Add Ambience
A few simple touches can really make a simple summer tablescape feel special. I love string lights for sparkle! As the sun sets it's so relaxing to sit under the soft glow of patio lights. And they are inexpensive and easy to put up in just a few minutes. We just used command hooks!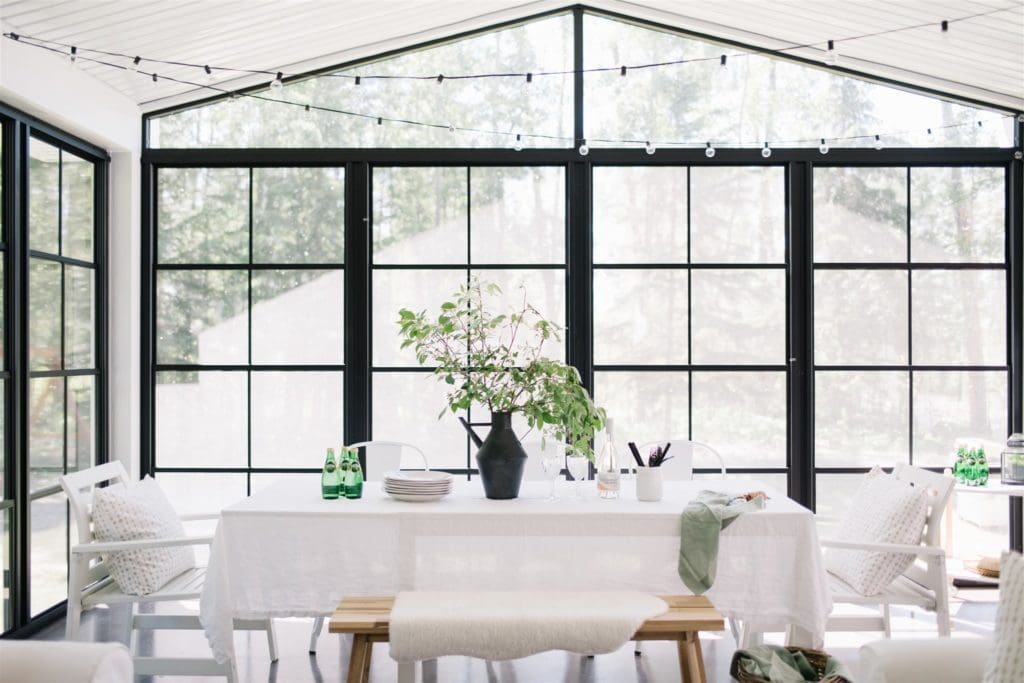 I also always have a diffuser running. In the summer some of my favourite scents are Citrus Fresh, Jade Lemon and Grapefruit! If we are sitting outside I put in some Citronella and it keeps the mosquitoes away as well!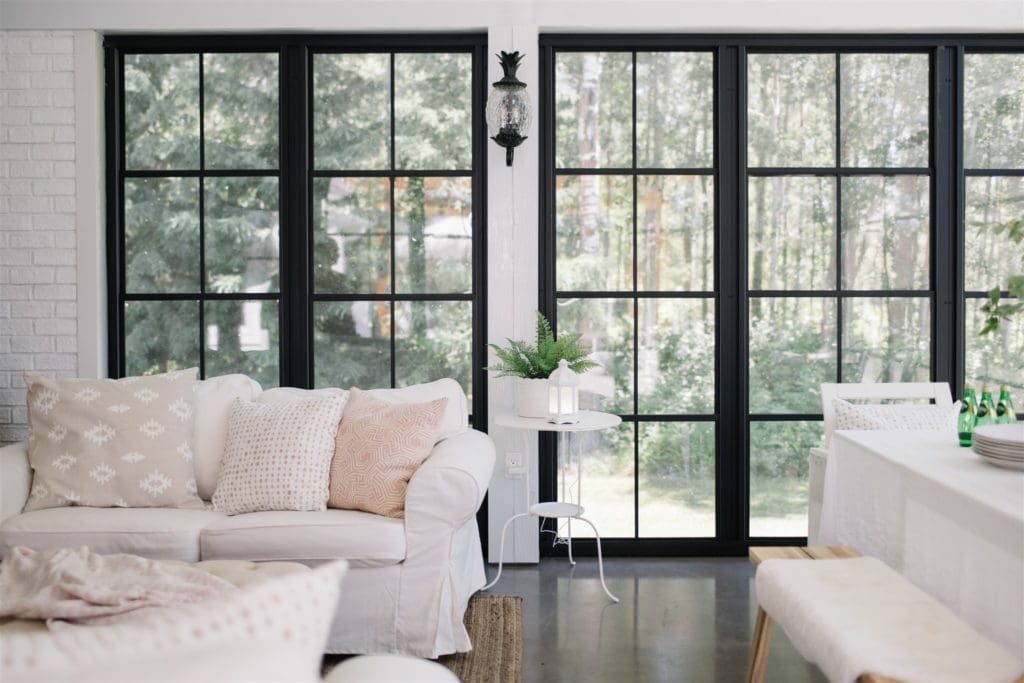 This lantern diffuser is one of my favourites! It emits a soft glow as well as yummy smelling mist! You can read more about essential oils and how I use them in our home HERE.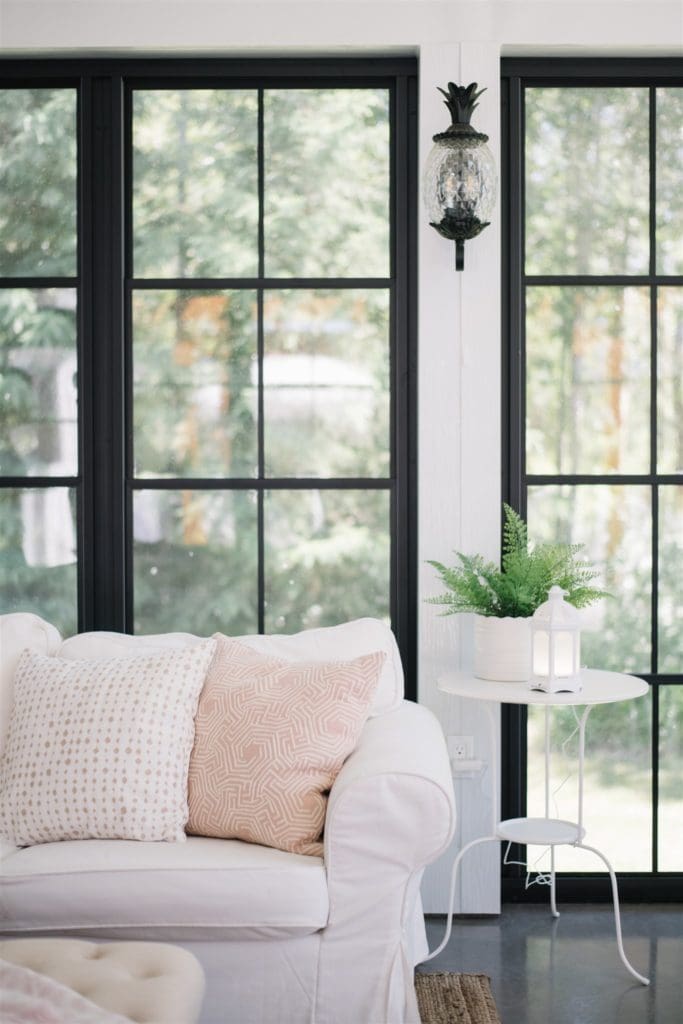 I hope you've enjoyed these simple summer tablescape tips for casual dining! And I hope it's inspired you…to do less!!
---
For more beautiful summer dining inspiration check out these posts from my talented friends!

Summer Flower Arrangement From The Garden
A Simple Summer Tablescape for Casual Dining

Lemons and Wild Daisies Tablescape

Romantic Outdoor Table Setting
5 Tips For Easy Summer Entertaining
Easy Ideas For Outdoor Summer Dining

21 Simple Summer Table Decorating Ideas
An Easy Summer Dinner on the Patio
---
MORE GOOD READS: