I love the natural element that a wood bead garland adds to holiday décor! You can buy them ready-made, or you can easily make them yourself. This simple DIY tutorial will show you how.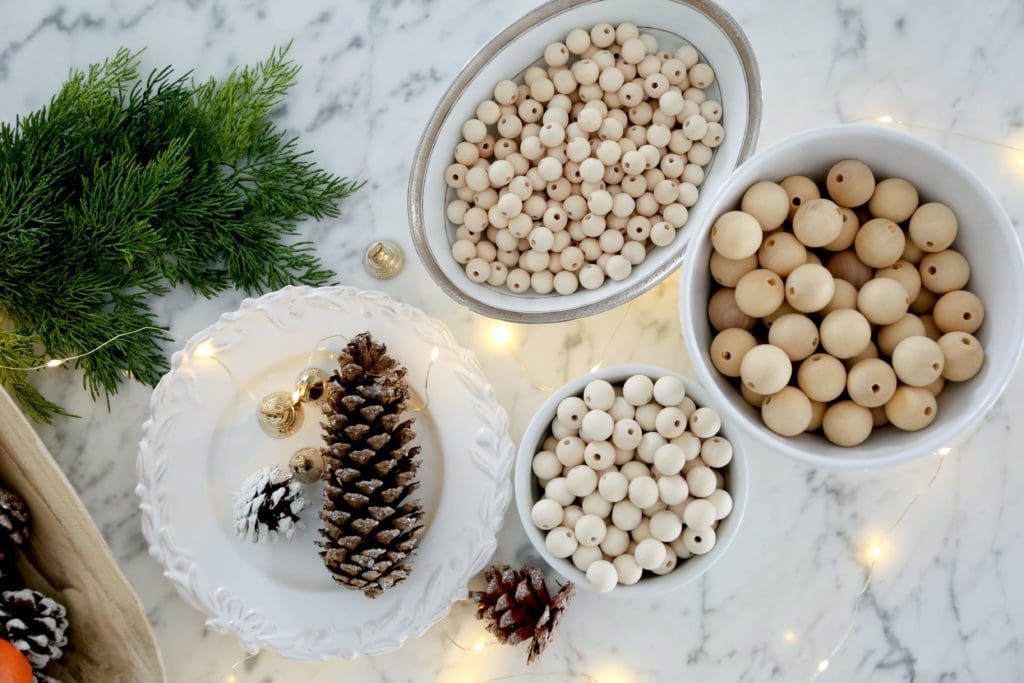 Estimated reading time: 5 minutes
Note: This post may contain affiliate links that won't change your price but may share some commission.
Wooden Bead Garland Supply List
These garlands are so simple to make, you will only need a few supplies:
Wooden beads of various sizes
String or thread
A needle
Tape
I ordered all my beads here!
These are the sizes I ordered. You could choose any size depending on what you are making your garland for. In this case, I wanted a more substantial garland to hang on the mantle or drape on the tree, so I chose a larger set of beads.
I wanted to make several garlands that were about 6 feet long, so I ordered 40 of the largest 30mm beads and 100 of each of the other sizes. (I had some of the smaller sized beads left over when I was finished).
How to Make a Wood Bead Garland
Plan Your Bead Pattern
I placed all my beads on the counter and then laid out the pattern I wanted to create. It was too hard to remember where I was in the sequence if I tried to keep track while stringing the beads!
I chose to create this pattern: [30mm – 16mm – 14mm – 20mm – 14mm – 16mm ] and just kept repeating until I had a garland that was about 6 ft long.
Measure & Cut Your String
Once I had a pattern decided, I cut a piece of string to the desired length of the garland with an extra 6-8 inches on each end for making loops to hang it with.
I used crocheting yarn. It was nice and soft, but still strong. But any twine, string or ribbon would do!
I tied one bead to the end of the string (leaving 6-8 inches for hanging) as a starting point.
String Your Beads
I followed my chosen pattern and strung my beads repeating the pattern until I reached the desired length. I then tied the final bead (again leaving 6-8 inches of yarn for hanging).
Tip: It was difficult to thread the yarn through the bead, so I taped a sewing needle to the end of the yarn to pass it through the beads easily.
To make sure there are no spaces between your beads hold it up from the end and let it hang to the floor. This will eliminate any spaces before you secure the final bead!
And voila! A pretty natural wood bead garland to add to your holiday decor!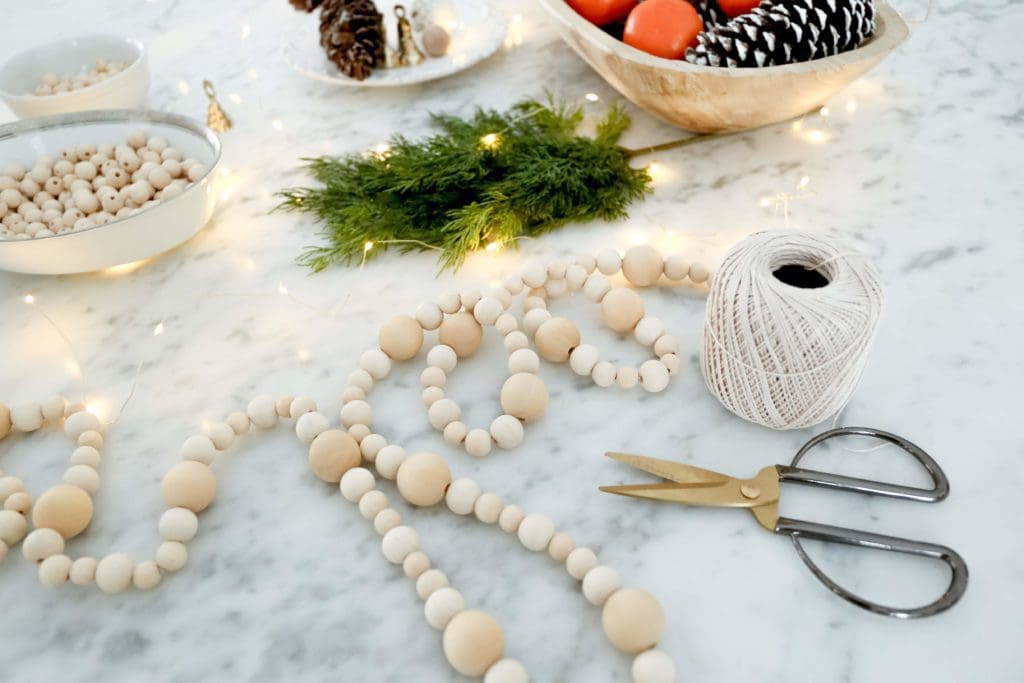 Printable Wood Bead Garland Instructions
[mv_create key="11″ type="diy" title="How to make a Wood Bead Garland" thumbnail="https://thegingerhome.com/wp-content/uploads/2019/11/TGH_Christmas42_Original-2-scaled.jpg"]
These wood bead garlands look so pretty draped around the tree, hung along the mantle, or even piled on a coffee tray or in a vintage dough bowl with twinkle lights! There are so many options and they are so classic you can reuse them every year!
If you don't want to DIY your garlands ( I hear ya. Life's busy!) You can find ready-made wood bead garlands too!
MORE GOOD READS: