The holidays can be stressful. There are events to attend, gifts to buy, decorating and wrapping to be done, meals to prepare etc.. Sometimes it can feel completely overwhelming. This printable Christmas planner will help you stay organized and on budget so you can stress less and enjoy the season more!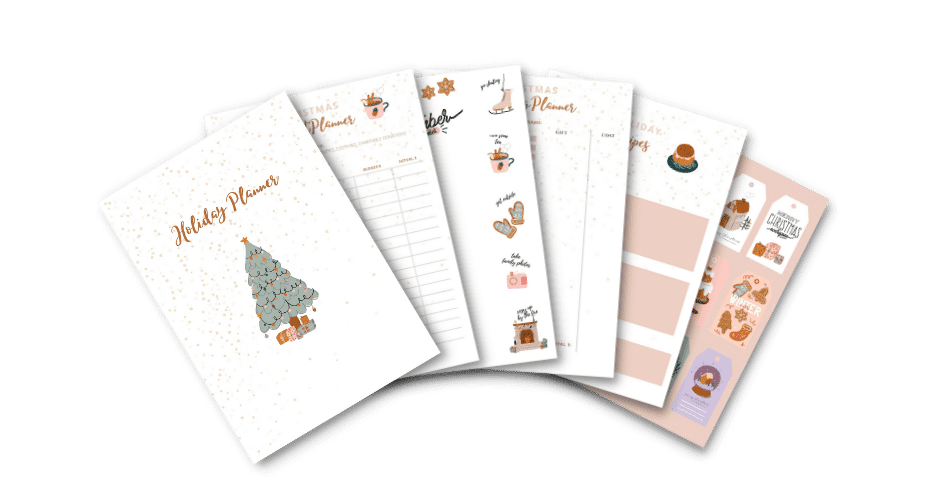 DOWNLOAD THE HOLIDAY PLANNER FOR ONLY $7!!
Christmas Planner PDF Overview:
These printable Christmas planner pages can be used to create your own Christmas planning binder or Christmas planner bound workbook. Print as many copies of each page as you need. And there are no year-specific pages so you can use these digital Christmas planning pages year after year!
What's Included in the Christmas Planner?
Daily, Weekly & Monthly Task Planning Pages
Print out as many of these pages as you require.
Keep track of daily tasks, events, parties and more.
Don't lose track of time as the holidays fly by.
Printable Christmas To-Do Lists
Christmas To-Do List
Write your tasks down so that you can think about something else!
Perfect for pinning on the fridge or taking with you on the go.
Christmas Card Checklist
Christmas Gift Planner
Finally stay on budget this year.
No more forgetting gifts you bought months ago.
No more wondering how many gifts you've bought each of your kids!
Christmas Stocking Planner
Keep track of all those tiny gifts for stockings that are easily misplaced.
Keep each stocking with a bag of it's own gifts and an itemized list to stay organized.
Make Christmas Eve Santa duty simple!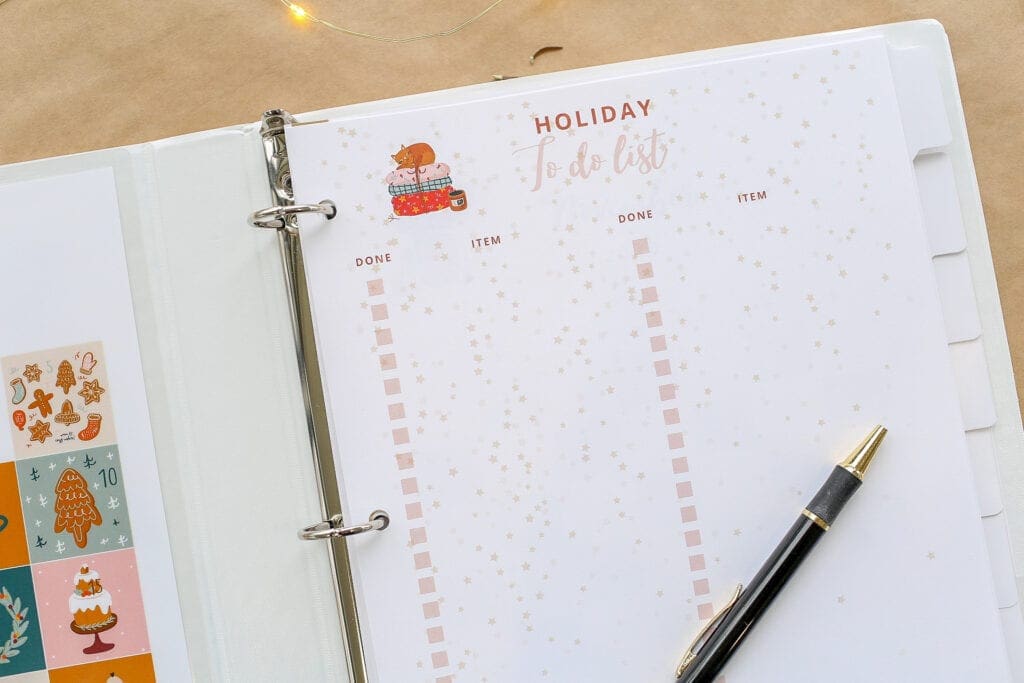 Holiday Budget Sheets
Make sure you stay on budget by planning & tracking your expenses!
Black Friday Budget Planning Worksheet
Plan ahead to avoid overspending.
Write down your favourite stores, what discount they are offering, and specific items to shop for.
Get most of your Christmas shopping finished during the sales!
Christmas Budget Planning
Keep costs from spiraling out of control.
Keep track of overall expenses including gifts, food, travel etc..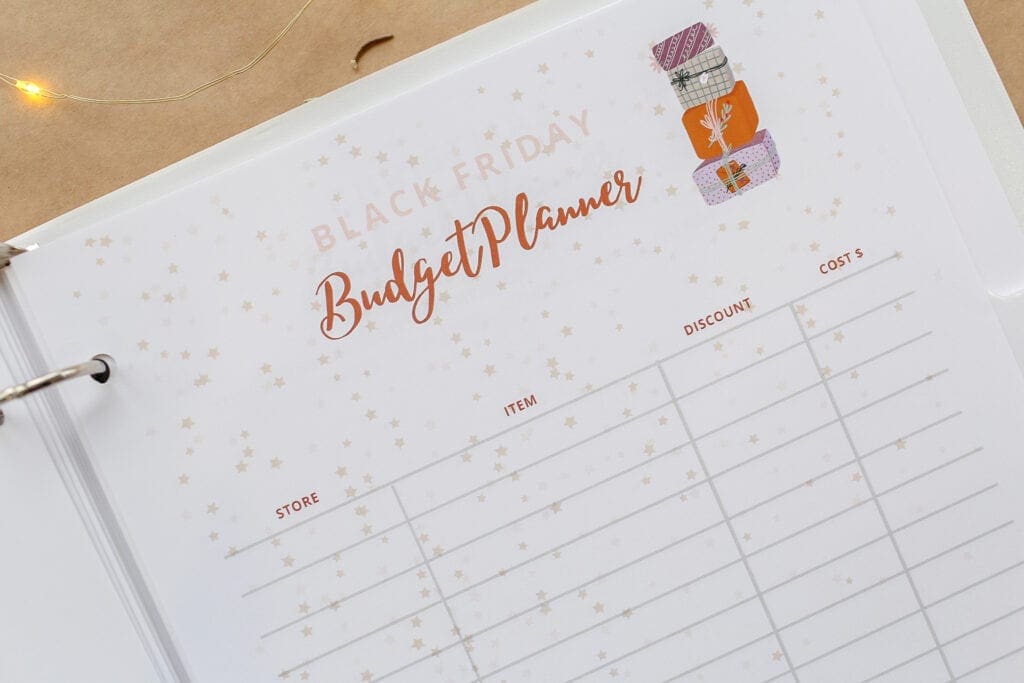 Christmas Party Planning Sheets
Christmas Meal Planner & Grocery Lists
Make planning holiday meals simple.
Create a menu and a grocery shopping list to make sure you have what you need.
Holiday Party Planner Worksheets
Having a get together? Jot down dates, times, guest lists, party details etc…
Make sure you are the hostess with the mostess!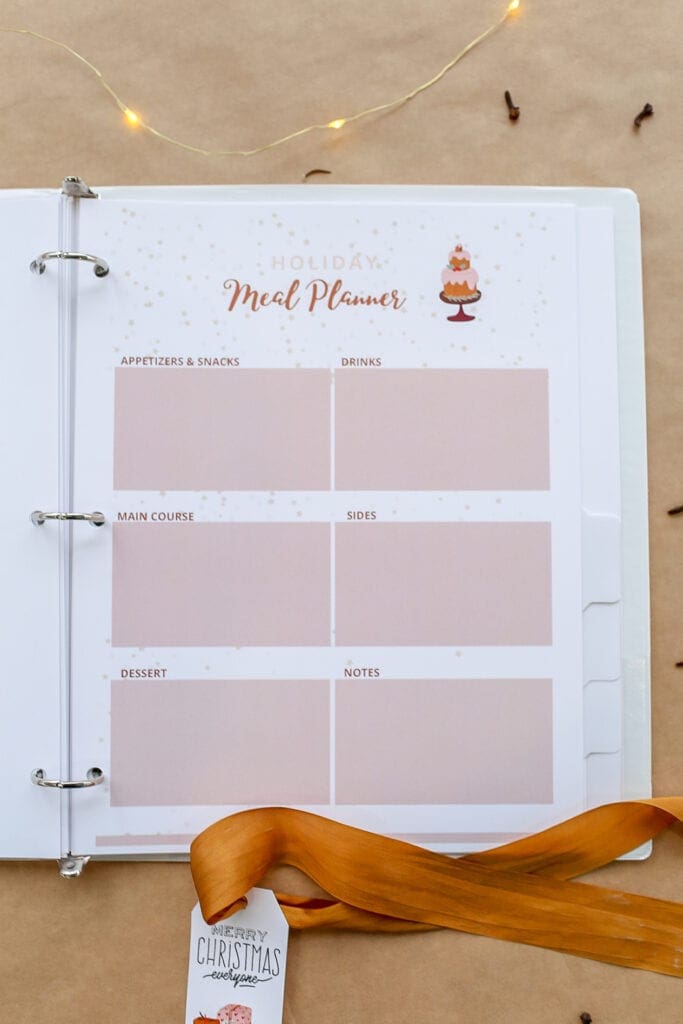 Free Printable Christmas Planner Bonuses!
Free Christmas Bucket List Printable
Have some fun this holiday season!
Try laminating your bucket list so you kids can write on them each year!
Make it a December to remember!
Free Christmas Advent Calendar Printable
A cute little Christmas countdown page
My kids like laminating these and crossing the days off. They can count how many days are left until Christmas!
Print these colouful Christmas gift tags out on cardstock and tie onto presents with a pretty ribbon!
They also make adorable name cards on the table for Christmas dinner!
How to Print Your Christmas Planner
You can print your planning sheets out at home or have them printed at any local print store. Create your own custom binder or have the pages bound into a coil notebook like I did! I printed out my sheets of choice at Staples and had them bound into a workbook to carry with me! If I find a great deal online or when I'm out shopping, I can check to see if it's a good fit for someone on my gift list. And I also make sure it's within budget before I buy!
Tip: The back page also looks cute framed and added to a gallery wall or a bookshelf!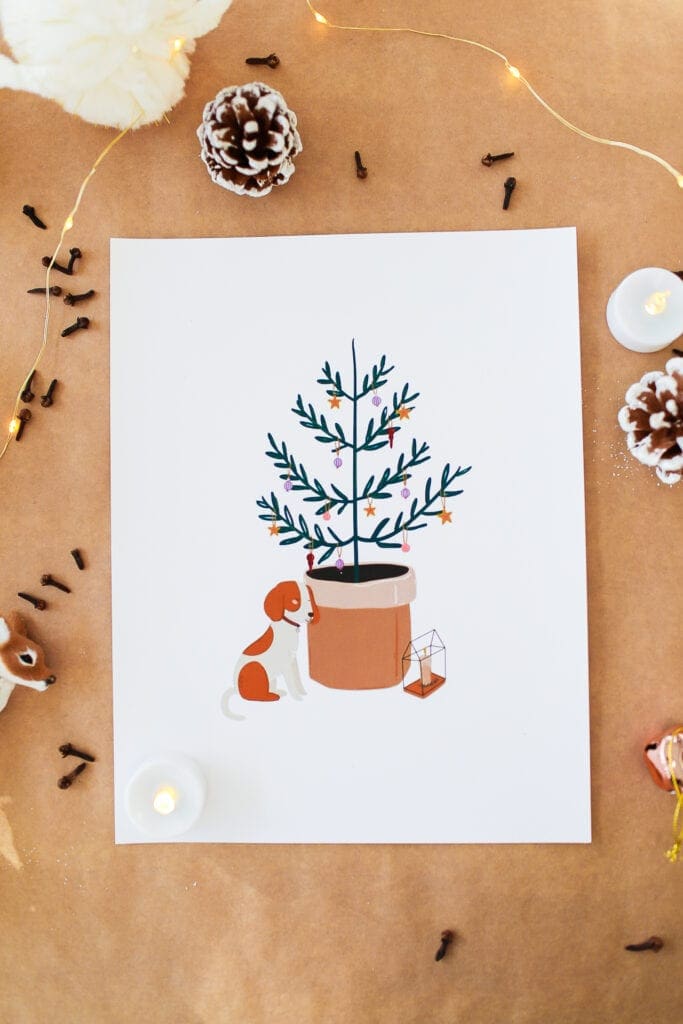 There are so many ways to use these printable Christmas planner pages. Enjoy and Merry Christmas friend!
---
DOWNLOAD THE HOLIDAY PLANNER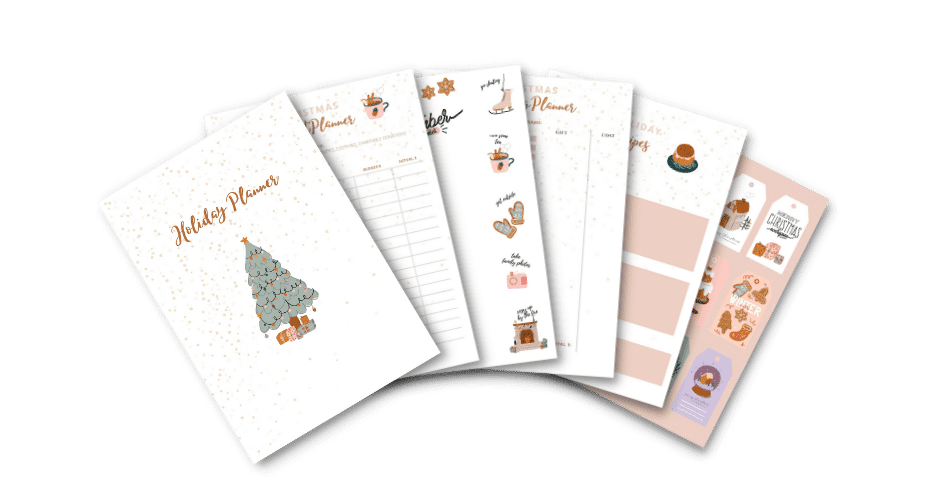 DOWNLOAD THE HOLIDAY PLANNER FOR ONLY $7!!
I hope you find this Christmas planner helpful! And remember to take some deep breaths, spend only what is comfortable for your family, and always give a little something back if you can!
READ MORE: