The closet in our master bedroom is a small walk-in measuring approximately 5.5ft x 6ft. We decided to make the entire space mine as Mark has a set of wardrobes and a dresser in the bedroom! In order to maximize the space, we came up with a DIY custom closet design on a budget!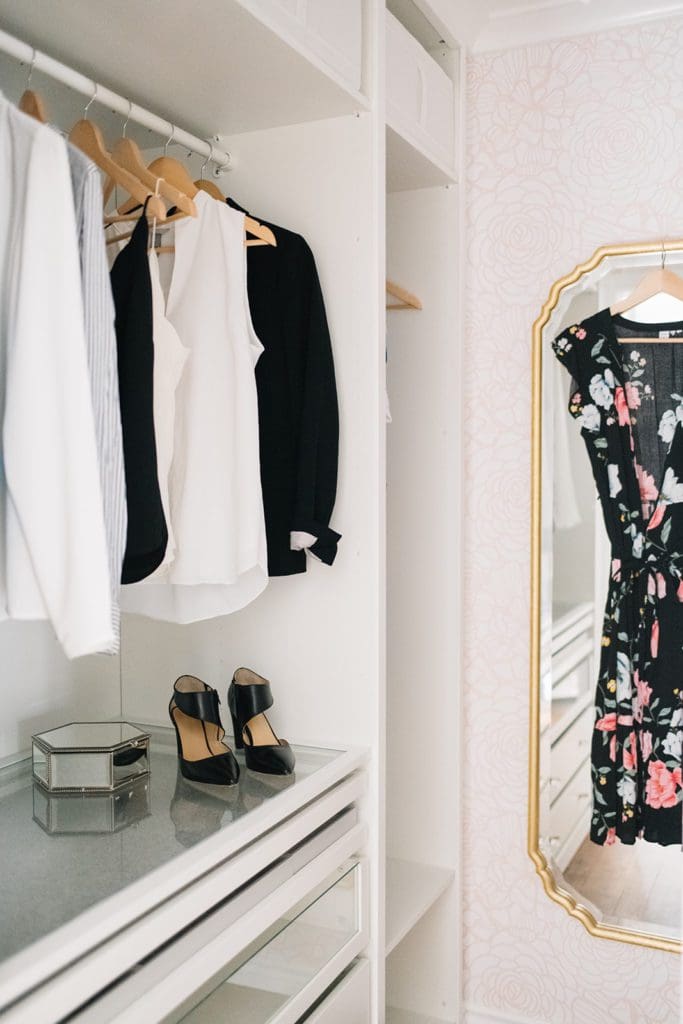 Estimated reading time: 10 minutes
Note: This post may contain affiliate links that won't change your price but may share some commission.
Our DIY "Custom" Closet
When we started to plan our master closet, we did have a custom closet company come in to give us a quote and the price was just waaay too high. So we decided to make our own custom closet for a fraction of the price using the Ikea Pax wardrobe system. We added some fun features like a new chandelier, beautiful wallpaper, gorgeous hardware and a rolling library ladder to reach the top shelf (scroll down to see more on the ladder)!
The Master Closet Before
Here's the before…the closet felt cramped with shelving taking up space on the back wall and the tiny chandelier didn't provide enough light. There was also a lot of wasted space.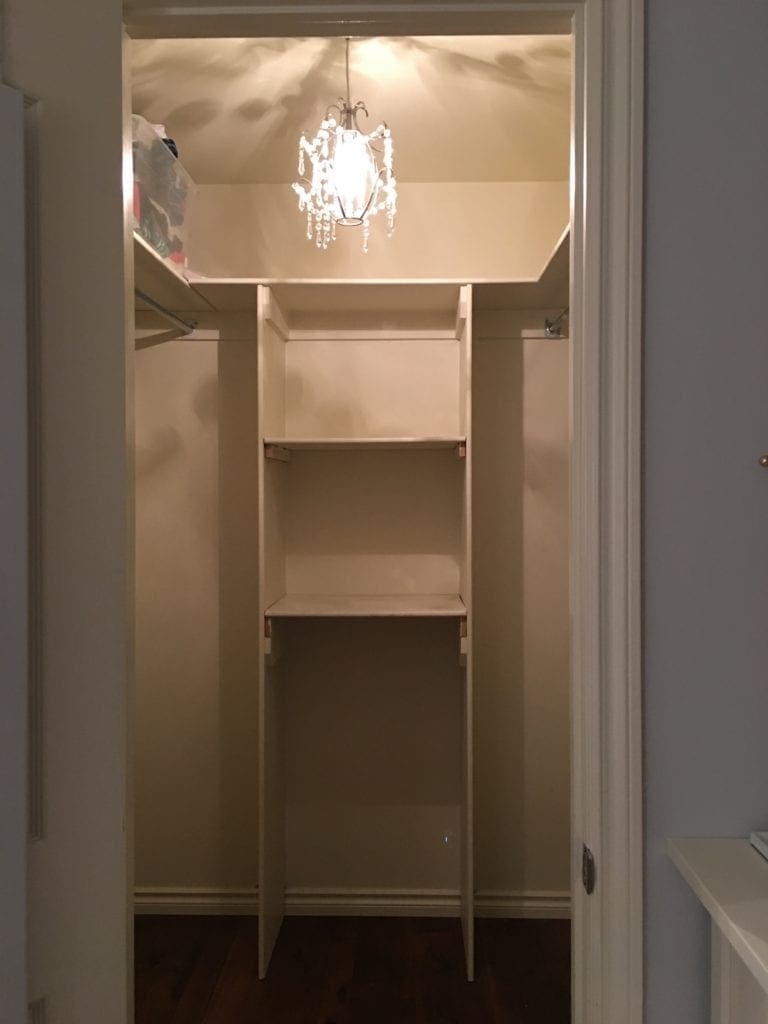 The Master Closet After
We started by ripping out the existing shelving (I had some pretty cute help with the demo!!) and opted for a galley-style design with built-in storage on each side of the closet. This left the back wall open for a mirror and makes the space feel larger. Ikea has planning tools on its website that make designing your space intuitive. There is a specific PAX wardrobe system planner that is easy to use. ( This post is not sponsored by Ikea. We just genuinely love their products!)
With the new layout, better lighting and pretty details, the closet looks so much more spacious and inviting!
Designing a Functional Closet
When we started the design process, the first thing I did was purge my wardrobe so that only what I truly loved and was excited to wear was left in my closet. This is an important part of planning, as it gives you a good idea of how much space is required for hanging and how many drawers and shelves are needed etc… If you need a little help check out 7 Day Declutter.
We only had a depth of 18″ available on one side of the closet, so we used 15″ deep cabinets. We added vertical shoe storage, lots of shelving for sweaters & t-shirts and small drawers for lingerie, socks, swimsuits etc.. We also added hanging space, but moved the bar back slightly so that the pants hang completely inside the cabinet. This allowed us to install a DIY rolling ladder that glides smoothly in front of the entire unit!
On the other side of the closet, we added 24″ deep cabinets with hanging space for shirts, skirts and blazers, as well as a full-length space for dresses and long jackets. The pretty glass front drawer allows me to see neatly stacked piles of my favourite denim. The solid-front drawers underneath house less visually appealing workout gear and loungewear.
Creating a Built-In Look
We set up the PAX wardrobes inside the closet (they wouldn't fit through the door fully assembled so this is an important point!). We attached them to the wall using a metal bar and bracket system from Ikea. Then we trimmed around the cabinets to make them look built-in. 4″ crown moulding was added to the top, as well as painted MDF (cut to size) to fill in gaps between the cabinets and the walls. We also added a small vertical trim piece to cover where the fronts of the cabinets butt together and painted the trim pieces in semi-gloss paint that we colour matched to the cabinets.
Then we ran baseboard along the bottom of the wall and joined it to the trim pieces to finish the build. It looks completely custom and built-in for a fraction of the price of professionally installed units!
Hot Tip: If you look closely in the image above you can see that the holes for the adjustable shelving have tiny white cover caps in them. I think the cabinets look so much more custom with those holes filled in. You can barely tell that they are big box store cabinets.
Adding Pretty Details
Accessories & Fixtures
One of my favourite features is the pull-out drawers for jewelry and accessories. My pretties stay dust-free and untangled, tucked neatly away.
A black wire basket acts as a laundry basket and looks so much prettier than white plastic!
A pretty antique gold framed mirror is perfect for try-ons and also doubles as a handy place to hang ready-to-wear outfits.
This semi flush mount beaded chandelier came in a distressed finish so we spray painted it a glossy white. It adds just the right amount of shine and light to the space.
Hardware
Emtek generously sponsored the hardware for this project. To add sparkle, we chose Forza Crystal Knobs . And we chose a French Antique gold finish to complement the mirror. We added a single knob on the smaller drawers and two knobs on the wider drawers to keep the look consistent.
We added an Ebony porcelain doorknob and paired it with a white porcelain and brass rosette to add a vintage feel. The black knob ties in with the existing black hardware in the bedroom. The white and gold accent adds a fun twist and complements the French Antique finishes inside the closet.
Wallpaper
The gorgeous Blush Pink Flower Wallpaper was sponsored by Rocky Mountain Decals and I'm obsessed! It's actually peel-and-stick/ self-adhesive paper. If we ever decide to change it, it can be removed easily compared to traditional wallpaper. There's also no glue or messy installation process to deal with.
The pattern is subtle but pretty and it adds so much interest to the space!
We added wallpaper around the door and above the ladder side of the closet so that the view is just as pretty going out as it is coming in!
DIY rolling ladder
And last but by no means least…I'm so very excited about the DIY rolling library ladder that Mark made from some beautiful fir wood and sliding barn door hardware! I've always wanted a library ladder and managing to fit one in this tiny space made me so happy! You can check out how we made it in this DIY Rolling Library Ladder Tutorial!
The ladder makes it easy to reach the storage bins on the top shelf where I keep out of season items. And because the closet is small, I can reach both sides easily! No more hunting for a step stool every time I need to get something down!
The Budget
So what did all this cost you might ask? Well here's a breakdown, because I love seeing real numbers… and I assume others do too!
The Budget Breakdown (CAD$):
Note: The hardwood was already installed so there was no additional cost for flooring and I already owned the wooden hangers and black wire laundry basket. The cost could definitely be lowered even more by choosing a less expensive mirror and light fixture or by choosing a more basic PAX wardrobe design!
I hope this rundown of our DIY custom closet design has given you some ideas for your own space! You may also enjoy: