Essential oils can be used in so many ways besides making your home smell fresh! You can replace toxic products like candles, dryer sheets, makeup, cleaning products etc… with natural alternatives. You can use essential oils to support sleep, emotions, hormones, immunity and more. Here are 25 practical ways to use essential oils and some of my favourite recipes and tips.
Not sure what essential oils are? Read How to Use Essential Oils and find out more about Natural Living!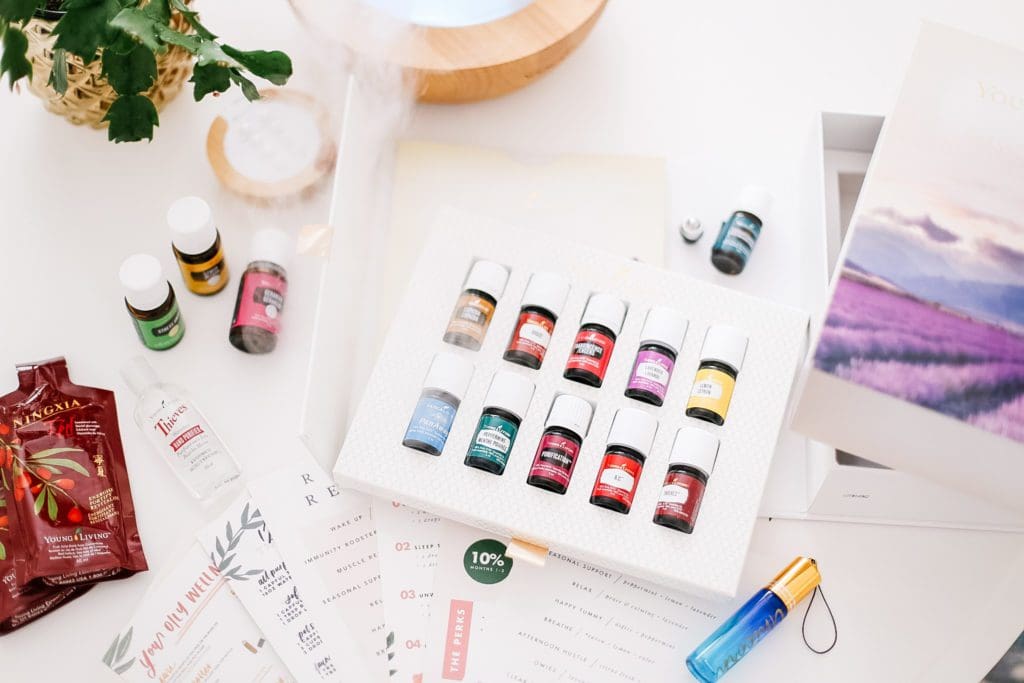 Estimated reading time: 13 minutes
Note: This post may contain affiliate links that won't change your price but may share some commission.
#1 keep the bugs away
Say goodbye to chemical-laden bug repellents. This totally natural Bug-Off spray smells delicious and is safe to use. I find that I need to re-apply every 20-30mins, but it's refreshing and smells like lemon so I'm ok with that! My girls have their own bottles and just carry them with them in their bike baskets or backpacks.
Recipe:
In a 2oz spray bottle add the following:
5 drops peppermint
5 drops citronella
5 drops lavender
5 drops lemongrass
Add a splash of witch hazel and top with distilled water.
#2 make a soothing lotion
Make a soft, natural cream that you can customize with any scent. Makes a great gift! I love slathering this on my feet and then throwing on a pair of socks and letting it moisturize overnight.
Recipe:
1/4 Cup Shea butter
1 Tbsp Beeswax Pellets
2 Tbsp Jojoba Oil ( you can also use Coconut or Avocado Oil)
10-20 drops of essential oils of your choosing:

Some ideas:

Orange & Peppermint
Chamomile & Sandalwood
Lavender & Lemon
Ylang Ylang & Geranium
Melt the shea butter, beeswax and jojoba oil in a double boiler and pour into 2oz amber glass jars. Wait until almost cool (the mixture will start to look cloudy) and then add 10-20 drops of essential oil, stir and let cool fully!
#3 make your house smell good
This diffuser blend smells just like the famous Anthropologie Volcano candle but doesn't release toxins into your home. I don't burn any candles in our house anymore. When I found out how toxic most of them are I was shocked! Even if they are all-natural beeswax, I still don't like the fire hazard. Battery-operated candles or a flickering diffuser create ambiance without the danger!
Recipe:
3 drops orange
2 drops grapefruit
2 drops geranium
2 drops Northern Lights Black Spruce
Add to your favourite diffuser and top with distilled water. Turn on and enjoy!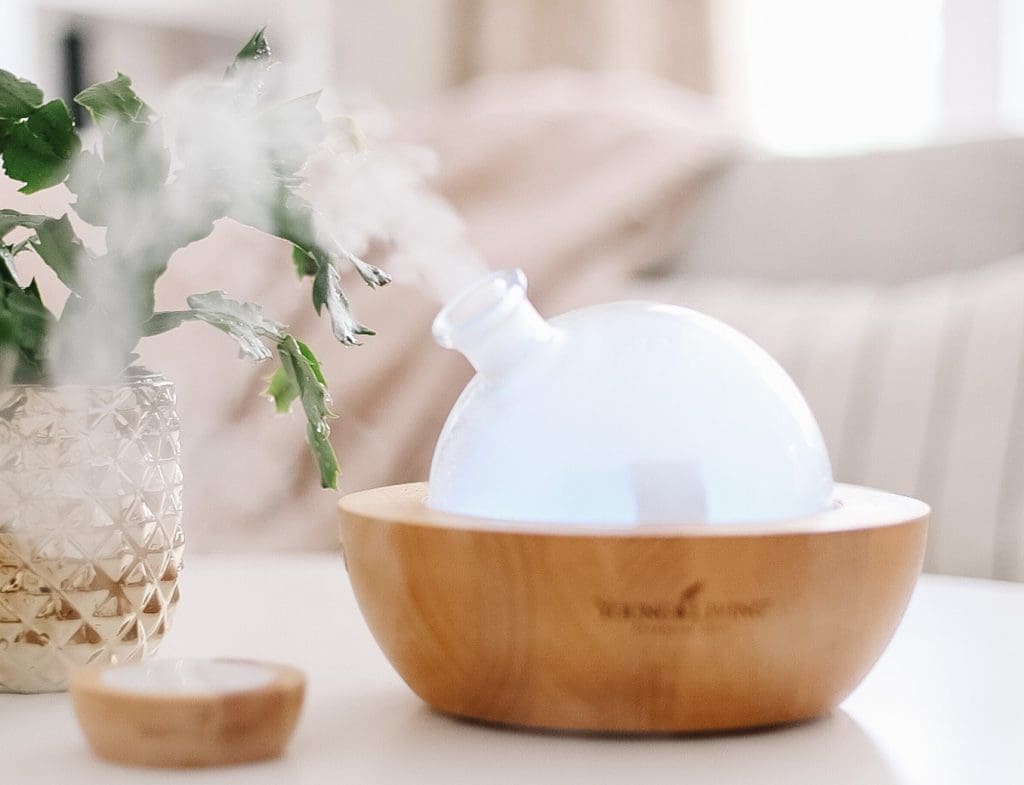 #4 soothe sensitive skin
Make this simple roller that is good for skin irritation, dryness, or rash. (Again, if you have medical concerns please see your doctor.) Being a house full of redheads we have a lot of flare-ups with our sensitive skin! This is my go-to for soothing minor irritations.
Recipe:
10 drops frankincense
10 drops lavender
10 drops of copaiba
Add to a 10ml amber roller bottle and top with carrier oil of choice. I use jojoba oil if I will applying the roller to my face as it does not clog pores!
#5 get glowing skin
This is a simple recipe, but it's a game-changer! You can use this glow serum after cleansing. I've replaced my traditional moisturizers with this and my dry skin has improved! If you have oily, aging, or acne-prone skin there are oils that you can mix in to make a serum that will work for your skin type! Just leave me a message at the end of this post if you'd like recommendations!
Recipe:
4 Tbsps Jojoba Oil (won't clog pores)
1 Tbsp aloe vera gel (rich in vitamins C & E)
10 drops Frankincense (brightens skin & fights blemishes)
5 drops Geranium (promotes cell regeneration
5 drops Copaiba (reduces scars and is anti-inflammatory)
Mix all ingredients in an amber glass dropper bottle and apply sparingly to clean skin (a little goes a long way)!
#6 boost your lashes
This simple serum will help your lashes grow longer and fuller! I've spent hundreds of dollars having faux lashes applied and then using expensive lash serums to deal with the damage after they are removed. An endless quest for longer lashes! I finally started using this simple lash serum and my lashes are definitely longer and healthier!
Recipe:
6-10 drops lavender
6-10 drops rosemary
6-10 drops cedarwood
Add to a clean mascara tube and top with castor oil. Apply to clean lashes and make sure to apply all the way to the root!
#7 diffuse in your car
I use this handy little car vent diffuser every day! You just add a few drops of oil to the little round pad, put the pad inside the holder, and clip it onto the air vent in the car. When the air blows through the vent it disperses the essential oil. So much better than an air freshener full of chemicals!!
I love diffusing Purification in my car to keep it smelling fresh, Citrus Fresh on commutes to keep me energized, or Peppermint if I'm feeling car sick!
#8 make your own lip balm
Homemade lip balms make great gifts. We just put some in Elizabeth's grab bags for her 8th Birthday Party! Lip balm from the drugstore can be full of some surprisingly toxic ingredients. These ones are safe for everyone in the family (my girls love their "lipsticks"). And I love that you can customize them with your favourite scent!
Recipe:
Melt Cocoa butter, Beeswax, Vit E Oil, and Coconut Oil in the top of a double boiler or in the microwave. Add 25 drops of essential oil and pour immediately into lip balm tubes. This recipe cools quickly! Makes about 12.
#9 calm down
If you don't have the time or energy to make products from scratch it's ok!! Young Living has a huge selection of products and this roller is one of my favourites. With Lavender, Cedarwood, and Roman Chamomile it smells divine and is instantly calming. If I'm feeling stressed I'll roll this on the inside of my wrists or the back of my neck! I also use this right before bed and it helps me sleep.
#10 relieve sore muscles
This is an awesome recipe to relieve pain and tension from sore muscles!
Recipe:
Melt Coconut Oil and Beeswax in a double boiler and then add the turmeric. Whisk to blend, the turmeric won't completely dissolve and that's ok! Remove from heat and add the essential oils. Pour into an amber lotion jar and store in a cool place.
Note: Turmeric can stain and the rub will turn your skin yellow for a few minutes, so be cautious with pale clothing!
Tip: You can also make this recipe with Cayenne powder for extra pain relief and to make the muscle rub warming!
#11 get energized
This super anti-oxidant energy drink gives you a vitality boost and nutrition infusion! I drink Ningxia Red in the morning now instead of coffee. It gives me the energy support I need without the side effects of caffeine.

One ounce of Ningxia Red has the antioxidant power of:
4 Pounds Carrots
2 Quarts Carrot Juice
8 Oranges
1 Pint Orange Juice
2 Pounds Beets
2 Cups Beet Juice
3 Cups Raspberries
2 Cups Blueberries
#12 make a gift for him
This cologne roller has an earthy, spicy scent and is another great gift idea for Father's Day!
Recipe:
10 drops Cedarwood
8 drops Bergamot
5 drops Patchouli
drops Valor
fractionated coconut oil
Add the essential oils to a 10ml amber glass roller bottle and top with fractionated coconut oil. (Fractionated just means it stays liquid at room temperature.) Tip it to mix and roll onto the wrist or neck!
#13 soothe bug bites
I tested this recipe at camp and the girls said their bug bites felt better almost immediately! So awesome…there's nothing worse than an itchy bite!
Recipe:
20 drops lavender essential oil
10 drops tea tree essential oil
5 drops rosemary essential oil
fractionated coconut oil
Add the essential oils to a 10ml glass roller bottle and top up with fractionated coconut oil. Mix and apply topically as needed. Also good for stings or any inflammatory skin irritation.
#14 after-sun salve
A quick and easy recipe to soothe skin after sun exposure. Helps with sunburn, which this family of redheads has a lot of experience with!
Recipe:
1-2 Tbsp Organic Aloe Vera Gel
3-5 drops lavender essential oil
3 drops peppermint (optional- gives a cooling tingling sensation – do not use on children under 3)
Simply mix the ingredients in a small bowl (the aloe gel will turn cloudy) and apply to skin. You can refrigerate for 30 mins before using for an extra cooling sensation. Let it absorb for a couple of minutes until the tackiness is gone.
#15 freshen your breath
One of my favourite products from Young Living are Thieves mints. They contain a blend of Thieves and Peppermint oils and are sugar and chemical-free. They taste like cinnamon and peppermint, work really well as a breath freshener, and are safe for kids. (If you want to order from Young Living you can use my referral #19017226).
#16 replace dryer sheets
These wool dryer balls can be used to replace dryer sheets. Dryer sheets can surprisingly be one of the most toxic cleaning items in our homes (even the ones that claim to be "green"). We now put a few drops of Lavender, Purification or Thieves onto 3-6 wool dryer balls depending on the load size for chemical-free drying!
Just don't over-dry your items to prevent static cling. If you have lots of synthetic fabrics in your wash, you can add a safety pin to each dryer ball. Make sure the balls are dry before you put them back in their bag and just put them through the wash if they get dirty
#17 increase vitality
Vitality oils are dietary essential oils and are packaged with a little + sign on the label so you know they are safe to ingest.
Here are some ideas for using essential oils in the kitchen to add drops of vitality to your diet!
add a few drops of Lemon+, Lime+, or Orange+ to your water
put a drop of Oregano+ under your tongue if you're not feeling well or if you feel a sore throat starting
add Peppermint+ to your favourite brownies recipe
add Cinnamon+ to cookies or muffins
add a drop of lemon+ or cinnamon+ to your tea
The options for cooking, baking, flavouring etc.. are endless!
#18 support health & wellness
We roll this recipe on the bottoms of our feet every morning. It's a powerful blend that supports overall health and wellness!
Recipe:
10 drops Thieves essential oil
10 drops R.C. essential oil
10 drops Lemon essential oil
10 drops Tea Tree essential oil
10 drops Peppermint essential oil
10 drops Oregano essential oil
fractionated coconut oil
Place all ingredients in a 10ml glass roller bottle and top with fractionated coconut oil. Shake gently and apply to the bottom of your feet or your back every day.
#19 clean your home naturally
The Thieves Household Cleaner from Young Living is an all-purpose cleaner that is safe for your family – no nasty chemicals! And it works sooo well!! I use this cleaner to clean the kitchen, counters, bathrooms.. pretty much everything! There's no need for so many different types of chemical cleaners, it's easy and effective to clean your home naturally!
Recipe:
1 capful Thieves Household Cleaner concentrate
5 drops Purification essential oil
5 drops Citrus Fresh essential oil
distilled water
Add distilled water to a 16oz amber glass spray bottle. Then add the Thieves cleaner and essential oils (adding the water first prevents too much foaming). Shake gently to mix and start cleaning!!
#20 clean windows easily
This recipe is similar to the household cleaner, but with vinegar added for a streak-free clean! I add citrus oil to cut the vinegar smell!
Recipe:
1 capful Thieves Household Cleaner concentrate
Splash white vinegar
5 Drops Citrus Fresh Essential Oil
distilled water
Add distilled water to a 16oz amber glass spray bottle. Then add the Thieves cleaner, vinegar and essential oil (adding the water first prevents too much foaming). Shake gently to mix spray on glass surfaces. Wipe with a soft cloth to remove streaks.
#21 clean & tone your face
These little wipes are anti-aging & anti-acne and they make great makeup removers! I also love using them as a toner after cleansing!
Recipe:
1/2 tsp witch hazel
3tsp jojoba oil
1/4 tsp Vit E oil
Distilled water
1 tsp Castille soap
3 drops Frankincense essential oil
3 drops Tea Tree essential oil
3 drops Lavender essential oil
3 drops Geranium essential oil
Add witch hazel, jojoba oil, Vit E oil, castile soap, and essential oils to a 4oz amber jar. Top with distilled water to 2/3 full. Shake gently to mix. Then pack cotton rounds in tightly until all the liquid is absorbed. You should be able to fit a lot! Use as a makeup remover or cleansing wipe.
#22 get tangle free hair
This is an easy and chemical-free leave-in conditioner for after swimming or showering! Leaves your hair soft and tangle-free!
Recipe:
1/2 C Young Living Lavender Mint Conditioner
2 C Distilled Water
3 drops Geranium essential oil
3 drops Tea Tree essential oil
5 drops Sandalwood essential oil
Bring the distilled water to simmer then take off heat and add conditioner. Wait til cooled then add essential oils. Pour into 16oz spray bottle. Spritz on hair and comb though!
#23 fight coughs & colds
Rub this on your chest, back or on the soles of the feet to help with cough, colds, and congestion. (Don't use on little ones under 3 years old and see a doctor if you require medical attention.)
Recipe:
1/2 C Coconut oil
2 Tbsp Beeswax
15 drops Eucalyptus essential oil
15 drops Peppermint essential oil
5 drops Rosemary essential oil
5 drops Tea Tree essential oil
5 drops Lavender essential oil
Melt the oil and wax in a double boiler until liquid. Heat an extra 3-5 minutes to reduce grainy texture. Remove from heat and add oils when slightly cooled. Pour into 2 x 2oz amber jars or 1 x 4oz amber jar and let cool.
#24 do your makeup
Young Living has a full line of mineral makeup. Mineral makeup does not seep into your pores, it offers sun protection and it doesn't contain nasty fillers or chemicals. If you'd like to read more you can check out the benefits of mineral makeup. Most traditional cosmetics are full of nasty ingredients. You can check your current products in the Skin DeepⓇCosmetics Database.
#25 boost your immunity
This is a super blend to support your immune system! It's my go-to blend in the winter when it's a struggle to stay well!
Recipe:
10 drops Thieves essential oil
5 drops Lemon essential oil
5 drops Peppermint essential oil
3 drops Oregano essential oil
3 drops Frankincense essential oil
2 drops Tea Tree essential oil
1 drop Eucalyptus essential oil
fractionated coconut oil (stays liquid at room temperature)
Add the oils to a 10mL roller bottle and top with fractionated coconut oil.
---
I order my essential oils from Young Living. If you want to order from Young Living as well you can use my referral #19017226.
---