This summer we are still working on the exterior finishes on our home (we added an extension in 2017). But I wanted to be able to still use and enjoy our outdoor spaces! So we added some plants, comfy hanging chairs, patio lights and a cute patio umbrella and made the spaces enjoyable with a refresh of our summer outdoor decor.
Estimated reading time: 8 minutes
Note: This post may contain affiliate links that won't change your price but may share some commission.
Summer Front Porch Decor
The swing on our front porch is a favorite feature of this home. It's a shady, lazy place to sit and swing in the summer and a good spot to relax and chat. For summer, I added a little side table that doubles as a serving tray, a comfy blanket and lots of greenery. White blooms and rattan plant stands make the space feel warm and welcoming, but still serene.
I used a variety of woven baskets as cache pots this year to add warmth to the exterior. It's a nice contrast to the cool grey and white of the exterior finishes.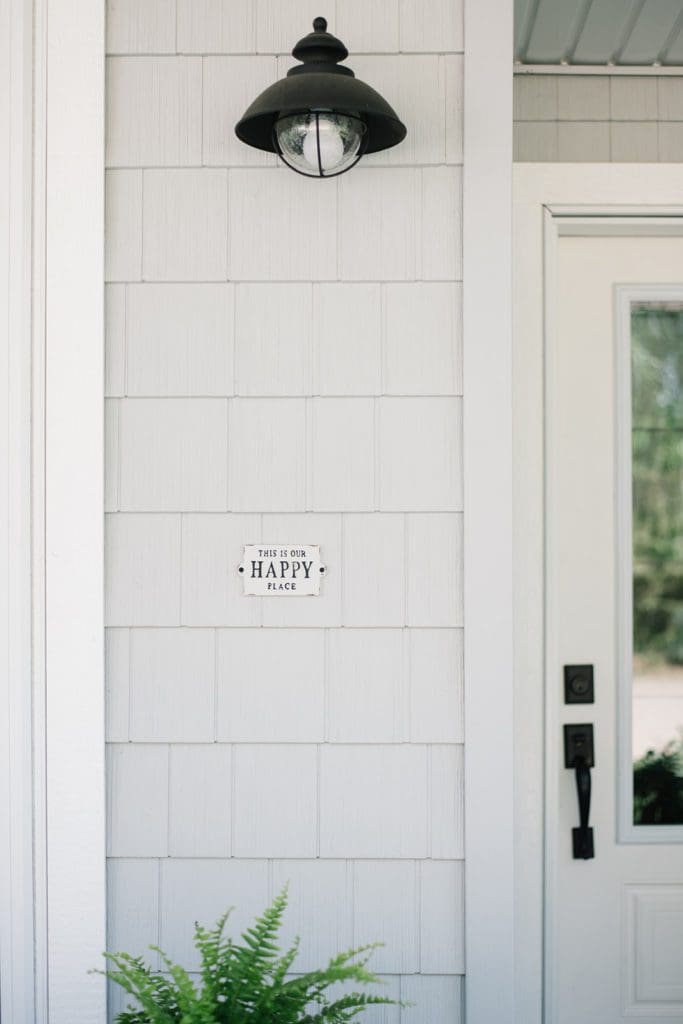 Little details can make a big difference. A small ceramic plaque by the front door reads "this is our happy place". It's a reminder of what's important within the walls of our home each time we enter.
From the porch, we have a view of our little pond and the apple trees we planted when our girls were born. In the late spring/ early summer they are covered with white and pink blossoms!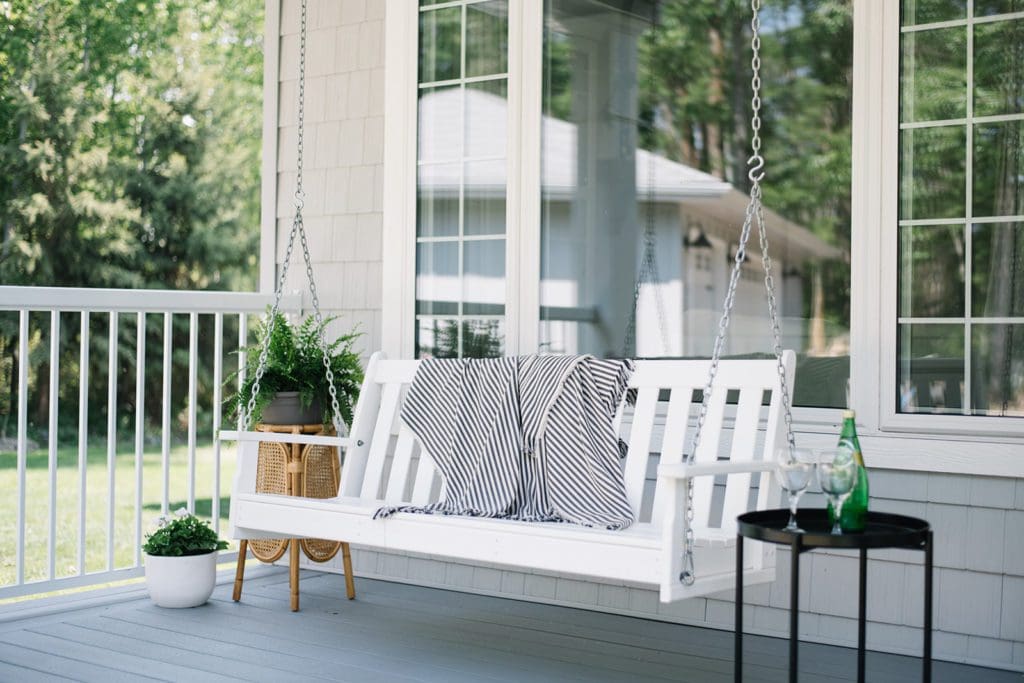 A Summery Back Deck
My Dad built a beautiful cedar pergola for us on the back deck. I'm thinking we need to write a tutorial on the pergola soon! These hanging chairs are fun and comfy! We also added some white cafe lights which make this a pretty spot to sit, even after dark. Eventually, we'd like to add a fire table, more seating, and a built-in bbq area out here as well.
Outside the master bedroom doors we set up a cute scalloped umbrella and a couple of lounge chairs. These were actually an old set of loungers from Ikea that we spruced up with a coat of white paint! The back of our house faces south so this spot is sunny all day.
Veggies and greens in happily growing in pots on the deck and we hung some planters with strawberries from the pergola!
We will be finishing the railings with glass panels and adding deck lights back here to finish the space this summer.
We chose a composite decking material in a pale grey and we couldn't be happier with it. It's easy to clean and maintenance-free. It was definitely more costly than wood decking, but the longevity of the product will pay for itself over time. No staining, painting or repairs!!
When we picked our exterior finishes I was worried that everything was going to be too grey. We have a grey roof, grey shingles, and grey decking. To mix it up we added white trim and black screen windows in the sunroom. The wood pergola and touches of rattan, terracotta and cedar in accent furniture, pots etc.. as well as lots of greenery keeps it from looking too boring!
Summer Screenroom Decor
When we built the new deck and sunroom, we had to remove the old garden that was right behind the house. We are hoping to put a large fenced garden and greenhouse out back, but not until next year. So this year I made myself a little potted garden in the sunroom! I planted herbs and flowers and I also threw a few faux plants in, because I'm likely to kill most of the live ones!!
We move the furniture around in the sunroom depending on the season and what we are using it for next. We've hosted birthday parties, dinners, photoshoots and all sorts of things in this space. I'm hoping to host a few workshops next! For summer, we set the space up as an airy dining area. It's beautiful out here on a summer evening with the candles lit and the twinkle lights on!
I hope you enjoyed this tour of our summer outdoor decor. We still have so much more to do. I'm hoping next year's tour will include a chicken coop, garden, greenhouse, pond, firepit and more!! A girl can dream right?!
---
MORE GOOD READS: