Summer is finally right around the corner! Bring on the summer garden parties, swimming, s'mores around the campfire, and all the other joys of the season! With all the outdoor fun to be had, I don't want to spend a lot of time decorating or maintaining our outdoor spaces! By keeping things simple and using classic design elements, you can make your outdoor home decor beautiful without spending a ton of time and money maintaining it all! Here are 6 simple summer outdoor decor ideas to refresh your patio and porch spaces with minimal effort this season!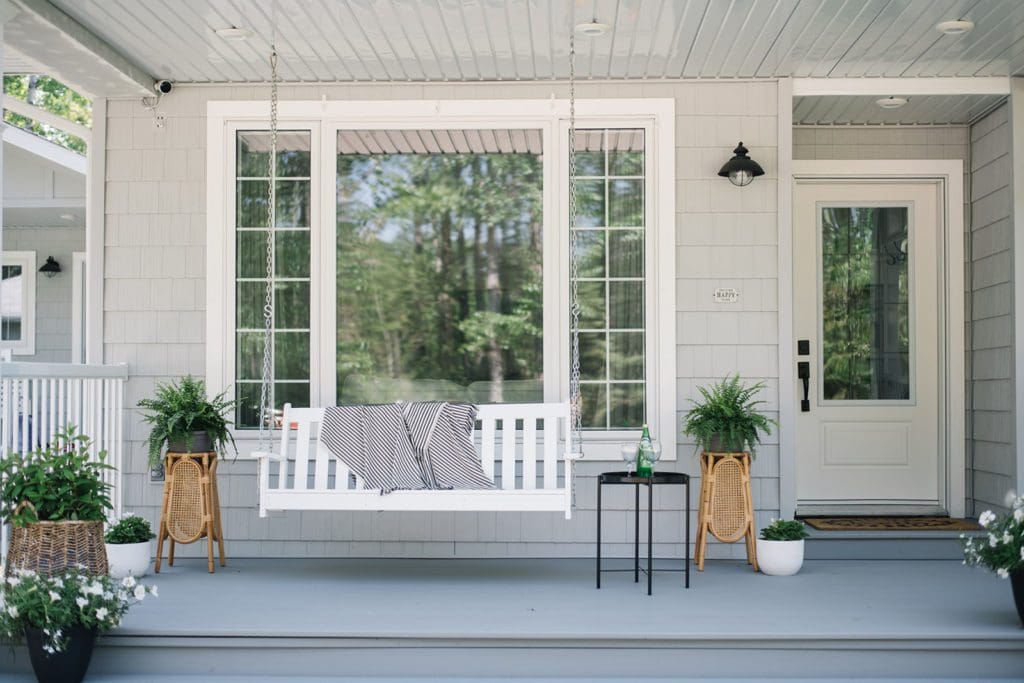 Estimated reading time: 8 minutes
Note: This post may contain affiliate links that won't change your price but may share some commission.
#1 Make Simple Planters Look Pretty
Use pretty baskets as cache pots to add some natural warmth to your outdoor spaces. If you aren't a big gardener or you just want an easy solution, buy pre-made planters from a local garden or grocery store.
HOT TIP: My go-to for larger planters is Costco! You can usually find some plain white flowers in larger pots, which are my personal favourites!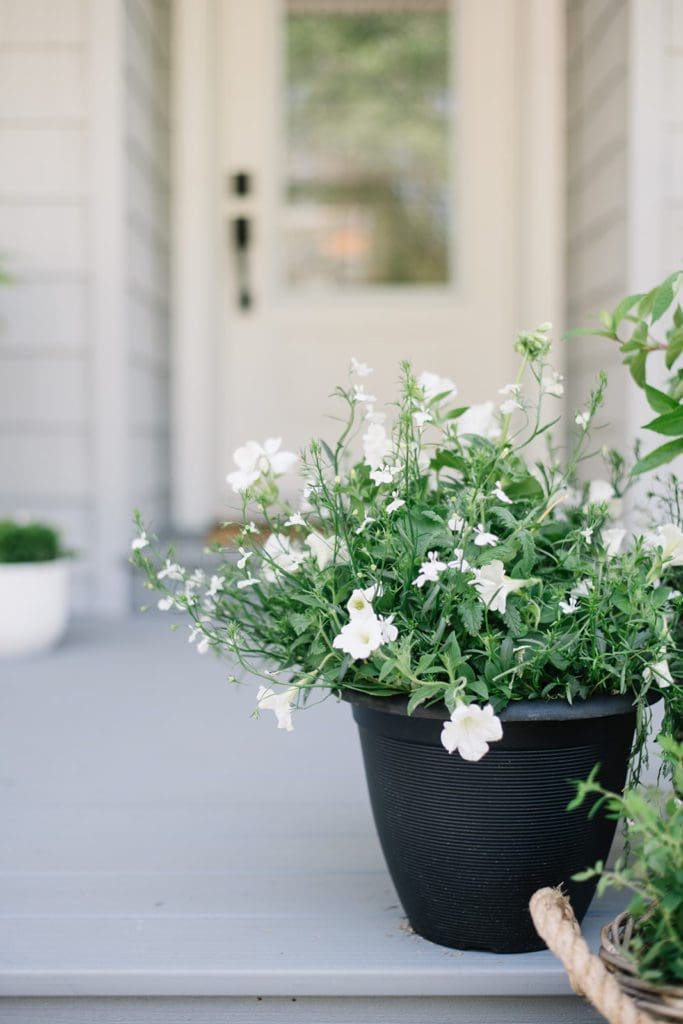 Pop your planters in a basket and voilà! Pretty porch planters with practically zero effort.
TIP: Keep your baskets dry – Make sure that your planter does not have drainage holes in the bottom to keep the wicker baskets from getting wet or dirty. And use the baskets in a covered or sheltered area where they are protected from the rain.
#2 Add Rattan for Texture
I love adding a little bit of contrast to any space. By using an eye-catching element like rattan, you can add interest without adding clutter.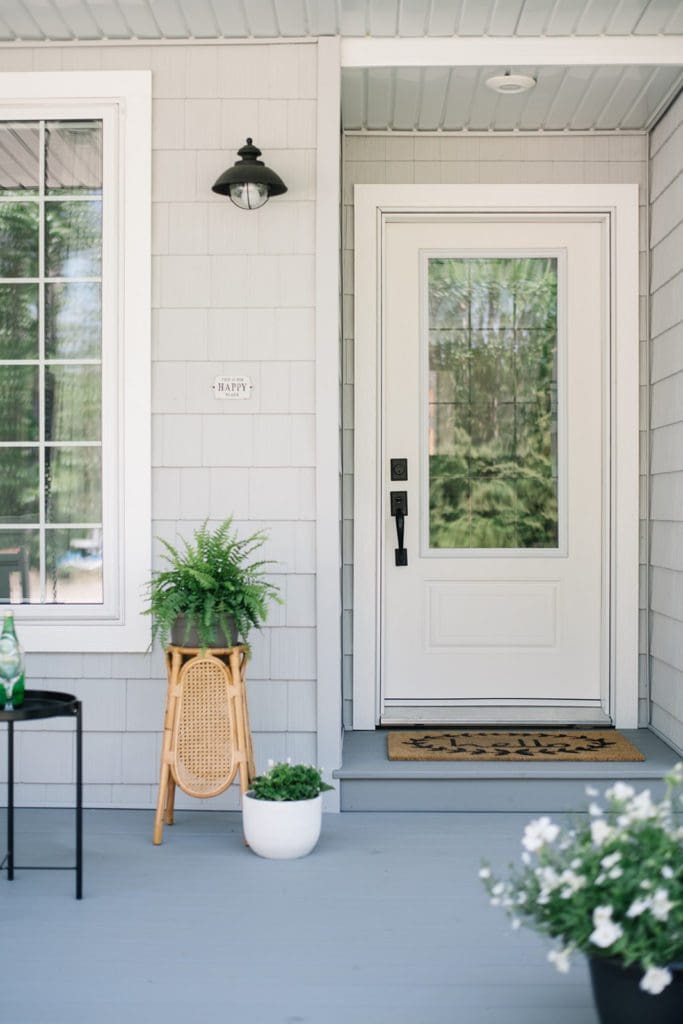 These rattan plant stands from Homesense add beautiful contrast and warmth to the soft grey colors of the deck and shingles.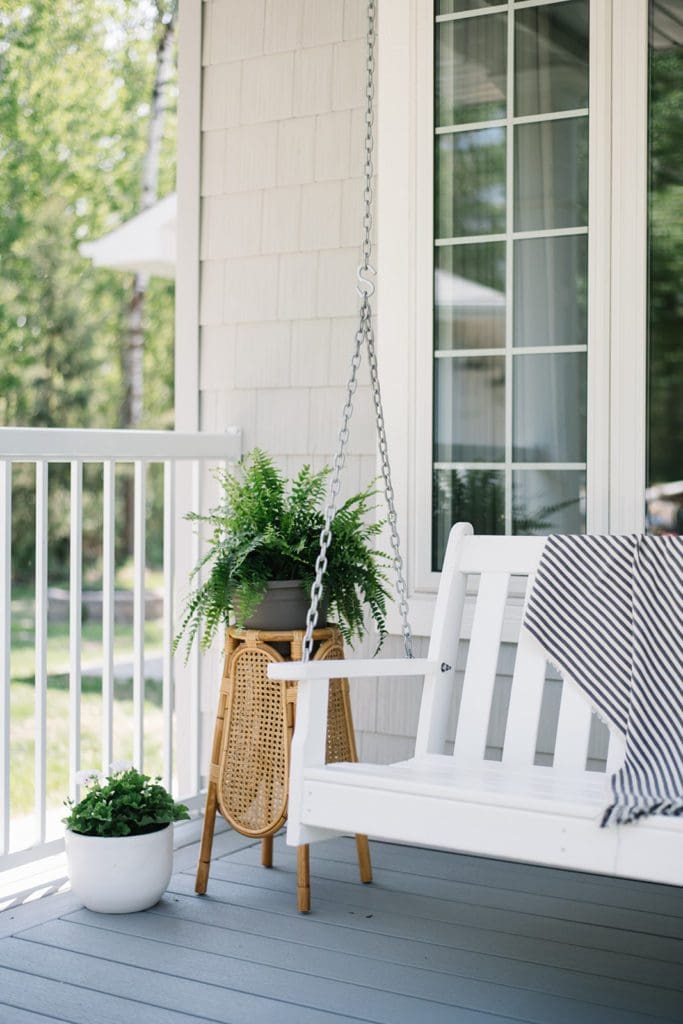 I chose to use ferns with these plants stands because they are easy to maintain! They just require a little bit of water so that they are kept damp, but not soggy. And they thrive in a slightly shaded area like a porch or covered deck! So no worrying about if they are getting enough sun.
TIP: If you really wanted to make this a super low maintenance option, you could always use faux ferns!! I mix faux and real plants indoors all the time, so why not outside as well! I'm all about making summer easy!!
#3 Use Materials that Age Naturally
Terracotta is a classic element that adds beautiful earthiness to any space. The warm rusty tone of the clay looks beautiful against natural grey and white tones found in the garden like weathered wood or rocks. I love how it also picks up the warmth of the cedar posts of our pergola on the back deck.
Terracotta will age beautifully with minimal care! I don't plant directly in my large terracotta planters… I use them as cache pots. And I also store them in a covered area over our very long and cold winters. This prevents mold from growing as also cracks and breaks! But in the summer they sit out in the sun and take on a beautiful patina!
#4 Garden Like a Pro with Topiaries
Topiaries are a classic garden design element that add a slightly more formal air to an outdoor space. I love how they look in pretty pots perched by an entryway or on a window sill.
I always found the idea of creating topiaries to be intimidating until I realized I could just buy them at my local garden store already shaped! No special gardening skills required. And there are beautiful faux options if you are worried about keeping them alive!
This little lavender topiary was only a few dollars and it looks so pretty sitting outside our screen door! In our climate, it will have to be brought inside in the winter, but all summer it requires little maintenance other than watering!
This tree topiary is living happily in our outdoor screen room and fills up the corner beautifully!
#5 Try Container Gardening
As much as I love a big garden, they are a ton of work! We are planning on getting away to the lake a bit this summer and didn't want the full-time commitment of a large garden. But we do still want to grow a few fresh herbs and veggies!
Container gardening is a great solution for urban or apartment living or if, like us, you don't have time for a large garden. We have plans for a large fenced vegetable and cutting garden as well as a greenhouse at the back of our property eventually. But for now, we are happily growing fresh herbs, tomatoes, and peppers in pots on the deck!
TIP: Save yourself the trouble of starting plants from seed if you are looking to make things easy this summer! I buy large tomato and pepper plants that are already flowering and herbs that are a nice size and ready to be cut!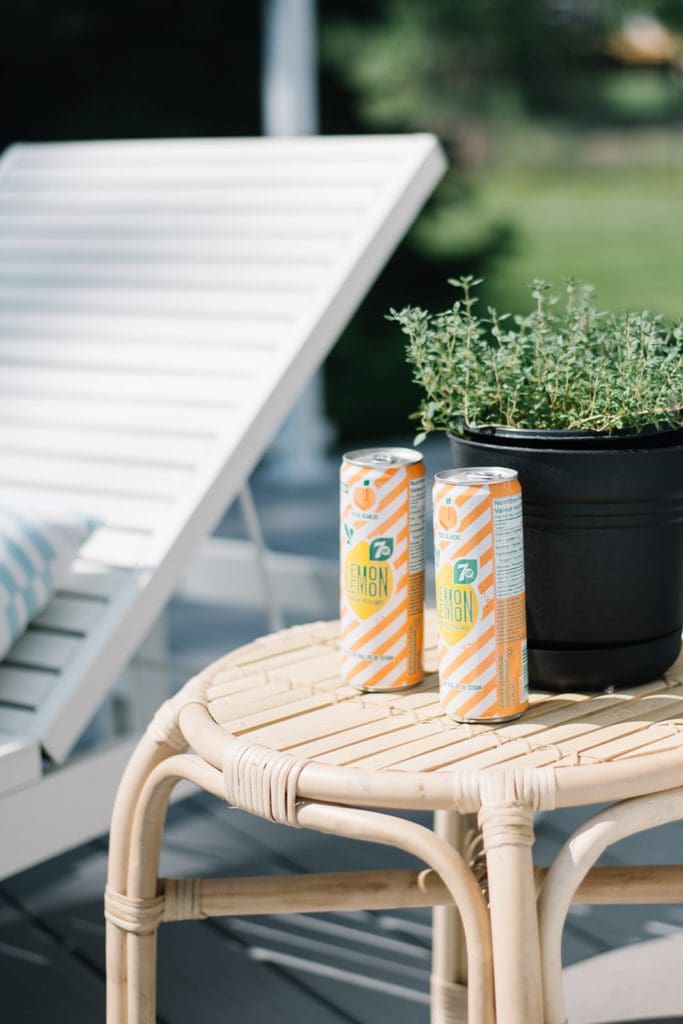 It's ok to do things the easy way in certain seasons of life! I'm giving myself permission to cut corners this year. And I give you permission too, if you feel you need it lol!!
And side note: I actually found that it costs me less to just buy the plants as opposed to starting from seed. When you factor in seed mix, lighting, containers, the seeds themselves etc… it can actually start adding up! And that doesn't even include the value of the time it takes you to look after seedlings!
#6 Use Hanging Baskets Creatively
Hanging baskets are a great way to add greenery and blooms at eye height to add vertical interest to your outdoor spaces. Ferns, trailing begonia or fuchsia work well if the area is shaded.
My favourite new hack is to plant strawberries in our sunny hanging baskets on the back deck! They look pretty with their white blossoms and trailing greens. And they seem to get eaten by pests less than when they are sitting on the ground! They are also incredibly hardy and no laborious deadheading is required.
This year we are going to try hanging tomatoes as well! As much as I love pretty baskets of petunias, it's been a relief to pare down our outdoor baskets to fruit and veggie producing plants! They do double duty: They look pretty, but are also functional and our gardening workload has been reduced!
I hope you enjoyed these 6 summer outdoor decor ideas to add style to your outdoor living areas this summer with minimal effort! To see more summer outdoor decor ideas check out the SUMMER HOME SHOP!
---
MORE GOOD READS: