We bought our small home in 2008 when we were newly married, with no kids. Fast forward a few years and we had 2 kids and 2 dogs and we felt that we were outgrowing our small space. It was time to decide…should we sell and move to a bigger home or renovate our existing space? Here are all the factors we considered, our decision, and some simple calculators to help you decide as well!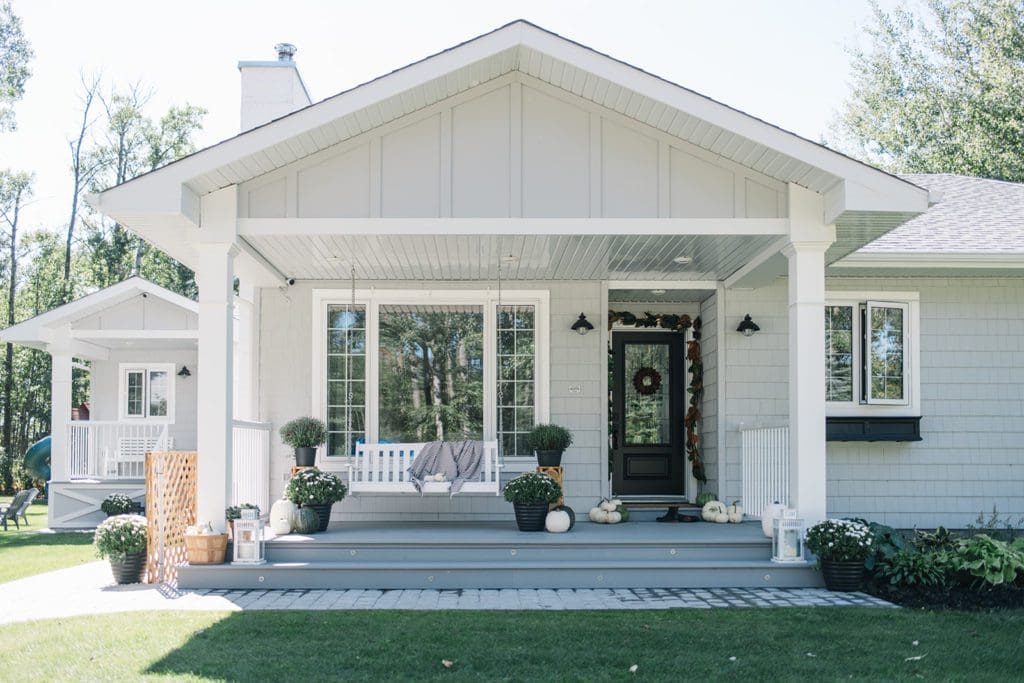 Estimated reading time: 7 minutes
Note: This post may contain affiliate links that won't change your price but may share some commission.
# 1 The Market
It's important to check the current conditions of your local housing market. Getting an appraisal on your property from a real estate agent (or even better, from a few) is usually free and can give you an idea of what your property is worth. If the market is depressed it's a great time to buy, but don't forget that your current home will be worth less as well. Check what it would really cost to buy the square footage, location etc… that you would want if you moved.
#2 Location
This was a big one for us! We loved the location of our current home and there's no way we could afford to buy back into the same area in a larger house. Our little bungalow is on 4 treed and fenced acres with a pond. And it's only 5 minutes from town.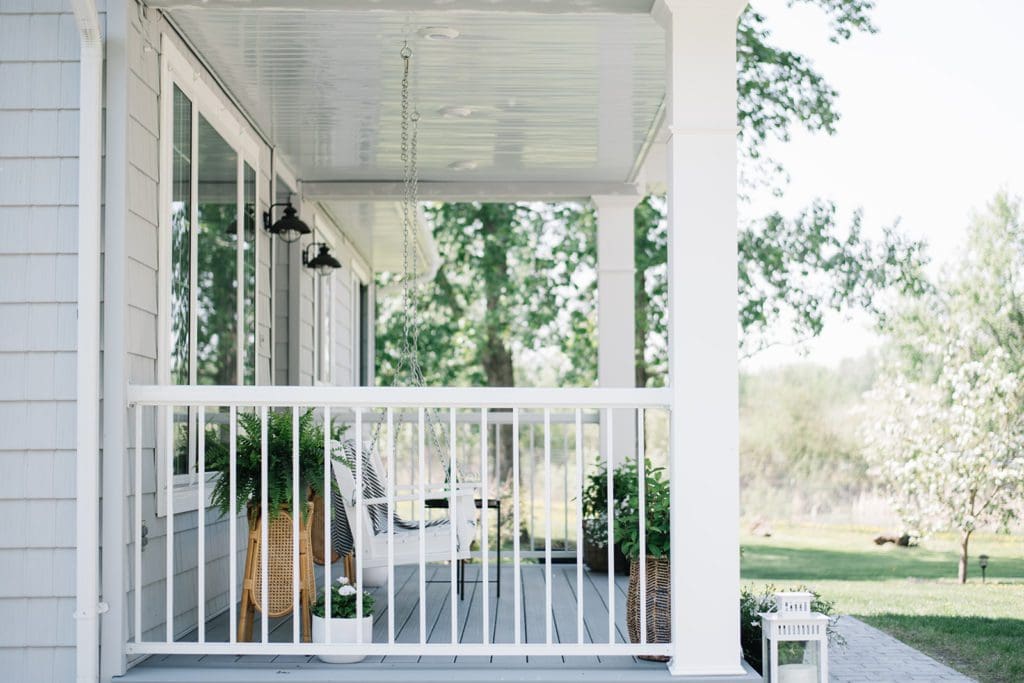 You need to decide if your location is a pro or a con on your list. Would you be able to move to a better location if you moved? If moving would cut your commute to work in half that's a definite plus! But, if you are like us and your location is already really great, that's a strong reason to stay where you are and improve your existing home.
#3 The Mortgage
There are so many costs associated with moving! One of the largest costs is usually an increase in mortgage payments. Consider what your new mortgage costs would be using the calculator below. If you are upsizing your mortgage don't forget that you are also upsizing the interest you are paying over time and therefore the actual price of the property.
---
If your current house isn't meeting your needs, you may feel that you require a larger space. But, this isn't always true. Sometimes your existing space just needs to be made more functional and enjoyable. Check out 12 Reasons to Embrace Small Space Living and learn to love your smaller space!
#4 Moving Costs
There are many other costs besides the mortgage associated with moving to a new home. Don't forget to factor in the following:
Moving costs
Lawyers fees
Realtor fees
Property tax
Land transfer tax
House inspection fees
Cleaning costs
Utility connection fees
Downpayment
Changes in home insurance fees
New furnishings
Bank fees to break your current mortgage
Bridge financing or carrying costs required
When we estimated the cost of moving for us it came out to almost $50,000!! This was a deciding factor for us. We thought that it was smarter to spend that money on improving our existing home and building sweat equity! Instead of spending $50K that we would never see again, we invested into our property and hope to see returns on that money one day when we sell.
#5 Cost of Renovation
So this brings us to the cost of renovation. Here are some questions to consider:
What are the costs of labour and materials in your area?
Are you able or willing to do any of the work yourself?
Can you renovate within the existing footprint or would you need to add on to the house?
How long do you think it would take to complete the project?
Would you be able to live at home while the work was ongoing?
Does the renovation require behind the walls work such as electrical and plumbing or is it purely cosmetic?
Would you require an architect?
What kind of permits would you require?
Are there any building restrictions in your area?
The best way to figure our your costs is to make a detailed plan and budget. There isn't really a short-cut for this step. You need to be realistic and informed about what you are getting yourself into!
You should be able to find information online about the general cost of renovation in your area. Use the calculator below to estimate cost and see if it lines up with the quotes you have been given.
---
---
Renovation costs vary wildly depending on location, size, scope, finishing materials etc… There is no magic site online that can give you an answer about how much it will cost (believe me I searched when I was first considering a major reno lol!!) You have to do your own detailed research to get an accurate estimate of how much YOUR project will cost.
DIY vs. Hiring a Contractor
If you plan on being on your own general contractor and/or doing some of the work yourself, break the process down step by step. List all construction and finishing costs and get detailed quotes from subcontractors for the jobs you are not able to complete yourself.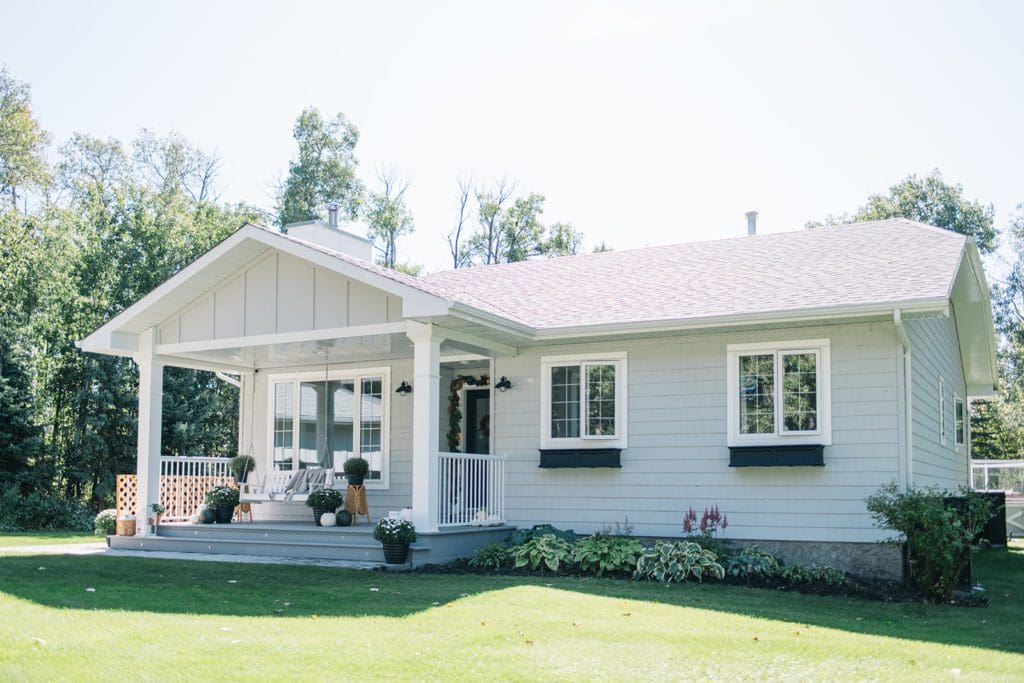 If you will be relying on a general contractor/company to complete your renovation from start to finish, do your research! Get several quotes and make sure contact their references. Talk to previous customers to make sure they are reputable.
Our Decision
For us, the biggest issue was that there was no dedicated entry space in our home. The front door opened directly into the living room and the side door directly into the kitchen! There wasn't enough square footage in the home to create an entrance without building an addition on the house. So we decided that we needed to add on to the house to make it functional enough for us to stay!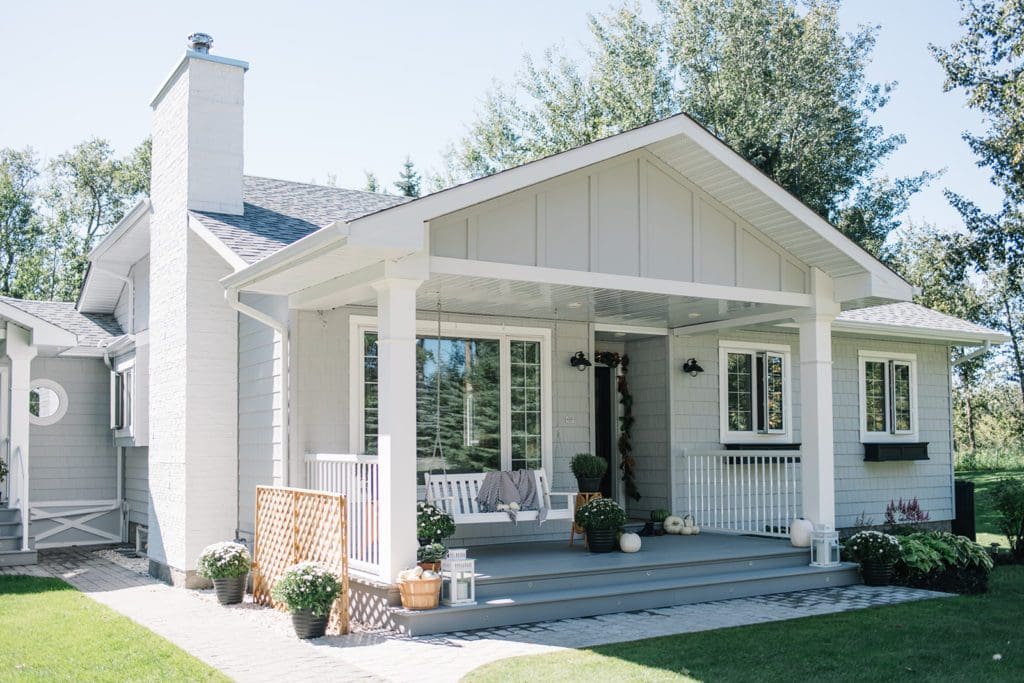 For the "before" pictures and to see our renovation process check out:
Small House Renovation – A Modern Farmhouse Makeover
A Modern Farmhouse Style Exterior Makeover
Final Thoughts
In hindsight, we feel that renovating our existing home was definitely the right choice for us. We didn't need a lot of extra square footage. We only added about 200 sq ft. of indoor space onto the house, but we maximized every square inch!
Staying in our smaller home was the right choice for us, but everyone's circumstances are unique! We found a good ol' fashioned pros and cons list to be the best way to make a final decision.
Take the factors listed above into consideration as well as the effects on your family, your job and your financial situation! My best advice is to run all the numbers and base your choice on cold hard facts! It can be easy to gloss over how hard moving or renovating can be, so be realistic about how either choice will affect you!
I'd love to know if you are currently trying to decide whether to renovate or sell your home, which way are you leaning? Drop me a comment below!
---
MORE GOOD READS: