It feels like just yesterday we picked up our 2 day old baby chicks. It was our first time raising chicks and we were so nervous! Would we be able to keep them alive?! Did we set up their brooder properly? Would they be warm enough? Were we feeding them the right food? It felt like being a new parent all over again. I can hardly believe they are now almost 11 weeks old and they are straight-up teenagers. They are moody, a little bit rebellious and so funny. Here are 5 tips for 10 week old chicks to get you through the chicken teens!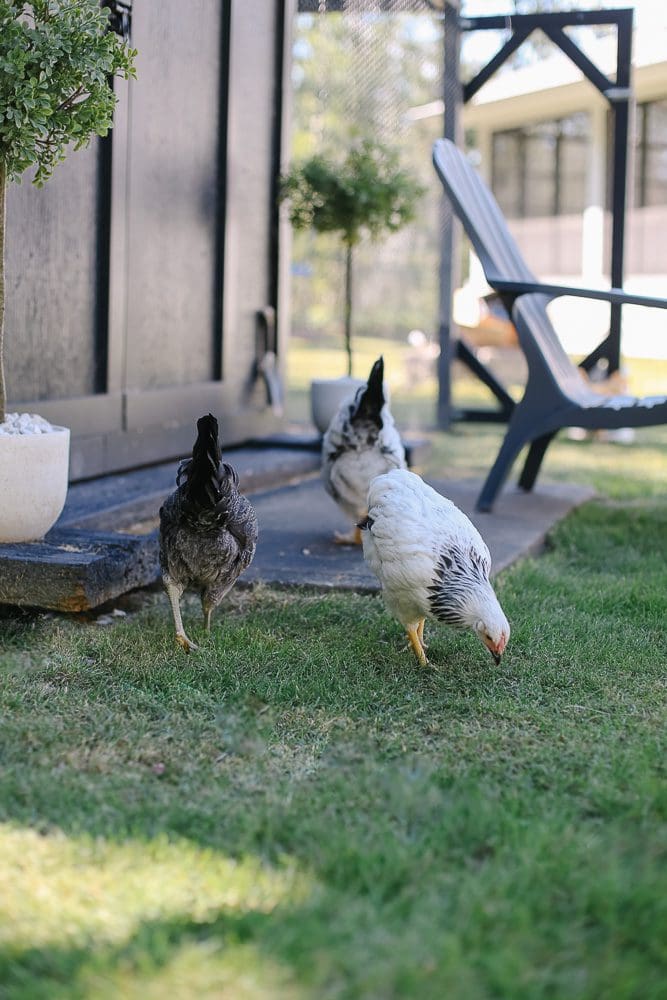 Estimated reading time: 10 minutes
Note: This post may contain affiliate links that won't change your price but may share some commission.
How to Transition your Chicks to The Coop
So the first thing you might notice if you've been following our chicken journey is that the girls are now outside in the coop! In the last update I published 3 Tips for 4 Week Old Chicks they were still in their brooder and living in our mudroom. We moved them outside at about 6 weeks old. This may seem a little early if you research when to move chicks outside, but we moved ours for a few reasons:
How do you know when to transition your chicks to the outdoor coop?
+They were getting quite large and starting to attempt to fly out of the brooder at every opportunity.
+Our beagle Ollie was simultaneously trying to get IN to the brooder at every opportunity!!
+The temperature outside was warm as it was the beginning of July, so we weren't worried about them getting cold.
+They were fully feathered so we felt they would be able to handle the temperature dip at night.
+They were moving out to an empty coop with no large adult chickens to pick on them! We didn't have to worry about integrating them into an existing flock.
+We were going away on vacation for a while and it was much easier for another person to take care of them once they were established outside.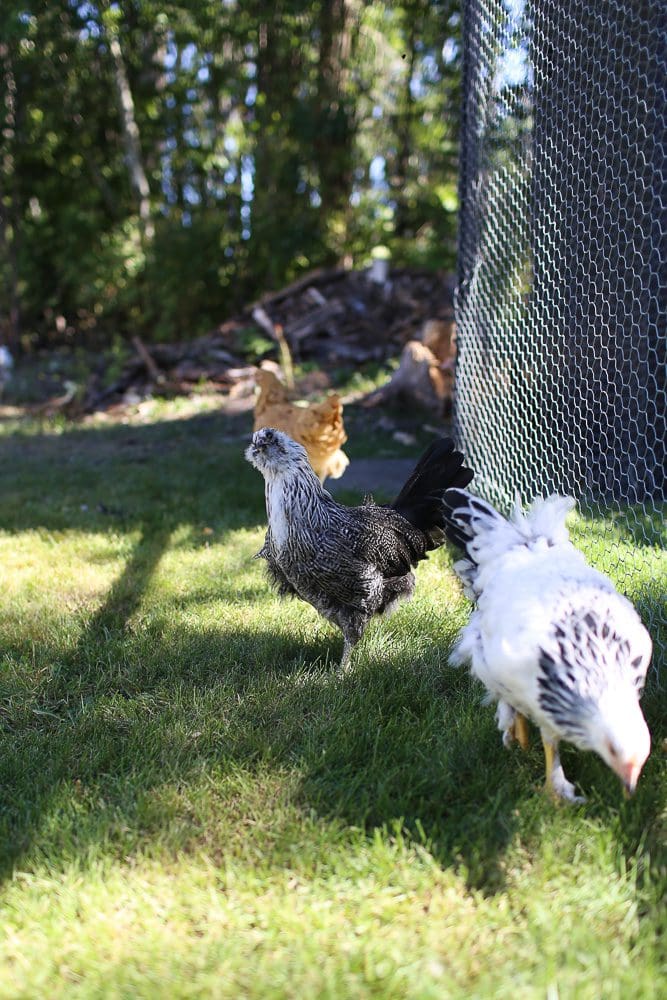 Do 10 week old chicks know how to roost?
How long does it take for chickens to adjust to being outside?
It was quite funny the day we moved our chickens out to the coop. We carried them out one by one and deposited them in the outdoor run and they just sort of froze and stood there. Once they were all outside they started to move around a bit and explore. They found their food and water and within a half-hour, they were happily pecking and scratching and chasing bugs. It was a whole new world!
Will chickens automatically return to their coop at night?
We were interested to see whether our chickens would know to go into the coop at night when they first moved outside. The first night they were a little confused and were cheeping as it started to get dark. We placed them on the ramp to the coop and they found their way inside. After a bit of exploration and a lot of chatter, they settled down for the night in the bedding on the floor of the coop. The next night they found their own way into the coop all by themselves!
Will chickens automatically roost in their coop?
Our chickens now automatically go to the highest roosting spot in the coop and settle in for the night. We didn't have to place them on the roost, they just figured it out themselves. If you have some slow learners you can just place them on the roost for a few nights and they seem to catch on pretty quickly. We gave ours a week or two to figure it out, but beyond that, you want to give them a little nudge to roost. You don't want them sleeping on the floor or in their nesting boxes. Roosting keeps them clean and dry.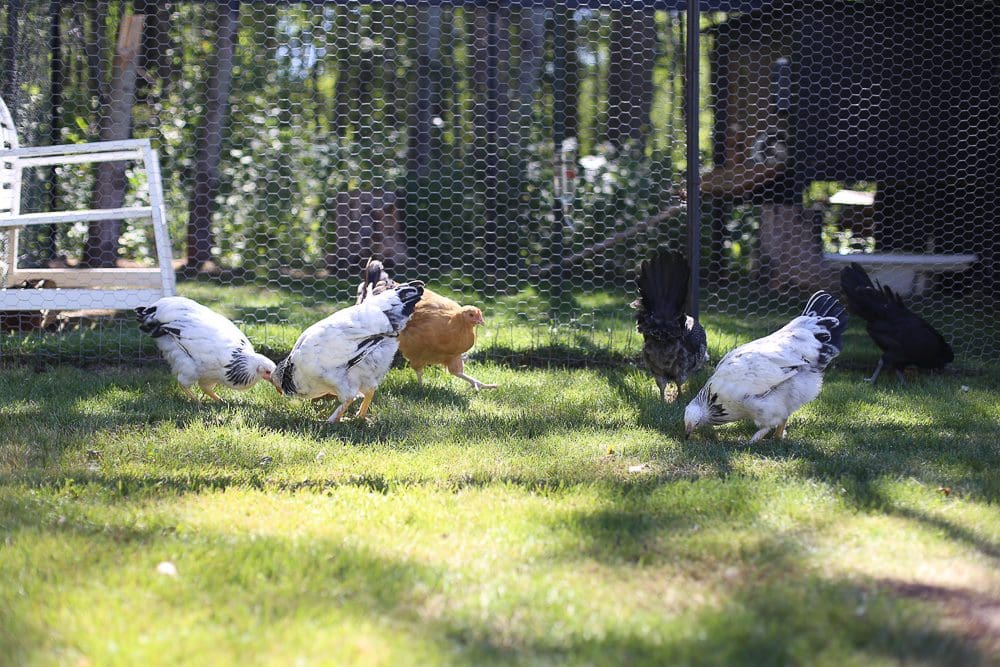 What to Feed 10 Week Old Chicks
We have been feeding our chicks organic, unmedicated feed from a local farm. If you are in Alberta as well check out Farmstead Life. We have been so happy with the quality of their feed. We fed them the starter feed until they were 4 weeks old and then switched to the pullet grower feed, which they will stay on until about 18 weeks. It's an all-in-one feed (and our chickens are free-range), so we don't have to add grit or any supplements which is convenient.
Do you keep the chicken feeder and waterer inside or outside the coop?
During the warmer months, we have the feed and water in the outside run, but in the winter we will move it inside for the coldest days. We always keep the feeder full and the chickens get unlimited access to food and water during the day. At night when they roost they don't usually eat or drink so it's fine for it to be outside
What do chickens eat besides their feed?
The chickens have been happily catching whatever they can find in the garden including flies, small frogs, and grasshoppers. They also get some food scraps like watermelon, pumpkin, and apple. We personally do not feed our chickens any meat or things like rhubarb, tomato, or avocado, which can be poisonous. We also obviously don't feed them chocolate, junk food, or anything rotten or moldy!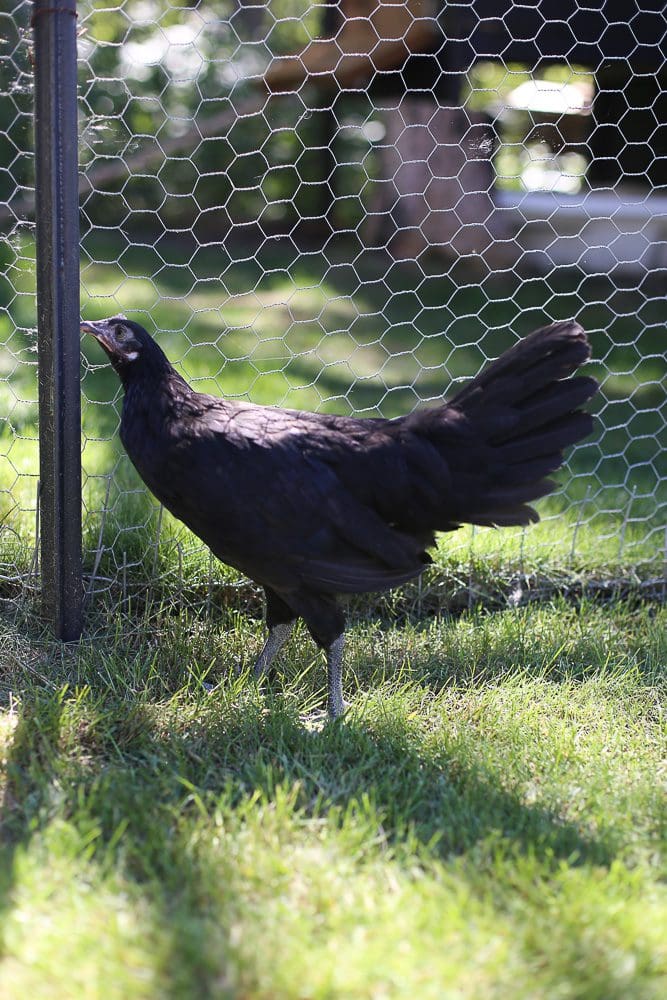 How to Keep 10 Week Old Chicks Entertained
Letting our chickens have free-roaming time out of their coop has been the best way we've found to keep them entertained.
Should you let your chickens roam?
Our chickens love foraging for bugs in the garden, scratching in the woodpile, and running across the grass. You need to make sure there aren't predators in the area, bylaw restrictions if you are in a suburban area, or anything that they could get into that might hurt them, but if it's safe or possible roaming free is the best and most natural way for them to live!
Do chickens play with toys?
Chickens are curious! You can add swings, wheels, roosting posts, and other play items in their coops to keep them busy!
Should you clip your chickens' wings?
We did not have our chickens' wings clipped. Our chickens roam the property and we want them to be able to escape if a predator should come along and enjoy their freedom, including the ability to flap up to a low branch or fly a short way across the yard if they are racing or chasing bugs.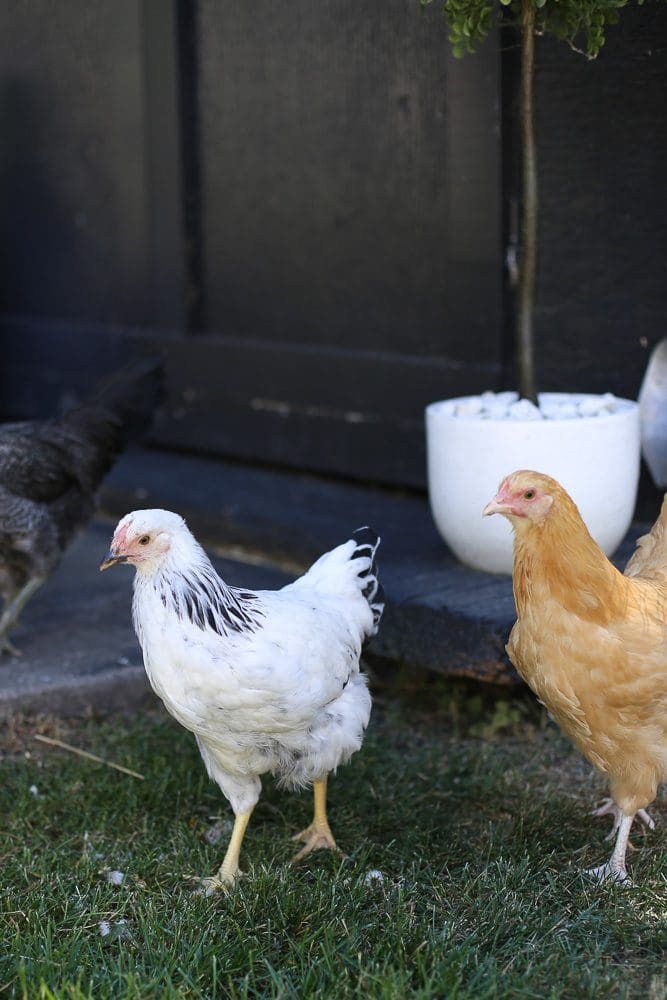 What our 10 Week Old Chicks Look Like Now
It's amazing how much the chicks have grown in 10 short weeks! We have 4 different breeds: 2 Buff Orpingtons, 2 Easter Eggers, 3 Brahmas and 1 Black Maran. They were so tiny and floofy when they first arrived, but now they are really starting to look like chickens. A few of them are starting to grow noticeable combs and all their baby fluff is gone. In another 6-8 weeks they should start laying (or crowing!) and we will have our first eggs, yay!!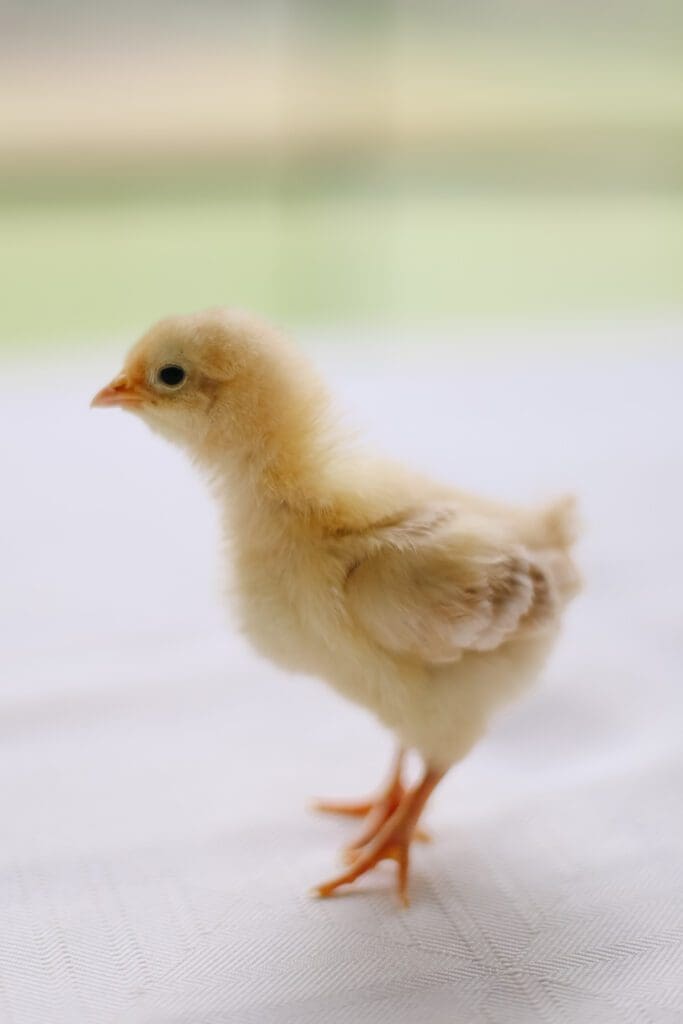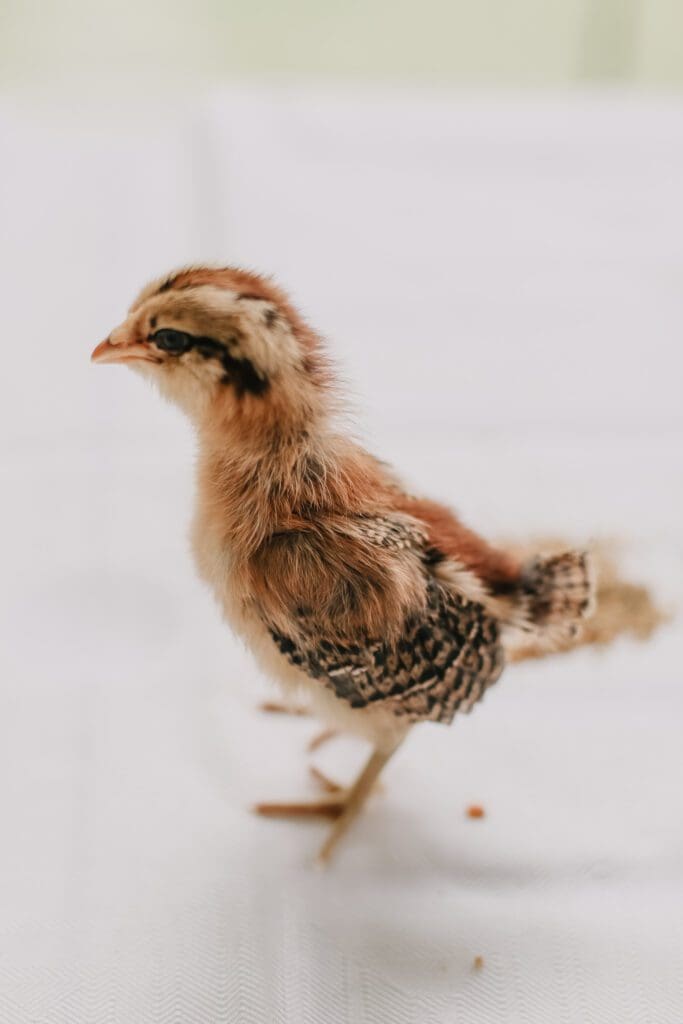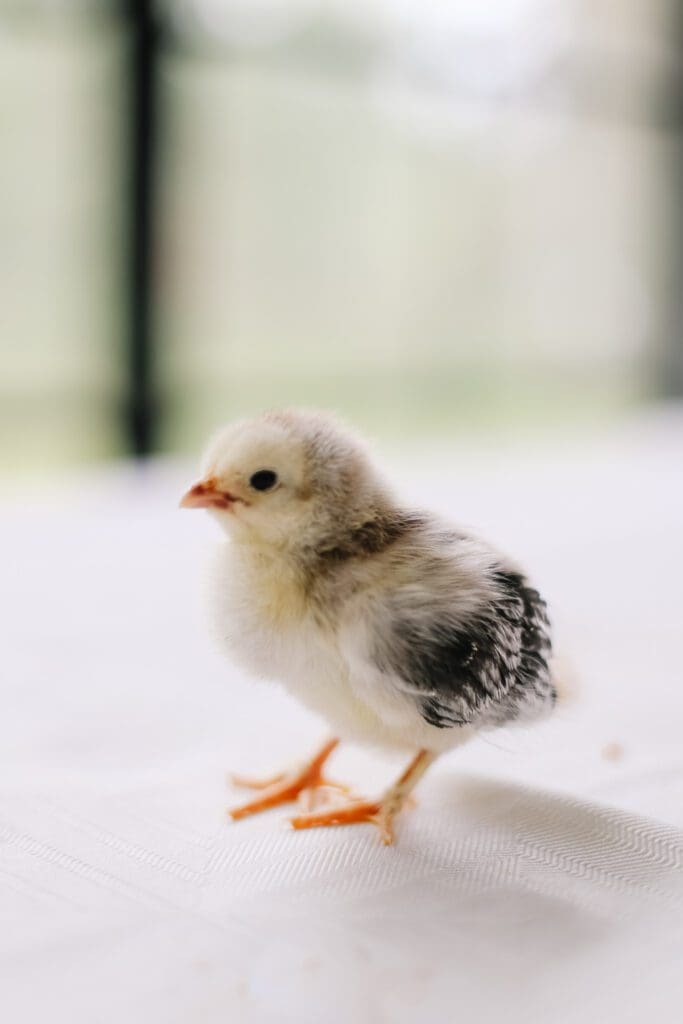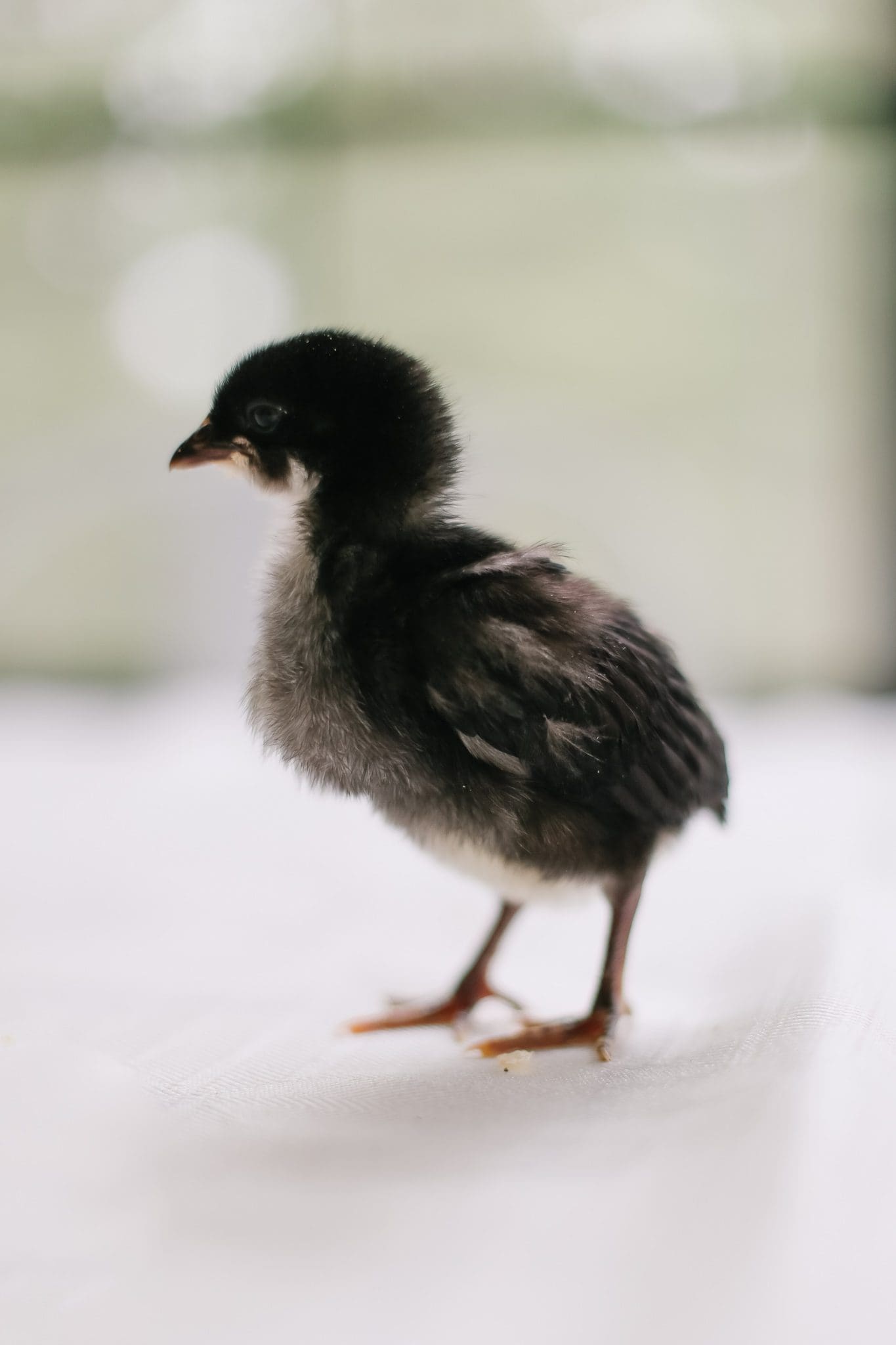 Do 10 week old chicks make good pets?
We get so much enjoyment out of our chickens. They are highly entertaining as they flap wildly around chasing bugs in the grass, testing their wings, and running after each other. They aren't the smartest or the least stinky lol, but you grow quite attached to them and I would definitely say we consider them pets.
Are 10 week old chicks friendly?
Our chicks are very friendly and they are bonded as a group. However, there is a definite pecking order. We have a couple of very dominant girls (we are hoping that they are not roosters, but it's too early to tell) who tend to lead the way and peck at the others to keep them in line.
They are all very curious and will come right up and peck our shoes and make sure we don't have any delicious treats up our sleeves. And if you pick them up they will stay calm and still and let you pet them.
Can you pick up 10 week old chicks?
We pick up our 10 week old chicks all the time, although they are getting harder to catch! Just gently wrap your hands around their bodies and pin their wings so that they don't hurt themselves or you by flapping.
Note: Chickens can carry Salmonella so if you pick them up make sure to wash your hands.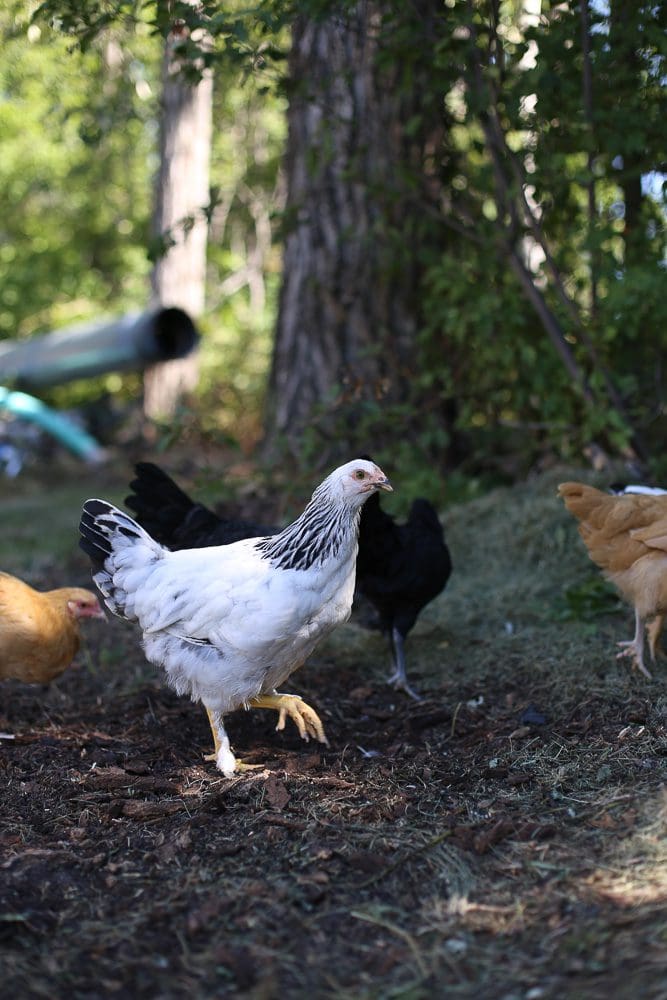 I hope you've enjoyed this peek at our 10 week old chicks. I'll have another update on these silly chickens at about 16 weeks or whenever they start to lay as well as an overview of our coop setup and how we are preparing the coop for winter! More fun with chickens to come lol!
You may also enjoy: