One of the most common questions I hear is "How do I style pillows on my couch?" It can seem a bit daunting when you are trying to choose from what seems like infinite pillow patterns, insert options, fabrics and sizes. So let's dive into some simple formulas for styling throw pillows and where to find beautiful pillow options for every budget. There are so many ways you can mix and match throw pillows, but these are my go-to design tips that keep it simple!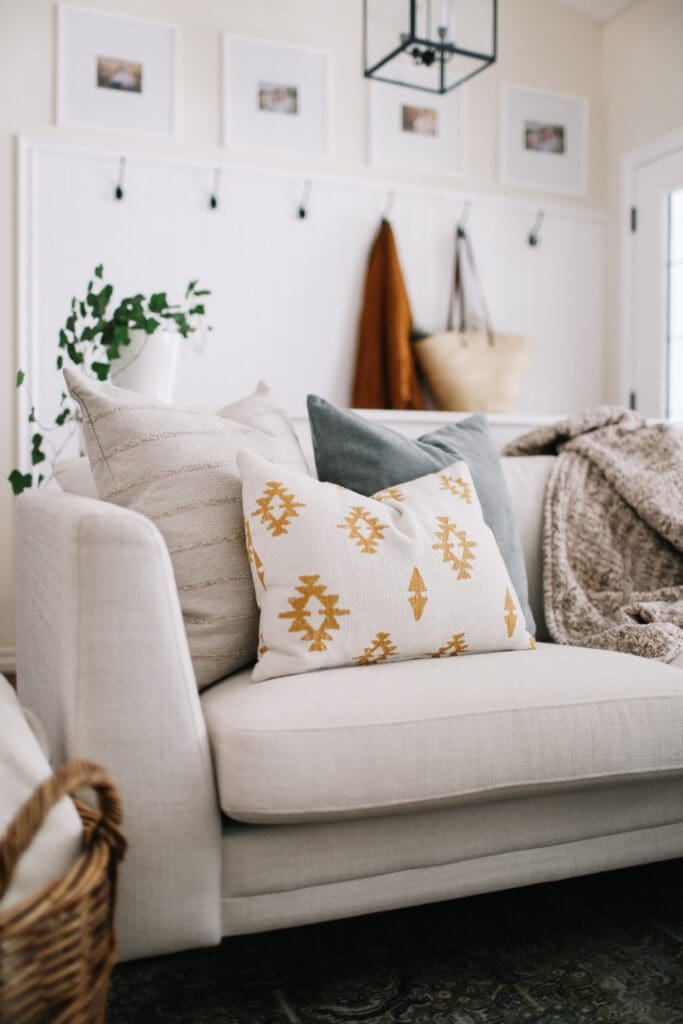 Estimated reading time: 14 minutes
Note: This post may contain affiliate links that won't change your price but may share some commission.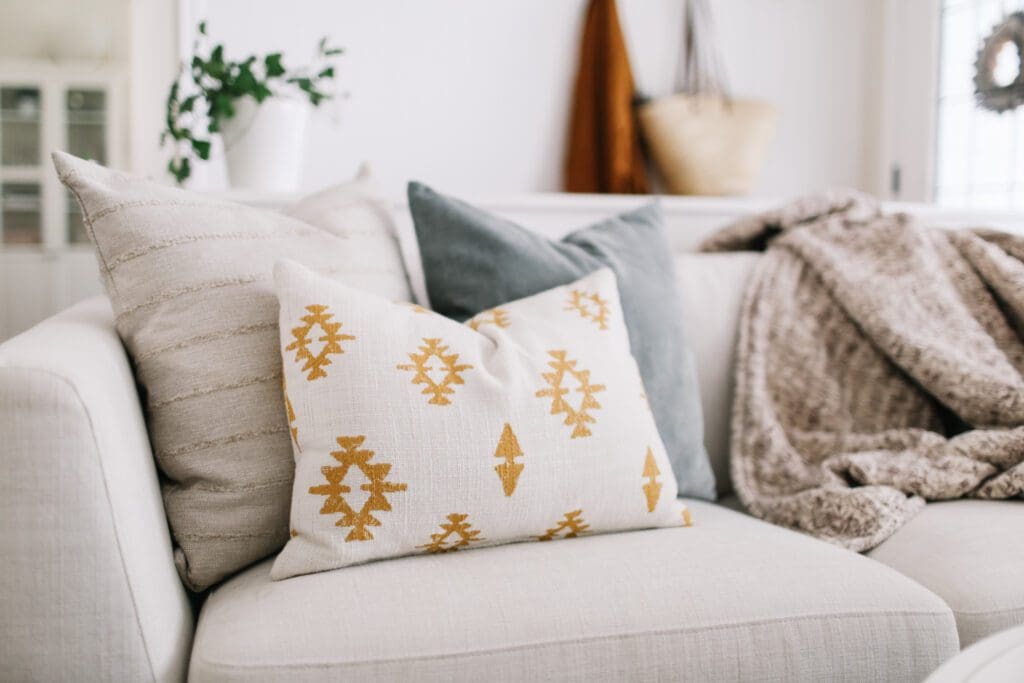 Throw Pillow Shapes
There are lots of different shapes of pillows available, but I tend to stick with classic square pillows and lumbar pillows.
Square pillows are just what the name implies…square lol!
Lumbar pillows are rectangular. They are called lumbar pillows as they offer support in the lumbar area (lower back).
There are of course also round and custom-shaped pillows, which can be fun if you love boho style or you are decorating a kid's room. But for traditional spaces, I stick to square and lumbar!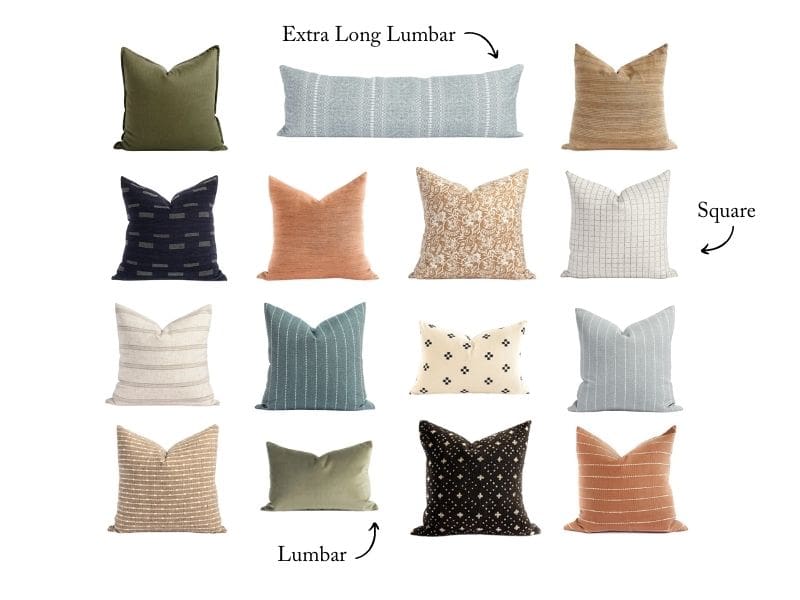 Throw Pillow Sizes
Square pillows are usually 24″, 22″, 20″, 18″ or 16″ square. My favourite 2 sizes to use are 22″ and 20″. I find that anything less than a 20″ pillow starts to look a bit underwhelming, especially on a large sofa.
Some common lumbar pillow sizes are 12″x20″, 12″x24″, 14″x20″, 15″x32″ and extra-long 16″x42″. My favourite size to use on sofas is a smaller size in combination with square pillows. The extra-long lumbar pillows are a favourite on loveseats or settees.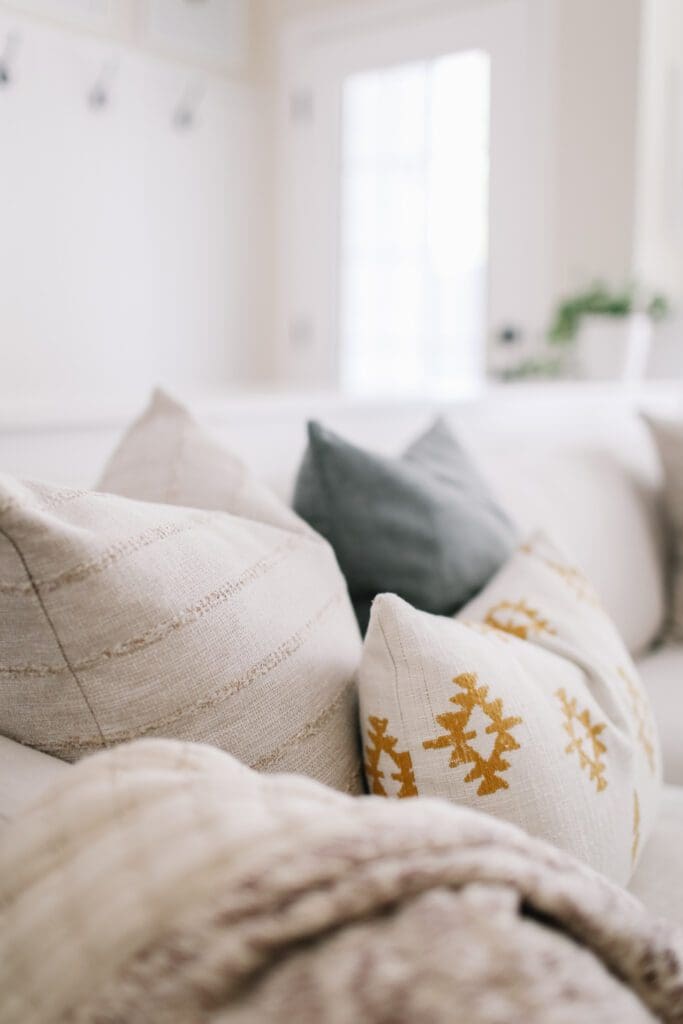 Choosing Throw Pillow Inserts
Do you really need to buy expensive pillow inserts?
When you are shopping for pillows the inserts are KEY! If you buy quality inserts your pillows will look high-end even if the covers are a budget find. If you put cheap inserts in even the most expensive pillow cover they won't look as good.
I learned this lesson the hard way when I tried to cut costs and put inserts from Ikea into beautiful pillow covers. They just never looked great.
Should you buy feather or faux fill pillow inserts?
Feather pillows can have a nice luxe feel, but they aren't always the best choice. If you are allergic to feathers, or you have concerns about how feathers are sourced, there are some really great polyester-filled pillow inserts that are just as comfy!
The feather pillows from Ikea were slightly better looking than the polyester fill, but I found that the feathers started to escape and they got poky pretty quickly. I ended up donating or selling all of my inexpensive inserts and have been slowly replacing them with high-quality ones over time. I'm so much happier with the result!
How do you choose an insert size for a throw pillow cover?
As a general rule, you want to buy an insert that is one size larger than your pillow cover to make sure you end up with a nice plush cushion. For example, for a 20″ square pillow you may want to try a 22″ square insert.
I now usually just buy the insert with the pillow cover from my favourite pillow shops. It's good to support small businesses and you get the perfect insert for your pillow; No guessing about sizes. It's definitely more expensive, but worth it in my opinion.
I now choose to have fewer, but better quality inserts and I swap out the covers seasonally to keep costs down. And as a bonus, I now need zero pillow storage in the house. I just have a small pile of extra covers in the linen closet.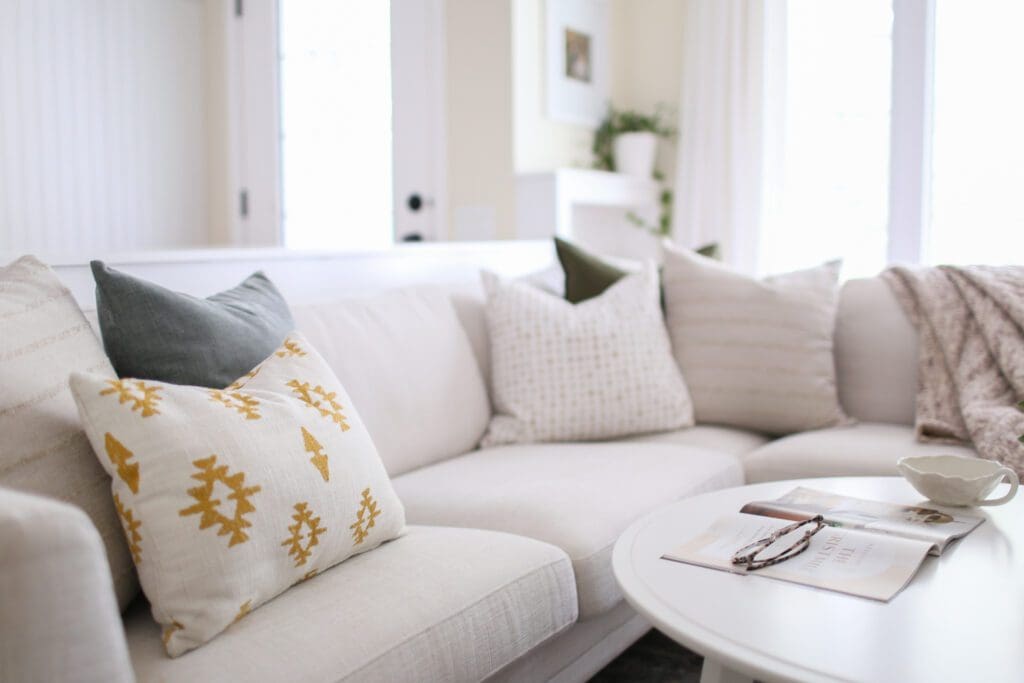 How to Mix & Match Throw Pillows
The key to mixing throw pillows is not to overthink things. Just follow the formulas below and pick beautiful fabrics and patterns that you love! Don't forget to have fun and add in something a little unexpected!
#1 Mix Colours
Choose a colour scheme first so you can narrow down what you are searching for when you are shopping.
The trick: I like to choose 2 colours max and mix them in with some neutrals.
In the example below I chose Sage Green, Rust, and Neutrals for my colour palette.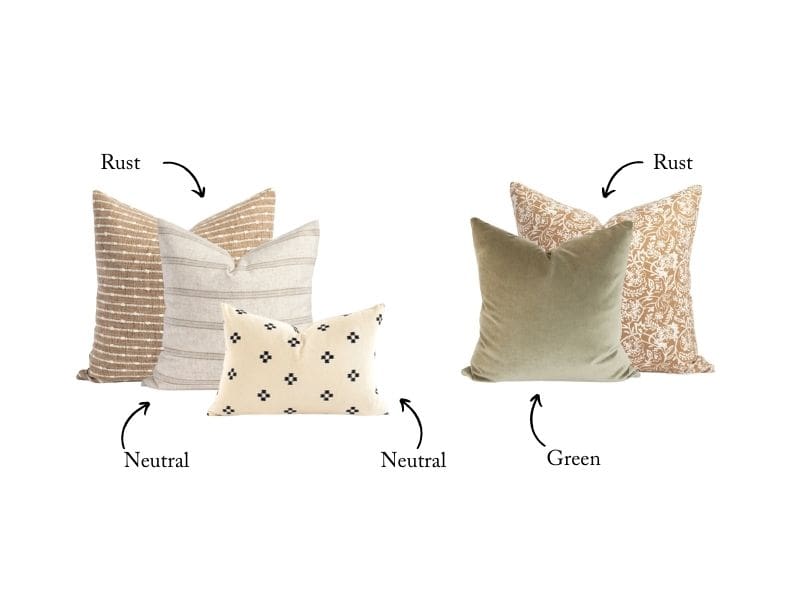 #2 Mix Patterns
It's ok if none of your pillows match. If you want to create a very formal look you can put 2 matching pillows on either end of a couch. But I prefer to mix up the patterns to keep it feeling casual and comfortable.
The trick: Don't be too matchy-matchy. I like to choose the following combination of patterns:
1 textured pillow
1 floral pillow
1 stripe pillow
1 plain pillow
1 geometric pillow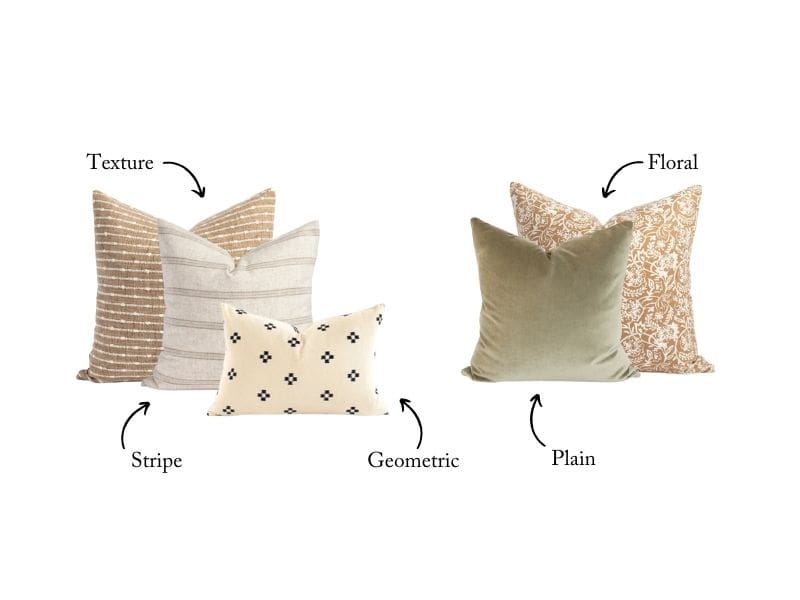 #3 Mix Scale
There are so many sizes of pillows to choose from, but I find myself coming back to this favourite combination for sofas every time:
The trick: Use 20″ pillows and larger (with the exception of lumbar pillows) to get that designer, high-end look.
2 x 22″ square pillows
2 x 20″ sqaure pillows
1 x 12″x20″ lumbar pillow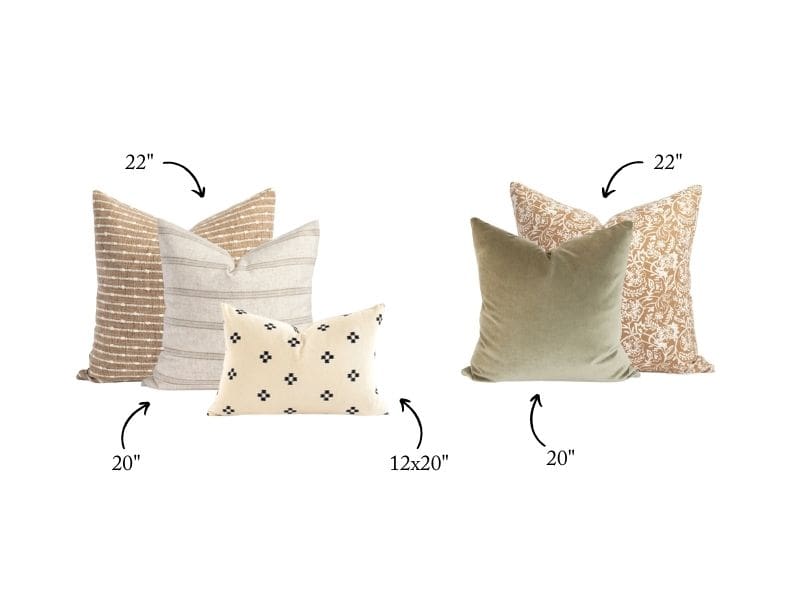 #4 Mix Textures
As you choose different patterns to combine, you will naturally end up with different textures. But you can pay attention to the details to make sure you add lots of variety to your mix.
The trick: The more varying textures the better. Even if you have pillows of similar colours or patterns, texture can set them apart.
For example, the floral pillow is a cotton blend, so I chose velvet for the plain green pillow. The contrasting textures add more interest than if they were both made of cotton.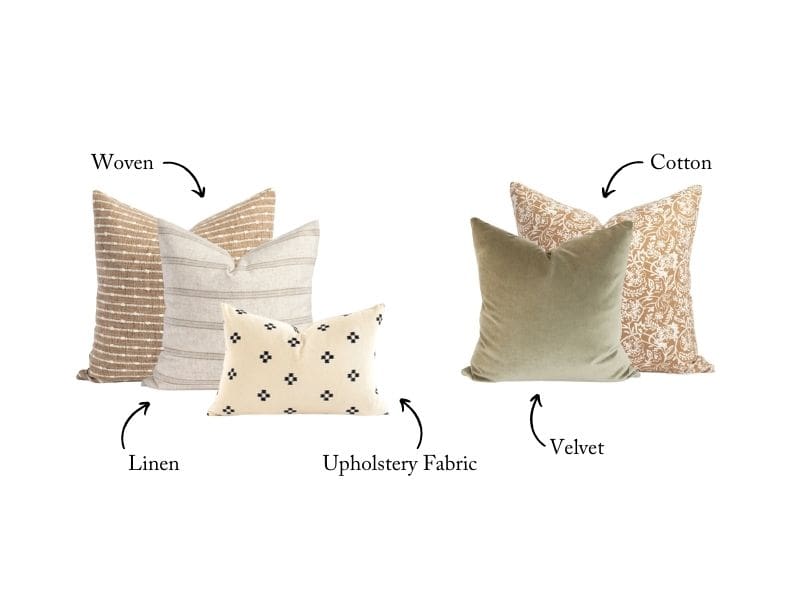 Throw Pillow Formulas
So now that we have the basics down and we have talked about how to successfully choose cohesive pillows in different patterns and sizes, let's see how to style them on various furniture pieces.
How to Style Throw Pillows on Couches
It's simple to style throw pillows on your couch if you have thought out your patterns and sizes ahead of time. You can style them asymmetrically (my favourite) or symmetrically depending on how formal you would like your space to look.
Asymmetrical Pillow Arrangement
A little less formal.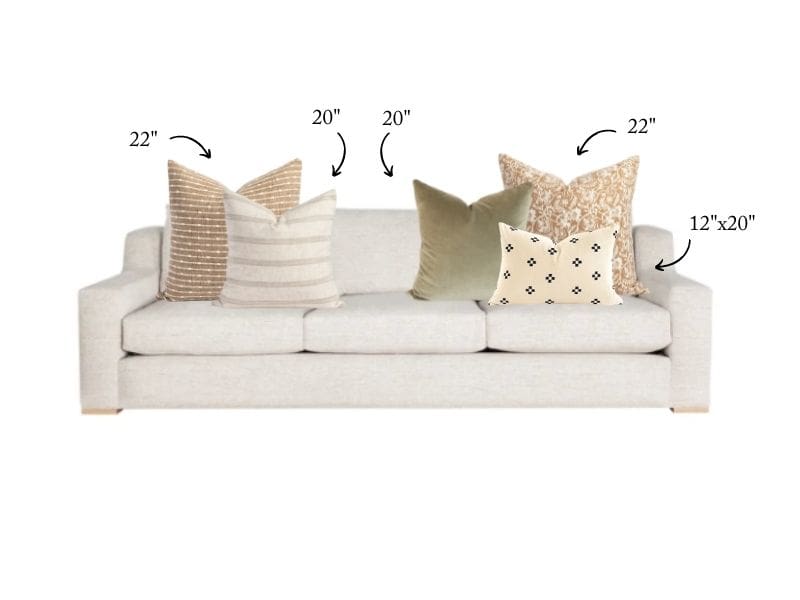 Symmetrical Pillow Arrangement
Still casual, but slightly more formal.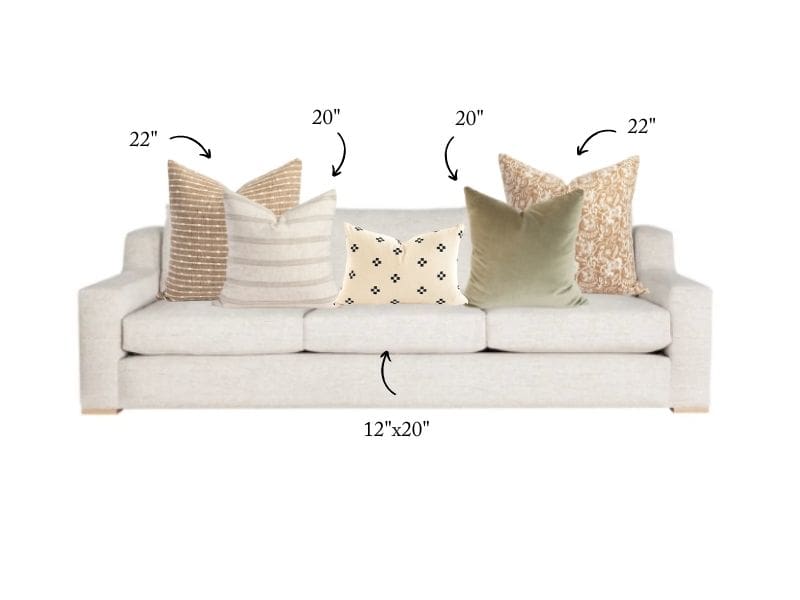 How to Style Throw Pillows on Loveseats or Settees
For smaller pieces, I like to use one longer bolster. It adds coziness without feeling cluttered.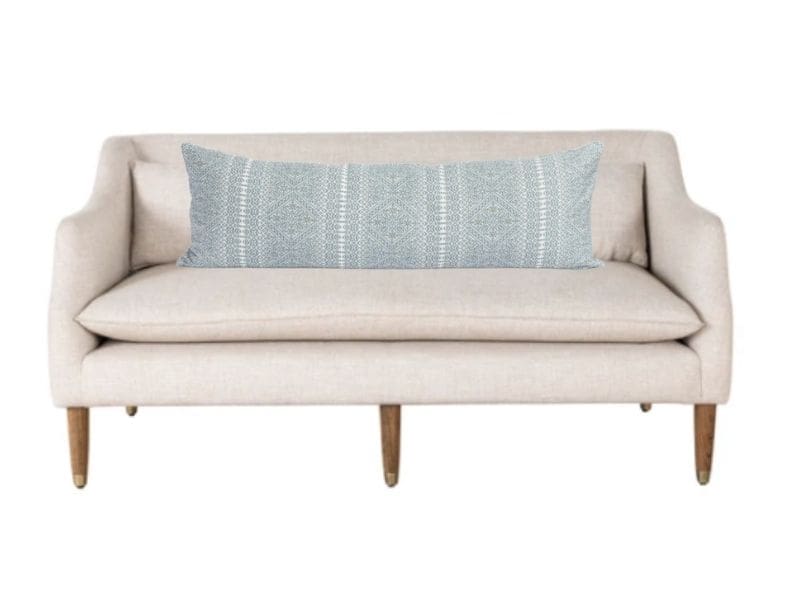 If you are going to use multiple pillows, just pare down the number. I like to use 3 and then drape a throw over the center to balance. I'll usually use slightly smaller 20″ pillows as well to keep the scale appropriate.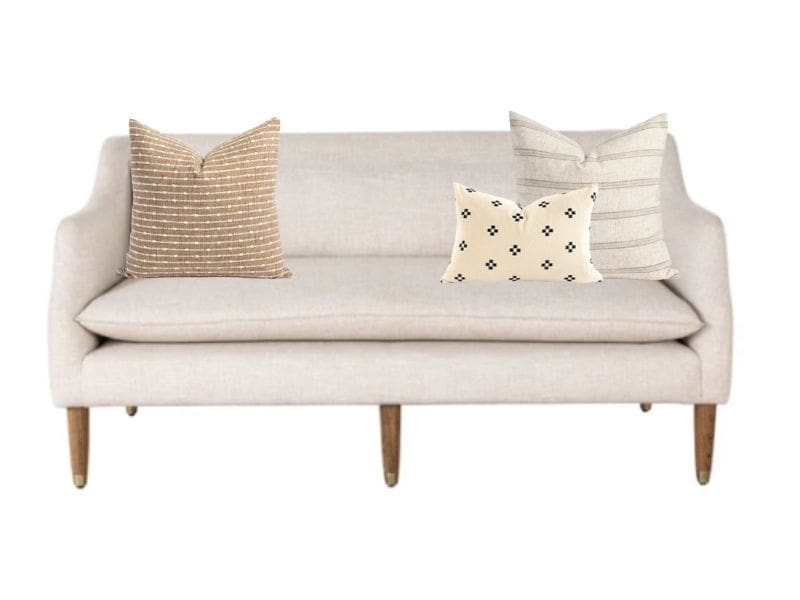 How to Style Throw Pillows on Sectionals
When I style pillows on sectionals I use the same basic formula with a few adjustments.
For a chaise style sectional, I use the exact same pillow combination as I would on a regular sofa. I usually drape a blanket over the end of the chaise for extra coziness.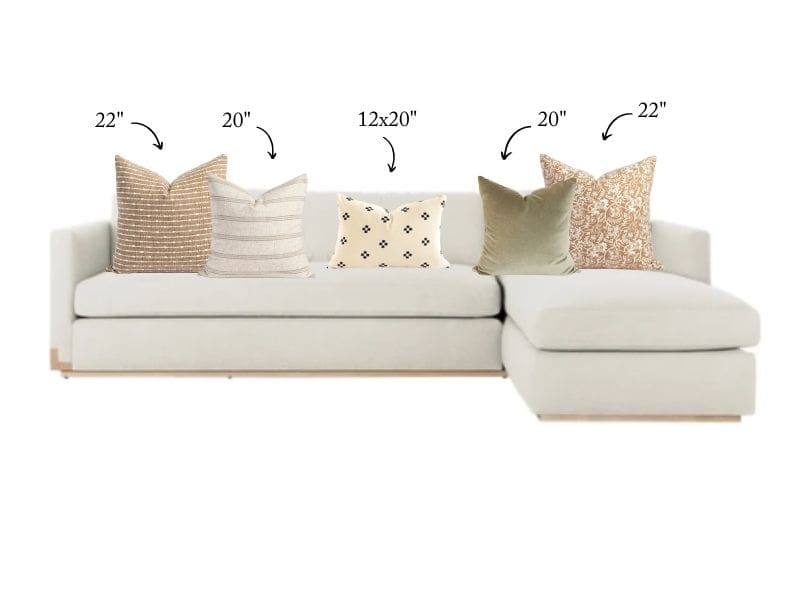 For a corner style sectional, I use the same basic formula but add a couple of extra pillows. I usually use two pillows at each end of the sectional and 3 in the center for balance. This is one time that I will sometimes repeat a pillow type at each end.
How to Style Throw Pillows on Chairs
For chairs, I like to keep things super simple and just use a single lumbar pillow for a clean look.
The trick: Don't use the matching pillow that sometimes comes with the chair!
Where to Shop for Throw Pillows
There are lots of places to find beautiful throw pillows. Some of my favourite options are listed below!
Shop Budget Throw Pillows
I like to find inexpensive basics to mix in with a few more custom covers to keep costs down. My favourite places for budget scores:
H&M has great basics including lots of linen covers to choose from, trending colours and fun textured options at really low prices. If you can't find what you are looking for in-store, there's usually a great selection online.

Ikea is always a first stop for basics. They have some really great neutral options in a variety of textures.

Shop Premium Throw Pillows
Once I've stocked up on basics I like to find beautiful prints to mix in. A beautiful throw pillow can make an entire room look more expensive.
Esty has an endless selection of custom-made throw pillow covers and it's always good to support small shops! You can find anything from vintage covers to custom sizes etc…
McGee & Co has beautiful luxury fabrics in trending styles. Their Rustic Californian Style is incredibly popular right now for good reason!

Rug and Weave have earthy, organic patterns and textures that will elevate any space. They are next on my pillow shopping list!

If you've ever seen a beautiful collection of pillows on an effortless linen couch in your design travels, you'll probably find one of Jolie Marche's beauties in the mix! They have gorgeous prints you can't find anywhere else!

My go-to Canadian source for pillows is Tonic Living. They have reasonable prices for beautiful pillows covers and their shipping times and customer service are excellent.

A local find here in Edmonton, Alberta! Uusi studio has the most gorgeous textured fabrics. They describe themselves as "handmade pillows with nordic sensibility". Yes please!
Line & Ivory has some of the best pricing on pretty pillows that I've found!
Shop Pillow Inserts
As I mentioned before, inserts make the pillow! I usually buy my pillow inserts with my pillows from whichever custom shop I am ordering from now. But if you need an insert for a cover you already have or for a budget cover, these are my favourite options:
Pottery Barn – a large selection of sizes and good fill count
Tonic Living – I buy the insert with the pillow cover and then have no problem with sizing
Ikea – in a pinch the feather pillows from Ikea aren't bad. I would stay away from the cheap polyester inserts though
Crate and Barrel – again good size options and fill count
Throw Pillow Styling FAQs
How many throw pillows should be on a couch?
There's no rule for how many pillows you should use. If you love simplicity use a single lumbar pillow for a streamlined look. If you love cozy maximalism you can fill your couch with pillows!
Should throw pillows match?
You can match throw pillows for a formal look or you can mix and match patterns for a more casual, designer feel.
Why do people karate chop pillows?
Whether or not to karate chop your pillow is a hotly contested issue lol. Karate chopping your pillows creates a shape with a lowered center and 2 perky "ears" on each side of the pillow. It's easiest to karate chop a feather filled or high quality faux filled pillow. They will hold thier shapes better than inexpensive inserts.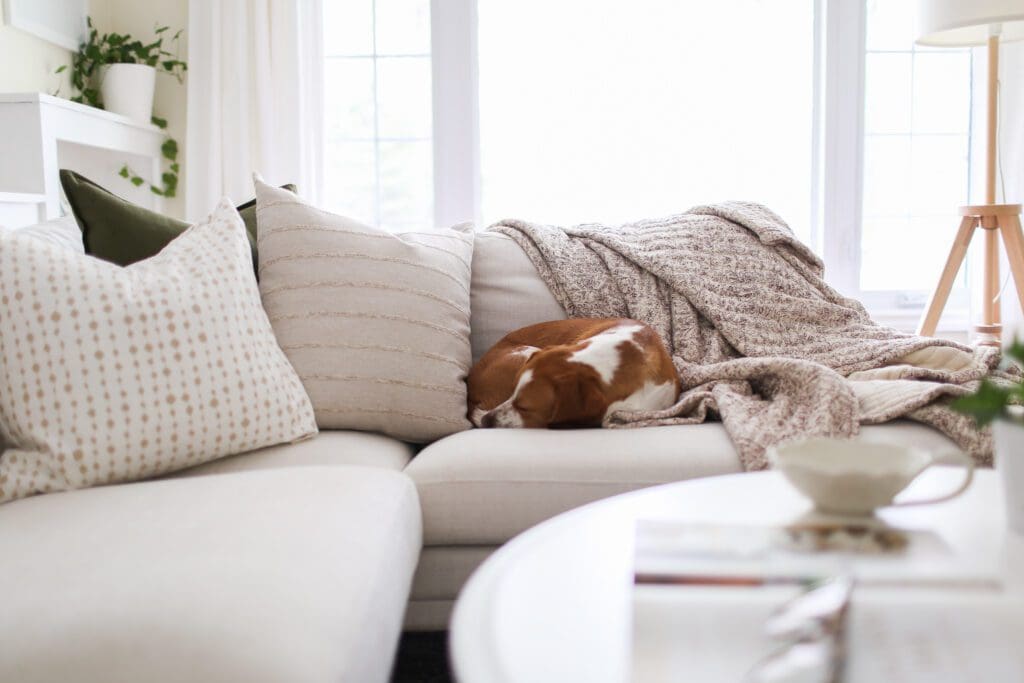 I hope you find this simple guide to styling throw pillows useful. Creating cozy seating in your home is something the whole family can enjoy!