Today I'm so happy to welcome Tory Stender to the blog. Tory usually works behind the scenes for The Ginger Home (and is a Pinterest genius!!), but she also runs her own blog where she dives into millennial life, homesteading, natural living and so much more! Tory is taking over today to talk a little bit about her journey with urban homesteading! We love being out in the country, but as Tory will tell you, it's not necessary to live on an acreage or have a ton of land to start living your best homesteading life! Take it away Tory…
Hi! I'm Tory! I live in Alberta, Canada with my hubby, pup and baby on the way and I'm so happy to talk about my passion for urban homesteading today!
For years we've dreamed of buying a large plot of land, growing our own food, raising animals and living a simple and self-sufficient lifestyle. However, in this season of our lives, we're living in a small bungalow – right in the city. Instead of getting discouraged that this dream can't be our reality right now, we've made it our mission to do what we can with the space we have, which as it turns out is a lot!
I've been urban homesteading for a few years now and thought I would share my beginner tips that anyone can implement in their backyard homestead!
Estimated reading time: 9 minutes
Note: This post may contain affiliate links that won't change your price but may share some commission.
Start Small
Just like with any hobby or skill, sometimes we want to go all-in overnight. While there's nothing wrong with this, it can be both expensive and overwhelming.
If starting a backyard urban homestead is your goal, don't feel bad if you have to start small. Start with one or two new things. Maybe this year you'll get a few laying hens and start a compost pile. Next year you can add a vegetable garden, and the year after you can learn about preserving and canning.
Homesteading comes with lots of expenses and even more WORK. Trying to do everything in one year will not only be very expensive but will likely turn into a full-time job!
By starting small and working slowly on your goals you'll be able to complete projects at a more enjoyable pace. My husband is grateful for this since he's usually the hands and muscles behind my ideas!
Practice Traditional Skills
When we think about homesteading – whether traditional or urban homesteading, we usually think of chickens, goats, dairy cows, and gardening. But there are SO many more skills and aspects to a homesteading lifestyle.
Along with gardening comes learning how to preserve food. This could include canning, freezing, drying, dehydrating, etc. Often we end up with an abundance of food from our gardens at once, so learning different methods of food preservation can help you become self-sufficient long after your garden harvest.
Another skill is learning how to cook from scratch. I've loved learning how to make my own bread and yogurt. Not only is it so fun and rewarding to make these myself, but it saves money and it tastes SO much better!
Sewing, crocheting, knitting, quilting are some other traditional homesteading skills. These are great to learn in the winter when you aren't spending as much time outside in the garden.
If you live in the city or have a small backyard where you maybe can't have chickens, goats or a huge vegetable garden there are still so many homesteading skills you can gain.
Tour Our Urban Homestead
Our urban homestead is about 1/4 acre. It's actually a large yard considering it's right in the city, and we love that we're surrounded by large, mature trees.
We have a chicken coop, vegetable garden, large perennial garden (which I'd love to eventually grow food in), and a compost pile. We still have so much grass space for a fire pit, and for our dog to run around.
Homesteading in Small Spaces – Where to Start
#1 BACKYARD CHICKENS
Last summer we finally got chickens after dreaming about it for years! They've been so fun and much easier than I expected. People are sometimes surprised to realize that you are usually allowed to keep a few backyard chickens in the city. Check with your local bylaws and maybe your neighbours, but it's possible!
We started with four hens that were several months old and already laying eggs. This year we added a few new baby chicks, but they're still in the brooder in the basement! Our first hens are white leghorns. They are known to be very productive egg layers but aren't overly friendly. At this point, they're used to me but still don't love being handled or touched. Hopefully, our new chicks that we hand raise will be a little friendlier! We picked breeds known for gentle personalities and as a bonus, we'll get an assortment of coloured eggs!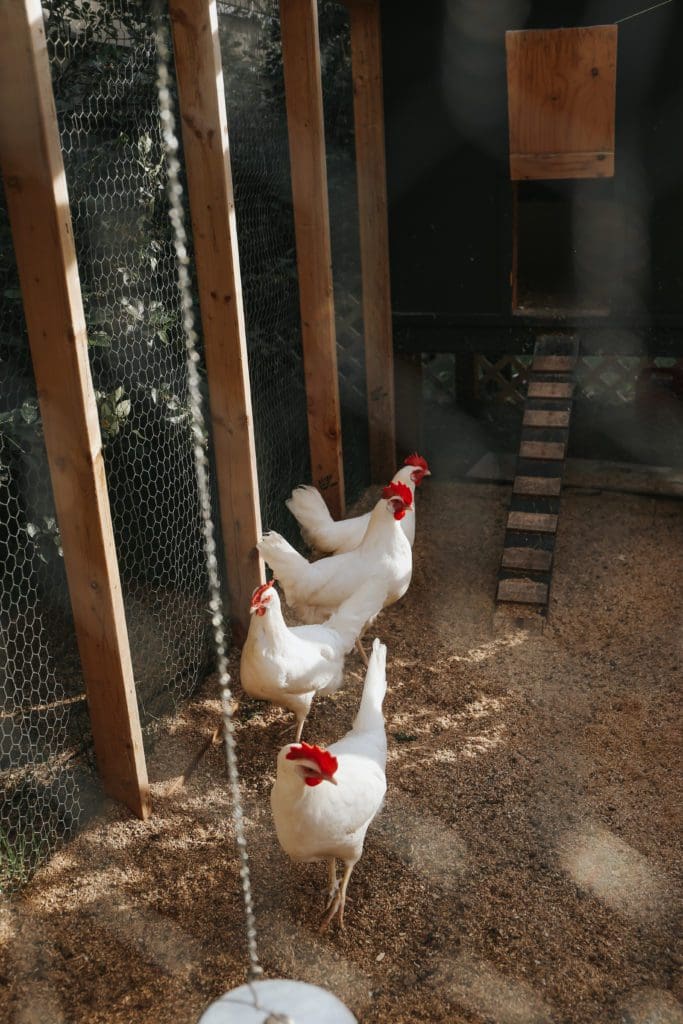 We were able to build our coop from mostly recycled materials around our home. This saved us so much money, and I'm so happy with how it turned out! We live in a cold climate so we were sure to properly insulate it, and our hens did great through their first winter. So don't let Canadian winters deter you!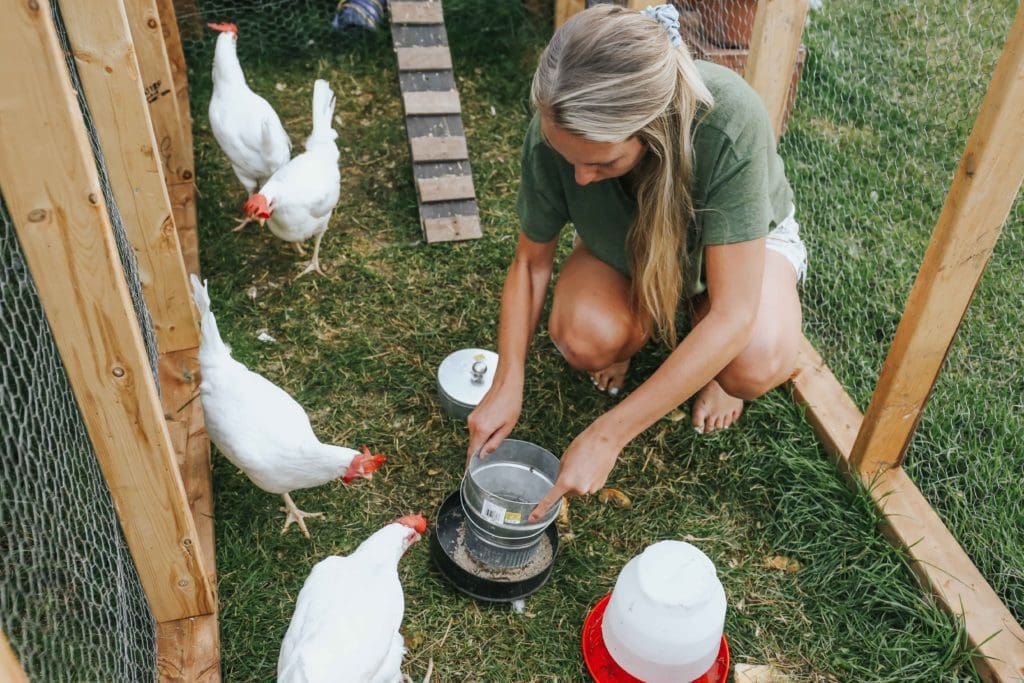 #2 VEGETABLE GARDEN
Our garden is my happy place in the summer!
We moved into our home in June a few years ago, and one of the first things I did was add a garden! It started out as one small raised bed and every year I've made it larger. I'm forever dreaming of growing more and more of our own food in our yard.
Over the years I've dialed in on the vegetables that grow well in our climate (Zone 3b), and that we love to eat! I plant lots of root vegetables like onions, beets, radishes, carrots, potatoes as well as lettuce, spinach tomatoes, zucchini, pumpkins and beans. This year I also added on an entire garden bed just for garlic! I'm hoping to have lots of garlic to store and eat throughout the winter.
#3 COMPOST PILE
Composting is such an easy addition to your backyard homestead.
While I would have loved to build a more attractive wooden compost pile, I just used an old tote that we already had! It cost me nothing and has already produced a few loads of compost for the garden.
I love knowing that our food scraps, chicken manure and yard waste all serve a second purpose in the gardens once they have composted!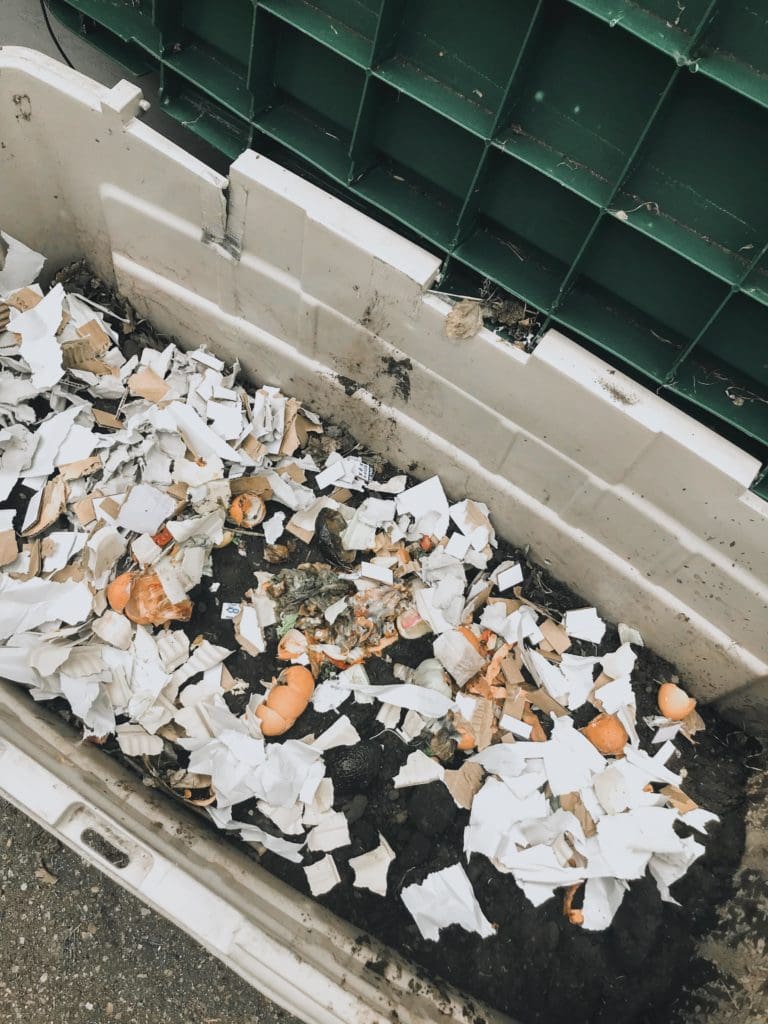 Don't Get Overwhelmed
My best tip for someone who is beginning urban homesteading is don't compare your journey with others.
Homesteading requires a lot of work, patience, and persistence. It requires constantly researching and learning new skills. When we compare our beginner homesteads with those who have been doing it for many years, we lose sight of everything we've accomplished!
Homesteading looks different for every family. Our timelines, desires and dreams are all different! We're all working within different climates, properties, garden zones, and city regulations.
No matter how much space you have to work with, you can begin your dream of homesteading today! Just start small and keep learning!
About the Author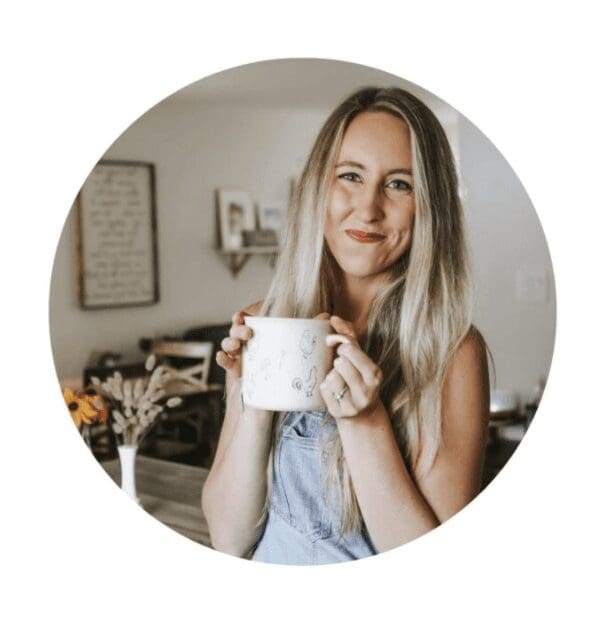 Tory lives in Alberta, Canada with her husband, Quinton, and fur baby, Everest. She is a lover of adventure and a free spirit who enjoys hiking, camping, and exploring the mountains.
Tory strives to live a simple and healthy life and believes in the power of baby steps! If you are searching for ways to pursue a simpler lifestyle with non-toxic, natural solutions in your home, Tory is your girl!
Find her at ToryStender.com
I love how Tory doesn't let living in the city deter her country living dreams! There are so many ways to incorporate living naturally and sustainably in any home. Just be warned, once you start down the homesteading path there's no turning back, lol! It's totally addicting, as my growing flock of chickens can attest to!!
Favourite Homesteading Resources
You may also enjoy: