We recently renovated our downstairs family room and I wanted to print large photo portraits of the girls. I loved the idea of making these oversized prints that I found on Chris Loves Julia!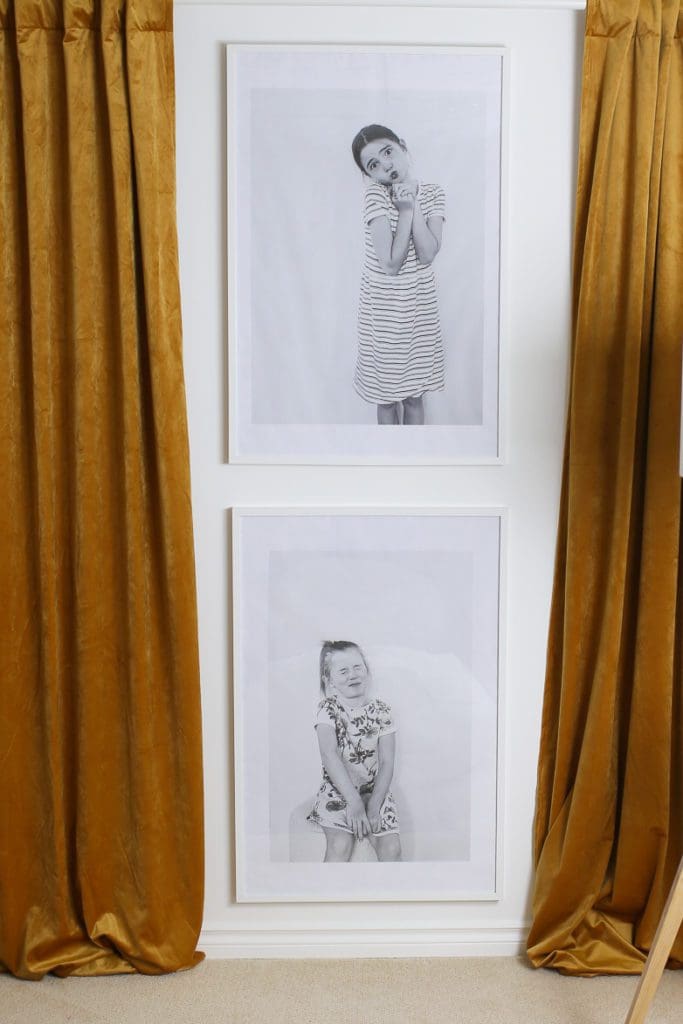 Estimated reading time: 4 minutes
Note: This post may contain affiliate links that won't change your price but may share some commission.
This is a really simple project and each framed art piece only cost about $30 CAD! In the US it would probably cost about half that much. It was soo cheap! You can see them on the right in the photo of our family room below. They fill the wall and they are so fun!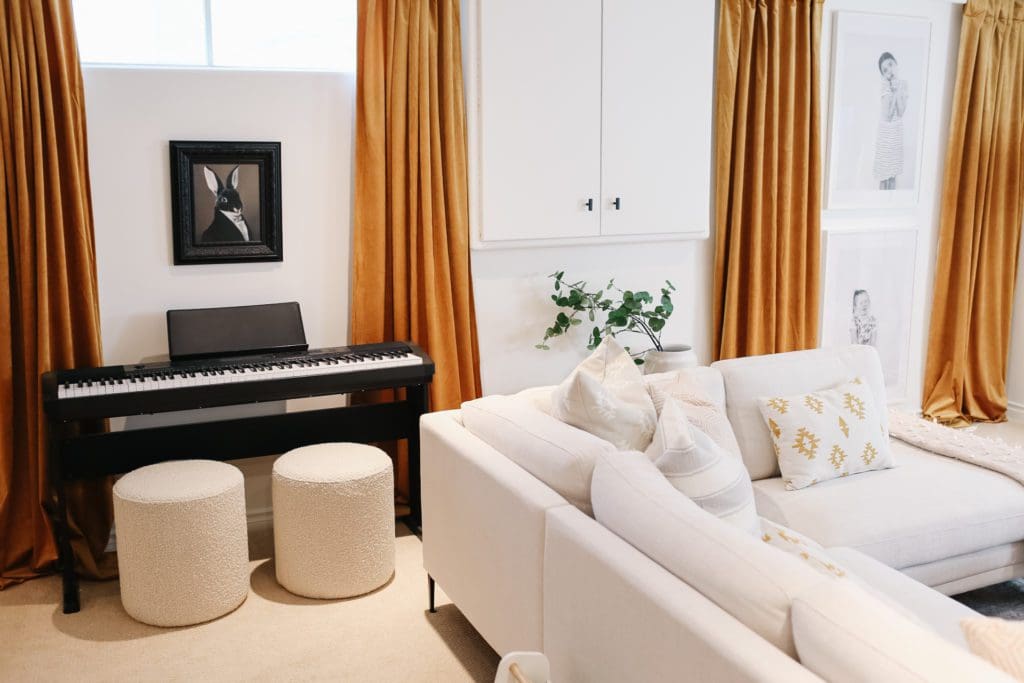 How to take your photos
You will need to have a camera that allows you to shoot with large enough resolution that your pictures can be enlarged without getting grainy. I shoot with a Canon 6D full-frame SLR camera and for this shoot, I used a Canon EF 50mm F1.4 USM lens. You don't necessarily need a camera that's this expensive though. Without getting too technical, just make sure that the images are around 300 dpi.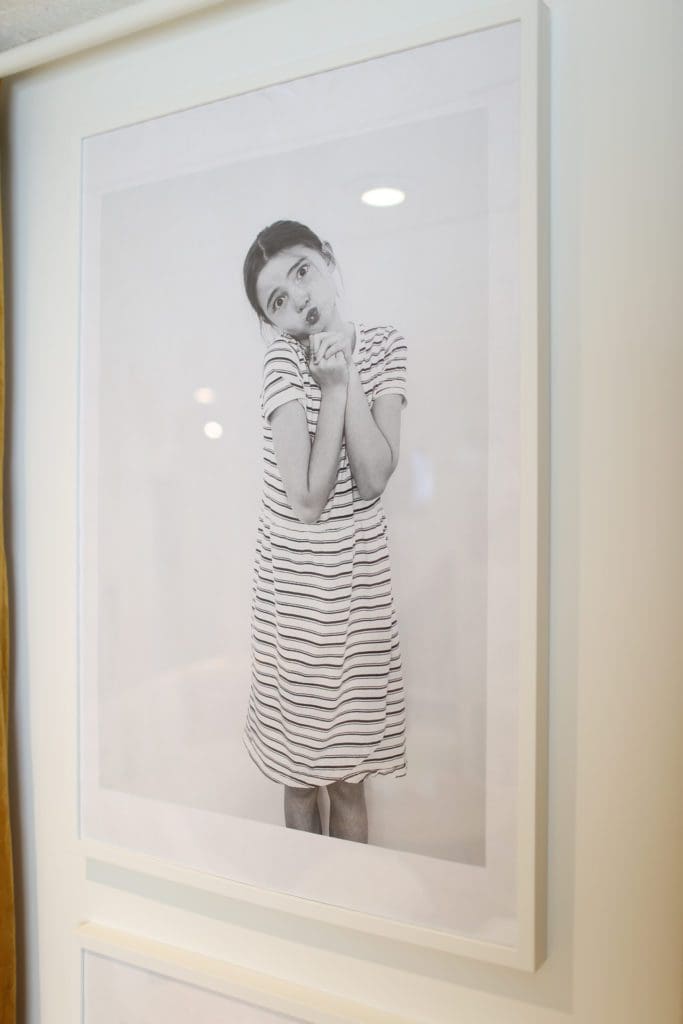 Get your kids to stand in front of a plain surface like an empty wall, preferably in good natural light. Get them to make silly faces or make them laugh to catch candid shots of their true personalities! Mine are used to being in front of a camera so it was pretty easy to get a few good shots. But if they aren't cooperating bribery is always an option lol!!
How to edit your photos
You can make your images black and white using the Adobe Lightroom app. It's free for mobile and pretty easy to use. Here's how to make your photo black and white using the app.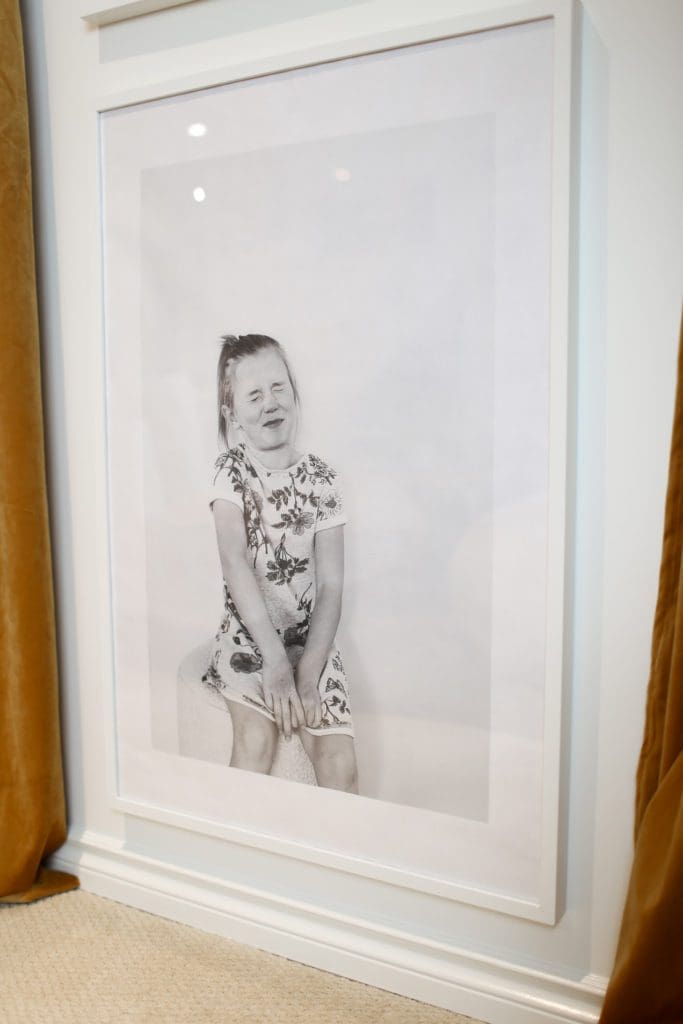 How to print your photos
The trick to keeping the prints so low cost is to print them out as engineering prints. Engineering prints are large black and white prints created on printers traditionally used for engineering and architectural work. (You can get colour copies, but the colours don't translate well with photos). I get mine printed at Staples for about $5 CAD each for 24×36″ size prints!
Engineering paper is very thin so you will probably want to tape the prints inside the frame to help them stay flat.
How to frame your photos
I found the white RIBBA 24×36″ frames at Ikea for $24.99 CAD. (Ikea always lists measurements in cm so they were 61×91 cm!)I've listed a few more options below as well. We simply hung them with a couple of nails. I find a nail at each corner works well to avoid any bowing in the top of the frame.
---
SHOP FRAMES
---
I hope you've enjoyed this super easy way to print large photo portraits for only a few dollars!
---
MORE GOOD READS: