Just because your kitchen is tiny doesn't mean it can't be dreamy! My IRL BFF just finished renovating her small 1950s one-and-a-half-storey home in a character neighborhood here in Edmonton, AB. Her kitchen is proof that you can make your home dreamy even if it's not your dream home! (And you can see why we are friends lol!!) Here are our best tiny kitchen makeover tips if you are looking to renovate your own tiny kitchen!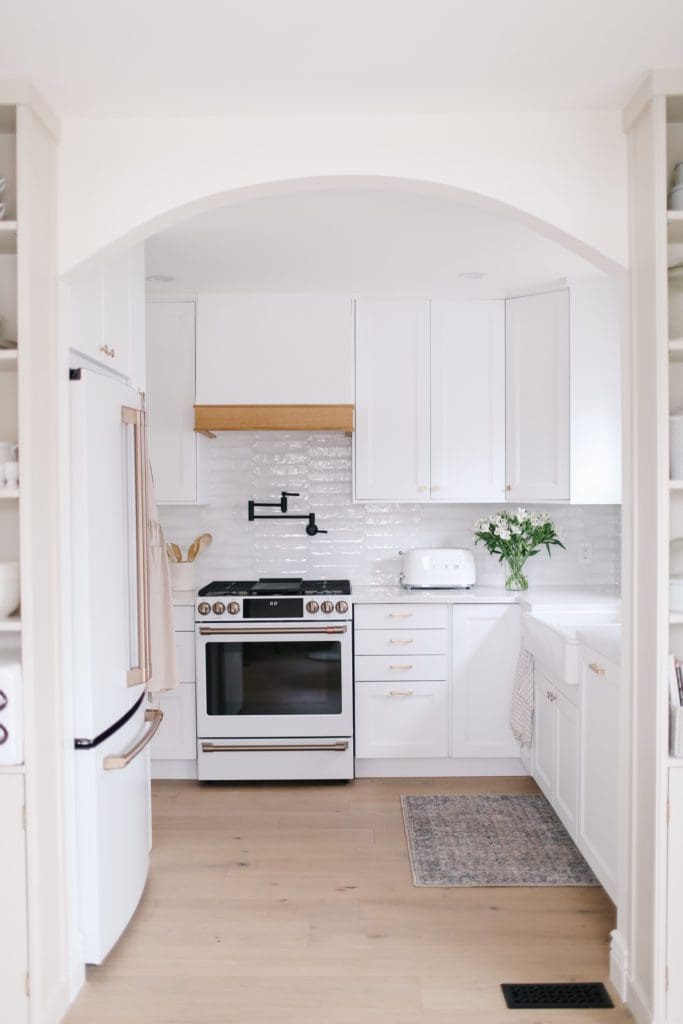 Estimated reading time: 8 minutes
Note: This post may contain affiliate links that won't change your price but may share some commission.
Tiny Kitchen Before & After!
THE BEFORE
The kitchen had been renovated by previous homeowners and although it didn't look terrible on the surface there were significant issues! The cupboards were falling apart, the electrical was frightening (and actually hanging out of the wall in some spots). It felt dark, dated, and cramped and the vertical space wasn't been utilized to its full potential. In a tiny space like this every square inch counts!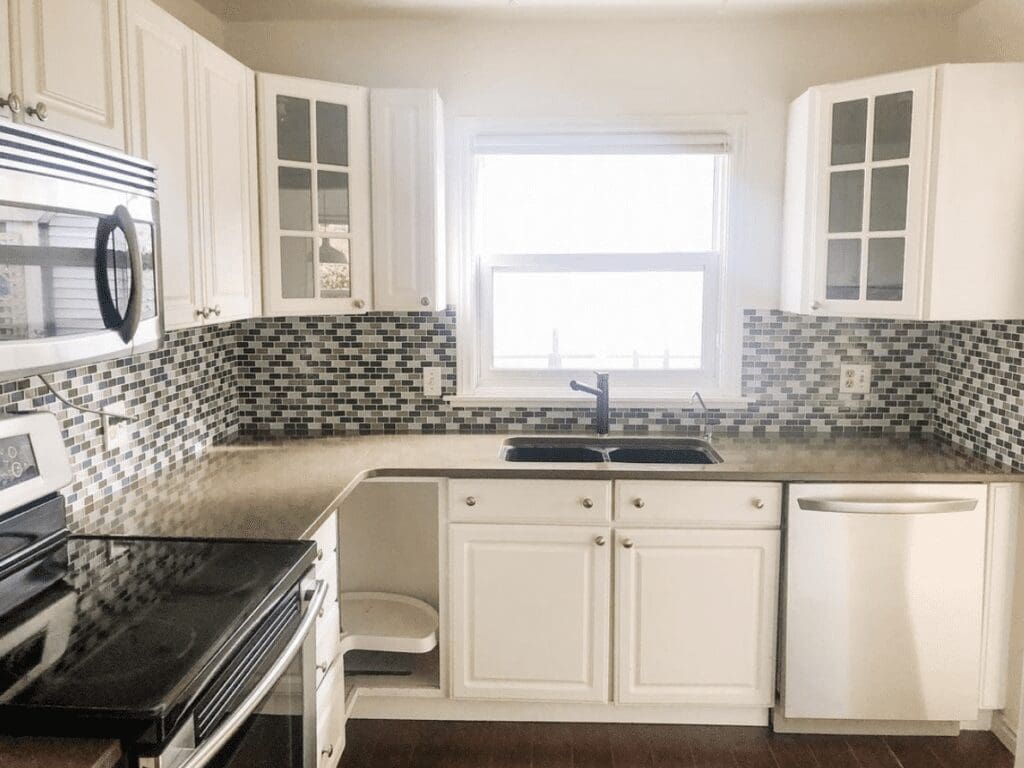 THE AFTER
Now this tiny kitchen is bright, light and open with increased function and storage capacity. And of course, it's beautiful as well!!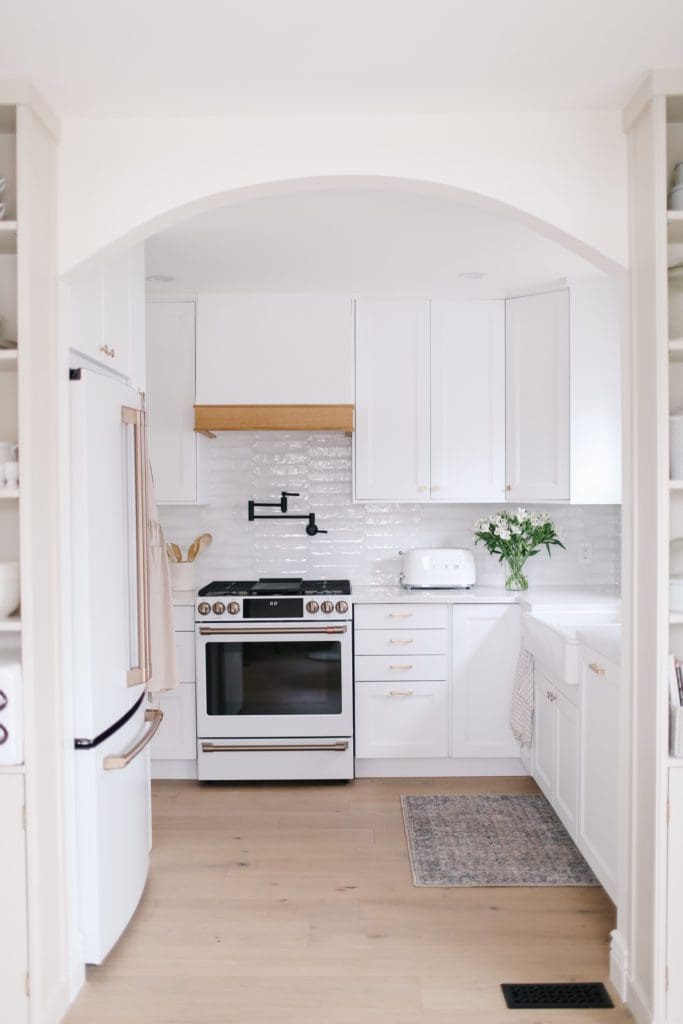 How can you make a tiny kitchen both functional and beautiful?
#1 Streamline the Design
One thing to keep in mind when you are designing a tiny space is to keep the design simple and streamlined. To make it feel larger simplicity is best! This kitchen has white cabinets, counters, and tile for example, but you can easily add interest with the hardware and accessories! It feels so much larger with its simple, light, and neutral palette!
#2 Incorporate Custom Features
Even though you are keeping the design simple, that doesn't mean it can't feel luxurious. The following are some features that were added to this kitchen renovation to make it feel custom:
Pot Filler Faucet
A pot-filler faucet is such a nice feature to have in a kitchen! It's so handy to have a faucet right over the stove that allows you to fill large pots easily! You usually see these in large, designer kitchens, but there is no reason you can't have one in your small space. They come in sizes that fit nicely over a standard 30″ wide range or cooktop.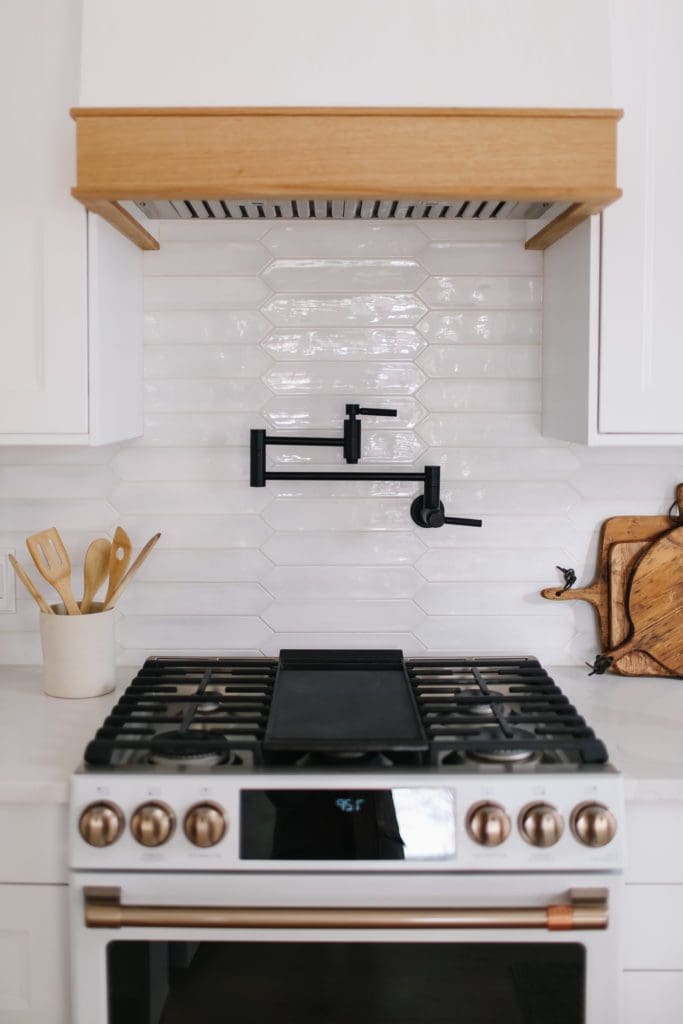 Designer Range Hood
When you think about kitchen design or budget kitchens, fancy custom range hoods don't usually come to mind. But how much prettier does this custom hood look than a typical stainless steel vent?!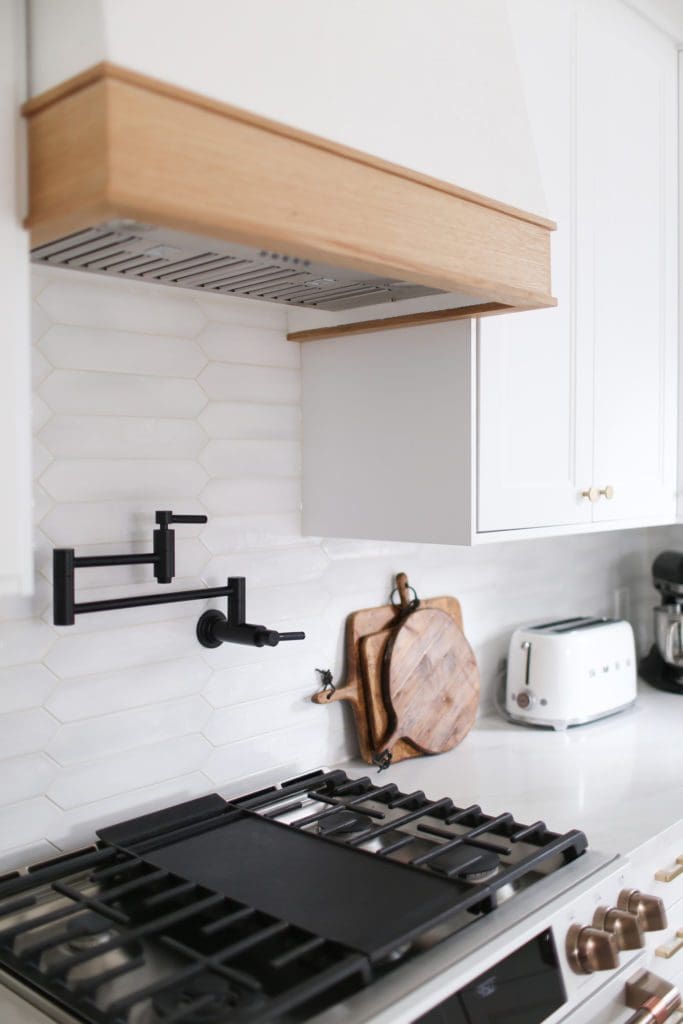 The vent insert is from Amazon and the hood is simply a drywall box with a piece of finished oak trim attached to the bottom. It was impossible to find plaster here in Edmonton so my talented BFF just used drywall mud to create a plaster effect and then sealed it with paint!! So smart and cost-effective!!
Custom Shelving
Because the kitchen is so tiny, traditional closed upper cupboards needed to be used in the design to create storage. But this one small area to the right of the sink was available to add in some open storage for display! This custom shelf from Iron Abode keeps the kitchen from feeling too cookie cutter!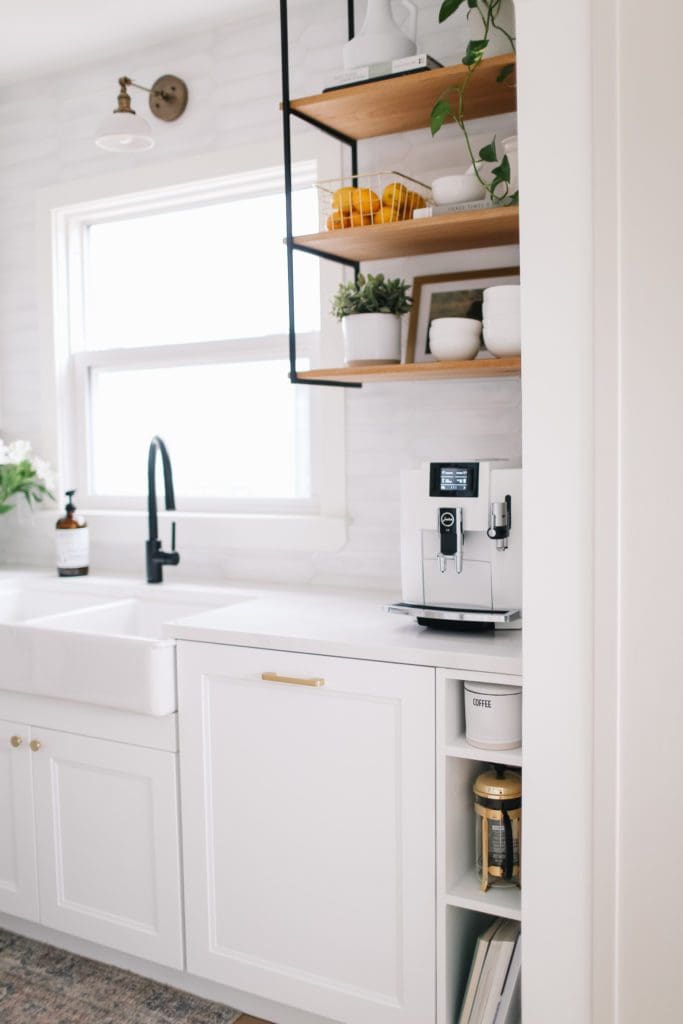 Undermount Sink
Undermount sinks not only look polished and expensive, but they can increase your counter surface area, which is a big deal in a tiny kitchen! This is actually an inexpensive sink from Ikea that was under-mounted by cutting down the sink cabinet! Such a smart, money-saving hack!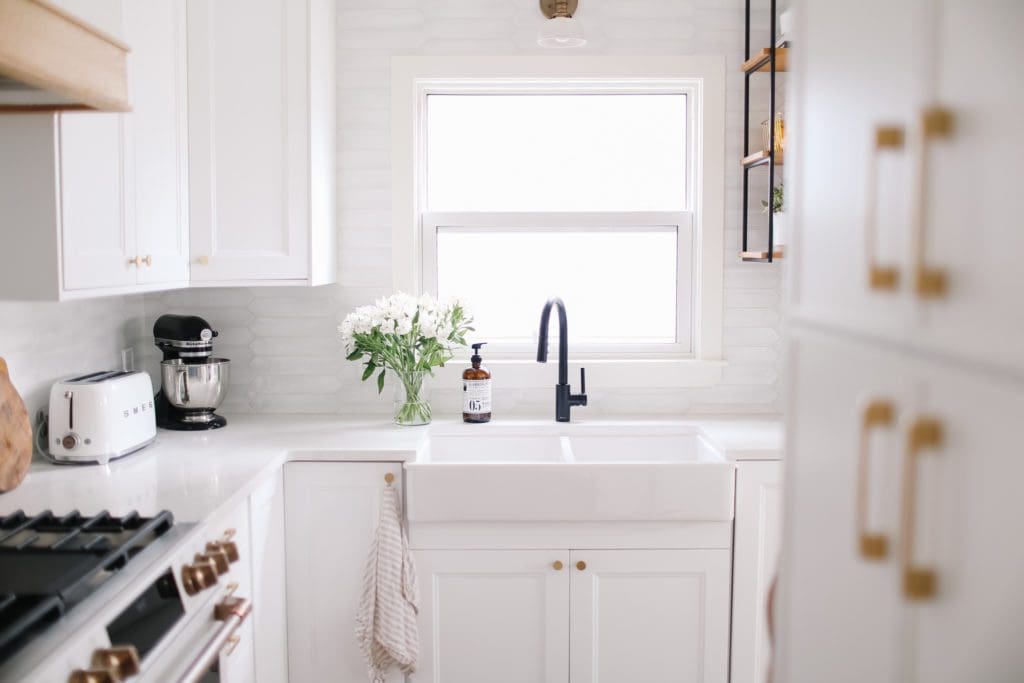 #3 Choose Dream Appliances
When you don't have room for built-in wall ovens, and all the extras like wine fridges, separate cooktops, built-in coffee machines, microwaves etc.. you may have a little leftover in the budget to upgrade your "basic three" – fridge, stove, and dishwasher ( I always count a dishwasher as a must!)
Just because your kitchen is small doesn't mean it can't be a show stopper. Café appliances in a beautiful white and brass finish make this kitchen extra dreamy. The 30″ range fits perfectly into a small space, but still allows for chef-quality cooking over a gas range. The fridge is only 33″ wide and counter depth as well allowing it to fit into the small nook available. (These appliances are available at Costco Canada right now!)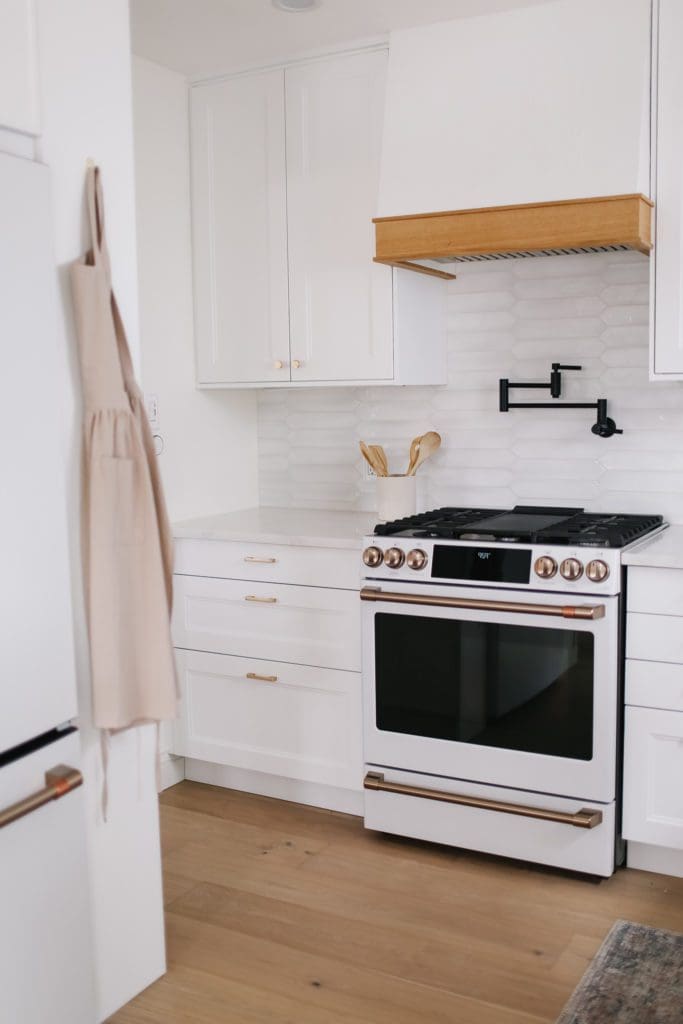 One extra tip…hide your dishwasher! Ikea makes panels that you can add to any built-in dishwasher model so that it is integrated seamlessly into the rest of your cabinets (and other more expensive cabinet companies of course do the same).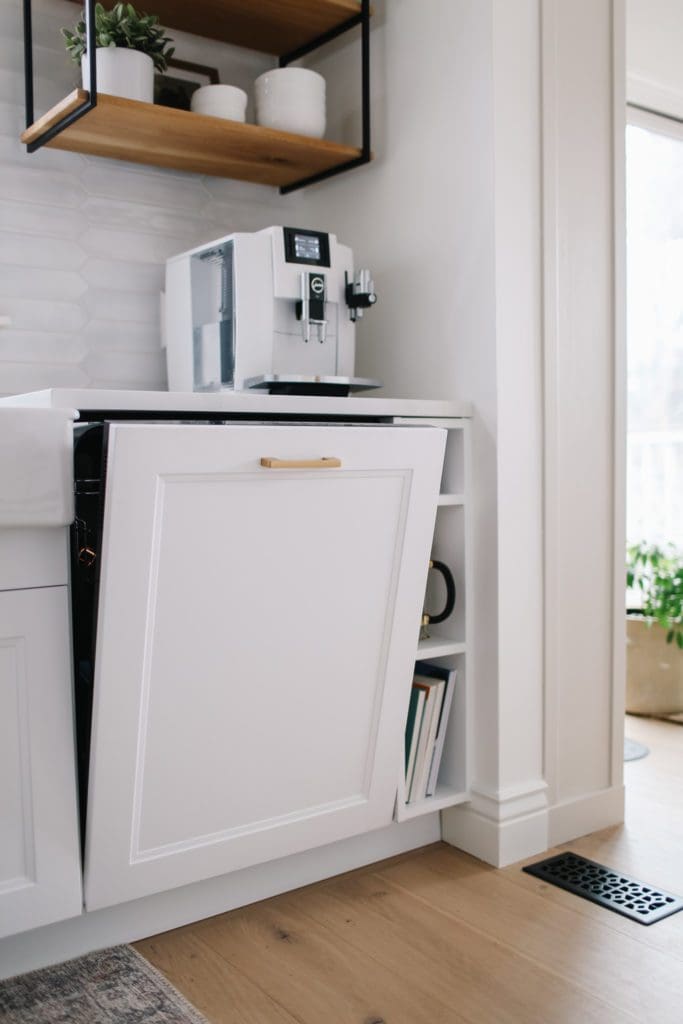 #4 Use Cabinetry Creatively
By facing the pantry cupboards towards the doorway, at right angles to the fridge the tiny space is used as effectively as possible. The rest of the cabinets in the space are the Axstad line from Ikea to keep the cost down, but this corner was custom-made.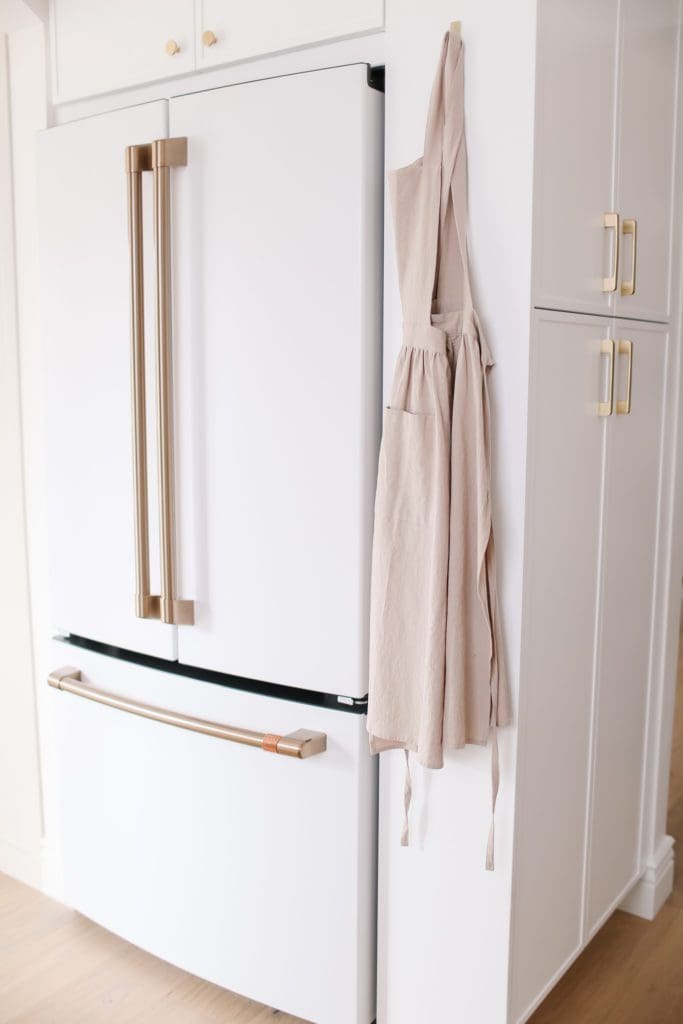 #5 Add Luxurious Details
The wonderful thing about renovating smaller spaces is that you save on material cost by default. You don't need as much flooring, cabinetry, tile etc… which can free up funds to add pretty, high-end details and finishes.
This Jura coffee maker is every coffee lover's dream! It's perfect to make a latté to sip in the cutest little breakfast room (see the whole house tour )!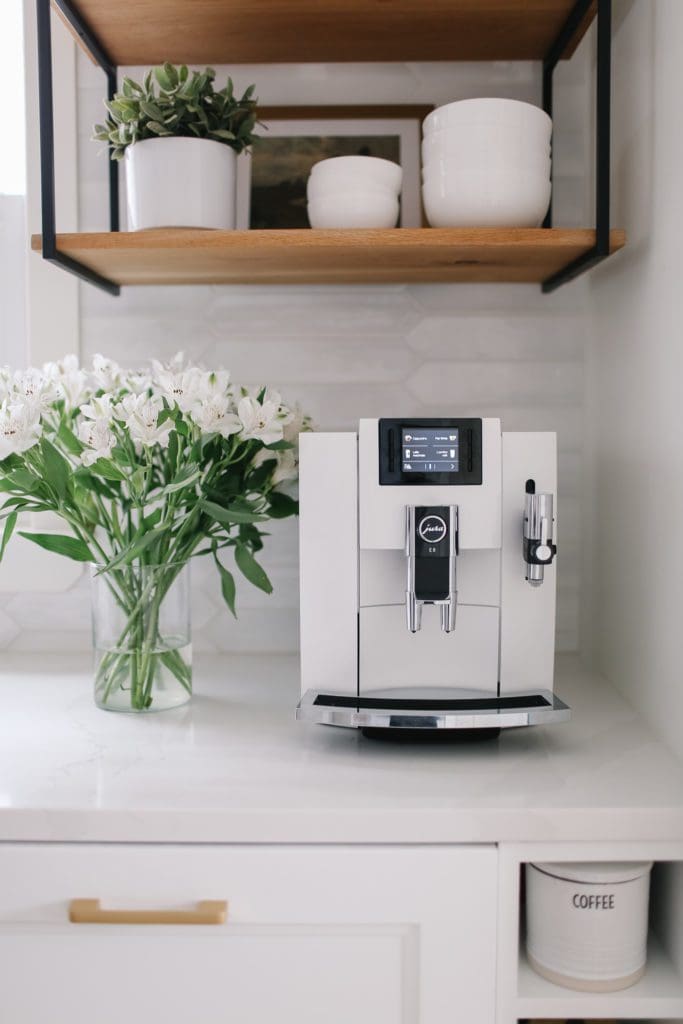 When you are working in a tiny space, try to create as much open space as you can. Creating an arch between the dining nook and the kitchen let the two spaces flow together, raised the doorway height and allowed natural light to flow through into the kitchen.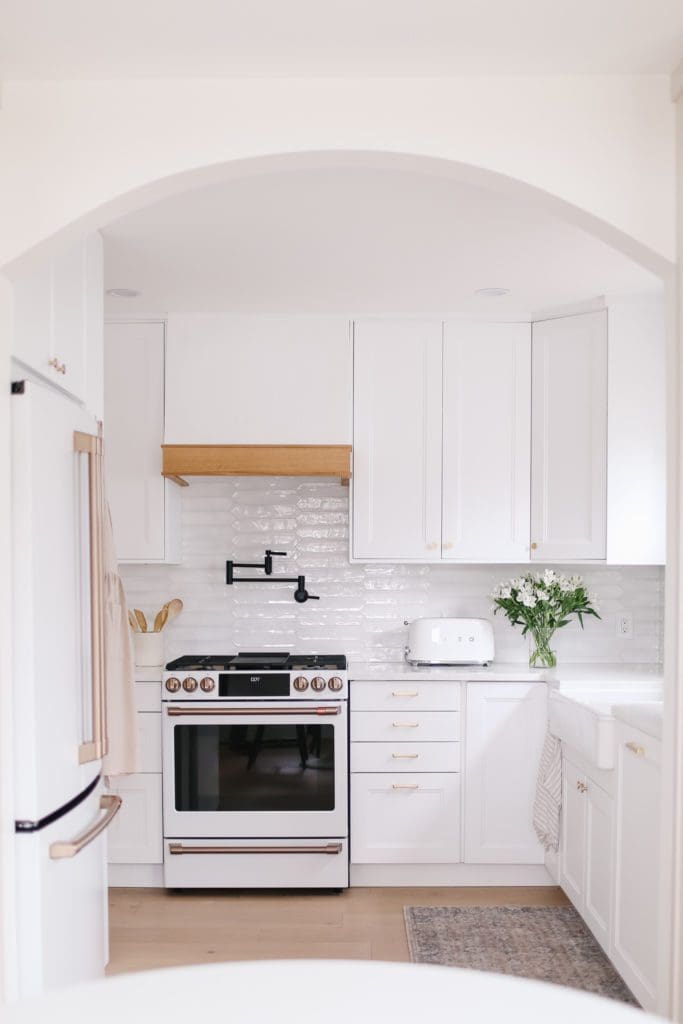 Replacing a single semi-flush ceiling light in the kitchen with pot lights gives the illusion of a higher ceiling and provides more even, bright and functional lighting.
Kitchen Sources
There are so many pretty elements in this tiny kitchen…here's a rundown of sources, because I know I'll get asked!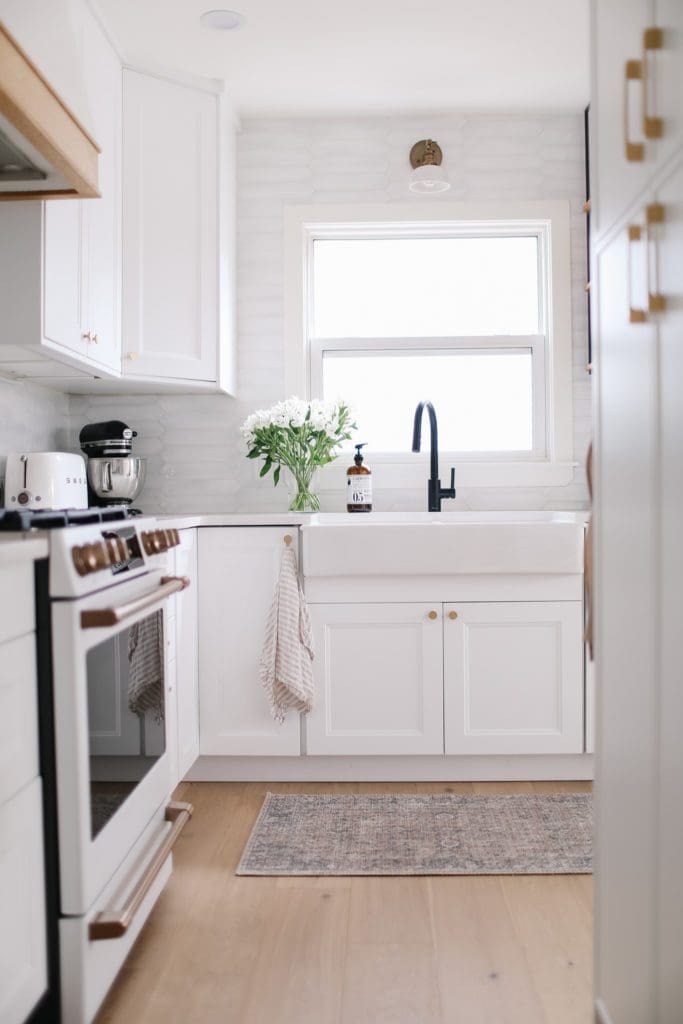 Large Appliances
33″ Café Appliances Counter Depth French Door Fridge/Freezer
Sink & Faucets
Accessories
Small Appliances
Cabinets
Materials
---
I hope you've enjoyed these tiny kitchen design tips and are inspired to make your own tiny space dreamy! If you want to see more of this house check out House Tour: A Renovated 1950s Character Home.
---
You may also enjoy: