Choosing the size of an area rug doesn't have to be hard. You'll find a lot of different advice and opinions about what size rug to use out there in the Googleverse, so I've narrowed it down to just a couple of simple options for each room. No matter what furniture arrangement you are working with, the same basic principles can be applied. Here is how to choose the correct area rug size for any space as well as my favourite sources for beautiful, affordable area rugs.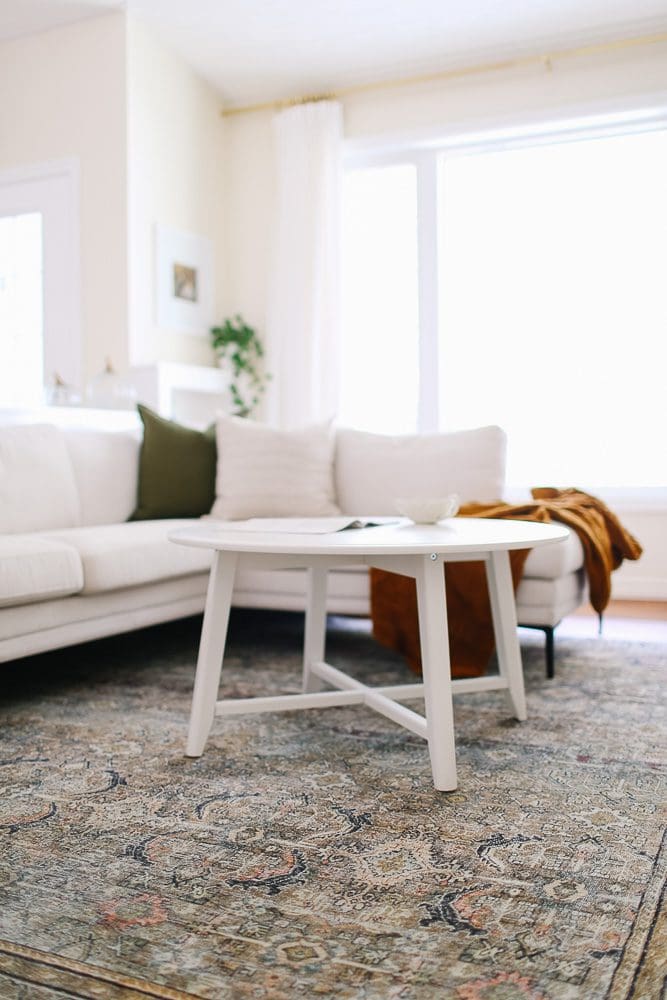 Estimated reading time: 11 minutes
Note: This post may contain affiliate links that won't change your price but may share some commission.
How to Measure For Area Rugs
The first thing you need to do when you are deciding what area rug size you need is measure both the size of your room and the size of your furniture.
Measure Room Dimensions
You need to know what room size you are working with before you make any decisions about area rug size. As a general rule, an area rug should come no closer than 6″ to the wall on any side of the room. Any larger and it may overwhelm the space, curl against the wall or block floor vents.
For example, if you have a standard 10'x12′ bedroom the largest rug you would want would be an 8'x10′.
Measure Furniture
Now that you know the maximum rug size that you can order based on the size of your room, measure your furniture.
You DO want a rug that will sit either completely underneath or ideally will allow you to place at least the front legs of each furniture piece on it.
You DO NOT want a rug that floats, unanchored, in the center of the room. It will look too small and awkward. It's always better to size up, not down if in doubt.
Living Room Area Rug Sizing
Here are some examples of correctly sized living room area rugs. I prefer to have a rug that allows for the front feet of the furniture to sit on it and leaves the back feet off. If you have flooring that you are trying to cover with an area rug you could choose a rug that the furniture can sit entirely on top of as long as you have 6″ minimum space between the edge of the rug and the wall.
Area Rug Size for Under Sofas
If you have a smaller space or apartment-sized furniture an 8×10 rug will usually work. (Remember to measure your room and furniture to verify before you buy).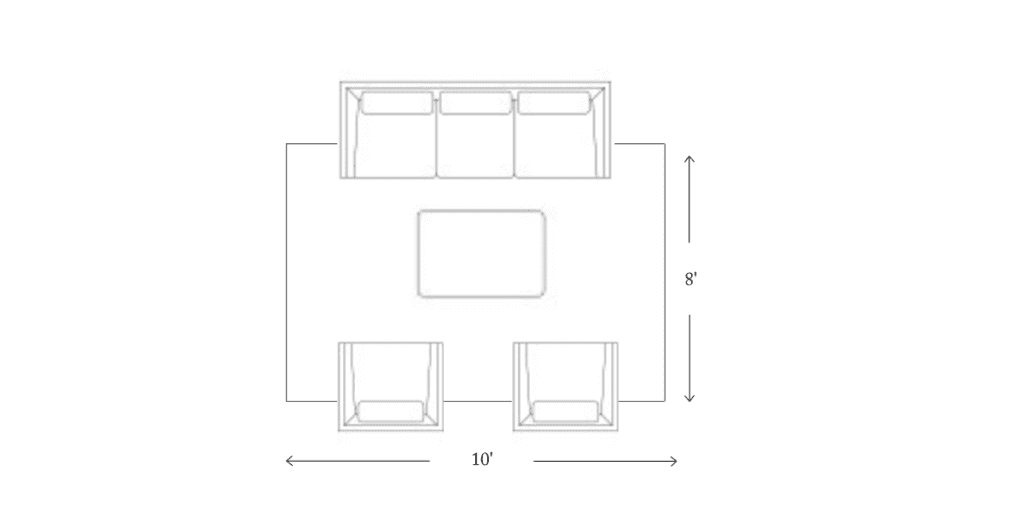 Area Rug Size for Under Sectionals
The same rules apply for a sectional or larger furniture. You want the front feet of the furniture to sit on the rug. A 9×12 or even 10×14 rug usually works in larger spaces.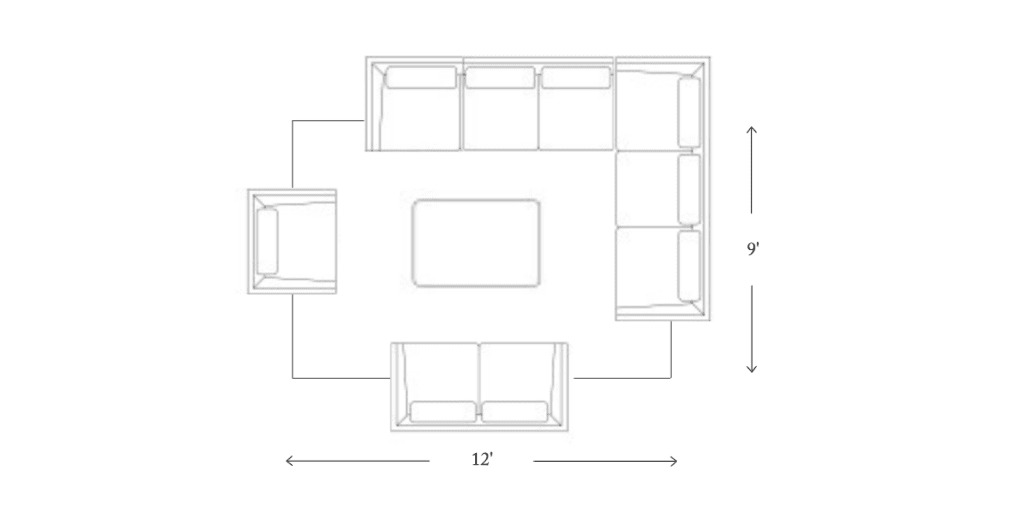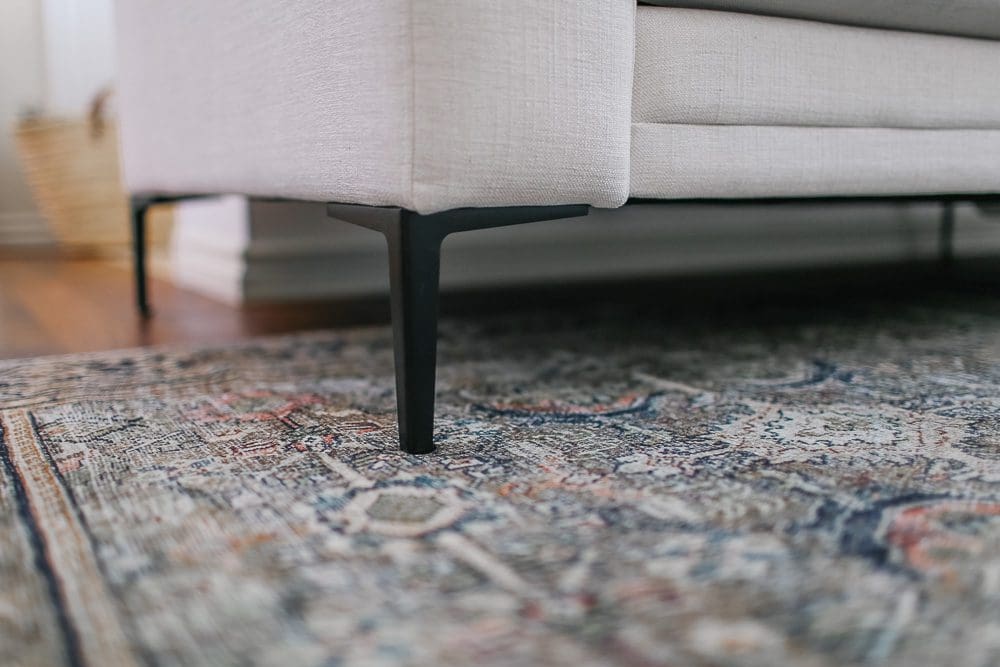 Dining Room Area Rug Sizing
In a dining space, you ideally want an area rug that is large enough to contain all the furniture even when the chairs are pulled out from the table and people are seated. For a standard dining table that seats 6-10 people, a 9×12″ rug is usually large enough. Sometimes an 8×10 will suffice, but remember to measure before you order.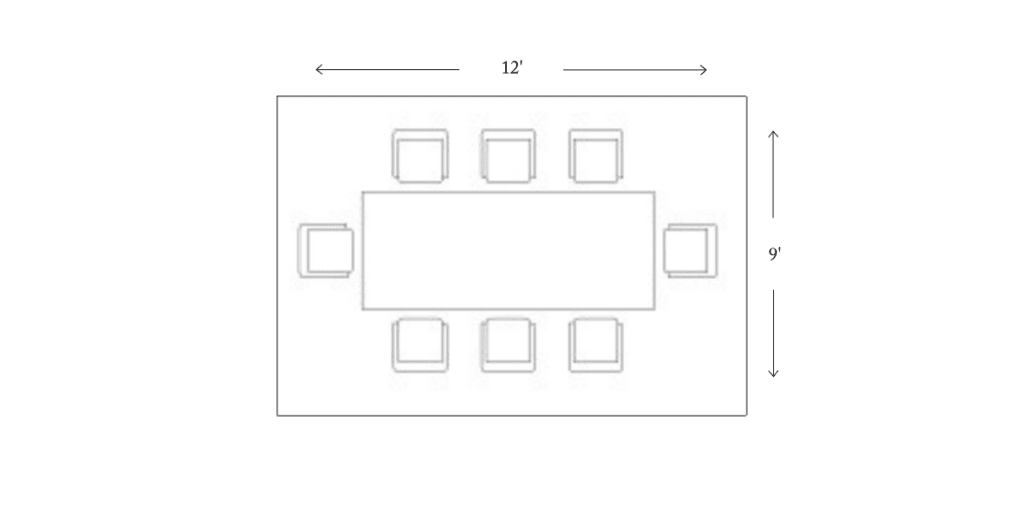 Round Dining Table Area Rug Tips
I personally prefer rectangular rugs, even under round tables. Circular rugs tend to look more dated. If you do want to use a circular rug just apply the same rules. Measure how wide your table is and then add enough space to your measurement for a chair to be pulled out on either side. Usually, an 8×10 rug will be sufficient for a smaller table, round or rectangular.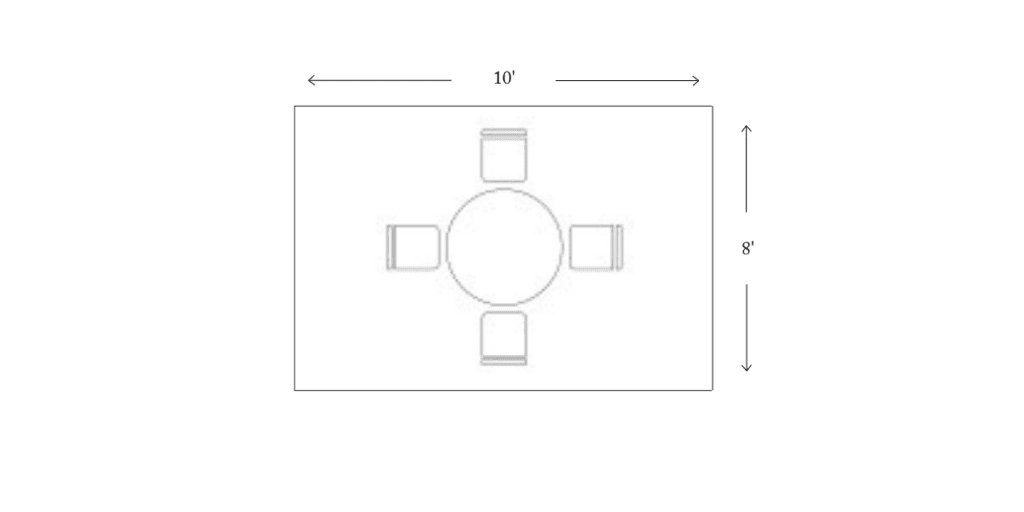 Area Rugs for Dining Nooks
Sometimes you don't have a formal dining room or a large dining area. If you have a small eating area off the kitchen or a built-in dining nook you can still use a rug to ground the space. In this case, make sure that the rug is large enough that all the furniture fits on the rug when the chairs are tucked IN.
For example, in our home we have a dining nook built into a bay window area by the back door. We can't fit an 8'x10′ rug in the space because of the angled walls. I have a 6'x9′ rug in the space instead, which the chairs fit on if they are tucked in fully.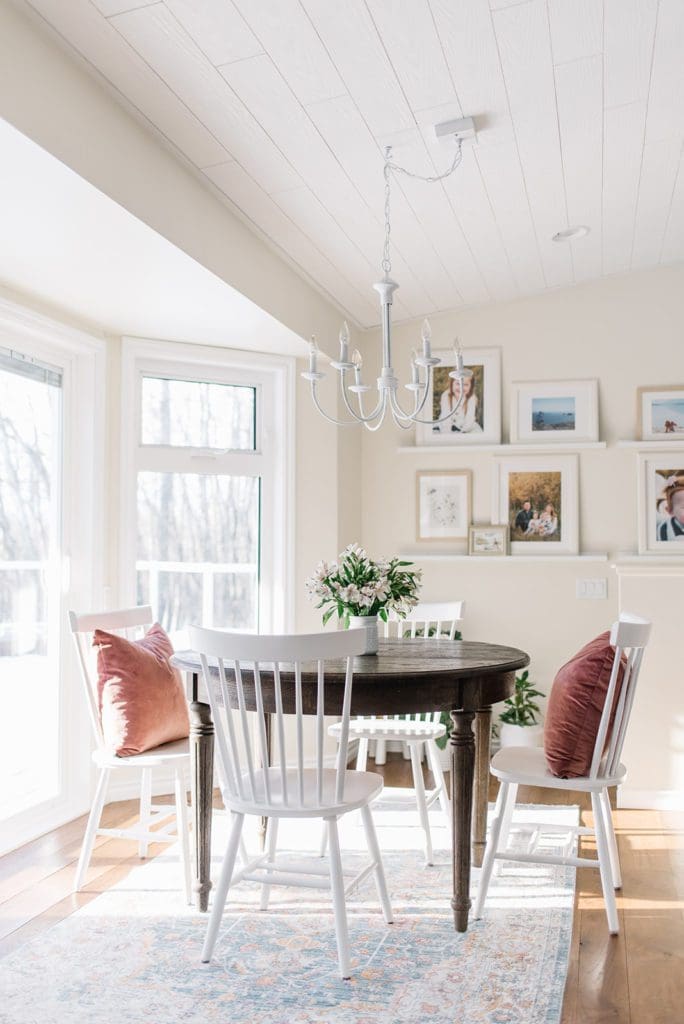 Bedroom Area Rug Sizing
In bedrooms, I prefer to have area rugs that sit underneath the bottom 3/4 of the bed leaving room at the head for bedside tables as shown on the left-hand side of each illustration below. It's less expensive to buy the smaller size rug and it looks just as good! If you want a really luxurious feel or are again trying to hide flooring you can go for a larger rug size that the entire bed will sit on top of.
Area Rug Sizes for King Beds
For a King Size Bed, an 8'x10′ rug will give you lots of coverage on either side of the bed. A 9'x12′ rug will also fit underneath your bedside tables and cover the floor under the bed completely.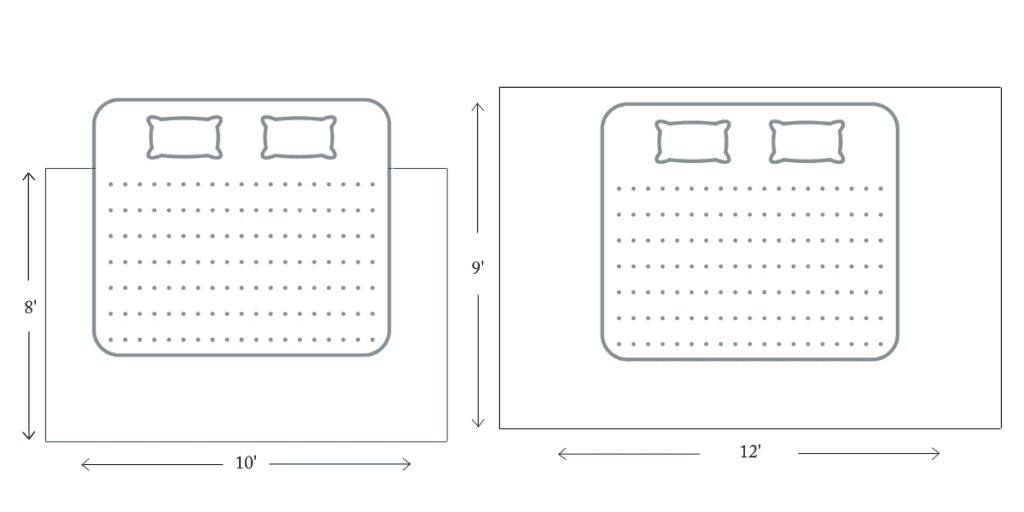 Area Rug Sizes for Queen Beds
For a Queen size bed, you can get away with a 6'x9′ rug in a pinch. An 8'x10′ will give you full coverage if you have the space/budget.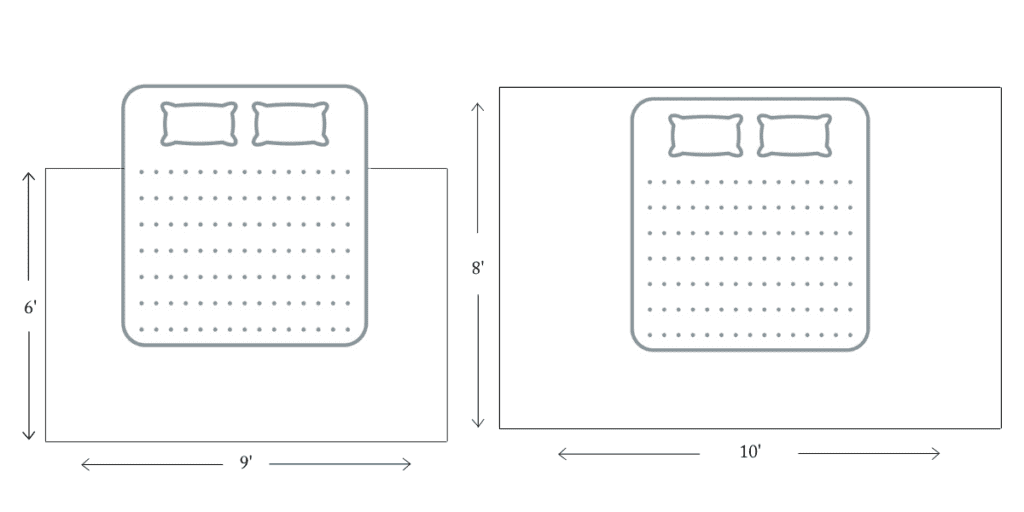 Area Rug Sizes for Twin Beds
If you have a small bedroom with a twin-size bed you can use a 5'x8′ rug to get the minimum coverage you need. An 8×10 rug will usually fill a typical 10'x12′ bedroom nicely. And if you want something in between you can use a 6'x9′ rug (not shown). I just personally find the spacing a little awkward with a 6'x9′.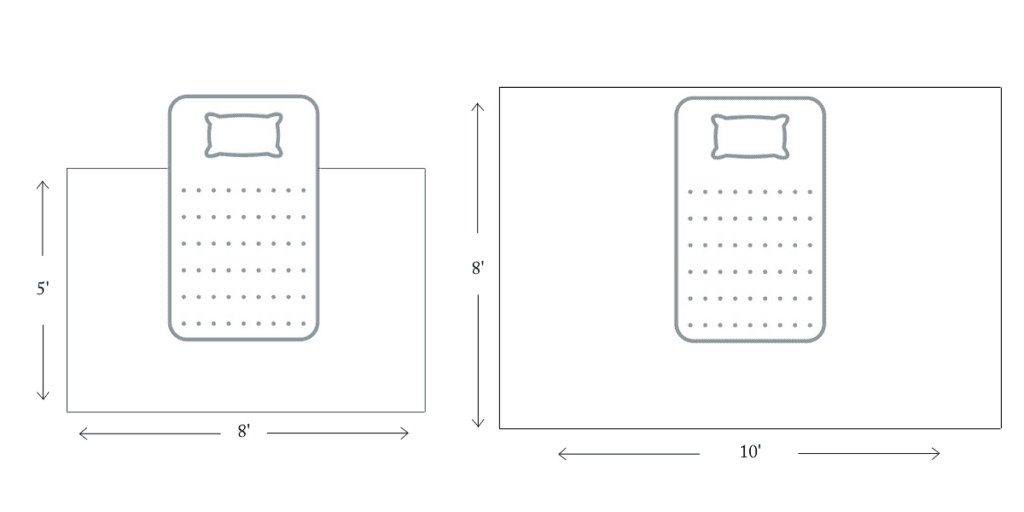 In a pinch, if a full-size rug is just not in the budget right now you can always use a 3'x5′ or even 2'x3′ small rug. Even a little rug on either side of the bed will give you something soft to step onto and will add a little bit of colour to the room! I had these cute small rugs in our bedroom for quite a while before I decided on the perfect larger option.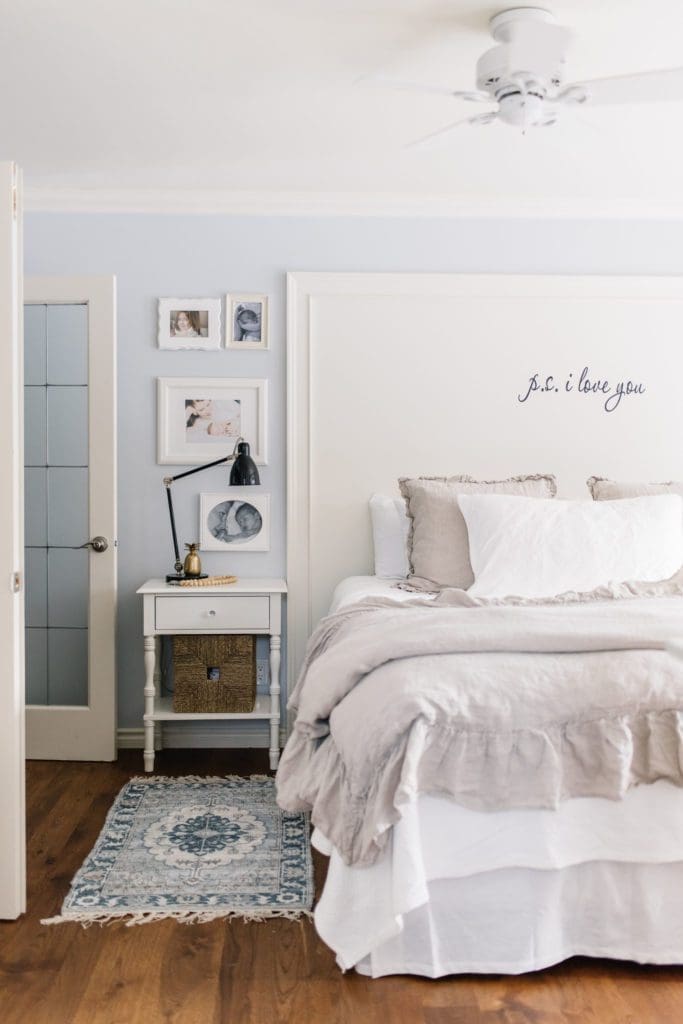 Area Rug Sizing FAQs
Here are some of the most commonly asked questions I hear about area rugs. Any other questions? Leave a comment at the end of this post!
Can you layer area rugs?
You can absolutely layer area rugs on top of carpet. The area rug will help to define the space and add an extra layer of coziness. We have an area rug on top of carpet in our basement family room and love it!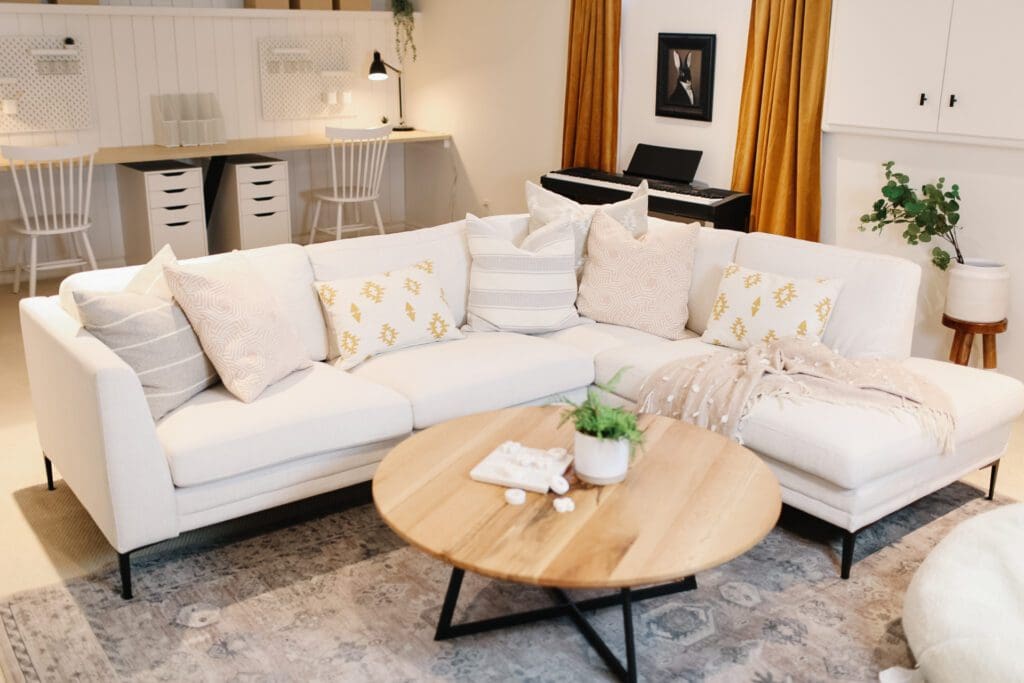 Should your furniture be on or off your area rug?
Your furniture should either be completely on or at least have all front legs on the area rug. If an area rug is sitting in front of your furniture, it's too small and the room will feel ungrounded and unbalanced.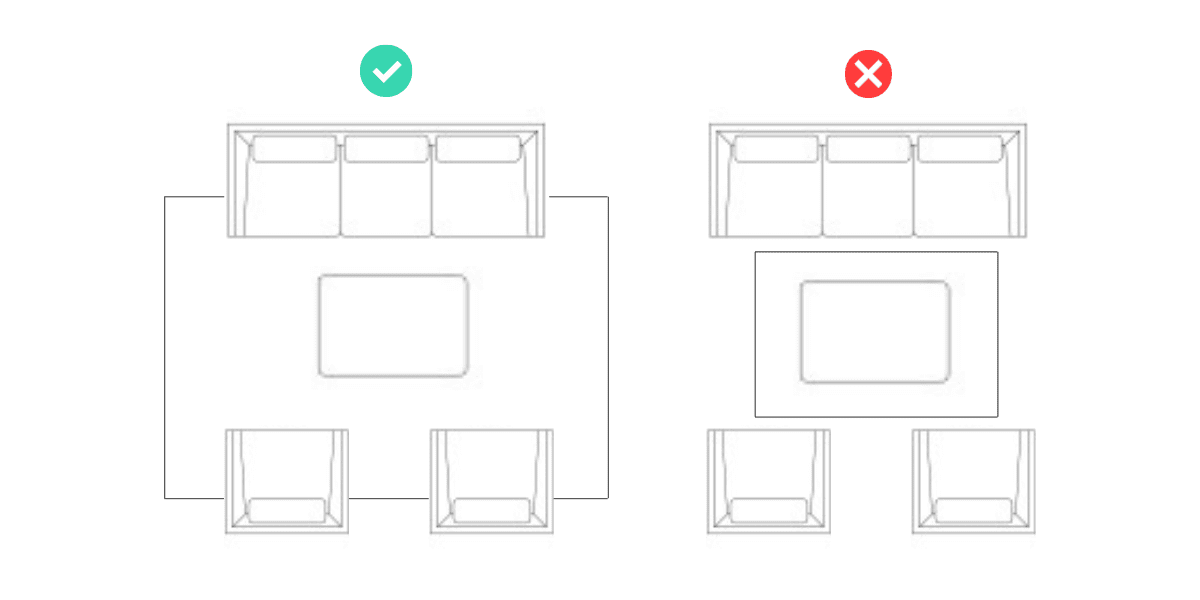 Should you use a rug pad under your area rug?
If you are putting your area rug on top of a hard surface like tile or hardwood, you should use a rug pad to add a layer of cushioning and to prevent the rug from moving causing a slipping hazard.
What are the best rugs for high traffic areas?
For high traffic areas, you want a rug that's low pile and durable. There are lots of polyester rug options now that are beautiful as well as durable and some are even machine washable. Stay away from natural materials like wool or sisal, and high pile fluffy options if you want your rug to survive heavy use.
Where to Shop for Area Rugs
Right now low-pile, vintage-style rugs are trending and I'm not mad about it! Low pile rugs are easy to keep clean, highly durable and the soft vintage patterns are simple to blend into any décor style.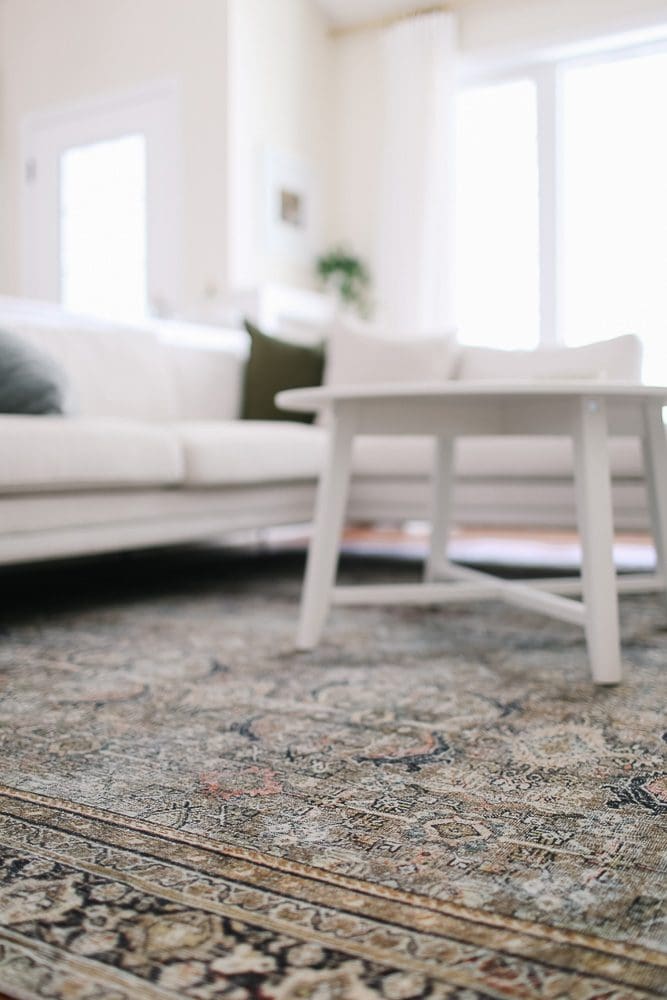 Vintage Rugs
If you want the real deal, vintage rugs are beautiful and one of a kind. Plus it's always good to help the planet and buy used items instead of new!
I have a few smaller vintage rugs in my home and I love the character they add. I usually use them as accents or in smaller spaces as they can be quite pricey and they aren't as easily cleaned as some newer rugs made of more modern materials.
Some of my favourite places to buy vintage rugs: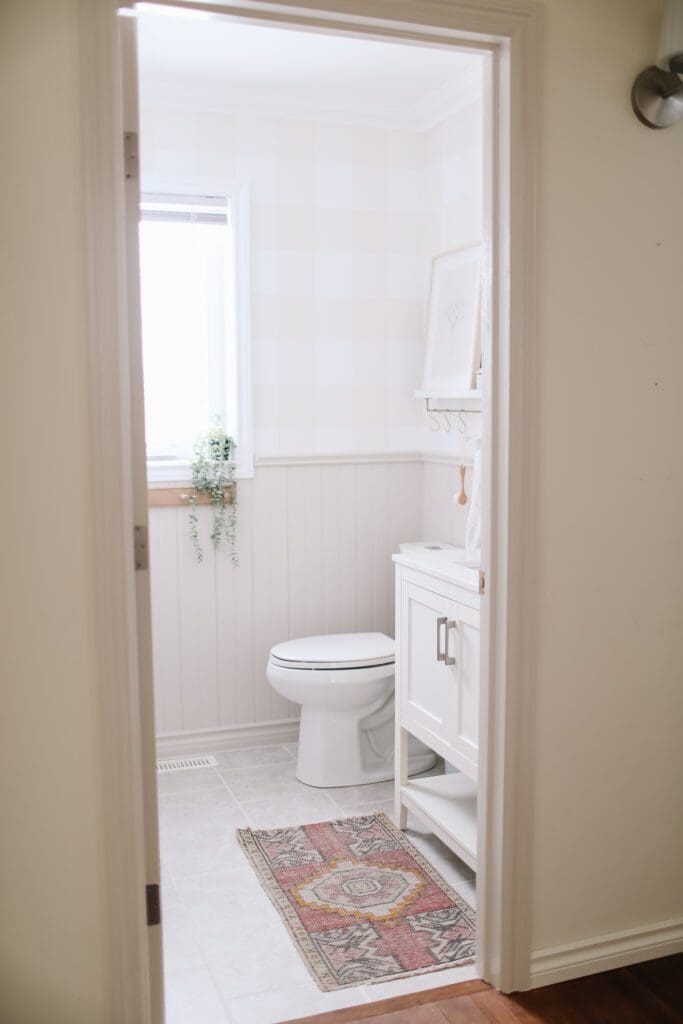 New Rugs with Vintage Style
There are a couple of really great rug options that look like vintage rugs but that are made from polyester and are super durable. My go to's for these rugs are the following:
Loloi x Chris Love Julia Vintage Inspired Rug Collection – you can find these rugs through Wayfair and they are so reasonably priced. They are always the first place I look when I need a new rug!
Ruggable – These rugs are not only pretty, but they are machine washable! I love these for entryways or any space that is likely to see some heavy wear like a playroom or mudroom. They also come with their own unique rug pad system and I love that's its all in one and easy to shop!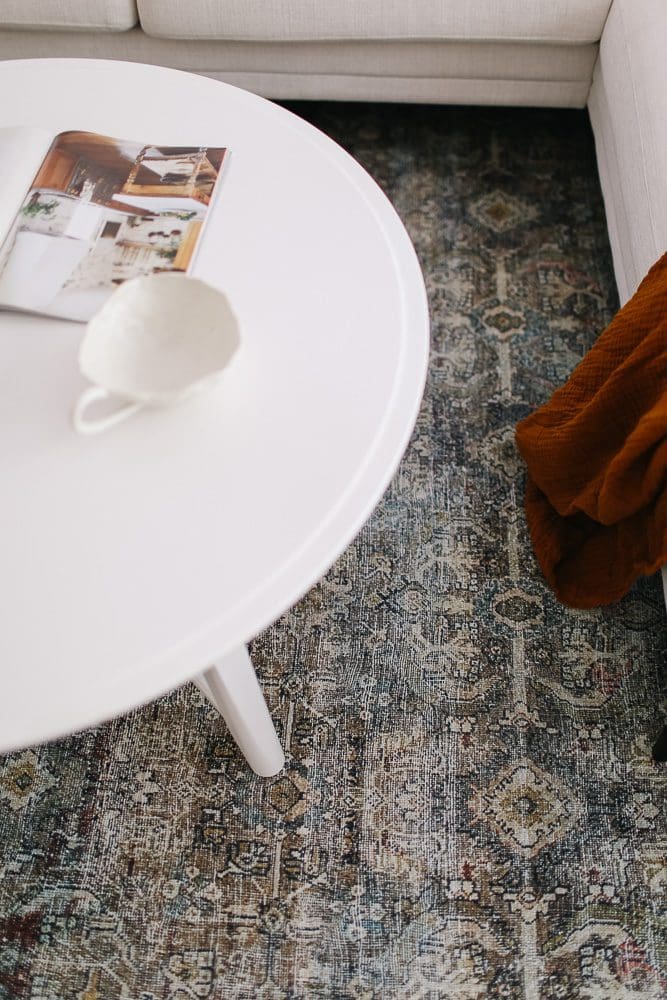 I hope you've found these tips on to how to choose the correct area rug size for any space helpful! You may also enjoy: