My daughter has always had a lot of nosebleeds. Kids' nosebleeds are common, but it's still upsetting every time one happens, so I began searching for ways to prevent them. When I started using essential oils, I found some anecdotal evidence that Lemon essential oil can be used in the treatment and prevention of nosebleeds, so I decided to try it. Here's how we now stop nosebleeds using lemon essential oil!
Disclaimer: Information contained in this post is in no way intended as medical advice. If you require medical attention, please seek the advice of a medical professional.
Estimated reading time: 5 minutes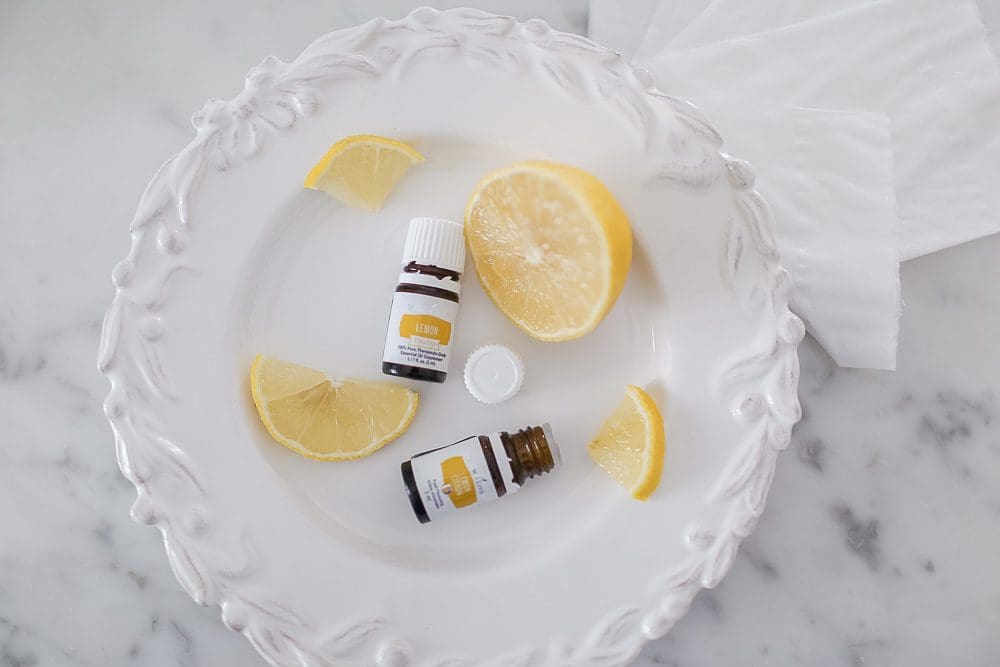 Note: This post may contain affiliate links that won't change your price but may share some commission.
Causes of Nosebleeds
There are many possible reasons for nosebleeds including dry air, trauma to the nose, respiratory infections, allergies, exposure to chemical irritants, etc…( Source).
We live in an extremely cold, dry climate and my daughter suffers from more frequent/ chronic nosebleeds in the winter. There's no way to escape the cold in the winter months, so I wanted to find something to help her deal with the inevitable onset of winter nosebleeds each year.
Treatment of Nosebleeds
There are many recommended treatments for nosebleeds including staying calm, sitting upright, gently blowing your nose, using a nasal decongestant, pinching your nose, applying petroleum jelly to the inside of your nose, or in more extreme cases packing or cauterization (Source 1, Source 2).
Top 3 Essential Oils for a Bloody Nose
There are several oils that have properties that can help to stop a nosebleed, but Lemon is the most commonly used. It's also the cheapest and easiest to find.
Note : Make sure you are using a pure, high quality essential oil or it won't be effective. Some "essential oils" on the market contain fillers, artificial scents and/or other harmful ingredients. I use this Lemon Essential Oil (you can use my referral code 19017226 in the sponsor/enroller field at checkout to purchase).
Lemon Essential Oil
Why does lemon oil help to stop nosebleeds?
Lemon essential oil is hemostatic, meaning it helps stop bleeding by speeding up coagulation/ blood clotting process (Source).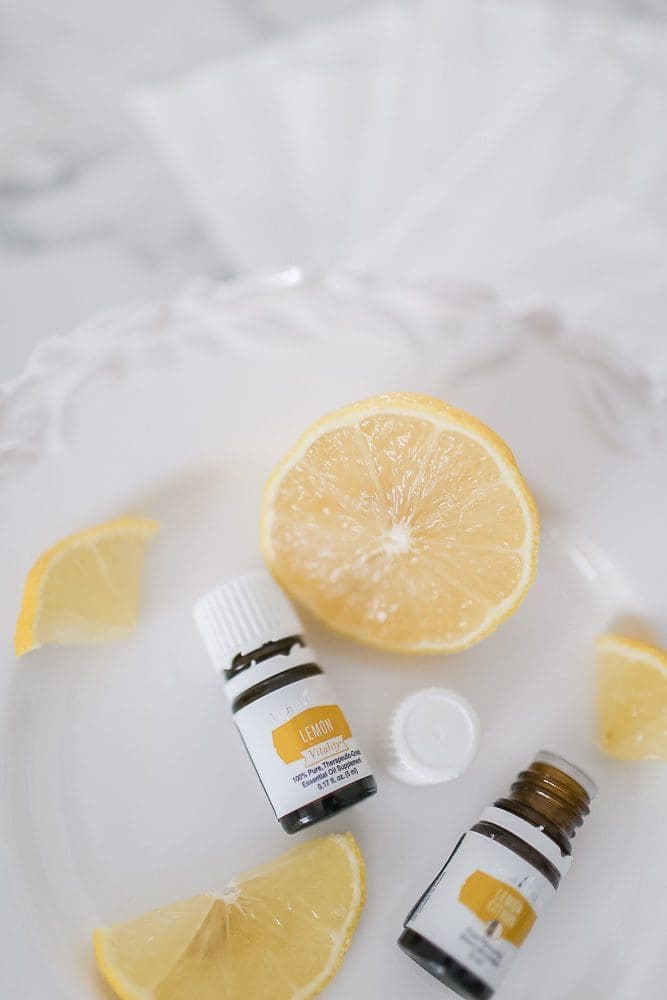 Cypress Essential Oil
Cypress essential oil is another oil that has been shown to help promote blood clotting however, it is considered a "hot" oil in that it should be diluted before use. When a nosebleed is starting I find it much easier to reach for lemon oil, which can be used immediately!
Helichrysum Essential Oil
Helichrysum essential oil has wound healing and anti-inflammatory properties and can also be helpful for nosebleeds. However, it's much more expensive than lemon oil!
How to Use Lemon Essential Oil to Stop a Nosebleed Fast!
When my daughter felt a nosebleed starting, we had her inhale deeply several times while holding an open bottle of lemon essential oil directly under her nose. Then she sat down and held a tissue with a couple of drops of lemon essential oil on it over her nose and pinched just below the bridge of her nose (while sitting up straight) until she was sure it had stopped.
In the past, she has had nosebleeds that gushed for at least a couple of minutes. However, the last few times when we've caught them right when they start using lemon oil they have stopped immediately and not progressed to the gushing stage at all. Success! She now has a bottle of lemon oil in her backpack and one in her desk at school and she feels much more confident knowing that there is something she can do to prevent her nosebleeds when she feels that telltale trickle!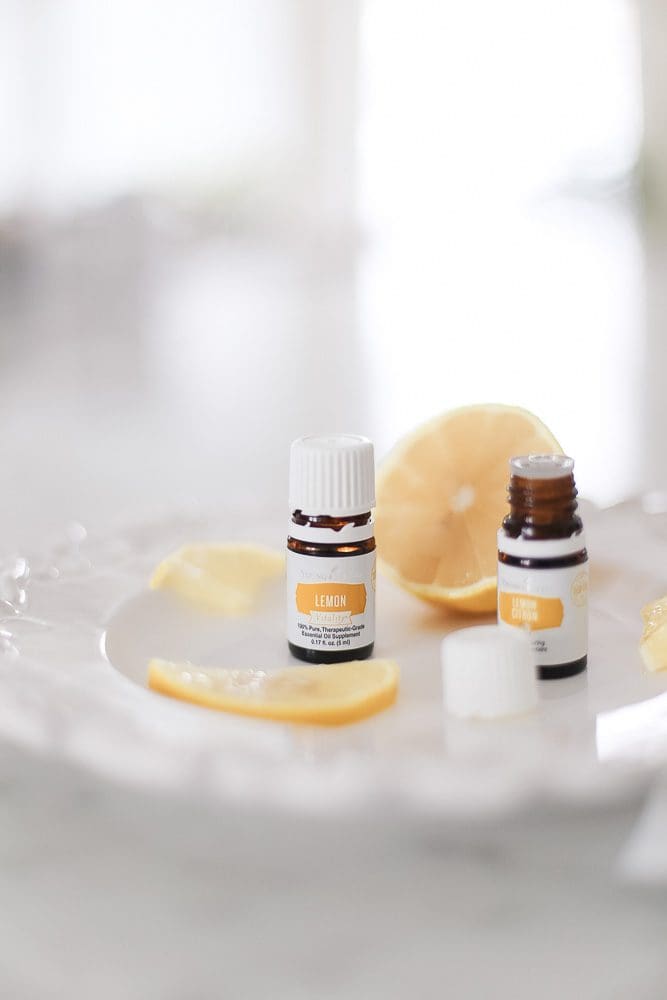 Note: I have heard of people applying lemon oil directly to the inside of their nose, but I am cautious when it comes to ingesting oils or applying them directly to delicate membranes or surfaces. I would talk to a relevant medical professional before I tried something like that and wouldn't feel comfortable personally recommending it.
Other Uses for Lemon Essential Oil
Lemon essential oil can be used for more than stopping nosebleeds. In my opinion, lemon is one of the most versatile essential oils. Here are a few of the ways we use lemon essential oil in our house:
Cleaning – Apply a couple of drops directly onto anything sticky and it will rub off easily after a few seconds. I use it on most surfaces including my marble counters (Lemon oil is distilled from the rind of lemons. It's not as acidic as lemon juice so you can use it to clean surfaces without worrying about acid etching). It also acts as a natural degreaser and can be added to household cleaners for extra scrubbing power. (See How to Clean Your Home Naturally).
Use it to remove marks from crayons, sharpies etc… from some surfaces.
Get paint off your hands/skin without using paint thinner or use as a natural nail polish remover.
Cooking – use lemon essential oil as a substitute for lemon juice in recipes like smoothies, salad dressings, marinades, baking etc…
Deodorizing – get rid of unpleasant smells by placing a Lemon-infused cotton ball in the refrigerator, bathroom drawer, or trash can.
Skin Care – Lemon oil has natural brightening properties. It has high levels of vitamin C and is naturally antimicrobial. Add a drop or two to your face cream or make your own glow serum to brighten your complexion.
Seasonal Support – Add it to a roller for seasonal support. Something always seems to be blooming and causing itchy eyes/ runny nose.
Emotional Support – Diffuse lemon essential oil for an energizing mood boost.
If you have success stopping a bloody nose with lemon essential oil, I'd love to hear about it. You can leave a comment below! For more information about using essential oils at home check out How to Use Essential Oils