In this digital age we live in it is so easy to become overwhelmed. Screen time and technology addiction is on the rise. People aren't connecting the way they used to. Using a paper planner is one step that I've taken to minimize digital overload.
Estimated reading time: 5 minutes
Note: This post may contain affiliate links that won't change your price but may share some commission.
I had been thinking of switching to a paper planner instead of using my phone. Then I heard Erin Condren on the RISE podcast by Rachel Hollis and I was sold. I reached out to the company and they sent me my very own customized LifePlanner and accessories! And I'm not even kidding… it kind of changed my life!
10 benefits of using a paper planner:
#1 Everything is in One Place
I don't know about you, but I am in a state of app overload! I love that with a paper planner everything is right in front of you and easily visible without using a multitude of apps or programs.
#2 Writing Helps with Memory
It's scientifically proven that the physical act of writing helps with retention and comprehension of the written material. I find that I have a better visual memory map of my schedule when I write appointments, ideas or notes in my journal. When the information disappears into my phone, it also seems to disappear in my brain!
#3 It's Faster
I find it much easier to scribble a quick note down on paper than to open whatever app I need too and fill in the information on a small screen!
#4 No Battery Power or Reception Needed
This one is fairly obvious, but if your phone dies you still have everything you need to work right in front of you. No swearing when you realize you forgot your charger in the car!
#5 Doesn't Cause Eye Strain
I have noticed that my eyes are extremely tired from screen time. I look at screens at work and I blog and spend time on my phone in my spare time. My screen time has been up to 8 hours a day recently! A paper planner allows you to disconnect!
#6 No Learning Curve and No Updates Required
This might be the most important reason for using a paper planner… I don't have time to learn how to use every new app or every new digital planner. The whole point of scheduling, planning etc… is to streamline daily life in order to be productive and use precious time wisely. I find a paper planner the simplest way to save time.

#7 Reduce Anxiety
I think most people would agree that along with the benefits of the digital age have come drawbacks. The endless bings, beeps and reminders coming from your phone can increase stress and anxiety. I like that my paper planner doesn't pester me!

#8 Keep a Record of the Past
I like to be able to look back quickly and see scheduling items from the past. For example, when did the girls last have their teeth cleaned or when was my last blog post on a certain subject. I find it much easier to flip back through my planner than to dive into the endless abyss of information on my phone.
#9 It's fun
I'm a stationary geek. When I was little I used to look forward to September when we would go shopping for school supplies for the year ahead! I love pens and pencils and colour coding and dividers and all the things! So I adore all the accessories and pretty pens and stickers that the Erin Condren LifePlanner can be accessorized with. There's everything from budgeting inserts to bookmarks to sticker packs!
One of the coolest accessories that I love and use every day is the "Plannypack". It's a pencil case that comes with an elastic strap so that you can attach it to your Life Planner
I also love all the fun sticker options to jazz up your scheduling!

#10 It's pretty
I chose to customize my planner to showcase my branding for The Ginger Home. I love that my photos are front and centre when I take it out to jot something down. It's pretty and professional looking, and I'm always excited to show it off!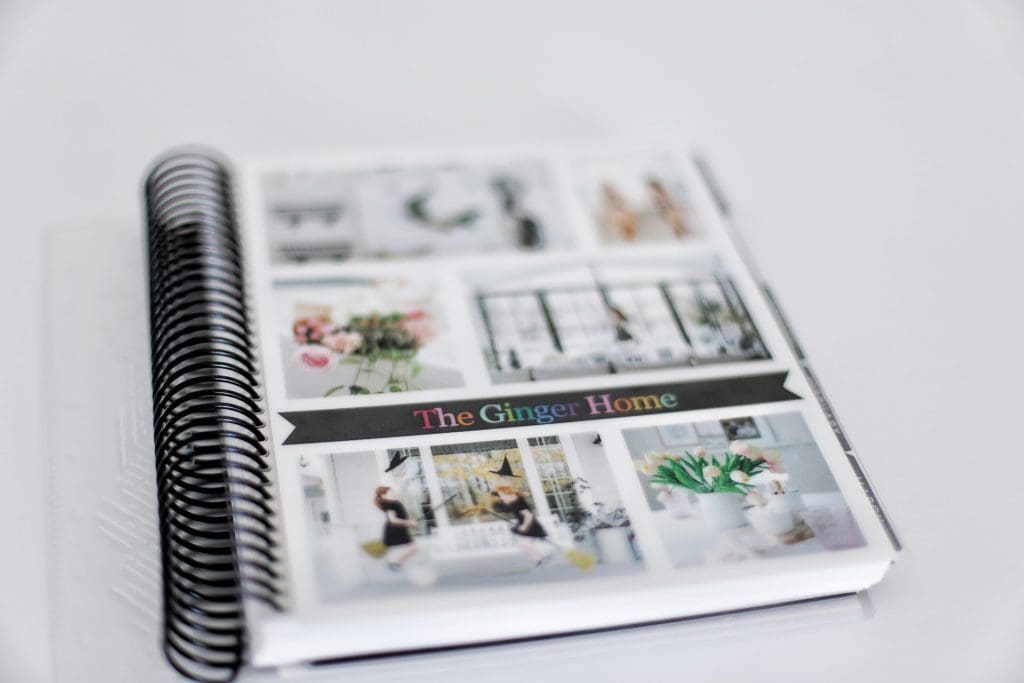 I still use my phone for lots of things and I do set alarms and reminders for important events. But my planner has truly allowed me to disconnect and feel calm and in control when it comes to my life and schedule. You can check out ErinCondren.com if you'd like to pick up a planner of your own.
A LifePlanner would also make a great Mother's Day gift! For more perfect presents for every Mom check out my Mother's Day Gift Guide.
MORE GOOD READS: